Selective Oxidation of Nonrefractory and Refractory Sulfides by Cyclopentadienyl Molybdenum Acetylide Complexes as Efficient Catalysts
Abstract
The synthesis and catalytic properties of molybdenum acetylide complexes CpMo(CO)3(–C≡CR), R = Ph(1), C6H4–p-CF3 (2) and C6H4–p-CH3 (3) has been studied. The molybdenum acetylide complexes were synthesized from CpMo(CO)3Cl and aryl acetylenes via Stephens–Castro coupling reaction. These complexes were characterized by single crystal X-ray diffraction analysis, FTIR and 1H NMR spectroscopy. These complexes on treatment with hydrogen peroxide, formed corresponding molybdenum oxo-peroxo species. These in situ formed oxo-peroxo species were found very active (up to 100 % conversion) and selective (up to 100 %) oxidation catalysts for various refractory and nonrefractory sulfides. Interestingly, even though the molybdenum acetylide complexes are homogeneous, they could be recycled very efficiently by extracting the catalytically active molybdenum oxo-peroxo species in aqueous phase.
Graphical Abstract
Molybdenum acetylide complexes CpMo(CO)
3
(C≡CR) synthesized from CpMo(CO)
3
Cl via Stephens- Castro coupling with aryl acetylenes were used as catalyst precursors for selective oxidation of various sulfides including refractory sulfides to sulfoxides or sulfones using H
2
O
2
as an environmentally benign oxidant with excellent conversion under mild reaction conditions.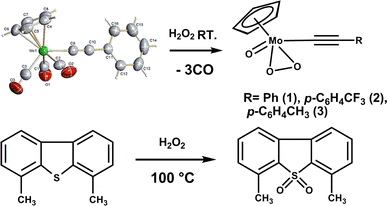 Keywords
Homogeneous catalysis 
Molybdenum acetylide 
Refractory sulfide oxidation 
Oxo-peroxo species 
Notes
Acknowledgments
SBU acknowledges the financial support by Department of Science and Technology (project code: SR/S1/IC-08/2004). AVB and TVK acknowledges Council of Scientific and Industrial Research (CSIR New Delhi Govt. of INDIA) for Senior Research Fellowships.
Copyright information
© Springer Science+Business Media, LLC 2012