Photocatalytically Reducing CO2 to Methyl Formate in Methanol Over Ag Loaded SrTiO3 Nanocrystal Catalysts
Abstract
Ag–SrTiO3 nanocrystal photocatalysts were prepared by hydrothermal synthesis method for reducing CO2 to methyl formate (MF) in methanol via ultraviolet irradiation. CO2 was reduced to MF by electrons on conduction band of the photocatalyst. In order to obtain a high rate of MF evolution, we researched and optimized the preparation procedure of Ag–SrTiO3 by changing the Ag dosage, hydrothermal temperature and time. The as synthesized photocatalysts were characterized with X-ray diffraction, UV–Vis absorption spectra, transmission electron microscope, N2 sorption analysis at 77 K and activity evaluation. A catalyst of 7 wt% Ag on SrTiO3 with hydrothermal synthesis at 150 °C and 22 h was found to exhibit the highest photocatalytic activity in MF formation rate of 3,006 μmol/(h g cat), which was more remarkable than that of pristine SrTiO3.
Graphical Abstract
When the SrTiO
3
is irradiated by UV light of suitable wavelength with sufficient photonic energy (hν), photo-generated electron–hole pairs were created, part of the excited electrons and holes recombined together and radiated out heat, while rest part would react with the reactants near the SrTiO
3
surface. It was certain electrons transmitting to the surface of Ag particle that avoided their recombination with holes, resulting in effective extension of the life-span of the electron–hole pairs.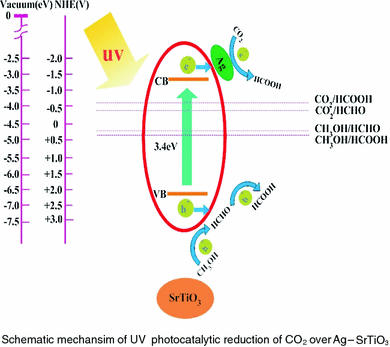 Keywords
Photocatalysis 
Reduction of CO2 
Ag–SrTiO3 
Hydrothermal synthesis 
Methanol 
Methyl formate 
Notes
Acknowledgments
We gratefully acknowledge financial support by the National Natural Science Foundation of China (NSFC) (No. 21176192) and the Tianjin natural science foundation (No. 12JCZDJC29400).
Copyright information
© Springer Science+Business Media, LLC 2012