Epoxidation of Butadiene Over Nickel Modified TS-1 Catalyst
Abstract
Nickel modified Titanium silicalite 1 (TS-1) catalysts provided an environmentally benign and effective method for butadiene epoxidation. Certain loading of modified Ni in our system significantly promoted TS-1 catalytic activity. The product vinyloxirane (VO) was obtained with high yield of 0.49 mol/L (theoretic equilibrium value 0.52 mol/L). The turnover number (TON, determined as the molar VO obtained per molar Ti atom) reached 1,140. Besides, the catalyst kept high activity during five runs of reusability test. XRD, N2 adsorption and desorption, TPR, XPS, FT-IR and DR UV–Vis were employed to characterize the specific Ni role to Ti-site in Ni/TS-1 catalysts.
Graphical Abstract
Titanium silicalite 1 (TS-1) modified with different nickel contents as catalysts for the epoxidation of butadiene (BD) with hydrogen peroxide (H
2
O
2
). Vinyloxirane (VO) was obtained with high yield TON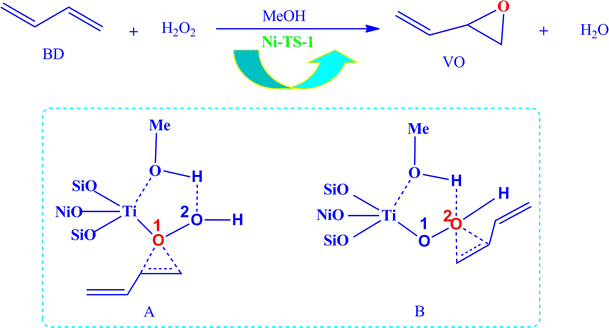 .
Keywords
Butadiene 
Epoxidation 
Vinyloxirane 
Titanium silicalite 1 
Nickel 
Notes
Acknowledgments
The authors sincerely acknowledge the financial support of the State Key Laboratory for Oxo Synthesis and Selective Oxidation of China.
Copyright information
© Springer Science+Business Media, LLC 2012