A Highly Selective Pd(OAc)2/Pyridine/K2CO3 System for Oxidation of Terpenic Alcohols by Dioxygen
Abstract
Molecular sieves, complex organic bases and radical oxidants are commonly used in alcohols oxidation reactions. In this work, we have evaluated the beneficial effects of addition of K2CO3 to Pd(II)-catalyzed oxidation alcohols, which resulted in a remarkable increase in the oxidation reaction rates without selectivity losses. Herein, in a metallic reoxidant-free system, terpenic alcohols (β-citronellol, nerol and geraniol) were selectively converted into respective aldehydes from Pd(II)-catalyzed oxidation reactions in presence of dioxygen. High conversions and selectivities (greater than 90%) were achieved in the presence of the Pd(OAc)2/K2CO3 catalyst and pyridine excess. The exogenous role of others auxiliary anionic and nitrogen compounds was appraised.
Graphical Abstract
Reaction conditions: β-citronellol (2.75 mmol); Pd(OAc)
2
(0.05 mmol); pyridine (5.0 mmol); K
2
CO
3
(2.5 mmol); toluene (10 mL); MS3A (0.5 g); O2 (0.10 MPa); 60 °C.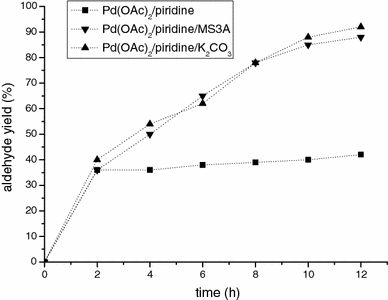 Keywords
Palladium 
Terpenic alcohol 
Nitrogen ligand 
Dioxygen 
Notes
Acknowledgements
The authors are grateful for the financial support from CAPES, CNPq, FAPEMIG and FUNARBE (Brazil). They also wish to thank Prof. Luis Claudio Barbosa for the GC–MS analyses.
Copyright information
© Springer Science+Business Media, LLC 2011