A Cyclic Catalyst Pretreatment in CO2 for High Yield Production of Carbon Nanofibers with Narrow Diameter Distribution
Abstract
This paper presents a cyclic catalyst pretreatment process to improve the CNF yield with narrow size distribution by sequentially feeding the CVD reactor with CH4/CO2 mixtures (carbon deposition) and CO2 (carbon removal) prior to the actual growth process. A mechanism based on a break-up of large Ni particles tentatively explains the beneficial effect of the cyclic carbon deposition/removal CVD procedure.
Graphical Abstract
A cyclic catalytic CVD process for the one-step production of CNFs from CH
4
/CO
2
mixtures is presented. Successive carbon deposition/removal cycles in CO
2
rich conditions lead to high quality CNFs with narrow size distribution.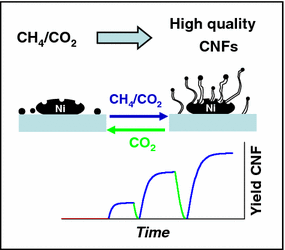 Keywords
Carbon nanofiber 
Carbon nanotube 
Artificial biogas mixture 
Chemical vapor deposition 
CO2 usage 
Notes
Acknowledgements
S.C. acknowledges a Ph.D grant from the Institute for the Promotion of Innovation through Science and Technology in Flanders (IWT-Vlaanderen). J.V.N. acknowledges CARBonCHIP (EUFP6 STREP program) for financial support. S.C. and J.V.N. thank Rudy De Vos for his advice during SEM measurements (Department of Metallurgy and Materials Engineering, K.U.Leuven). This research is also sponsored by the following research programmes: IAP-PAI by BELSPO (Belgian Federal Government), GOA, CECAT and long term structural Methusalem funding (Flemish Regional Government).
Copyright information
© Springer Science+Business Media, LLC 2011