Study on Alumina-Supported Cobalt–Nickel Oxide Catalyst for Synthesis of Acetonitrile from Ethanol
Abstract
A new alumina-supported cobalt–nickel oxide catalyst for the synthesis of acetonitrile from ethanol and ammonia was prepared by coprecipitation-kneading method. The parameters influencing the reaction were studied thoroughly and an optimized process, which is running the reaction at 380 °C under atmospheric pressure while keeping the ammonia/alcohol molar ratio of 5 and GHSV of 1,163 h−1, was obtained. Under the optimized conditions the catalyst reached its best performance when being on stream for 40 h, at which the yield of acetonitrile was 92.6%. Then the selectivity to acetonitrile decreased gradually but the yield of acetonitrile always remained higher than 81% within 720 h. The samples of the fresh and used catalyst were characterized by XRD, XPS, TEM, EDX and N2 adsorption–desorption analysis. The results revealed that carbon deposition and formation of metal carbides from the active species in the catalytic runs led to the deterioration of the catalyst.
Graphical Abstract
A new Co–Ni/γ-Al
2
O
3
catalyst for the amination of ethanol to acetonitrile was studied in a continuous fixed-bed reactor and the reaction parameters were optimized. The mechanisms for the formation of acetonitrile and butyronitrile were discussed. The reasons leading to the deterioration of the catalyst were investigated through the characterization of the fresh, used and regenerated samples of the catalyst by means of XRD, XPS, TEM and N
2
adsorption–desorption techniques.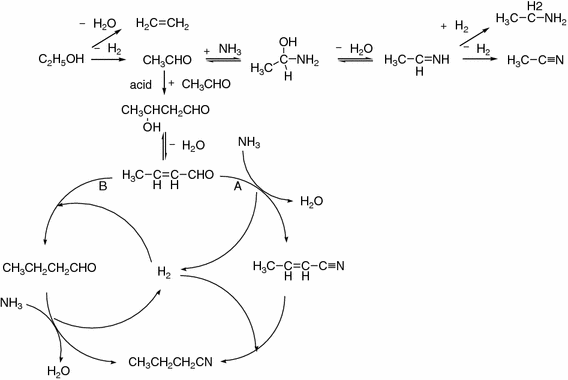 Keywords
Cobalt–nickel oxide 
Catalyst 
Acetonitrile 
Ethanol 
Deterioration 
Metal carbides 
Notes
Acknowledgments
We thank the financial support by the National Natural Science Foundation of China (Grant no. 20976034) and the Natural Science Foundation for Young Scientists of Hebei Province, China (Grant no. B2009000009) and Guide Project for the Development of Science and Technology of Hebei Province, China (Grant no. 072156136).
Copyright information
© Springer Science+Business Media, LLC 2010