Synthesis of Higher Alcohols from Syngas over Fe/K/β-Mo2C Catalyst
Abstract
Fe/K/β-Mo2C catalysts were prepared by the temperature-programmed-reaction (TPRe) method and tested for higher alcohols synthesis (HAS). The catalysts exhibited high catalytic activity and selectivity to higher alcohols (C2 +OH). The effect of Fe/Mo molar ratio on the catalytic performance of HAS was investigated and the best one was at Fe/Mo molar ratio of 1/14. It could be concluded that the Fe promoter exerted strong promotion for carbon chain growth, especially for the stage of C1OH to C2OH. The "Fe3Mo3C" and "Fe3C" phases formed over Fe promoted K/β-Mo2C catalysts, which might be responsible for the high activity of higher alcohols and hydrocarbons synthesis, respectively.
Graphical Abstract
The typical change in CO conversion and selectivity of alcohols with time on stream over Fe/K/β-Mo
2
C (Fe/Mo=1/14) catalyst is shown in Figure. After about 72 h, a pseudo steady state was obtained. During the experimental period (192 h), the catalyst showed a constant activity and selectivity.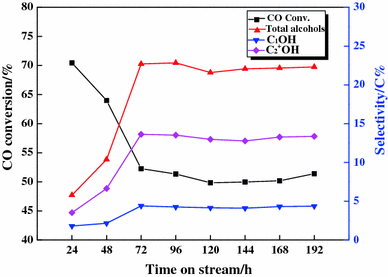 Keywords
Fe/K/β-Mo2C catalyst 
Higher alcohols synthesis 
Syngas 
Notes
Acknowledgments
The authors gratefully acknowledge the financial support from National Natural Science Foundation of China under key Project No. 20590363 and Shell on Higher Alcohols Synthesis Package.
Copyright information
© Springer Science+Business Media, LLC 2010