Abstract
Directive 2006/17/EC requires that all available medical information, including autopsy reports, is evaluated before releasing tissues for transplantation. The aim of this study was to investigate whether evaluation of results of autopsy and other histological examinations contributes to the safety of tissue transplantation. From the files of all deceased Dutch donors, from whom tissues were retrieved in a 6-month period, results of autopsy and other histological examinations (remnant heart after valve donation and biopsies obtained during retrieval) were evaluated for contraindications for transplantation. Of 758 donors at least one tissue was considered suitable for transplantation at initial assessment. 637 Donors donated corneas, 256 skin, 177 heart valves and 61 musculoskeletal tissues. On 220 donors (29.0%) autopsy was done. Of seven donors no autopsy results were requested, since a contraindication was detected earlier in the medical screening. In 19 donors with autopsy (8.9%) general or tissue-specific contraindications were detected. There were no differences in distribution of detected contraindications among donors who donated different tissues. For 136 donors (17.9%) results of histological examinations other than autopsy were available; results of examination of remnant hearts for all, brain autopsy for two (0.3%) and retrieval biopsy for four donors (0.5%). Contraindications were detected in nine of these donors with histology results other than autopsy (6.6%). For 402 donors (53%) no histological examinations were done. Evaluation of results of autopsy and other histological examinations improves the safety of tissue transplantation for all types of tissues. In donors without autopsy alternative histological examinations can contribute to enhance the safety of tissue transplantation.
This is a preview of subscription content, log in to check access.
Access options
Buy single article
Instant access to the full article PDF.
US$ 39.95
Price includes VAT for USA
Subscribe to journal
Immediate online access to all issues from 2019. Subscription will auto renew annually.
US$ 99
This is the net price. Taxes to be calculated in checkout.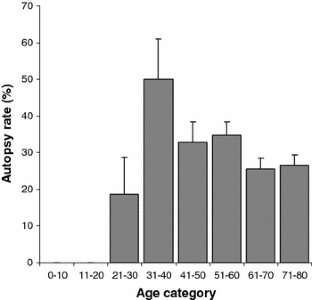 References
Aalten CM, Samson MM, Jansen PA (2006) Diagnostic errors: the need to have autopsies. Neth J Med 64:186–190

Battle RM, Pathak D, Humble CG et al (1987) Factors influencing discrepancies between premortem and postmortem diagnosis. JAMA 258:339–344

Commission Directive 2006/17/EC (2006) Technical requirement for the donation, procurement and testing of human tissues and cells. Official journal of the European Union. 8 February 2006

Goldman L, Sayson R, Robbins S et al (1983) The value of autopsy in three medical eras. Engl J Med 08:100–105

Hoyert DL, Kung HC, Xu J (2007) Autopsy patterns in 2003. National centre for health statistics. Vital Health Stat 20:32

Lardenoye JH, Kastelijn KW, van Esch L et al (2005) Evaluation of the rate of autopsy and the rate of disparity between autopsy results and the clinical cause of death in a surgical ward, with the emphasis on necrological review. Ned J Med 149:1579–1583

Mackey-Bojack S, Roe S, Titus JL (2007) Review of pathological findings in remnant hearts following heart valve donation. J Forensic Sci 52(3):692–697

Shojania K, Burton E, McDonald K et al (2002) The autopsy as an outcome and performance measure. Evidence Report/Technology Assessment No. 58 (Prepared by the University of California at San Francisco-Stanford Evidence-based Practice Center under Contract No. 290-97-0013). AHRQ Publication No. 03-E002. Rockville, MD: Agency for Healthcare Research and Quality. October 2002

Shojania KG, Burton EC, Mc Donald KM, Goldman L (2003) Changes in rates of autopsy detected diagnostic errors over time; a systematic review. JAMA 289:2849–2856

Spelsberg H, Reinhard T, Sengler U et al (2002) Organ-cultured corneal grafts from septic donors: a retrospective study. Eye 16:622–627

van Wijk MJ, Visser L, Bokhorst AG (2008) Evaluation of the autopsy report before releasing muscoskeletal tissue donors: what's the benefit? Cell Tissue Banking 9:329–335

Weustink AC, Hunink MG, van Dijke CF et al (2009) Minimally invasive autopsy: and alternative for conventional autopsy? Radiology 250:897–904
About this article
Cite this article
Visser, L., Holsboer, E., Bokhorst, A.G. et al. The value of autopsy and other histological examinations for the safety of tissue transplantation. Cell Tissue Bank 13, 37–46 (2012). https://doi.org/10.1007/s10561-010-9221-5
Received:

Accepted:

Published:

Issue Date:
Keywords
Tissue transplantation

Histology

Autopsy

Directive 2006/17/EC

Safety

Biopsy