Abstract
This study examineed how parental investment and parental psychological well-being mediate the effects of family income on the intellectual development of children from low-income families in Hong Kong. The study followed a sample of 139 children from their final year of kindergarten (K3) through to their second year of primary education (P2) between 2015 and 2017. Path analysis was conducted to examine how family income was associated with children's cognitive and English language ability (Raven's Standard Progressive Matrices and Peabody Picture Vocabulary Test-IV) through the parental investment and parental stress pathways. The results supported the hypothesis that parental investment and parental stress mediate the income effects on children's learning outcome in the Asian context. The negative effects of low family income on children's cognitive and English language abilities were mediated by the level of parental stress and the extent to which parents were authoritative in their parenting. Parental stress was also found to increase the likelihood of their children having behavioral problems, and that in turn undermined the cognitive development of the children. The level of money that parents invest in their children also mediated the negative effects of low family income on the children's English language ability. The results suggested that interventions that target the variables that mediate the effects of income on child development are an effective alternative to a direct cash transfer for children in low-income families in Hong Kong.
This is a preview of subscription content, log in to check access.
Access options
Buy single article
Instant access to the full article PDF.
US$ 39.95
Price includes VAT for USA
Subscribe to journal
Immediate online access to all issues from 2019. Subscription will auto renew annually.
US$ 99
This is the net price. Taxes to be calculated in checkout.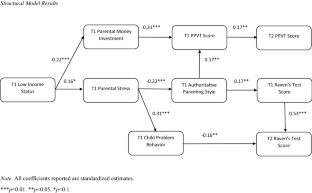 References
Adamson, P. (2012). Measuring child poverty: New league tables of child poverty in the world's rich countries. Florence: UNICEF Innocenti Research Centre.

Aunola, K., Stattin, H., & Nurmi, J. E. (2000). Parenting styles and adolescents' achievement strategies. Journal of Adolescence,23(2), 205–222.

Becker, G. S. (2009). A treatise on the family. Cambridge: Harvard University Press.

Bornstein, M. H. (2013). Cultural approaches to parenting. Routledge: Psychology Press.

Brooks-Gunn, J., & Duncan, G. J. (1997). The effects of poverty on children. The Future of Children,7(2), 55–71.

Census and Statistics Department. (2012). 2011 Population census main report - Volume 1. Government of the Hong Kong Special Administrative Region.

Chao, R. K. (1994). Beyond parental control and authoritarian parenting style: Understanding Chinese parenting through the cultural notion of training. Child Development,65(4), 1111–1119.

Chao, R. K. (1996). Chinese and European American mothers' beliefs about the role of parenting in children's school success. Journal of Cross-Cultural Psychology,27(4), 403–423.

Chen, C., & Uttal, D. H. (1988). Cultural values, parents' beliefs, and children's achievement in the United States and China. Human Development,31(6), 351–358.

Chen, F., & Luster, T. (2002). Factors related to parenting practices in Taiwan. Early Child Development and Care,172(5), 413–430.

Chen, X., Dong, Q., & Zhou, H. (1997). Authoritative and authoritarian parenting practices and social and school performance in Chinese children. International Journal of Behavioral Development,21(4), 855–873.

Chou, K. L., Cheung, K. C. K., Lau, M. K. W., & Sin, T. C. H. (2014). Trends in child poverty in Hong Kong immigrant families. Social Indicators Research,117(3), 811–825.

Conger, R. D., Conger, K. J., Elder, G. H., Lorenz, F. O., Simons, R. L., & Whitbeck, L. B. (1992). A family process model of economic hardship and adjustment of early adolescent boys. Child Development,63(3), 526–541.

Duncan, G. J., Magnuson, K., Kalil, A., & Ziol-Guest, K. (2012). The importance of early childhood poverty. Social Indicators Research,108(1), 87–98.

Dunn, L. M., & Dunn, D. M. (2007). PPVT-4: Peabody picture vocabulary test. New York: Pearson Assessments.

Engle, P. L., & Black, M. M. (2008). The effect of poverty on child development and educational outcomes. Annals of the New York Academy of Sciences,1136, 243.

Eyberg, S. M., & Pincus, D. (1999). ECBI & SESBI-R: Eyberg child behavior inventory and Sutter-Eyberg student behavior inventory-revised: Professional manual. Lutz, FL: Psychological Assessment Resources Odessa.

Guo, G., & Harris, K. M. (2000). The mechanisms mediating the effects of poverty on children's intellectual development. Demography,37(4), 431–447.

Haveman, R., & Wolfe, B. (1995). The determinants of children's attainments: A review of methods and findings. Journal of Economic Literature,33(4), 1829–1878.

Heckman, J. J. (2006). Skill formation and the economics of investing in disadvantaged children. Science,312(5782), 1900–1902.

Hickman, G. P., Bartholomae, S., & McKenry, P. C. (2000). Influence of parenting style on the adjustment and academic achievement of traditional college freshmen. Journal of College Student Development,41(1), 41–54.

Hu, L., & Bentler, P. M. (1999). Cutoff criteris for fit indexes in covariance structure analysis: Conventional criteris versus new alternatives. Structural Equation Modeling,6, 1–55.

Ishak, Z., Low, S. F., & Lau, P. L. (2012). Parenting style as a moderator for students' academic achievement. Journal of Science Education and Technology,21(4), 487–493.

Kawamura, K. Y., Frost, R. O., & Harmatz, M. G. (2002). The relationship of perceived parenting styles to perfectionism. Personality and Individual Differences,32(2), 317–327.

Kiernan, K. E., & Mensah, F. K. (2011). Poverty, family resources and children's early educational attainment: The mediating role of parenting. British Educational Research Journal,37(2), 317–336.

Lam, D. (1999). Parenting stress and anger: the Hong Kong experience. Child and Family Social Work,4(4), 337–346.

Lee, C. Y. S., Anderson, J. R., Horowitz, J. L., & August, G. J. (2009). Family income and parenting: The role of parental depression and social support. Family Relations,58, 417–430.

Leung, C., Tsang, S., & Heung, K. (2013). Pilot evaluation of a home visit parent training program in disadvantaged families. Research on Social Work Practice,23(4), 397–406.

Leung, C., Tsang, S., & Heung, K. (2015a). The effectiveness of healthy start home visit program: Cluster randomized controlled trial. Research on Social Work Practice,25(3), 322–333.

Leung, C., Tsang, S., Heung, K., & Yiu, I. (2009). Effectiveness of parent–child interaction therapy (PCIT) among Chinese families. Research on Social Work Practice,19(3), 304–313.

Leung, C., Tsang, S., & Leung, I. (2014). Pilot evaluation of Parent and Child Enhancement program for disadvantaged families. Research on Social Work Practice,24(4), 437–447.

Leung, C., Tsang, S., Sin, T. C., & Choi, S.-Y. (2015b). The efficacy of parent–child interaction therapy with Chinese families: Randomized controlled trial. Research on Social Work Practice,25(1), 117–128.

Leung, K., Lau, S., & Lam, W.-L. (1998). Parenting styles and academic achievement: A cross-cultural study. Merrill-Palmer Quarterly,44(2), 157–172.

Leung, P. W., & Kwan, K. S. (1998). Parenting styles, motivational orientations, and self-perceived academic competence: A mediational model. Merrill-Palmer Quarterly,44(1), 1–19.

Mayer, S. E. (1997). What money can't buy: Family income and children's life chances. Cambridge: Harvard University Press.

Mistry, R. S., Biesanz, J. C., Chien, N., Howes, C., & Benner, A. D. (2008). Socioeconomic status, parental investments, and the cognitive and behavioral outcomes of low-income children from immigrant and native households. Early Childhood Research Quarterly,23(2), 193–212.

Newland, R. P., Crnic, K. A., Cox, M. J., & Mills-Koonce, W. R. (2013). The family model stress and maternal psychological symptoms: Mediated pathways from economic hardship to parenting. Journal of Family Psychology,27(1), 96–105.

Phillipson, S., & Phillipson, S. N. (2012). Children's cognitive ability and their academic achievement: The mediation effects of parental expectations. Asia Pacific Education Review,13(3), 495–508.

Post, D. (2004). Family resources, gender, and immigration: Changing sources of Hong Kong educational inequality, 1971–2001. Social Science Quarterly,85(5), 1238–1258.

Rafferty, Y., & Griffin, K. W. (2010). Parenting behaviours among low-income mothers of preschool age children in the USA: Implications for parenting programmes. International Journal of Early Years Education,18(2), 143–157.

Raven, J. C. (1958). Standard progressive matrices. London, UK: H. K. Lewis.

Ridge, T. (2011). The everyday costs of poverty in childhood: A review of qualitative research exploring the lives and experiences of low-income children in the UK. Children & Society,25(1), 73–84.

Robert, T., & Neal, H. (2004). Relationships among preschool English language learners' oral proficiency in English, instructional experience and literacy development. Contemporary Educational Psychology,29, 283–311.

Russell, A., Hart, C. H., Robinson, C. C., & Olsen, S. F. (2003). Children's sociable and aggressive behaviour with peers: A comparison of the US and Australia, and contributions of temperament and parenting styles. International Journal of Behavioural Development,27(1), 74–86.

Schumacker, R. E., & Lomax, R. G. (2016). A beginner's guide to structural equation modeling. New York, NY: Poutledge.

Snow, C. E., Burns, S., & Griffin, P. (1998). Preventing reading difficulties in young children. Washington: National Academy Press.

Snow, C. E., Porche, M. V., Tabors, P. O., & Harris, S. R. (2007). Is literacy enough? Pathways to academic success for adolescents. Baltimore: Paul H. Brookes Publishing Co.

Steinberg, L., Elmen, J. D., & Mounts, N. S. (1989). Authoritative parenting, psychosocial maturity, and academic success among adolescents. Child Development,60(6), 1424–1436.

Strelitz, J., & Lister, R. (2008). Why money matters: Family income, poverty and children's lives. London: Save the Children.

Sun, Y. (1998). The academic success of East-Asian–American students—An investment model. Social Science Research,27(4), 432–456.

Tam, K. K., Chan, Y. C., & Wong, C. K. M. (1994). Validation of the parenting stress index among Chinese mothers in Hong Kong. Journal of Community Psychology,22(3), 211–223.

Thompson, A., Hollis, C., & Richards, D. (2003). Authoritarian parenting attitudes as a risk for conduct problems. European Child & Adolescent Psychiatry,12(2), 84–91.

Wu, P., Robinson, C., Yang, C., Hart, C., Olsen, S., Porter, C., … Wu, X. (2002). Similarities and differences in mothers' parenting of preschoolers in China and the United States. International Journal of Behaviour Development, 26(6), 481–491

Wu, X. (2007). Family resources and educational stratification: The case of Hong Kong, 1981–2001. Social Transformations in Chinese Societies,3, 173–201.

Xu, Y., Farver, J. A. M., Zhang, Z., Zeng, Q., Yu, L., & Cai, B. (2005). Mainland Chinese parenting styles and parent–child interaction. International Journal of Behavioral Development,29(6), 524–531.

Yeung, W. J., Linver, M. R., & Brooks-Gunn, J. (2002). How money matters for young children's development: Parental investment and family processes. Child Development,73(6), 1861–1879.
Acknowledgements
This study was funded by the Research Grant Council, Early Career Scheme (Grant No. 28400614). The authors confirm that there are no conflicts of interest associated with this publication and there has been no financial support for this work that could have influenced its outcome. All procedures followed were in accordance with the ethical standards of the Human Research Ethics Committee of the Education University of Hong Kong. Informed consent was obtained from all participants for being included in the study.
Additional information
Publisher's Note
Springer Nature remains neutral with regard to jurisdictional claims in published maps and institutional affiliations.
About this article
Cite this article
Cheung, K.C., Wong, R.K. Income Effects on the Intellectual Development of Children from Low-Income Families in Hong Kong: The Mediating Role of Parental Investment and Parental Stress. Child Adolesc Soc Work J (2020). https://doi.org/10.1007/s10560-020-00681-5
Keywords
Poverty

Family investment

Parental stress

Parenting style

Cognitive ability

Child development