Abstract
Objective
We have shown previously that diallyl trisulfide (DATS) ameliorates mitochondrial fission and oxidative stress in a hyperglycemia-induced endothelial apoptosis and diabetic mouse model. The aim of this study was to investigate whether DATS mitigates Ang II-induced vascular smooth muscle cell (VSMC) phenotypic switching and vascular remodeling, and if so, to determine the underlying molecular events.
Methods
Male C57BL/6 mice were used to establish a vascular remodeling model by continuous 2-week Ang II infusion using a subcutaneous osmotic pump. Animals were intraperitoneally injected with DATS or vehicle. Physiological parameters, vascular morphology, and molecular markers were assessed. For in vitro studies, VSMCs were pretreated with or without DATS for 1 h, then were stimulated with Ang II, and mitochondrial morphology and phenotypic switching of VSMCs were also measured.
Results
In primary mouse VSMCs, we found that Drp1-dependent mitochondrial fission regulated mitochondrial reactive oxygen species (mtROS) generation, which eventually promoted Ang II-induced VSMC proliferation, migration, and phenotypic switching. Moreover, Ang II was found to up-regulate the Rho-associated coiled coil-containing protein kinase 1 (ROCK1), which regulated mitochondrial fission and VSMC phenotypic switching by phosphorylating Drp1. However, the biological effect of Ang II was abrogated by DATS. Consistent with the effects in VSMCs, we found that DATS markedly alleviated mitochondrial fission, VSMC differentiation, and vessel wall thickening in an animal model of Ang II-induced vascular remodeling, which was regulated by the ROCK1/Drp1 signal.
Conclusions
Our findings showed that DATS mitigated Ang II-induced vascular remodeling by suppressing Drp1-mediated mitochondrial fission in an ROCK1-dependent manner.
This is a preview of subscription content, log in to check access.
Access options
Buy single article
Instant access to the full article PDF.
US$ 39.95
Price includes VAT for USA
Subscribe to journal
Immediate online access to all issues from 2019. Subscription will auto renew annually.
US$ 99
This is the net price. Taxes to be calculated in checkout.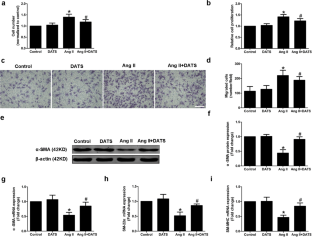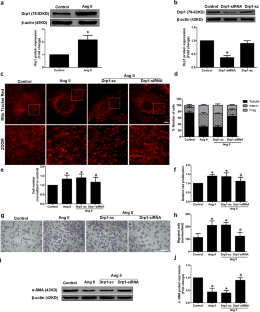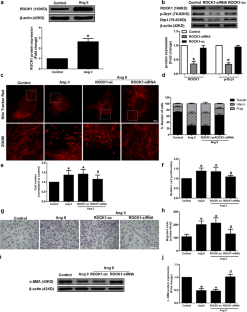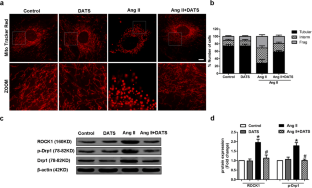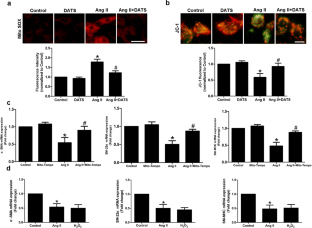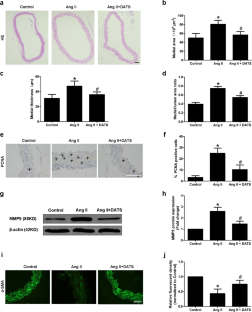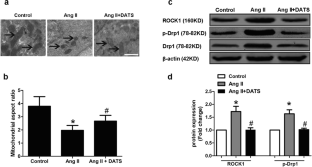 Funding
This work was supported by the China National Natural Science Foundation (81800171, 81900275), the Natural Science Foundation of Shanxi Province (201801D221273), the Scientific and Technological Innovation Program of Shanxi Higher Education Institution (201804026, 201804027) and Shanxi Provincial Commission of Health and Family Planning (2017053).
Ethics declarations
Conflict of Interest
The authors declare that they have no conflict of interest.
Ethical Approval
This study conformed to the Guidelines on the Care and Use of Laboratory Animals (NIH Publication no.85–23) and was approved by the Animal Care Committee of the Shanxi Medical University.
Additional information
Publisher's Note
Springer Nature remains neutral with regard to jurisdictional claims in published maps and institutional affiliations.
About this article
Cite this article
Lu, Z., Qi, J., Yang, B. et al. Diallyl Trisulfide Suppresses Angiotensin II–Induced Vascular Remodeling Via Inhibition of Mitochondrial Fission. Cardiovasc Drugs Ther (2020). https://doi.org/10.1007/s10557-020-07000-1
Keywords
Diallyl trisulfide

Vascular remodeling

Hypertension

Drp1

Mitochondrial fission