Abstract
Purpose
Sodium-glucose cotransporter 2 (SGLT2) inhibitors prevent heart failure and decrease cardiovascular mortality in patients with type 2 diabetes. Heart failure is associated with detrimental changes in energy metabolism, and the preservation of cardiac mitochondrial function is crucial for the failing heart. However, to date, there are no data to support the hypothesis that treatment with a SGLT2 inhibitor might alter mitochondrial bioenergetics in diabetic failing hearts. Thus, the aim of this study was to investigate the protective effects of empagliflozin on mitochondrial fatty acid metabolism.
Methods
Mitochondrial dysfunction was induced by 18 weeks of high-fat diet (HFD)-induced lipid overload. Empagliflozin was administered at a dose of 10 mg/kg in a chow for 18 weeks. Palmitate metabolism in vivo, cardiac mitochondrial functionality and biochemical parameters were measured.
Results
In HFD-fed mice, palmitate uptake was 1.7, 2.3, and 1.9 times lower in the heart, liver, and kidneys, respectively, compared with that of the normal chow control group. Treatment with empagliflozin increased palmitate uptake and decreased the accumulation of metabolites of incomplete fatty acid oxidation in cardiac tissues, but not other tissues, compared with those of the HFD control group. Moreover, empagliflozin treatment resulted in fully restored fatty acid oxidation pathway-dependent respiration in permeabilized cardiac fibers. Treatment with empagliflozin did not affect the biochemical parameters related to hyperglycemia or hyperlipidemia.
Conclusion
Empagliflozin treatment preserves mitochondrial fatty acid oxidation in the heart under conditions of chronic lipid overload.
Access options
Buy single article
Instant access to the full article PDF.
US$ 39.95
Tax calculation will be finalised during checkout.
Subscribe to journal
Immediate online access to all issues from 2019. Subscription will auto renew annually.
US$ 79
Tax calculation will be finalised during checkout.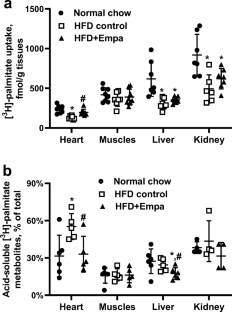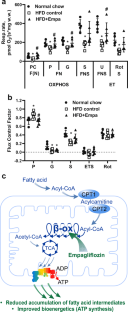 Abbreviations
CCCP:

Carbonyl cyanide m-chlorophenyl hydrazine

ETS:

Electron transfer system

F-pathway:

Fatty acid oxidation-dependent pathway

HFD:

High-fat diet

N-pathway:

NADH-dependent pathway

NHE:

Sodium hydrogen exchanger

OXPHOS:

Oxidative phosphorylation

ROX:

Residual oxygen consumption

SGLT2:

Sodium-glucose cotransporter 2

S-pathway:

Succinate-pathway
Availability of Data and Materials
The data sets used and/or analyzed during the current study are available from the corresponding author on reasonable request.
Funding
Authors were supported by the European Union's Horizon 2020 research and innovation program under grant agreement No. 857394.
Ethics declarations
Conflict of Interests
The authors declare that they have no conflict of interest.
Ethics Approval and Consent to Participate
The experimental procedures involving animals were performed in accordance with the guidelines of the European Community and local laws and policies, and all of the procedures were approved by the Food and Veterinary Service, Riga, Latvia.
Additional information
Publisher's Note
Springer Nature remains neutral with regard to jurisdictional claims in published maps and institutional affiliations.
Electronic Supplementary Material
About this article
Cite this article
Makrecka-Kuka, M., Korzh, S., Videja, M. et al. Empagliflozin Protects Cardiac Mitochondrial Fatty Acid Metabolism in a Mouse Model of Diet-Induced Lipid Overload. Cardiovasc Drugs Ther 34, 791–797 (2020). https://doi.org/10.1007/s10557-020-06989-9
Keywords
Empagliflozin

Fatty acid oxidation

Mitochondria

Heart