Abstract
Outcomes of kidney transplant (KT) patients with pre-transplant pulmonary hypertension (PH) are poorly understood. PH patients are often considered high risk and excluded from KT. We investigated the association of pre-transplant PH with KT recipient's outcomes. A single-center, retrospective study that reviewed all patients transplanted from 2010 to 2016, who had a transthoracic echocardiogram (TTE) before KT and at least one TTE post-KT. The TTE closest to the KT was used for analyses. PH is defined as pulmonary artery systolic pressure (PASP) ≥ 40 mm Hg. Of 204 patients, 61 had PASP ≥ 40 mm Hg (with PH) and 143 had PASP < 40 mm Hg (without PH) prior to KT. No statistically significant differences existed between the two groups in baseline demographics, renal failure etiologies, dialysis access type, and cardiovascular risk factors. The mean difference in pre-KT PASP was 18.1 ± 7 mm Hg (P < 0.001). Patients with PH had a statistically significant decrease in PASP post-KT compared to the patients without PH with a mean change of -7.03 ± 12.28 mm Hg vs. + 3.96 ± 11.98 mm Hg (p < 0.001), respectively. Moderate mitral and moderate-severe tricuspid regurgitation were the only factors found to be independently associated with PH (p = 0.001) on multivariable analysis. No statistically significant difference was notable in patient survival, graft function, and creatinine post-KT in both groups. PH pre-KT particularly mild-moderate PH did not adversely affect intermediate (90-day) and long-term allograft and patient survival. Patients with mild-moderate PH should not be excluded from KT.
Access options
Buy single article
Instant access to the full article PDF.
US$ 39.95
Tax calculation will be finalised during checkout.
Subscribe to journal
Immediate online access to all issues from 2019. Subscription will auto renew annually.
US$ 79
Tax calculation will be finalised during checkout.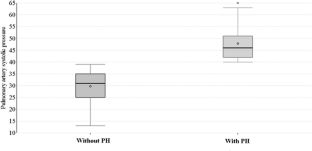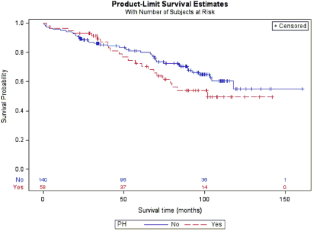 References
1.

Tang M, Batty JA, Lin C, Fan X, Chan KE, Kalim S (2018) Pulmonary hypertension, mortality, and cardiovascular disease in CKD and ESRD patients: a systematic review and meta-analysis. Am J Kidney Dis 72:75–83

2.

Sise ME, Courtwright AM, Channick RN (2013) Pulmonary hypertension in patients with chronic and end-stage kidney disease. Kidney Int 84:682–692

3.

Yigla M, Nakhoul F, Sabag A, Tov N, Gorevich B, Abassi Z, Reisner SA (2003) Pulmonary hypertension in patients with end-stage renal disease. Chest 123:1577–1582

4.

Tarrass F, Benjelloun M, Medkouri G, Hachim K, Benghanem MG, Ramdani B (2006) Doppler echocardiograph evaluation of pulmonary hypertension in patients undergoing hemodialysis. Hemodial Int 10:356–359

5.

Foderaro AE, Baird GL, Bazargan-Lari A, Morrissey PE, Gohh RY, Poppas A, Klinger JR, Ventetuolo CE (2017) Echocardiographic pulmonary hypertension predicts post-transplantation renal allograft failure. Transplant Proc 49:1256–1261

6.

Bozbas SS, Akcay S, Altin C, Bozbas H, Karacaglar E, Kanyilmaz S, Sayin B, Muderrisoglu H, Haberal M (2009) Pulmonary hypertension in patients with end-stage renal disease undergoing renal transplantation. Transplant Proc 41:2753–2756

7.

Lentine KL, Costa SP, Weir MR, Robb JF, Fleisher LA, Kasiske BL, Carithers RL, Ragosta M, Bolton K, Auerbach AD, Eagle KA, American Heart Association Council on the Kidney in Cardiovascular Disease and Council on Peripheral Vascular Disease, American Heart Association; American College of Cardiology Foundation (2012) Cardiac disease evaluation and management among kidney and liver transplantation candidates: a scientific statement from the American Heart Association and the American College of Cardiology Foundation: endorsed by the American Society of Transplant Surgeons, American Society of Transplantation, and National Kidney Foundation. Circulation 126:617–663

8.

Reich DL, Wood RK Jr, Emre S, Bodian CA, Hossain S, Krol M, Feierman D (2003) Association of intraoperative hypotension and pulmonary hypertension with adverse outcomes after orthotopic liver transplantation. J Cardiothorac Vasc Anesth 17:699–702

9.

Ramakrishna G, Sprung J, Ravi BS, Chandrasekaran K, McGoon MD (2005) Impact of pulmonary hypertension on the outcomes of noncardiac surgery: predictors of perioperative morbidity and mortality. J Am Coll Cardiol 45:1691–1699

10.

Lai HC, Lai HC, Wang KY, Lee WL, Ting CT, Liu TJ (2007) Severe pulmonary hypertension complicates postoperative outcome of non-cardiac surgery. Br J Anaesth 99:184–190

11.

Zlotnick DM, Axelrod DA, Chobanian MC, Friedman S, Brown J, Catherwood E, Costa SP (2010) Non-invasive detection of pulmonary hypertension prior to renal transplantation is a predictor of increased risk for early graft dysfunction. Nephrol Dial Transplant 25:3090–3096

12.

Issa N, Krowka MJ, Griffin MD, Hickson LJ, Stegall MD, Cosio FG (2008) Pulmonary hypertension is associated with reduced patient survival after kidney transplantation. Transplantation 86:1384–1388

13.

Casas-Aparicio G, Castillo-Martínez L, Orea-Tejeda A, Abasta-Jiménez M, Keirns-Davies C, Rebollar-González V (2010) The effect of successful kidney transplantation on ventricular dysfunction and pulmonary hypertension. Transplant Proc 42:3524–3528

14.

Wang SC, Garcia R, Torosoff M, Fein SA, Ashar A, Chandolias N, Conti D, Lyubarova R (2019) Influence of mildly and moderately elevated pulmonary artery systolic pressure on post-renal transplantation survival and graft function. Echocardiography 36:22–27

15.

Obi C, Frost AE, Graviss EA, Nguyen DT, Gaber AO, Suki WN (2020) The association of pretransplant pulmonary hypertension with patient and graft survival after kidney transplantation: a retrospective cohort study. Transplant Proc. https://doi.org/10.1016/j.transproceed.2020.05.003

16.

Karthikeyan V, Chattahi J, Kanneh H, Koneru J, Hayek S, Patel A, Goggins M, Ananthasubramaniam K (2011) Impact of pre-existing left ventricular dysfunction on kidney transplantation outcomes: implications for patient selection. Transplant Proc 43:3652–3656

17.

Rudski LG, Lai WW, Afilalo J, Hua L, Handschumacher MD, Chandrasekaran K, Solomon SD, Louie EK, Schiller NB (2010) Guidelines for the echocardiographic assessment of the right heart in adults: a report from the American Society of Echocardiography endorsed by the European Association of Echocardiography, a registered branch of the European Society of Cardiology, and the Canadian Society of Echocardiography. J Am Soc Echocardiogr 23:685–713

18.

Bolignano D, Pisano A, Coppolino G, Tripepi GL, D'arrigo G, (2019) Pulmonary hypertension predicts adverse outcomes in renal patients: a systematic review and meta-analysis. Ther Apher Dial 23:369–384

19.

Reque J, Garcia-Prieto A, Linares T, Vega A, Abad S, Panizo N, Quiroga B, Collado Boira EJ, López-Gómez JM (2017) Pulmonary hypertension is associated with mortality and cardiovascular events in chronic kidney disease patients. Am J Nephrol 45:107–114

20.

Mehta KS, Shirkande AK, Bhurke SP, Pajai AE, Swami RS, Jadhav SN (2019) Pulmonary hypertension in various stages of chronic kidney disease in Indian patients. Indian J Nephrol 29:95–101

21.

Tokodai K, Amada N, Kikuchi H, Haga I, Takayama T, Nakamura A (2012) Outcomes of renal transplantation after end-stage renal disease due to diabetic nephropathy: a single-center experience. Transplant Proc 44:77–79

22.

Lim WH, Wong G, Pilmore HL, Mcdonald SP, Chadban SJ (2017) Long-term outcomes of kidney transplantation in people with type 2 diabetes: a population cohort study. Lancet Diabetes Endocrinol 5(1):26–33

23.

Janda S, Shahidi N, Gin K, Swiston J (2011) Diagnostic accuracy of echocardiography for pulmonary hypertension: a systematic review and meta-analysis. Heart 97:612–622

24.

Nakhoul F, Yigla M, Gilman R, Reisner SA, Abassi Z (2005) The pathogenesis of pulmonary hypertension in haemodialysis patients via arterio-venous access. Nephrol Dial Transplant 20:1686–1692

25.

Jarmi T, Doumit E, Makdisi G, Mhaskar R, Miladinovic B, Wadei H, Rumbak M, Aslam S (2018) Pulmonary artery systolic pressure measured intraoperatively by right heart catheterization is a predictor of kidney transplant recipient survival. Ann Transplant 23:867–873
Funding
No funding was used in the preparation of this work.
Ethics declarations
Conflict of interest
The authors declare that they have no conflict of interest.
Ethical approval
This retrospective chart review study involving human participants was in accordance with the ethical standards of the institutional and national research committee and with the 1964 Helsinki Declaration and its later amendments or comparable ethical standards. The Human Investigation Committee (IRB) of Henry Ford Health System approved this study.
Additional information
Publisher's Note
Springer Nature remains neutral with regard to jurisdictional claims in published maps and institutional affiliations.
Prior presentation: The work was presented as a poster at the Michigan Chapter of the American College of Cardiology 30th Annual Conference, Detroit, MI, October 26-27, 2018.
About this article
Cite this article
Sadat, B., Tirunagari, D., Karthikeyan, V. et al. Clinical impact of pre-kidney transplant pulmonary hypertension on post-transplant outcomes. Int J Cardiovasc Imaging (2021). https://doi.org/10.1007/s10554-021-02182-7
Received:

Accepted:

Published:
Keywords
Pulmonary hypertension

End-stage kidney disease

Kidney transplant

Survival