Abstract
Catheter radio-frequency ablation (RFA) and cryo-ablation (CRA) procedures are an effective and safe treatment options for adult and pediatric patients with accessory pathway (AP) mediated tachycardias. Non-fluoroscopic techniques during catheter ablation (CA) procedures reduce potentially harmful effects of radiation. Our aim was to investigate the efficacy and safety of completely fluoroless RFA and CRA procedures in pediatric and adult patients with APs. Consecutive patients with AP-related tachycardia and high risk asymptomatic ventricular pre-excitation were assessed in retrospective analysis. Three-dimensional (3D) electro-anatomical mapping (EAM) and intra-cardiac echocardiography (ICE) were used as principal imaging modalities. Fluoroscopy was not used during any stage of the procedures. Among 116 included patients (22.76 ± 16.1 years, 68 patients < 19 years), 60 had left-sided APs, 16 right-sided APs and 40 septal APs. Altogether, 96 had RFA and 20 CRA procedures. The acute success rates (ASR) of RFA and CRA were 97.9% and 95%, respectively (p = 0.43), with recurrence rates (RR) of 8.33% and 40%, respectively (p < 0.0001). The outcome difference was principally driven by lower RR with RFA in septal APs (9.1% vs. 38.9%, p = 0.025). Pediatric patients with APs (12.21 ± 3.76 years) had similar procedural parameters and outcomes compared to adult patients. There were no procedure-related complications. In adult and pediatric patients with AP-related tachycardias, both CRA and RFA can be effectively and safely performed without the use of fluoroscopy. In addition, RFA resulted in better outcomes compared to CRA.
Access options
Buy single article
Instant access to the full article PDF.
US$ 39.95
Tax calculation will be finalised during checkout.
Subscribe to journal
Immediate online access to all issues from 2019. Subscription will auto renew annually.
US$ 79
Tax calculation will be finalised during checkout.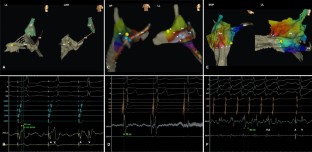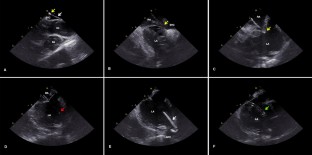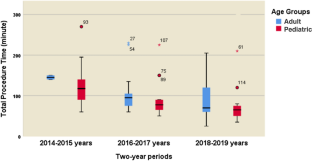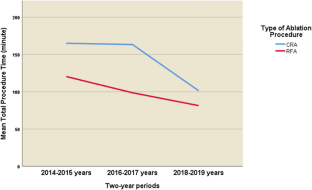 Availability of data and materials
Data generated or analyzed during this study is for the most part included in this published article. Additional raw data is available and can be shared upon request to the corresponding author.
Abbreviations
RFA:

Radio-frequency ablation

CRA:

Cryo-ablation

AP:

Accessory pathway

CA:

Catheter ablation

SVT:

Supra-ventricular tachycardia

ECG:

Electrocardiogram

3D EAM:

Three-dimensional electro-anatomic mapping

ICE:

Intra-cardiac echocardiography

TPT:

Total procedural time

TAT:

Total ablation time

ASR:

Acute success rate

RR:

Recurrence rate

AFSR:

Arrhythmia free survival rate

WPW:

Wolff-Parkinson-White

ALARA:

As low as reasonably achievable

AAD:

Anti-arrhythmic drug

HV:

His-ventricular

VA:

Ventriculo-atrial

AV:

Atrio-ventricular

AVRT:

Atrio-ventricular reentry tachycardia

LAT:

Local activation time

CR:

Complication rate

SD:

Standard deviation

BMI:

Body-mass index
References
1.

Blomström-Lundqvist C, Sheinman MM, Aliot EM, Alpert JS, Calkins H, Camm AJ, Campbell WB et al (2003) European Society of Cardiology Committee, NASPE-Heart Rhythm Society. ACC/AHA/ESC guidelines for the management of patients with supraventricular arrhythmias—executive summary: a report of the American college of cardiology/American heart association task force on practice guidelines and the European society of cardiology committee for practice guidelines. J Am Coll Cardiol 42:1493–531

2.

Calkins H, Yong P, Miller JM, Olshansky B, Carlson M, Saul JP, Huang SK et al (1999) Catheter ablation of accessory pathways, atrioventricular nodal reentrant tachycardia, and the atrioventricular junction: final resuls of a prospective, multicenter clinical trial. Circulation 99:262–270

3.

Kugler JD, Danford DA, Houston KA, Felix G (2002) Pediatric radiofrequency catheter ablation registry success, fluoroscopy time, and complication rate for supraventricular tachycardia: comparison of early and recent eras. J Cardiovasc Electrophysiol 13:336–341

4.

van Hare GF, Javitz H, Carmelli D et al (2004) Prospective assessment after pediatric cardiac ablation: demographics, medical profiles, and initial outcomes. J Cardiovasc Electrophysiol 15:759–770

5.

Tischenko A, Fox DJ, Yee R, Krahn AD, Skanes AC, Gula LJ, Klein GJ (2008) When should we recommend catheter ablation for patients with the Wolff-Parkinson-White syndrome? Curr Opin Cardiol 23:32–37

6.

Page RL, Joglar JA, Caldwell MA, Calkins H, Conti JB, Deal BJ et al (2016) 2015 ACC/AHA/HRS guideline for the management of adult patients with supraventricular tachycardia: a report of the American College of Cardiology/American Heart Association Task Force on Clinical Practice Guidelines and the Heart Rhythm Society. Heart Rhythm 13:e136-221

7.

Cappato R, Kuck KH (2000) Catheter ablation in the year 2000. Curr Opin Cardiol 15:29–40

8.

Ait-Ali L, Andreassi MG, Foffa I, Spadoni I, Vano E, Picano E (2010) Cumulative patient effective dose and acute radiation-induced chromosomal DNA damage in children with congenital heart disease. Heart 96:269–274

9.

Kovoor P, Ricciardello M, Collins L, Uther JB, Ross DL (1998) Risk to patients from radiation associated with radiofrequency ablation for supraventricular tachycardia. Circulation 98:1534–1540

10.

Picano E, Vañó E, Rehani MM, Cuocolo A, Mont L, Bodi V, Bar O et al (2014) The appropriate and justified use of medical radiation in cardiovascular imaging: a position document of the ESC Associations of Cardiovascular Imaging, Percutaneous Cardiovascular Interventions and Electrophysiology. Eur Heart J 35:665–672

11.

Gellis LA, Ceresnak SR, Gates GJ, Nappo L, Pass RH (2013) Reducing patient radiation dosage during pediatric SVT ablations using an "ALARA" radiation reduction protocol in the modern fluoroscopic era. Pacing Clin Electrophysiol 36:688–694

12.

Marazzato J, Fonte G, Marazzi R, Doni LA, Mitacchione G, Vilotta M, Ponti RD (2019) Efficacy and safety of cryoablation of para-Hisian and mid-septal accessory pathways using a specific protocol: single-center experience in consecutive patients. J Interv Card Electrophysiol 55:47–54

13.

Chen G, Wang Y, Proietti R, Wang X, Ouyang F, Ma CS, Yu RH, Zhao C, Ma K, Qiu J, Liu Q, Weng DW (2020) Zero-fluoroscopy approach for ablation of supraventricular tachycardia using the Ensite NavX system: a multicenter experience. BMC Cardiovasc Disord 20:48

14.

Stec S, Śledź J, Mazij M, Raś M, Ludwik B, Chrabąszcz M, Śledź A et al (2014) Feasibility of implementation of a "simplified, no-X-ray, no-lead apron, two-catheter approach" for ablation of supraventricular arrhythmias in children and adults. J Cardiovasc Electrophysiol 25:866–874

15.

Kipp RT, Boynton JR, Field ME et al (2018) Outcomes during intended fluoroscopy-free ablation in adults and children. J Innov Card Rhythm Manag 9:3305–3311

16.

Bravo L, Atienza F, Eidelman G, Ávila P, Pelliza M, Castellanos E et al (2018) Safety and efficacy of cryoablation vs. radiofrequency ablation of septal accessory pathways: systematic review of the literature and meta-analyses. Europace 20:1334–42

17.

Santoro A, Di Clemente F, Baiocchi C, Zacà V, Bianchi C, Bellini C, Falciani F et al (2019) From near-zero to zero fluoroscopy catheter ablation procedures. J Cardiovasc Electrophysiol 30:2397–2404

18.

Giaccardi M, Del Rosso A, Guarnaccia V, Ballo P, Mascia G, Chiodi L, Colella A (2016) Nearzero x-ray in arrhythmia ablation using a 3-dimensional electroanatomic mapping system: a multicenter experience. Heart Rhythm 13:150–156

19.

Ceresnak SR, Dubin AM, Kim JJ, Valdes SO, Fishberger SB, Shetty I et al (2015) Success rates in pediatric WPW ablation are improved with 3-dimensional mapping systems compared with fluoroscopy alone: a multicenter study. J Cardiovasc Electrophysiol 26:412–416

20.

Jan M, Žižek D, Rupar K, Mazić U, Kuhelj D, Lakič N, Geršak B (2016) Fluoroless catheter ablation of various right and left sided supraventricular tachycardias in children and adolescents. Int J Cardiovasc Imaging 32:1609–1616

21.

Scaglione M, Ebrille E, Caponi D, Blandino A, DI Donna P, Siboldi A, Bertero G et al (2013) Single center experience of fluoroless AVNRT ablation guided by electroanatomic reconstruction in children and adolescents. Pacing Clin Electrophysiol 36:1460–1467

22.

Walsh KA, Galvin J, Keaney J, Keelan E, Szeplaki G (2018) First experience with zero-fluoroscopic ablation for supraventricular tachycardias using a novel impedance and magnetic-field-based mapping system. Clin Res Cardiol 107:578–585

23.

Clark J, Bockoven JR, Lane J, Patel CR, Smith G (2008) Use of three-dimensional catheter guidance and trans-esophageal echocardiography to eliminate fluoroscopy in catheter ablation of left-sided accessory pathways. Pacing Clin Electrophysiol 31:283–289

24.

Nagaraju L, Menon D, Aziz PF (2016) Use of 3D electroanatomical navigation (CARTO-3) to minimize or eliminate fluoroscopy use in the ablation of pediatric supraventricular tachyarrhythmias. Pacing Clin Electrophysiol 39:574–580

25.

Jan M, Kalinšek TP, Štublar J et al (2020) Intra-cardiac ultrasound guided approach for catheter ablation of typical right free wall accessory pathways. BMC Cardiovasc Disord 20:210

26.

Backhoff D, Klehs S, Müller MJ, Kriebel T, Paul T, Krause U (2016) Radiofrequency catheter ablation of accessory atrioventricular pathways in infants and toddlers ≤ 15 kg. Pediatr Cardiol 37:892–898

27.

Telishevska M, Hebe J, Paul T, Nürnberg JH, Krause U, Gebauer R, Gass M, Balmer C, Berger F, Molatta S, Emmel M, Lawrenz W, Kriebel T, Hessling G (2019) Catheter ablation in ASymptomatic PEDiatric patients with ventricular preexcitation: results from the multicenter "CASPED" study. Clin Res Cardiol 108(6):683–690. https://doi.org/10.1007/s00392-018-1397-x

28.

Demo H, Willoughby C, Jazayeri MA, Razminia M (2019) Fluoroless catheter ablation of cardiac arrhythmias. Card Electrophysiol Clin 11:719–729

29.

Giaccardi M, Mascia G, Paoletti Perini A, Giomi A, Cartei S, Milli M (2019) Long-term outcomes after "zero X-ray" arrhythmia ablation. J Interv Card Electrophysiol 54:43–48

30.

Pani A, Giuseppina B, Bonanno C, Grazia Bongiorni M, Bottoni N, Brambilla R, Ceglia S, Della Bella P et al (2018) Predictors of zero X-ray ablation for supraventricular tachycardias in a nationwide multicenter experience. Circ Arrhythm Electrophysiol 11:e005592
Ethics declarations
Conflict of interest
Matevž Jan received honoraria from Biosense Webster and Abbott. Other authors report no conflict of interests.
Ethical approval
The study complies with the Declaration of Helsinki. The fluoroless catheter ablation protocol was approved by The National Medical Ethics Committee (Komisija za medicinsko etiko Republike Slovenije).
Informed consent
All patients (or their parents in case of pediatric patients) gave written informed consent before ablation procedures were performed.
Additional information
Publisher's Note
Springer Nature remains neutral with regard to jurisdictional claims in published maps and institutional affiliations.
About this article
Cite this article
Yazici, M., Lakič, N., Prolič Kalinšek, T. et al. Fluoroless catheter ablation of accessory pathways in adult and pediatric patients: a single centre experience. Int J Cardiovasc Imaging (2021). https://doi.org/10.1007/s10554-021-02168-5
Received:

Accepted:

Published:
Keywords
Accessory pathways

Catheter ablation

Fluoroless

Electro-anatomic mapping system

Intra-cardiac echocardiography