The scientific and reasonable layout of jack-up drilling platform can improve the efficiency and safety of drilling platform operation. Through the application of analytic hierarchy process (AHP) and the establishment of comprehensive evaluation and analysis model, this paper analyzes the commonly used drilling platform layout scheme and optimizes the scheme to meet operational requirements and to improve the ability of the drilling platform operation.
This is a preview of subscription content, log in to check access.
Access options
Buy single article
Instant access to the full article PDF.
US$ 39.95
Price includes VAT for USA
Subscribe to journal
Immediate online access to all issues from 2019. Subscription will auto renew annually.
US$ 199
This is the net price. Taxes to be calculated in checkout.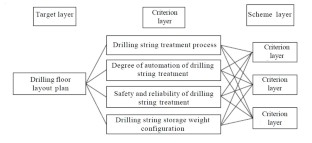 References
1.

X. Ren, Y. Bai, and L. Jia, "Study on the general arrangement of jack-up drilling platform". Ship Eng., 32(2), 121-125 (2010).

2.

S. Xu, Principles of the Analytic Hierarchy Process, Tianjin, Tianjin University Press (1988).

3.

L. Han, Q. Mei, and Y. Lu, "Analysis and study on AHP-fuzzy comprehensive evaluation," Chin. Safe. Sci. J., 14(7), 86-88 (2004).

4.

Y. Zhou and W. Li, "Enhanced FAHP and application to task scheme evaluation," Comput. Eng. Appl., 44(5), 211-213 (2008).

5.

Q. Dou, S. Zhao, and X. Fan, "Analysis of drill floor equipments layout in jack-up drilling platform," Mech. Res. Appl., 28(6), 139-140 (2015).
Additional information
Translated from khimiya i Teknologiya Topliv i Masel, No. 2, pp. 72 – 75, March – April, 2020.
About this article
Cite this article
Yi, Z., Wei, W., Langfeng, M. et al. Application of Analytic Hierarchy process (AHP) in the Layout of Jack-Up Drilling Platform. Chem Technol Fuels Oils (2020). https://doi.org/10.1007/s10553-020-01134-6
Keywords
jack-up drilling platform

analytic hierarchy process

platform layout scheme