Abstract
Purpose
The 2010 Affordable Care Act (ACA) provided millions of people with health insurance coverage and facilitated routine cancer screening by requiring insurers to cover preventive services without cost-sharing. Despite greater access to affordable cancer screening, Pap testing has declined over time. The aim of this study is to assess participation in Pap test and HPV vaccination, and adherence to guidelines as outlined by the American Cancer Society (ACS) from the 2010 ACA provision eliminating cost-sharing for preventive services.
Methods
Using multi-year responses from the Behavioral Risk Factor Surveillance System, we examined the association between the ACA and participation in and adherence to Pap testing and HPV vaccination behaviors as set by the ACS. The sample included women aged 21–29 who completed the survey between 2008 and 2018 (every other year) and who live in 24 US States (N = 37,893).
Results
Results showed significant decreases in Pap testing rates but increases in the uptake of the HPV vaccine series for all age groups and across all demographics. Post-ACA year significantly predicted increases in HPV + Pap co-testing participation and adherence. Women with health insurance coverage were more likely to engage in both behaviors.
Conclusion
Findings raise concerns around declines in the proportion of women receiving and adhering to Pap testing guidelines. A need exists for research to examine the role of increases in HPV vaccination uptake on decreases in Pap testing. Moreover, effective strategies should target increases in cervical cancer screening uptake among women vaccinated against HPV.
This is a preview of subscription content, log in to check access.
Access options
Buy single article
Instant access to the full article PDF.
US$ 39.95
Price includes VAT for USA
Subscribe to journal
Immediate online access to all issues from 2019. Subscription will auto renew annually.
US$ 199
This is the net price. Taxes to be calculated in checkout.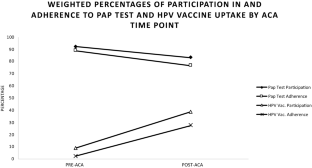 References
1.

Siegel RL, Miller KD, Jemal A (2019) Cancer statistics, 2019. CA Cancer J Clin 69:7–34. https://doi.org/10.3322/caac.21551

2.

Bosch FX, Lorincz A, Munoz N, Meijer CJ, Shah KV (2002) The causal relation between human papillomavirus and cervical cancer. J Clin Pathol 55:244–265. https://doi.org/10.1136/jcp.55.4.244

3.

Center for Disease Control and Prevention (2014) Cervical cancer is preventable. https://www.cdc.gov/vitalsigns/cervical-cancer/index.html. Accessed 9 March 2020

4.

Simms KT, Steinberg J, Caruana M et al (2019) Impact of scaled up human papillomavirus vaccination and cervical screening and the potential for global elimination of cervical cancer in 181 countries, 2020–99: a modelling study. Lancet Oncol 20:394–407. https://doi.org/10.1016/S1470-2045(18)30836-2

5.

Hall IJ, Tangka FKL, Sabatino SA, Thompson TD, Graubard BI, Breen N (2018) Patterns and Trends in cancer screening in the United States. Prev Chronic Dis 15:E97. https://doi.org/10.5888/pcd15.170465

6.

Watson M, Benard V, Flagg EW (2018) Assessment of trends in cervical cancer screening rates using healthcare claims data: United States, 2003–2014. Prev Med Rep 9:124–130. https://doi.org/10.1016/j.pmedr.2018.01.010

7.

Walker TY, Elam-Evans LD, Singleton JA et al (2017) National, regional, state, and selected local area vaccination coverage among adolescents aged 13–17 years—United States. MMWR Morb Mortal Wkly Rep 66:874–882. https://doi.org/10.15585/mmwr.mm6833a2

8.

Lu PJ, Yankey D, Jeyarajah J et al (2018) Association of health insurance status and vaccination coverage among adolescents 13–17 years of age. J Pediatr 195(256–62):e1. https://doi.org/10.1016/j.jpeds.2017.12.024

9.

Sauer AG, Siegel RL, Jemal A, Fedewa SA (2017) Updated review of prevalence of major risk factors and use of screening tests for cancer in the United States. Cancer Epidemiol Biomarkers Prev 26:1192–1208. https://doi.org/10.1158/1055-9965.EPI-18-1169

10.

The Henry J. Kaiser Family Foundation (2013) Summary of the Affordable Care Act. https://www.kff.org/health-reform/fact-sheet/summary-of-the-affordable-care-act/. Accessed 9 March 2020

11.

French MT, Homer J, Gumus G, Hickling L (2016) Key provisions of the patient protection and Affordable Care Act (ACA): a systematic review and presentation of early research findings. Health Serv Res 51:1735–1771. https://doi.org/10.1111/1475-6773.12511

12.

Berchick ER, Hood E, Barnett JC (2018) Health insurance coverage in the United States. U.S. Government Printing Office. https://www.census.gov/content/dam/Census/library/publications/2018/demo/p60-264.pdf. Accessed 9 March 2020

13.

Alcala HE, Chen J, Langellier BA, Roby DH, Ortega AN (2017) Impact of the Affordable Care Act on health care access and utilization among Latinos. J Am Board Fam Med 30:52–62. https://doi.org/10.3122/jabfm.2017.01.160208

14.

Sommers BD, Gunja MZ, Finegold K, Musco T (2015) Changes in self-reported insurance coverage, access to care, and health under the Affordable Care Act. JAMA 314:366–374. https://doi.org/10.1001/jama.2015.8421

15.

Alharbi A, Khan MM, Horner R, Brandt H, Chapman C (2019) Impact of removing cost sharing under the affordable care act (ACA) on mammography and pap test use. BMC Public Health 19:370. https://doi.org/10.1186/s12889-019-6665-9

16.

Han X, Robin Yabroff K, Guy GP Jr, Zheng Z, Jemal A (2015) Has recommended preventive service use increased after elimination of cost-sharing as part of the Affordable Care Act in the United States? Prev Med 78:85–91. https://doi.org/10.1016/j.ypmed.2015.07.012

17.

Corriero R, Gay JL, Robb SW, Stowe EW (2018) Human papillomavirus vaccination uptake before and after the Affordable Care Act: variation according to insurance status, race, and education (NHANES 2006–2014). J Pediatr Adolesc Gynecol 31:23–27. https://doi.org/10.1016/j.jpag.2017.07.002

18.

American Cancer Society (2016) The American Cancer Society guidelines for the prevention and early detection of cervical cancer. https://www.cancer.org/cancer/cervical-cancer/detection-diagnosis-staging/cervical-cancer-screening-guidelines.html. Accessed 9 March 2020

19.

Saslow D, Andrews KS, Manassaram-Baptiste D et al (2016) Human papillomavirus vaccination guideline update: American Cancer Society guideline endorsement. CA Cancer J Clin 66:375–385. https://doi.org/10.3322/caac.21355

20.

Terk D, Bonham A, Caveglia S, Li D, Prast B, Day S (2017) Adherence to recommended cervical cancer screening based on human papillomavirus vaccination status. Obstet Gynecol 129:6S. https://doi.org/10.1097/01.AOG.0000513946.30609.dc

21.

Paynter CA, Van Treeck BJ, Verdenius I et al (2015) Adherence to cervical cancer screening varies by human papillomavirus vaccination status in a high-risk population. Prev Med Rep 2:711–716. https://doi.org/10.1016/j.pmedr.2015.07.011

22.

Center for Disease Control and Prevention (2002) Achievements in public health: hepatitis B vaccination—United States, 1982–2002. MMWR Morb Mortal Wkly Rep 51(549–552):563

23.

Conroy K, Rosenthal SL, Zimet GD et al (2009) Human papillomavirus vaccine uptake, predictors of vaccination, and self-reported barriers to vaccination. J Womens Health (Larchmt) 18:1679–1686. https://doi.org/10.1089/jwh.2008.1329

24.

Zimet GD, Weiss TW, Rosenthal SL, Good MB, Vichnin MD (2010) Reasons for non-vaccination against HPV and future vaccination intentions among 19–26 year-old women. BMC Womens Health 10:27. https://doi.org/10.1186/1472-6874-10-27

25.

Lipton BJ, Decker SL (2015) ACA provisions associated with increase in percentage of young adult women initiating and completing the HPV vaccine. Health Aff (Millwood) 34:757–764. https://doi.org/10.1377/hlthaff.2014.1302
Funding
This work was supported by National Cancer Institute Grant T32CA078447 for all authors.
Ethics declarations
Conflicts of interest
The authors declare no potential conflicts of interest or competing interests.
Ethics approval
The data presented on this article represent publicly available, retrospectively collected survey responses that were de-identified. The Internal Review Board of the University of Arizona confirmed that no ethics approval is required.
Informed consent
Not applicable in this research that is based on publicly available, retrospective data.
Additional information
Publisher's Note
Springer Nature remains neutral with regard to jurisdictional claims in published maps and institutional affiliations.
About this article
Cite this article
Garrido, C.O., Coşkun, R.A., Lent, A.B. et al. Use of cervical cancer preventive services among US women aged 21–29: an assessment of the 2010 Affordable Care Act rollout through 2018. Cancer Causes Control (2020). https://doi.org/10.1007/s10552-020-01325-w
Received:

Accepted:

Published:
Keywords
Affordable care act

Cost-sharing

Human papilloma virus

Cervical cancer

Cancer screening