Abstract
The incidence of osteosarcoma in Northern Ireland was compared with that in the Republic of Ireland to establish if differences in incidence between the two regions could be related to their different drinking water fluoridation policies. Data from the Northern Ireland Cancer Registry (NICR) and the National Cancer Registry of Ireland (NCRI) on osteosarcoma incidence in the respective populations were used to estimate the age-standardised and age-specific incidence rates in areas with and without drinking water fluoridation. One hundred and eighty-three osteosarcoma cases were recorded on the island of Ireland between 1994 and 2006. No significant differences were observed between fluoridated and non-fluoridated areas in either age-specific or age-standardised incidence rates of osteosarcoma. The results of this study do not support the hypothesis that osteosarcoma incidence in the island of Ireland is significantly related to public water fluoridation. However, this conclusion must be qualified, in view of the relative rarity of the cancer and the correspondingly wide confidence intervals of the relative risk estimates.
Access options
Buy single article
Instant access to the full article PDF.
US$ 39.95
Tax calculation will be finalised during checkout.
Subscribe to journal
Immediate online access to all issues from 2019. Subscription will auto renew annually.
US$ 119
Tax calculation will be finalised during checkout.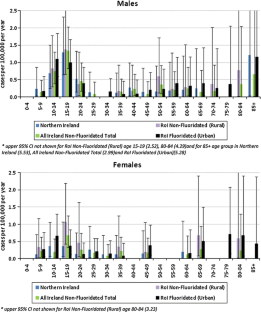 References
1.

Bielack SS, Bernstein ML (2005) Osteosarcoma. Cancer in children, clinical management, 5th edn. Oxford University Press, Oxford, pp 280–300

2.

Mirabello L, Troisi RJ, Savage SA (2009) International osteosarcoma incidence patterns in children and adolescents, middle ages and elderly persons. Int J Cancer 125:229–234

3.

Fuchs B, Pritchard DJ (2002) Etiology of osteosarcoma. Clin Orthop Relat Res 397:40–52

4.

Curado MP, Edwards B et al. (2007) Cancer incidence in five continents vol IX. IARC Scientific Publications No 160

5.

Cook-Mozaffari P, Bulusu L, Doll R (1981) Fluoridation of water supplies and cancer mortality I: a search for an effect in the UK on risk of death from cancer. J Epidemiol Community Health 35:227–232

6.

Cook-Mozaffari P, Doll R (1981) Fluoridation of water supplies and cancer mortality II: mortality trends after fluoridation. J Epidemiol Community Health 35:233–238

7.

Mahoney MC, Nasca PC, Burnett WS, Melius JM (1991) Bone cancer incidence rates in New York State: time trends and fluoridated drinking water. Am J Public Health 81:475–479

8.

Freni SC, Gaylor DW (1992) International trends in the incidence of bone cancer are not related to drinking water fluoridation. Cancer 70:611–618

9.

Gelberg KH, Fitzgerald EF, Hwang SA, Dubrow R (1995) Fluoride exposure and childhood osteosarcoma: a case-control study. Am J Public Health 85:1678–1683

10.

Moss ME, Kanarek MS, Anderson HA, Hanrahan LP, Remington PL (1995) Osteosarcoma, seasonality, and environmental factors in Wisconsin, 1979–1989. Arch Environ Health 50:235–241

11.

Cook-Mozaffari P (1996) Cancer and fluoridation. Community Dent Health 13(Suppl 2):56–62

12.

Yang C, Cheng M, Tsai S, Hung C (2000) Fluoride in drinking water and cancer mortality in Taiwan. Environ Res 82:189–193

13.

Gibson-Moore H (2009) Water fluoridation for some–should it be for all? Nutr Bull 34:291–295

14.

Bassin EB, Wypij D, Davis RB, Mittleman MA (2006) Age-specific fluoride exposure in drinking water and osteosarcoma (United States). Cancer Causes Control 17:421–428

15.

Douglass CW, Joshipura K (2006) Caution needed in fluoride and osteosarcoma study. Cancer Causes Control 17:481–482

16.

National Academy of Sciences (2006) Fluoride in drinking water: a scientific review of EPAs standards

17.

National Health and Medical Research Council (2007) A systematic review of the efficacy and safety of fluoridation. Australian Government, http://www.nhmrc.gov.au

18.

WHO Expert Committee on Oral Health Status and Fluoride Use (1994) Fluorides and oral health. Geneva: World Health Organisation http://whqlibdoc.who.int/trs/WHO_TRS_846.pdf

19.

Cheng KK, Chalmers I, Sheldon TA (2007) Adding fluoride to water supplies. BMJ 335:699–702

20.

Health (Fluoridation of Water Supplies) Act 1960. House of the oireachtas, Dublin

21.

Forum on Fluoridation (2002) Dublin: stationery office www.fluoridationforum.ie

22.

Owens M, O'Herlihy B (2009) Osteosarcoma in republic of Ireland and Northern Ireland. Irish expert body on fluorides and health. www.fluoridesandhealth.ie/documents/

23.

Donnelly DW, Gavin AT, Comber H (2009) Cancer in Ireland 1994–2004: a comprehensive report. Northern Ireland Cancer Registry/National Cancer Registry, Ireland

24.

McLoughlin J, Clarkson J, Connolly F, Hargaden J (2005) An evaluation of the delivery and monitoring of water fluoridation in Ireland. A report conducted by the Department of Public and Child Dental Health, Dublin Dental School & Hospital Dublin: Department of Health and Children. http://www.dohc.ie/other_health_issues/dental_research/evaluation.pdf?direct=1

25.

WHO (1984) Fluorine and fluorides. World Health Organization, Geneva (Environmental Health Criteria 36) http://www.inchem.org/documents/ehc/ehc/ehc36.htm
Acknowledgments
We would like to thank the staff at the National Cancer Registry Ireland, Cork and the N. Ireland Cancer Registry, Belfast and for their work in collecting and processing of the data used in this study. The N. Ireland Cancer Registry is funded by the Public Health Agency for Northern Ireland.
Additional information
This research was carried out in the National Cancer Registry of Ireland and N. Ireland Cancer Registry, Centre for Public Health, Queen's University Belfast. The work of the N. Ireland Cancer Registry is funded by the Northern Ireland Public Health Agency.
About this article
Cite this article
Comber, H., Deady, S., Montgomery, E. et al. Drinking water fluoridation and osteosarcoma incidence on the island of Ireland. Cancer Causes Control 22, 919 (2011). https://doi.org/10.1007/s10552-011-9765-0
Received:

Accepted:

Published:
Keywords
Osteosarcoma

Fluoridation

Drinking water

Ireland