Abstract
We use the U.S. Supreme Court's decision in Citizens United v. Federal Election Commission to assess the reputational risks created by political investment opportunities that allow managers to spend unlimited and potentially undisclosed firm resources on independent political expenditures. This new opportunity raises important ethical questions, as it is difficult, and perhaps impossible, under current law for shareholders to hold managers accountable for this investment choice and the reputational risks it entails. Using firms' known political activity as a proxy for managers' likely future use of independent political expenditures, we examine how market participants reacted to Citizens United, conditional on this prior activity and corporate governance attributes related to the concentration of decision rights in senior management and blockholders. The results of our analyses document that firms with both a high level of known political activity and CEO-chairperson of the board duality experienced negative abnormal returns in reaction to Citizens United. In contrast, firms with concentrated ownership experienced positive abnormal returns; however, as known political activity increased, investors discounted the benefits of concentrated ownership. These findings suggest that investors expect this expansion of firms' political investment opportunities to amplify principal-agent problems inherent in corporate political activity. Additionally, our findings provide evidence for those deliberating the mandatory disclosure of firms' investments in politics as a means of increasing managerial accountability to both shareholders and the public.
This is a preview of subscription content, log in to check access.
Access options
Buy single article
Instant access to the full article PDF.
US$ 39.95
Price includes VAT for USA
Subscribe to journal
Immediate online access to all issues from 2019. Subscription will auto renew annually.
US$ 199
This is the net price. Taxes to be calculated in checkout.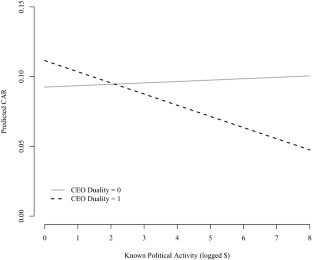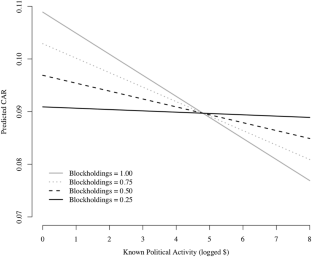 Notes
1.

2.

We use returns of U.S. foreign issuers to estimate the expected returns of U.S. domestic issuers because the price of U.S. foreign issuers' shares during the period prior to the Citizens United events are expected to impound the economic news common to all firms traded on U.S. exchanges (e.g., Eun and Shim 1989; Hamao et al. 1990) but not incorporate information about the Citizens United case, given the absolute prohibition on non-PAC electioneering by foreign firms. This research design parallels those of Zhang (2007) and Litvak (2007), who both use the returns of foreign firms unaffected by the Sarbanes–Oxley law to estimate expected returns for domestic firms covered by that legislation. Although the decision in Citizens United did not affect U.S. foreign issuers, after the Court announced its decision several Democratic politicians suggested it did in order to politicize the result of the case. To ensure that this potential contamination did not affect our results, we use an estimation window that ends before the first relevant event in the case and not contemporaneous returns in constructing our market models.

3.

Calculating the market models over the year and a half prior to the first event addresses concerns regarding calendar day effects.

4.

If we use only the log of PAC contributions plus one as our measure of known political activity, the conclusions we draw in terms of statistical significance are the same. However, the magnitudes of our estimated effects differ, as firms spend approximately ten times more on lobbying than their affiliated PACs contribute to candidates or political parties, on average (Milyo et al. 2000).

5.

Following Busse and Green (2002), we calculate the two-tailed bootstrapped p-values as the proportion of 1000 repetitions of regression (2) that generate coefficients greater than the OLS coefficients (less than the OLS coefficient, if the coefficient is negative) in Table 4 multiplied by 2. Each regression repetition uses sample firms' cumulative abnormal returns from random non-event days from 2009 and 2010 as the dependent variable. When the event days were consecutive, we selected consecutive non-event days. We summed daily prediction errors to obtain the cumulative abnormal return.

6.

We note that our result for regulated industries differs from that of Burns and Jindra (2014) who document a positive reaction to Citizens United for firms operating in regulated industries. However, in their event study, the authors do not exclude firms in the financial industry, examine only the decision date for Citizens United, and do not control for firms' known political activity. Any of these research design choices can introduce bias, and the presence of all three likely explains the different result between their study and ours.

7.

In an unreported sensitivity test, we also replicate our main and governance analyses using market models based upon U.S. issuers and all traded firms instead of only foreign issuers. For reasons articulated earlier in the paper and endnote 2, we argue that the three market models we present are superior to these approaches, but we note that even when using these additional alternative market models, our findings remain unaffected.
References
Aggarwal, R. K., Meschke, F., & Wang, T. Y. (2012). Corporate political donations: Investment or agency. Business & Politics,14(1), 1–38.

Baron, D. P. (1999). Integrated market and nonmarket strategies in client and interest group politics. Business & Politics,1(1), 7–34.

Bebchuk, L., Cohen, A., & Ferrel, A. (2009). What matters in corporate governance? Review of Financial Studies,22(2), 784–827.

Bebchuk, L., & Jackson, R. J. (2010). Corporate political speech? Who decides? Harvard Law Review,124, 83–117.

Bernard, V. L. (1987). Cross-sectional dependence and problems in inference in market-based accounting research. Journal of Accounting Research,25(1), 1–48.

Bhojraj, S., & Sengupta, P. (2003). Effect of corporate governance on bond ratings and yields: The role of institutional investors and the outside directors. Journal of Business,76(3), 455–475.

Blume, M., & Stambough, R. (1983). Biases in computed returns: An application of the size effect. Journal of Financial Economics,12(3), 387–404.

Bonardi, J. P., Hillman, A. J., & Keim, G. D. (2005). The attractiveness of political markets: Implications for firm strategy. Academy of Management Review,30(2), 397–413.

Brambor, T., Clark, W. R., & Golder, M. (2006). Understanding interaction models: Improving empirical analyses. Political Analysis,14(1), 63–82.

Brennan, N. M., & Solomon, J. (2008). Corporate governance, accountability and mechanisms of accountability: An overview. Accounting, Auditing & Accountability Journal,21(7), 885–906.

Briffault, R. (2012). Super PACs. Minnesota Law Review,96(5), 1628–1678.

Buchanan, J., & Tullock, G. (1962). The calculus of consent. Ann Arbor, MI: University of Michigan Press.

Burns, N., & Jindra, J. (2014). Political spending and shareholder wealth: the effect of the U.S. Supreme Court ruling in Citizens United. American Politics Research,42(4), 579–599.

Busse, J. A., & Green, T. C. (2002). Market efficiency in real time. Journal of Financial Economics,65(3), 415–437.

Coates, J. C. (2012). Corporate politics, governance, and value before and after Citizens United. Journal of Empirical Legal Studies,9(4), 657–696.

Cohen, J., Krishnamoorthy, G., & Wright, A. (2008). Form versus substance: The implications for auditing practice and research of alternative perspectives on corporate governance. Auditing: A Journal of Practice and Theory,27(2), 181–198.

Cooper, M., Gulen, H., & Ovtchinnikov, A. (2010). Corporate political contributions and stock returns. Journal of Finance,65(2), 687–724.

Croce, B. (2018). Corporate political disclosure moves firmly into mainstream. Pensions & Investments, (June 25).

Deloitte. (2011). It's your decision. Stamford, CT: Deloitte Development LLC.

den Hond, F., Rehbein, K. A., de Bakker, F. G. A., & Kooijmans-van Lankveld, H. (2014). Playing on two chessboards: Reputation effects between corporate social responsibility (CSR) and corporate political activity (CPA). Journal of Management Studies,51(5), 790–813.

Durnev, A., & Mangen, C. (2009). Corporate investments: Learning from restatements. Journal of Accounting Research,47(3), 679–720.

Eun, C. S., & Shim, S. (1989). International transmission of stock market movements. Journal of Financial and Quantitative Analysis,24(2), 241–256.

Gompers, P., Ishii, J., & Metrick, A. (2003). Corporate governance and equity prices. Quarterly Journal of Economics,118(1), 107–155.

Gourevitch, P. A., & Shinn, J. (2005). Political power & corporate control: The new global politics of corporate governance. Princeton, NJ: Princeton University Press.

Grier, K. B., Munger, M. C., & Roberts, B. E. (1994). The determinants of industry political activity, 1978–1986. American Political Science Review,88(4), 911–926.

Hadani, M. (2012). Institutional ownership monitoring and corporate political activity: Governance implications. Journal of Business Research,65(7), 944–950.

Hadani, M., Dahan, N. M., & Doh, J. P. (2015). The CEO as chief political officer: Managerial discretion and corporate political activity. Journal of Business Research,68(11), 2330–2337.

Hadani, M., & Schuler, D. A. (2013). In search of El Dorado: The elusive financial returns on corporate political investments. Strategic Management Journal,34(2), 165–181.

Hair, J. F., Anderson, R. E., Tatham, R. L., & Black, W. C. (1995). Multivariate data analysis (3rd ed.). New York: Macmillan Publishing Company.

Hamao, Y., Masulis, R. W., & Ng, V. (1990). Correlations in price changes and volatility across international stock markets. Review of Financial Studies,3(2), 281–307.

Hardeck, I., & Hertl, R. (2014). Consumer reactions to corporate tax strategies: Effects on corporate reputation and purchasing behavior. Journal of Business Ethics,123(2), 309–326.

Hart, D. (2001). Why do some firms give? Why do some give a lot?: High-tech PACs, 1977-1996. Journal of Politics,63(4), 1230–1249.

Healy, P., & Palepu, K. (2001). Information asymmetry, corporate disclosure, and the capital markets: A review of the empirical disclosure literature. Journal of Accounting and Economics,31(1), 405–440.

Hillman, A. J., Keim, G., & Schuler, D. (2004). Corporate political activity: A review and research agenda. Journal of Management,30(6), 837–857.

Imhoff, E. (2003). Accounting quality, auditing, and corporate governance. Accounting Horizons,17(Supplement), 117–128.

Jensen, M. (1993). The modern industrial revolution, exit, and the failure of internal control systems. Journal of Finance,48(3), 831–880.

Jensen, M., & Meckling, W. (1976). Theory of the firm: Managerial behavior, agency costs, and ownership structure. Journal of Financial Economics,3(4), 305–360.

Johnson, R., & Greening, D. (1999). The effects of corporate governance and institutional ownership types on corporate social performance. Academy of Management Journal,42(5), 564–576.

Karpoff, J. M. (2012). Does reputation work to discipline corporate misconduct? In M. L. Barnett & T. G. Pollock (Eds.), The Oxford handbook of corporate reputation (pp. 361–382). London, UK: Oxford University Press.

Karpoff, J. M., & Lott, J., Jr. (1993). The reputational penalty firms bear from committing criminal fraud. Journal of Law and Economics,36(2), 757–802.

Lambert, R. (2001). Contracting theory and accounting. Journal of Accounting and Economics,32(1–3), 3–87.

LaPlante, S., Skaife, H., Swenson, L., & Wangerin, D. (2019). Limits of tax regulation: Evidence from strategic R&D classification and the R&D tax credit. Journal of Accounting and Public Policy, 38(2), 89–105.

Larcker, D. F., Ormazabal, G., & Taylor, D. J. (2011). The market reaction to corporate governance regulation. Journal of Financial Economics,101(2), 431–448.

Larcker, D. F., Richardson, S., & Tuna, I. (2007). Corporate governance, accounting outcomes, and organizational performance. The Accounting Review,82(4), 963–1008.

Litvak, K. (2007). The effect of the Sarbanes-Oxley Act on non-US companies cross-listed in the U.S. Journal of Corporate Finance,13(2–3), 195–288.

Lyon, T. P., Delmas, M. A., Maxwell, J. W., Bansal, P., Chiroleu-Assouline, M., Crifo, P., et al. (2018). CSR needs CPR: Corporate sustainability and politics. California Management Review,60(4), 5–24.

Masters, M., & Keim, G. (1985). Determinants of PAC participation among large corporations. Journal of Politics,47(4), 1158–1173.

McDonnell, M.-H., & Werner, T. (2016). Blacklisted businesses: Social activist challenges and the disruption of corporate political activity. Administrative Science Quarterly,61(4), 584–620.

McNichols, M., & Stubben, S. (2008). Does earnings management affect firms' investment decisions? The Accounting Review,77(Supplement), 61–69.

McVay, S. (2006). Earnings management using classification shifting: An examination of core earnings and special items. The Accounting Review,81(3), 501–531.

McWilliams, A., & Siegel, D. (1997). Event studies in management research: Theoretical and empirical issues. Academy of Management Journal,40(3), 626–657.

Milyo, J., Primo, D., & Groseclose, T. (2000). Corporate PAC campaign contributions in perspective. Business & Politics,2(1), 75–88.

Minfee, I., McDonnell, M. -H., &Werner, T. (2018). Getting caught and saving face: Disclosure of controversial covert corporate political activity. Working paper, Iowa State University.

Néron, P.-Y. (2016). Rethinking the ethics of corporate political activities in a post-Citizens United era. Journal of Business Ethics,136(4), 715–728.

Reuber, A. R., & Fischer, E. (2010). Organizations behaving badly: When are discreditable actions likely to damage organizational reputation? Journal of Business Ethics,93(1), 39–50.

Richter, B. K., Samphantharak, K., & Timmons, J. F. (2009). Lobbying and taxes. American Journal of Political Science,53(4), 893–909.

Rosenberg, L. (2010). Citizens United: Before, after, what's next?. Washington, D.C.: Sunlight Foundation.

Rubin, R. (2018). U.S. Treasury restricts donor disclosure requirement for some nonprofit groups. Wall Street Journal, (July 16).

Sadrieh, F., & Madan, A. (2005). Firm-specific determinants of corporate lobbying participation and intensity. International Journal of Public Administration,28(1–2), 179–202.

Salant, J. (2013). Mutual funds increasingly support corporate disclosure of donations. Bloomberg News, (November 25).

Sampath, V., Gardberg, N. A., & Rahman, N. (2018). Corporate reputation's invisible hand: Bribery, rational choice, and reputational penalties. Journal of Business Ethics,151(3), 743–760.

Sefcik, S. E., & Thompson, R. (1986). An approach to statistical inference in cross-sectional models with security abnormal returns as dependent variable. Journal of Accounting Research,24(2), 316–334.

Semin, G., & Manstead, A. (1983). The accountability of conduct: A social psychological analysis. New York: Academic Press.

Shivdasani, A., & Yermack, D. (1999). CEO involvement in the selection of new board members: An empirical analysis. Journal of Finance,54(5), 1829–1853.

Shleifer, A., & Vishny, R. (1997). A survey of corporate governance. Journal of Finance,52(2), 737–783.

Shroff, N., Verdi, R., & Yu, G. (2014). Information environment and the investment decisions of multinational corporations. The Accounting Review,89(2), 759–790.

Smith, B. A. (2010). The myth of campaign finance reform. National Affairs,1(2), 75–91.

Sobel, R. S., & Graefe-Anderson, R. L. (2014). The relationship between political connections and the financial performance of industries and firms. Working paper, Mercatus Center.

Stohr, G. (2015). Americans want Supreme Court to turn off political spending spigot. Bloomberg News, (September 28).

Stoll, M. L. (2015). Corporate political speech and moral obligation. Journal of Business Ethics,132(3), 553–563.

Tertlock, P. (1992). The impact of accountability on judgment and choice: Toward a social contingency model. In M. Zanna (Ed.), Advances in experimental social psychology (Vol. 25, pp. 331–376). New York: Academic Press.

Torres-Spelliscy, T. (2016). Shooting your brand in the foot: What Citizens United invites. Rutgers Law Review,68(3), 1297–1365.

Utting, P. (2008). The struggle for corporate accountability. Development and Change,39(6), 959–975.

Werner, T. (2011). The sound, the fury, and the non-event: Business power and market reactions to the Citizens United decision. American Politics Research,39(1), 118–141.

Werner, T. (2017). Investor reaction to covert corporate political activity. Strategic Management Journal,38(12), 2424–2443.

Werner, T., & Coleman, J. J. (2015). Citizens United, independent expenditures, and agency costs: Reexamining the political economy of state antitakeover statutes. Journal of Law Economics and Organization,31(1), 127–159.

Zhang, I. X. (2007). Economic consequences of the Sarbanes-Oxley Act of 2002. Journal of Accounting and Economics,44(1–2), 74–115.

Zingales, L. (2009). The future of securities regulation. Journal of Accounting Research,47(2), 391–425.
Ethics declarations
Ethical Approval
This article does not contain any studies with human participants or animals performed by any of the authors.
Additional information
Publisher's Note
Springer Nature remains neutral with regard to jurisdictional claims in published maps and institutional affiliations.
About this article
Cite this article
Skaife, H.A., Werner, T. Changes in Firms' Political Investment Opportunities, Managerial Accountability, and Reputational Risk. J Bus Ethics 163, 239–263 (2020). https://doi.org/10.1007/s10551-019-04224-6
Received:

Accepted:

Published:

Issue Date:
Keywords
Corporate political activity

Citizens United

Managerial accountability

Corporate governance

Reputation