Abstract
Purpose
The aim of this study was to determine whether the outcome to neoadjuvant chemotherapy (NAC) can be predicted by analyzing p53 expression in hormone receptor (HR)-positive and human epidermal growth factor receptor 2 (HER2)-negative breast cancer patients.
Methods
We retrospectively reviewed 594 patients diagnosed with stage I–III HR-positive, HER2-negative breast cancer, and treated with NAC at the Asan Medical Center between 2008 and 2014. Expression of p53 was assessed, and overall survival (OS) and breast cancer-specific survival (BCSS) were investigated and compared between groups.
Results
At a median follow-up period of 69.8 months, OS and BCSS were higher in the p53-negative (p53(−)) group than in the p53-positive (p53(+)) group. Five-year OS was 95.4% in the p53(−) and 92.1% in the p53(+) group (p = 0.005). BCSS was 96.2% in the p53(−) group and 93% in the p53(+) group (p = 0.008).
Conclusion
High expression of immunohistochemically detected p53 was strongly and significantly associated with decreased OS and BCSS than low p53 expression, suggesting that p53 may be a powerful prognostic factor in HR-positive, HER2-negative breast cancer patients receiving NAC.
Access options
Buy single article
Instant access to the full article PDF.
US$ 39.95
Tax calculation will be finalised during checkout.
Subscribe to journal
Immediate online access to all issues from 2019. Subscription will auto renew annually.
US$ 119
Tax calculation will be finalised during checkout.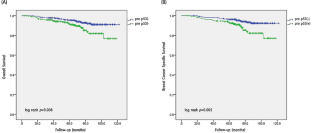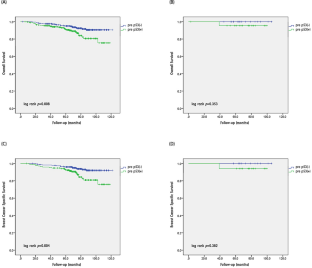 References:
1.

Beslija S et al (2009) Third consensus on medical treatment of metastatic breast cancer. Ann Oncol 20(11):1771–1785. https://doi.org/10.1093/annonc/mdp261

2.

Schettini F, Buono G, Cardalesi C, Desideri I, De Placido S, Del Mastro L (2016) Hormone receptor/human epidermal growth factor receptor 2-positive breast cancer: where we are now and where we are going. Cancer Treat Rev 46:20–26. https://doi.org/10.1016/j.ctrv.2016.03.012

3.

Abe O et al (1998) Tamoxifen for early breast cancer: an overview of the randomised trials. Lancet 351(9114):1451–1467. https://doi.org/10.1016/S0140-6736(97)11423-4

4.

Boughey JC et al (2014) Tumor biology correlates with rates of breastconserving surgery and pathologic complete response after neoadjuvant chemotherapy for breast cancer findings from the ACOSOG Z1071 (alliance) prospective multicenter clinical trial. Ann Surg 260(4):608–616. https://doi.org/10.1097/SLA.0000000000000924

5.

von Minckwitz G et al (2012) Definition and impact of pathologic complete response on prognosis after neoadjuvant chemotherapy in various intrinsic breast cancer subtypes. J Clin Oncol 30(15):1796–1804. https://doi.org/10.1200/JCO.2011.38.8595

6.

Cortazar P et al (2014) Pathological complete response and long-term clinical benefit in breast cancer: the CTNeoBC pooled analysis. Lancet (London, England) 384(9938):164–172. https://doi.org/10.1016/S0140-6736(13)62422-8

7.

Koboldt DC et al (2012) Comprehensive molecular portraits of human breast tumours. Nature 490(7418):61–70. https://doi.org/10.1038/nature11412

8.

Rossner P Jr et al (2009) Mutations in p53, p53 protein overexpression and breast cancer survival. J Cell Mol Med 13(9b):3847–3857. https://doi.org/10.1111/j.1582-4934.2008.00553.x

9.

Bertheau P et al (2002) Effect of mutated TP53 on response of advanced breast cancers to high-dose chemotherapy. Lancet 360(9336):852–854. https://doi.org/10.1016/S0140-6736(02)09969-5

10.

Elledge RM, Allred DC (1998) Prognostic and predictive value of p53 and p21 in breast cancer. Breast Cancer Res Treat 52(1–3):79–98. https://doi.org/10.1023/a:1006163101948

11.

Olivier M et al (2006) The clinical value of somatic TP53 gene mutations in 1,794 patients with breast cancer. Clin Cancer Res 12(4):1157–1167. https://doi.org/10.1158/1078-0432.CCR-05-1029

12.

Basho RK et al (2016) Clinical outcomes based on multigene profiling in metastatic breast cancer patients. Oncotarget 7(47):76362–76373. https://doi.org/10.18632/oncotarget.12987

13.

Cianfrocca M, Goldstein LJ (2004) Prognostic and predictive factors in early-stage breast cancer. Oncologist 9(6):606–616. https://doi.org/10.1634/theoncologist.9-6-606

14.

Nicolini A, Carpi A, Tarro G (2006) Biomolecular markers of breast cancer. Front Biosci 11:1818–1843. https://doi.org/10.2741/1926

15.

Abubakar M et al (2019) Clinicopathological and epidemiological significance of breast cancer subtype reclassification based on p53 immunohistochemical expression. npj Breast Cancer 5(1):20. https://doi.org/10.1038/s41523-019-0117-7

16.

Bouchalova P et al (2014) Mutant p53 accumulation in human breast cancer is not an intrinsic property or dependent on structural or functional disruption but is regulated by exogenous stress and receptor status. J Pathol 233(3):238–246. https://doi.org/10.1002/path.4356

17.

Barbareschi M (1996) Progn. value immunohistochem. expr. p53 breast carcinomas a rev. lit. involv. over 9,000 patients. 4(2):106–116 (1996)

18.

Mirza AN, Mirza NQ, Vlastos G, Singletary SE (2002) Prognostic factors in node-negative breast cancer: a review of studies with sample size more than 200 and follow-up more than 5 years. Ann Surg 235:1

19.

Bae SY, Lee JH, Bae JW, Jung SP (2020) Differences in prognosis by p53 expression after neoadjuvant chemotherapy in triple-negative breast cancer. Ann Surg Treat Res 98(6):291–298. https://doi.org/10.4174/astr.2020.98.6.291
Acknowledgements
This study was supported by the Asan Institute for Life Sciences, Asan Medical Center, Seoul, Korea (Grant Number 2020-0037).
Ethics declarations
Conflict of interest
The authors declare that they have no conflicts of interest.
Ethical approval
All procedures performed in studies involving human participants were in accordance with the ethical standards of the institutional and/or national research committee and with the 1964 Helsinki Declaration and its later amendments or comparable ethical standards.
Additional information
Publisher's Note
Springer Nature remains neutral with regard to jurisdictional claims in published maps and institutional affiliations.
About this article
Cite this article
Albinsaad, L.S., Kim, J., Chung, I.Y. et al. Prognostic value of p53 expression in hormone receptor-positive and human epidermal growth factor receptor 2-negative breast cancer patients receiving neoadjuvant chemotherapy. Breast Cancer Res Treat (2021). https://doi.org/10.1007/s10549-021-06134-6
Received:

Accepted:

Published:
Keywords
Immunohistochemistry

Neoadjuvant therapy

Prognosis

Breast neoplasms

Tumor suppressor protein p53