Abstract
Background
Triple negative breast cancer (TNBC) is characterized by invasiveness and short survival. Identifying novel TNBC-targeted therapies, to potentiate standard of care (SOC) therapy, is an unmet need. Progranulin (PGRN/GP88) is a biological driver of tumorigenesis, survival, and drug resistance in several cancers including breast cancer (BC). PGRN/GP88 tissue expression is an independent prognostic factor of recurrence while elevated serum PGRN/GP88 level is associated with poor outcomes. Since PGRN/GP88 expression is elevated in 30% TNBC, we investigated the involvement of progranulin on TNBC.
Methods
The effect of inhibiting PGRN/GP88 expression in TNBC cells by siRNA was investigated. The effects of a neutralizing anti-human PGRN/GP88 monoclonal antibody AG01 on the proliferation and migration of two TNBC cell lines expressing PGRN/GP88 were then examined in vitro and in vivo.
Results
Inhibition of GP88 expression by siRNA and AG01 treatment to block PGRN/GP88 action reduced proliferation and migration in a dose-dependent fashion in MDA-MB-231 and HS578-T cells. Western blot analysis showed decreased expression of phosphorylated protein kinases p-Src, p-AKT, and p-ERK upon AG01 treatment, as well as inhibition of tumor growth and Ki67 expression in vivo.
Conclusion
PGRN/GP88 represents a therapeutic target with companion diagnostics. Blocking PGRN/GP88 with antibody treatment may provide novel-targeted solutions in TNBC treatment which could eventually address the issue of toxicity and unresponsiveness associated with SOC.
Access options
Buy single article
Instant access to the full article PDF.
US$ 39.95
Tax calculation will be finalised during checkout.
Subscribe to journal
Immediate online access to all issues from 2019. Subscription will auto renew annually.
US$ 119
Tax calculation will be finalised during checkout.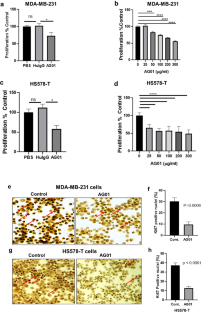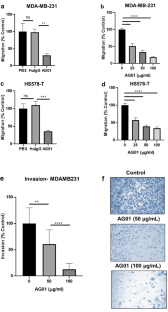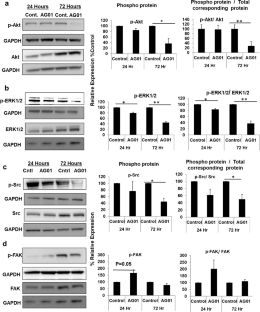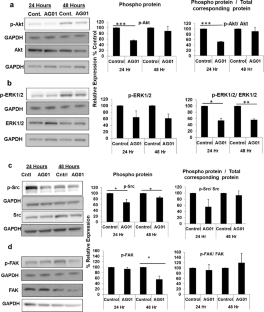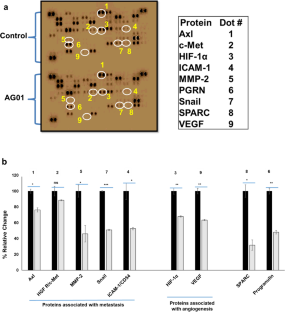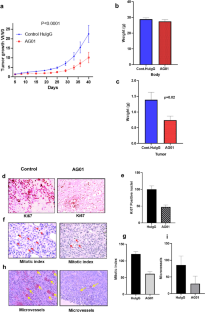 Data availability
The data used and/or analyzed during the current study are available from the corresponding author on reasonable request.
Abbreviations
AG01:

Anti-progranulin antibody

Akt:

Protein kinase B

BC:

Breast cancer

DAB:

3,3′-Diaminobenzidine

DMEM:

Dulbecco's Modified Eagle Medium

ECL:

Enhanced chemiluminescence

E-Cadherin:

Epithelial cadherin

EDTA:

Ethylenediaminetetraacetic acid

ERK1/2:

Extracellular signal-regulated protein kinases 1 and 2

FAK:

Focal adhesion kinase

FBS:

Fetal bovine serum

GRN:

Granulin

H&E:

Hematoxylin eosin

HGFR/c-Met-:

Hepatocyte growth factor receptor

HIF-1α:

Hypoxia-inducible factors-1α

HO-1/HMOX1:

Heme oxygenase

HRP:

Horse radish peroxide

IACUC:

Institutional Animal Care and Use Committee

ICAM-1/CD54:

Intercellular Adhesion Molecule 1

IgG-Fc:

Immunoglobulin Fc region

MAPK:

Mitogen-activated protein kinase

MMP-2:

Metalloprotease-2

PBS:

Phosphate buffer saline

PGRN/GP88:

Progranulin, GP88

PVDF:

Polyvinylidene fluoride

R.T.:

Room temperature

SD:

Standard deviation

SEM:

Standard error of the mean

SDS:

Sodium dodecyl sulfate

SDS-PAGE:

Sodium dodecyl sulfate polyacrylamide gel electrophoresis

SiRNA:

Silencing RNA

SOC:

Standard of care

TBST:

Tris-buffered saline

TNBC:

Triple negative breast cancer

TBST:

Tris-buffered saline with Tween-20

TMB:

3,3′,5,5′-Tetramethylbenzidine

TNFR2:

Tumor necrosis factor receptor-2

V t/V o :

Tumor volume on Day t over tumor volume on Day 0
References
1.

Qian X et al (2020) Risk factors and prediction of second primary cancer in primary female non-metastatic breast cancer survivors. Aging (Albany NY) 12(19):19628–19640

2.

Lee A, Djamgoz MBA (2018) Triple negative breast cancer: emerging therapeutic modalities and novel combination therapies. Cancer Treat Rev 62:110–122

3.

Szekely B, Silber AL, Pusztai L (2017) New therapeutic strategies for triple-negative breast cancer. Oncology (Williston Park) 31(2):130–137

4.

Bignon L et al (2018) Efficacy of anthracycline/taxane-based neo-adjuvant chemotherapy on triple-negative breast cancer in BRCA1/BRCA2 mutation carriers. Breast J 24(3):269–277

5.

Mustacchi G, De Laurentiis M (2015) The role of taxanes in triple-negative breast cancer: literature review. Drug Des Dev Ther 9:4303–4318

6.

Carey LA et al (2007) The triple negative paradox: primary tumor chemosensitivity of breast cancer subtypes. Clin Cancer Res 13(8):2329–2334

7.

Stover DG et al (2016) The role of proliferation in determining response to neoadjuvant chemotherapy in breast cancer: a gene expression-based meta-analysis. Clin Cancer Res 22(24):6039–6050

8.

Sobande F et al (2015) EGFR in triple negative breast carcinoma: significance of protein expression and high gene copy number. Cesk Patol 51(2):80–86

9.

Bahnassy A et al (2015) Molecular biomarkers for prediction of response to treatment and survival in triple negative breast cancer patients from Egypt. Exp Mol Pathol 99(2):303–311

10.

Nabholtz JM et al (2014) Multicentric neoadjuvant phase II study of panitumumab combined with an anthracycline/taxane-based chemotherapy in operable triple-negative breast cancer: identification of biologically defined signatures predicting treatment impact. Ann Oncol 25(8):1570–1577

11.

Cameron D et al (2013) Adjuvant bevacizumab-containing therapy in triple-negative breast cancer (BEATRICE): primary results of a randomised, phase 3 trial. Lancet Oncol 14(10):933–942

12.

Robert NJ et al (2011) RIBBON-1: randomized, double-blind, placebo-controlled, phase III trial of chemotherapy with or without bevacizumab for first-line treatment of human epidermal growth factor receptor 2-negative, locally recurrent or metastatic breast cancer. J Clin Oncol 29(10):1252–1260

13.

Brufsky AM et al (2011) RIBBON-2: a randomized, double-blind, placebo-controlled, phase III trial evaluating the efficacy and safety of bevacizumab in combination with chemotherapy for second-line treatment of human epidermal growth factor receptor 2-negative metastatic breast cancer. J Clin Oncol 29(32):4286–4293

14.

Gonzalez-Angulo AM et al (2014) Open-label randomized clinical trial of standard neoadjuvant chemotherapy with paclitaxel followed by FEC versus the combination of paclitaxel and everolimus followed by FEC in women with triple receptor-negative breast cancerdagger. Ann Oncol 25(6):1122–1127

15.

Bateman A, Cheung ST, Bennett HPJ (2018) A brief overview of progranulin in health and disease. Methods Mol Biol 1806:3–15

16.

Arechavaleta-Velasco F et al (2017) Progranulin and its biological effects in cancer. Med Oncol 34(12):194

17.

Tanimoto R et al (2016) Mechanisms of progranulin action and regulation in genitourinary cancers. Front Endocrinol (Lausanne) 7:100

18.

Yang D et al (2017) Clinical implications of progranulin in gastric cancer and its regulation via a positive feedback loop involving AKT and ERK signaling pathways. Mol Med Rep 16(6):9685–9691

19.

Pizarro GO et al (2007) Prosurvival function of the granulin-epithelin precursor is important in tumor progression and chemoresponse. Int J Cancer 120(11):2339–2343

20.

Serrero G (2016) Potential of theranostic target mining in the development of novel diagnostic and therapeutic products in oncology: progranulin/GP88 as a therapeutic and diagnostic target for breast and lung cancers. Rinsho Byori 64(11):1296–1309

21.

Abrhale T et al (2011) GP88 (PC-Cell Derived Growth Factor, progranulin) stimulates proliferation and confers letrozole resistance to aromatase overexpressing breast cancer cells. BMC Cancer 11:231

22.

Lu R, Serrero G (2001) Mediation of estrogen mitogenic effect in human breast cancer MCF-7 cells by PC-cell-derived growth factor (PCDGF/granulin precursor). Proc Natl Acad Sci U S A 98(1):142–147

23.

Tangkeangsirisin W, Hayashi J, Serrero G (2004) PC cell-derived growth factor mediates tamoxifen resistance and promotes tumor growth of human breast cancer cells. Cancer Res 64(5):1737–1743

24.

Tangkeangsirisin W, Serrero G (2004) PC cell-derived growth factor (PCDGF/GP88, progranulin) stimulates migration, invasiveness and VEGF expression in breast cancer cells. Carcinogenesis 25(9):1587–1592

25.

Kim WE, Serrero G (2006) PC cell-derived growth factor stimulates proliferation and confers Trastuzumab resistance to Her-2-overexpressing breast cancer cells. Clin Cancer Res 12(14 Pt 1):4192–4199

26.

Kim WE, Yue B, Serrero G (2015) Signaling pathway of GP88 (progranulin) in breast cancer cells: upregulation and phosphorylation of c-myc by GP88/progranulin in Her2-overexpressing breast cancer cells. Breast Cancer (Auckl) 9(Suppl 2):71–77

27.

Serrero G, Ioffe OB (2003) Expression of PC-cell-derived growth factor in benign and malignant human breast epithelium. Hum Pathol 34(11):1148–1154

28.

Serrero G et al (2012) Progranulin (GP88) tumor tissue expression is associated with increased risk of recurrence in breast cancer patients diagnosed with estrogen receptor positive invasive ductal carcinoma. Breast Cancer Res 14(1):R26

29.

Koo DH et al (2012) Progranulin as a prognostic biomarker for breast cancer recurrence in patients who had hormone receptor-positive tumors: a cohort study. PLoS ONE 7(6):e39880

30.

Tkaczuk KHR et al (2020) Association of serum progranulin levels with disease progression, therapy response and survival in patients with metastatic breast cancer. Clin Breast Cancer 20(3):220–227

31.

Elkabets M et al (2011) Human tumors instigate granulin-expressing hematopoietic cells that promote malignancy by activating stromal fibroblasts in mice. J Clin Invest 121(2):784–799

32.

Ho JC et al (2008) Granulin-epithelin precursor as a therapeutic target for hepatocellular carcinoma. Hepatology 47(5):1524–1532

33.

Rhost S et al (2018) Sortilin inhibition limits secretion-induced progranulin-dependent breast cancer progression and cancer stem cell expansion. Breast Cancer Res 20(1):137

34.

Wong NC et al (2014) Antibody against granulin-epithelin precursor sensitizes hepatocellular carcinoma to chemotherapeutic agents. Mol Cancer Ther 13(12):3001–3012

35.

Blanchard TG et al (2018) Upregulation of RASSF1A in colon cancer by suppression of angiogenesis signaling and Akt activation. Cell Physiol Biochem 48(3):1259–1273

36.

Tavakolian S, Goudarzi H, Faghihloo E (2019) E-cadherin, Snail, ZEB-1, DNMT1, DNMT3A and DNMT3B expression in normal and breast cancer tissues. Acta Biochim Pol 66(4):409–414

37.

Engelsen AST et al (2020) AXL is a driver of stemness in normal mammary gland and breast cancer. iScience 23(11):101649

38.

Zambelli A, Biamonti G, Amato A (2021) HGF/c-Met signalling in the tumor microenvironment. Adv Exp Med Biol 1270:31–44

39.

Kang JH et al (2017) Regulation of FBXO4-mediated ICAM-1 protein stability in metastatic breast cancer. Oncotarget 8(47):83100–83113

40.

Yosef G, Arkadash V, Papo N (2018) Targeting the MMP-14/MMP-2/integrin alphavbeta3 axis with multispecific N-TIMP2-based antagonists for cancer therapy. J Biol Chem 293(34):13310–13326

41.

Kasikci E et al (2020) Inhibition of migration, invasion and drug resistance of pancreatic adenocarcinoma cells—role of snail, slug and twist and small molecule inhibitors. Onco Targets Ther 13:5763–5777

42.

Delle Monache S et al (2020) Expression of pro-angiogenic factors as potential biomarkers in experimental models of colon cancer. J Cancer Res Clin Oncol 146(6):1427–1440

43.

Zhang F et al (2020) Downregulation of SPARC expression decreases cell migration and invasion involving epithelial-mesenchymal transition through the p-FAK/p-ERK pathway in esophageal squamous cell carcinoma. J Cancer 11(2):414–420

44.

Munasinghe A et al (2020) Fibronectin acts as a molecular switch to determine SPARC function in pancreatic cancer. Cancer Lett 477:88–96

45.

Petkau TL, Leavitt BR (2014) Progranulin in neurodegenerative disease. Trends Neurosci 37(7):388–398

46.

Kao AW et al (2017) Progranulin, lysosomal regulation and neurodegenerative disease. Nat Rev Neurosci 18(6):325–333

47.

Dong T et al (2016) PGRN promotes migration and invasion of epithelial ovarian cancer cells through an epithelial mesenchymal transition program and the activation of cancer associated fibroblasts. Exp Mol Pathol 100(1):17–25

48.

Monami G et al (2009) Proepithelin regulates prostate cancer cell biology by promoting cell growth, migration, and anchorage-independent growth. Am J Pathol 174(3):1037–1047

49.

Demorrow S (2013) Progranulin: a novel regulator of gastrointestinal cancer progression. Transl Gastrointest Cancer 2(3):145–151

50.

Pan Y et al (2018) Granulin epithelin precursor promotes colorectal carcinogenesis by activating MARK/ERK pathway. J Transl Med 16(1):150

51.

Yang D et al (2015) Progranulin promotes colorectal cancer proliferation and angiogenesis through TNFR2/Akt and ERK signaling pathways. Am J Cancer Res 5(10):3085–3097

52.

Neill T et al (2016) EphA2 is a functional receptor for the growth factor progranulin. J Cell Biol 215(5):687–703

53.

Tanimoto R et al (2015) Sortilin regulates progranulin action in castration-resistant prostate cancer cells. Endocrinology 156(1):58–70

54.

Chen X et al (2013) Progranulin does not bind tumor necrosis factor (TNF) receptors and is not a direct regulator of TNF-dependent signaling or bioactivity in immune or neuronal cells. J Neurosci 33(21):9202–9213

55.

Chitramuthu BP, Bennett HPJ, Bateman A (2017) Progranulin: a new avenue towards the understanding and treatment of neurodegenerative disease. Brain 140(12):3081–3104

56.

Song W et al (2017) Targeting EphA2 impairs cell cycle progression and growth of basal-like/triple-negative breast cancers. Oncogene 36(40):5620–5630

57.

Anbalagan M et al (2012) Subcellular localization of total and activated Src kinase in African American and Caucasian breast cancer. PLoS ONE 7(3):e33017

58.

Frame MC (2002) Src in cancer: deregulation and consequences for cell behaviour. Biochim Biophys Acta 1602(2):114–130

59.

Avizienyte E et al (2002) Src-induced de-regulation of E-cadherin in colon cancer cells requires integrin signalling. Nat Cell Biol 4(8):632–638

60.

Bjorge JD et al (2011) Simultaneous siRNA targeting of Src and downstream signaling molecules inhibit tumor formation and metastasis of a human model breast cancer cell line. PLoS ONE 6(4):e19309

61.

Jiang T, Qiu Y (2003) Interaction between Src and a C-terminal proline-rich motif of Akt is required for Akt activation. J Biol Chem 278(18):15789–15793

62.

Monami G et al (2006) Proepithelin promotes migration and invasion of 5637 bladder cancer cells through the activation of ERK1/2 and the formation of a paxillin/FAK/ERK complex. Cancer Res 66(14):7103–7110
Acknowledgements
We thank Dr. William S. Twaddell (School of Medicine, University of Maryland, Baltimore) for assisting in animal tumor section evaluation and Dr. Young Suk Lee (University of Maryland, Baltimore) for her review and suggestions on animal data. We also thank Drs. Rena Lapidus, Antonino Passaniti and Amy Fulton (School of Medicine, University of Maryland, Baltimore) for their suggestions and kind review of the manuscript. This work was supported by grant R44 CA 224718 from the National Cancer Institute to GS.
Funding
This work was supported by grant R44 CA 224718 from the National Cancer Institute to Ginette Serrero's laboratory.
Ethics declarations
Conflict of interest
Binbin Yue, Jianping Dong, and Ginette Serrero are employees of A&G Pharmaceutical. Rupa Guha and Aditi Banerjee have no conflicts to declare.
Additional information
Publisher's Note
Springer Nature remains neutral with regard to jurisdictional claims in published maps and institutional affiliations.
Supplementary Information
Below is the link to the electronic supplementary material.
About this article
Cite this article
Guha, R., Yue, B., Dong, J. et al. Anti-progranulin/GP88 antibody AG01 inhibits triple negative breast cancer cell proliferation and migration. Breast Cancer Res Treat (2021). https://doi.org/10.1007/s10549-021-06120-y
Received:

Accepted:

Published:
Keywords
Progranulin/GP88

Triple negative breast cancer

Proliferation

Migration

Ki67

Anti-progranulin antibody

Progranulin SiRNA