Abstract
Purpose
This study compares the sensitivity of dedicated breast positron emission tomography (DbPET) and whole body positron emission tomography (WBPET) in detecting invasive breast cancer based on tumor size and biology. Further, we explored the relationship between maximum standardized uptake value (SUVmax) of DbPET and biological features of the tumor.
Methods
A total of 639 invasive breast cancer lesions subjected to both DbPET and WBPET before surgery, between January 2016 and May 2019, were included in the study. The sensitivity of DbPET and WBPET in detection and the biology of the tumor according to the clinicopathological features were retrospectively evaluated.
Results
The overall sensitivity of DbPET was higher than that of WBPET (91.4% vs. 80.3%, p < 0.001). Subcentimetric tumors were significant (80.9% vs. 54.3%, p < 0.001). Regardless of the nuclear grade, DbPET could detect more lesions than WBPET. The SUVmax was positively correlated with tumor size (R = 0.395, p < 0.001) and the nuclear grade (p < 0.001). Luminal A-like breast cancer had significantly lower SUVmax values than the other subtypes (p < 0.001).
Conclusions
DbPET is superior to WBPET in the detection of subcentimetric, low-grade breast cancers. Further, by using SUVmax, DbPET can distinguish luminal A-like breast cancer from the other subtypes.
Access options
Buy single article
Instant access to the full article PDF.
US$ 39.95
Tax calculation will be finalised during checkout.
Subscribe to journal
Immediate online access to all issues from 2019. Subscription will auto renew annually.
US$ 119
Tax calculation will be finalised during checkout.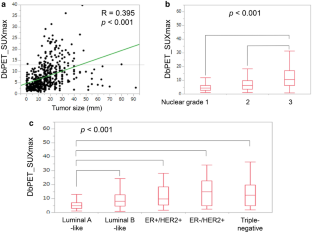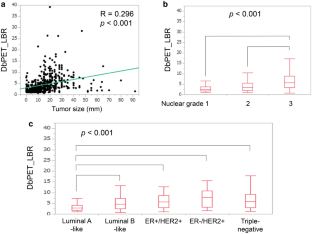 Data availability
The datasets generated during and/or analyzed during the current study are available from the corresponding author on reasonable request.
Abbreviations
CT:

Computed tomography

DbPET:

Dedicated breast positron emission tomography

ER:

Estrogen receptor

FDG:

18F-fluorodeoxyglucose

FOV:

Field of view

HER2:

Human epidermal growth factor receptor type 2

LBR:

Lesion-to-background ratio

MRI:

Magnetic resonance imaging

PEM:

Positron emission mammography

PET:

Positron emission tomography

ROI:

Region of interest

SUVmax:

Maximum standardized uptake value

WBPET:

Whole body positron emission tomography
References
1.

Welch HG, Prorok PC, O'Malley AJ, Kramer BS (2016) Breast-cancer tumor size, overdiagnosis, and mammography screening effectiveness. N Engl J Med 375:1438–1447

2.

Nelson HD, Fu R, Cantor A, Pappas M, Daeges M, Humphrey L (2016) Screening for breast cancer: a systematic review to update the 2009 U.S. preventive services task force recommendation. Ann Intern Med 164:244–255

3.

Ichizawa N, Fukutomi T, Iwamoto E, Akashi-Tanaka S (2002) Long-term results of T1a, T1b and T1c invasive breast carcinomas in Japanese women: validation of the UICC T1 subgroup classification. Jpn J Clin Oncol 32:108–109

4.

Escalona S, Blasco JA, Reza MM, Andradas E, Gómez N (2010) A systematic review of FDG-PET in breast cancer. Med Oncol 27:114–129

5.

Ohara M, Shigematsu H, Tsutani Y, Emi A, Masumoto N, Ozaki S et al (2013) Role of FDG-PET/CT in evaluating surgical outcomes of operable breast cancer-usefulness for malignant grade of triple-negative breast cancer. Breast 22:958–963

6.

Sasada S, Masumoto N, Suzuki E, Sueoka S, Goda N, Kajitani K et al (2019) Prediction of biological characteristics of breast cancer using dual-phase FDG PET/CT. Eur J Nucl Med Mol Imaging 46:831–837

7.

Kadoya T, Aogi K, Kiyoto S, Masumoto N, Sugawara Y, Okada M (2013) Role of maximum standardized uptake value in fluorodeoxyglucose positron emission tomography/computed tomography predicts malignancy grade and prognosis of operable breast cancer: a multi-institute study. Breast Cancer Res Treat 141:269–275

8.

Aogi K, Kadoya T, Sugawara Y, Kiyoto S, Shigematsu H, Masumoto N et al (2015) Utility of 18F FDG-PET/CT for predicting prognosis of luminal-type breast cancer. Breast Cancer Res Treat 150:209–217

9.

Kumar R, Chauhan A, Zhuang H, Chandra P, Schnall M, Alavi A (2006) Clinicopathologic factors associated with false negative FDG-PET in primary breast cancer. Breast Cancer Res Treat 98:267–274

10.

Kanumuri P, Hayse B, Killelea BK, Chagpar AB, Horowitz NR, Lannin DR (2015) Characteristics of multifocal and multicentric breast cancers. Ann Surg Oncol 22:2475–2482

11.

Wolters R, Wöckel A, Janni W, Novopashenny I, Ebner F, Kreienberg R et al (2013) Comparing the outcome between multicentric and multifocal breast cancer: what is the impact on survival, and is there a role for guideline-adherent adjuvant therapy? A retrospective multicenter cohort study of 8,935 patients. Breast Cancer Res Treat 142:579–590

12.

Lynch SP, Lei X, Chavez-MacGregor M, Hsu L, Meric-Bernstam F, Buchhholz TA et al (2012) Multifocality and multicentricity in breast cancer and survival outcomes. Ann Oncol 23:3063–3069

13.

Yerushalmi R, Kennecke H, Woods R, Olivotto IA, Speers C, Gelmon KA (2009) Does multicentric/multifocal breast cancer differ from unifocal breast cancer? An analysis of survival and contralateral breast cancer incidence. Breast Cancer Res Treat 117:365–370

14.

Ozturk A, Alco G, Sarsenov D, Ilgun S, Ordu C, Koksal U et al (2018) Synchronous and metachronous bilateral breast cancer: a long-term experience. J Boun 23:1591–1600

15.

Michowitz M, Noy S, Lazebnik N, Aladjem D (1985) Bilateral breast cancer. J Surg Oncol 30:109–112

16.

Gogas J, Markopoulos C, Skandalakis P, Gogas H (1993) Bilateral breast cancer. Am Surg 59:733–735

17.

Tafra L, Cheng Z, Uddo J, Lobrano MB, Stein W, Berg WA et al (2005) Pilot clinical trial of 18F-fluorodeoxyglucose positron-emission mammography in the surgical management of breast cancer. Am J Surg 190:628–632

18.

Yamamoto Y, Ozawa Y, Kubouchi K, Nakamura S, Nakajima Y, Inoue T (2015) Comparative analysis of imaging sensitivity of positron emission mammography and whole-body PET in relation to tumor size. Clin Nucl Med 40:21–25

19.

Berg WA, Weinberg IN, Narayanan D, Lobrano ME, Ross E, Amodei L et al (2006) High-resolution fluorodeoxyglucose positron emission tomography with compression ("positron emission mammography") is highly accurate in depicting primary breast cancer. Breast J 12:309–323

20.

Nishimatsu K, Nakamoto Y, Miyake K, Ishimori T, Kanao S, Toi M et al (2017) Higher breast cancer conspicuity on dbPET compared to WB-PET/CT. Eur J Radiol 90:138–145

21.

Brierley JD, Gospodararowicz MK, Wittekind C (2016) Union for International Cancer Control (UICC) TNM classification of malignant tumours, 8th Edition. Oxford

22.

Hammond ME, Hayes DF, Dowsett M, Allred DC, Hagerty KL, Badve S et al (2010) American Society of Clinical Oncology/College of American Pathologists Guideline recommendations for immunohistochemical testing of estrogen and progesterone receptors in breast cancer. J Clin Oncol 28:2784–2795

23.

Wolff AC, Hammond ME, Hicks DG, Dowsett M, McShane LM, Allison KH et al (2013) Recommendations for human epidermal growth factor receptor 2 testing in breast cancer: American Society of Clinical Oncology/College of American Pathologists clinical practice guideline update. J Clin Oncol 31:3997–4013

24.

Coates AS, Winer EP, Goldhirsch A, Gelber RD, Gnant M, Piccart-Gebhart M et al (2015) Tailoring therapies–improving the management of early breast cancer: St Gallen international expert consensus on the primary therapy of early breast cancer 2015. Ann Oncol 26:1533–1546

25.

Kumar R, Alavi A (2004) Fluorodeoxyglucose-PET in the management of breast cancer. Radiol Clin North Am 42:1113–1122

26.

Hosono M, Saga T, Ito K, Kumita S, Sasaki M, Senda M et al (2014) Clinical practice guideline for dedicated breast PET. Ann Nucl Med 28:597–602

27.

Sasada S, Masumoto N, Goda N, Kajitani K, Emi A, Kadoya T et al (2018) Which type of breast cancers is undetectable on ring-type dedicated breast PET? Clin Imaging 51:186–191

28.

Sasada S, Masumoto N, Kimura Y, Emi A, Kadoya T, Okada M (2020) Classification of abnormal findings on ring-type dedicated breast PET for the detection of breast cancer. Anticancer Res 40:3491–3497

29.

Duffy SW, Tabár L, Yen AM, Dean PB, Smith RA, Jonsson H et al (2020) Mammography screening reduces rates of advanced and fatal breast cancers: results in 549,091 women. Cancer 126:2971–2979

30.

Moscoso A, Ruibal Á, Domínguez-Prado I, Fernández-Ferreiro A, Herranz M, Albaina L et al (2018) Texture analysis of high-resolution dedicated breast 18 F-FDG PET images correlates with immunohistochemical factors and subtype of breast cancer. Eur J Nucl Med Mol Imaging 45:196–206
Acknowledgements
We thank Kazushi Marukawa and Masatsugu Tsujimura of Chuden Hospital for providing data regarding PET examinations.
Ethics declarations
Conflicts of interest
The authors declare that they have no conflict of interest.
Ethical approval
The Institutional Review Board approved this study. All procedures performed involving human participants were in accordance with the ethical standards of the institutional research committee and the 1964 Helsinki Declaration and its later amendments or comparable ethical standards. For this retrospective study, the need for formal consent was waived.
Additional information
Publisher's Note
Springer Nature remains neutral with regard to jurisdictional claims in published maps and institutional affiliations.
About this article
Cite this article
Sueoka, S., Sasada, S., Masumoto, N. et al. Performance of dedicated breast positron emission tomography in the detection of small and low-grade breast cancer. Breast Cancer Res Treat (2021). https://doi.org/10.1007/s10549-020-06088-1
Received:

Accepted:

Published:
Keywords
Breast cancer

Positron emission tomography

Dedicated breast PET

Whole body PET

Sensitivity