Abstract
Purpose
Chemotherapy-induced peripheral neuropathy (CIPN) is a common, debilitating side effect in cancer survivors. This study aimed to assess the characteristics of quantitative sensory testing (QST) and its correlation with patient-reported outcomes (PROs) in cancer patients with and without CIPN.
Methods
We conducted a cross-sectional analysis using baseline data from two clinical trials in solid tumor cancer survivors with no CIPN symptoms rated < 2 on a 0–10 Numerical Rating Scale (NRS) or moderate-to-severe CIPN rated ≥ 4 on the NRS. We collected PROs (NRS, Neuropathic Pain Scale, and Functional Assessment of Cancer Therapy-Gynecologic Oncology Group/Neurotoxicity subscale at baseline. QST [Tactile Threshold (TT), Vibration Threshold (VT), Thermal Threshold (THT)] measurements were used to assess sensory fiber function; they were compared between patients with and without CIPN using Wilcoxon rank-sum tests. We used Spearman correlation coefficients to estimate associations between PROs and QST in all patients.
Results
Among 116 participants with CIPN (median NRS 5.00) and 10 participants without CIPN (median NRS 0.00), the median (interquartile range) TT was 3.84 (3.47, 4.12) and 3.53 (3.00, 3.84) in feet, respectively (p = 0.043). The median VT was 17.90 (9.42, 26.95) and 7.73 (5.94, 11.11) in feet, respectively (p = 0.001). Thermal cool threshold was 30.00 °C (28.90, 30.57) and 30.67 °C (30.57, 30.93), respectively (p = 0.007). Correlation coefficients between PROs and QST measures ranged between 0.02 and 0.50 in absolute magnitude.
Conclusion
Patients with moderate-to-severe CIPN had significantly impaired tactile, vibratory, and thermal thresholds compared to patients without CIPN. QST correlates with PROs, suggesting CIPN symptom severity may correspond to sensory fiber functionality. QST may be incorporated into future CIPN research.
Access options
Buy single article
Instant access to the full article PDF.
US$ 39.95
Tax calculation will be finalised during checkout.
Subscribe to journal
Immediate online access to all issues from 2019. Subscription will auto renew annually.
US$ 119
Tax calculation will be finalised during checkout.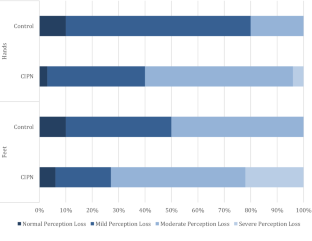 References
1.

Schneider BP, Hershman DL, Loprinzi C (2015) Symptoms: chemotherapy-induced peripheral neuropathy. Adv Exp Med Biol 862:77–87. https://doi.org/10.1007/978-3-319-16366-6_6

2.

Ewertz M, Qvortrup C, Eckhoff L (2015) Chemotherapy-induced peripheral neuropathy in patients treated with taxanes and platinum derivatives. Acta Oncol 54(5):587–591. https://doi.org/10.3109/0284186X.2014.995775

3.

Seretny M, Currie GL, Sena ES, Ramnarine S, Grant R, MacLeod MR, Colvin LA, Fallon M (2014) Incidence, prevalence, and predictors of chemotherapy-induced peripheral neuropathy: a systematic review and meta-analysis. Pain 155(12):2461–2470. https://doi.org/10.1016/j.pain.2014.09.020

4.

Pachman DR, Barton DL, Watson JC, Loprinzi CL (2011) Chemotherapy-induced peripheral neuropathy: prevention and treatment. Clin Pharmacol Ther 90(3):377–387. https://doi.org/10.1038/clpt.2011.115

5.

Mols F, Beijers T, Lemmens V, van den Hurk CJ, Vreugdenhil G, van de Poll-Franse LV (2013) Chemotherapy-induced neuropathy and its association with quality of life among 2- to 11-year colorectal cancer survivors: results from the population-based PROFILES registry. J Clin Oncol 31(21):2699–2707. https://doi.org/10.1200/JCO.2013.49.1514

6.

Backonja MM, Attal N, Baron R, Bouhassira D, Drangholt M, Dyck PJ, Edwards RR, Freeman R, Gracely R, Haanpaa MH, Hansson P, Hatem SM, Krumova EK, Jensen TS, Maier C, Mick G, Rice AS, Rolke R, Treede RD, Serra J, Toelle T, Tugnoli V, Walk D, Walalce MS, Ware M, Yarnitsky D, Ziegler D (2013) Value of quantitative sensory testing in neurological and pain disorders: NeuPSIG consensus. Pain 154(9):1807–1819. https://doi.org/10.1016/j.pain.2013.05.047

7.

Wang XS, Shi Q, Dougherty PM, Eng C, Mendoza TR, Williams LA, Fogelman DR, Cleeland CS (2016) Prechemotherapy touch sensation deficits predict oxaliplatin-induced neuropathy in patients with colorectal cancer. Oncology 90(3):127–135. https://doi.org/10.1159/000443377

8.

Gordon-Williams R, Farquhar-Smith P (2020) Recent advances in understanding chemotherapy-induced peripheral neuropathy. F1000Research. https://doi.org/10.12688/f1000research.21625.1

9.

Bao T, Zhi I, Baser R, Hooper M, Chen C, Piulson L, Li QS, Galantino ML, Blinder V, Robson M, Seidman A, Panageas KS, Mao JJ (2020) Yoga for chemotherapy-induced peripheral neuropathy and fall risk: a randomized controlled trial. JNCI Cancer Spectrum. https://doi.org/10.1093/jncics/pkaa048

10.

Bao T, Patil S, Chen C, Zhi IW, Li QS, Piulson L, Mao JJ (2020) Effect of acupuncture vs sham procedure on chemotherapy-induced peripheral neuropathy symptoms: a randomized clinical trial. JAMA Netw Open 3(3):e200681. https://doi.org/10.1001/jamanetworkopen.2020.0681

11.

Zhi WI, Chen P, Kwon A, Chen C, Harte SE, Piulson L, Li S, Patil S, Mao JJ, Bao T (2019) Chemotherapy-induced peripheral neuropathy (CIPN) in breast cancer survivors: a comparison of patient-reported outcomes and quantitative sensory testing. Breast Cancer Res Treat 178(3):587–595. https://doi.org/10.1007/s10549-019-05416-4

12.

Childs JD, Piva SR, Fritz JM (2005) Responsiveness of the numeric pain rating scale in patients with low back pain. Spine 30(11):1331–1334

13.

Farrar JT, Young JP Jr, LaMoreaux L, Werth JL, Poole RM (2001) Clinical importance of changes in chronic pain intensity measured on an 11-point numerical pain rating scale. Pain 94(2):149–158

14.

Downie WW, Leatham PA, Rhind VM, Wright V, Branco JA, Anderson JA (1978) Studies with pain rating scales. Annals Rheum Dis 37(4):378–381

15.

Ferraz MB, Quaresma MR, Aquino LR, Atra E, Tugwell P, Goldsmith CH (1990) Reliability of pain scales in the assessment of literate and illiterate patients with rheumatoid arthritis. J Rheumatol 17(8):1022–1024

16.

Jensen MP, Friedman M, Bonzo D, Richards P (2006) The validity of the neuropathic pain scale for assessing diabetic neuropathic pain in a clinical trial. Clin J Pain 22(1):97–103. https://doi.org/10.1097/01.ajp.0000173018.64741.62

17.

Galer BS, Jensen MP (1997) Development and preliminary validation of a pain measure specific to neuropathic pain: the Neuropathic Pain Scale. Neurology 48(2):332–338. https://doi.org/10.1212/wnl.48.2.332

18.

Drobek W, De Laat A, Schoenaers J (2001) Tactile threshold and pressure pain threshold during treatment of orofacial pain: an explorative study. Clin Oral Investig 5(3):185–193

19.

North Coast Medical I (2011) Touch test sensory evaluator brochure. https://www.ncmedical.com/wp-content/uploads/2011/07/Touch-Test-Sensory-Evaluator_11_web.pdf. Accessed 3 2020

20.

Goldberg JM, Lindblom U (1979) Standardised method of determining vibratory perception thresholds for diagnosis and screening in neurological investigation. J Neurol Neurosurg Psychiatry 42(9):793–803

21.

Company B-MI Bio-Thesiometer Instructions for Operation. http://www.biothesiometer.com/. Accessed 2 2020

22.

Boyette-Davis JA, Eng C, Wang XS, Cleeland CS, Wendelschafer-Crabb G, Kennedy WR, Simone DA, Zhang H, Dougherty PM (2012) Subclinical peripheral neuropathy is a common finding in colorectal cancer patients prior to chemotherapy. Clin Cancer Res 18(11):3180–3187. https://doi.org/10.1158/1078-0432.CCR-12-0205

23.

Augusto C, Pietro M, Cinzia M, Sergio C, Sara C, Luca G, Scaioli V (2008) Peripheral neuropathy due to paclitaxel: study of the temporal relationships between the therapeutic schedule and the clinical quantitative score (QST) and comparison with neurophysiological findings. J Neurooncol 86(1):89–99. https://doi.org/10.1007/s11060-007-9438-8

24.

Dougherty PM, Cata JP, Cordella JV, Burton A, Weng HR (2004) Taxol-induced sensory disturbance is characterized by preferential impairment of myelinated fiber function in cancer patients. Pain 109(1–2):132–142. https://doi.org/10.1016/j.pain.2004.01.021

25.

Hershman DL, Weimer LH, Wang A, Kranwinkel G, Brafman L, Fuentes D, Awad D, Crew KD (2011) Association between patient reported outcomes and quantitative sensory tests for measuring long-term neurotoxicity in breast cancer survivors treated with adjuvant paclitaxel chemotherapy. Breast Cancer Res Treat 125(3):767–774. https://doi.org/10.1007/s10549-010-1278-0

26.

Staff NP, Grisold A, Grisold W, Windebank AJ (2017) Chemotherapy-induced peripheral neuropathy: a current review. Ann Neurol 81(6):772–781. https://doi.org/10.1002/ana.24951

27.

Roldan CJ, Johnson C, Lee SO, Peng A, Dougherty PM, Huh B (2018) Subclinical peripheral neuropathy in patients with head and neck cancer: a quantitative sensory testing (QST) study. Pain Physician 21(4):E419–E427
Funding
This manuscript is supported in part by a grant from the National Institutes of Health/National Cancer Institute Cancer Center (P30 CA008748) and the Translational and Integrative Medicine Research Fund at Memorial Sloan Kettering Cancer Center.
Ethics declarations
Conflict of interest
Dr. Mao reports grants from Tibet Cheezheng Tibetan Medicine Co., Ltd. and from Zhongke Health International, LLC outside the submitted work. Dr. Harte reports grants and personal fees from Aptinyx, and grants and other from Arbor Medical Innovations, outside the submitted work. In addition, Dr. Harte has a patent US9307906 licensed. Dr. Panageas reports other from Johnson and Johnson, Pfizer, Viking Therapeutics, and Catalyst Biotech, outside the submitted work. All other authors report no potential conflicts of interest.
Additional information
Publisher's Note
Springer Nature remains neutral with regard to jurisdictional claims in published maps and institutional affiliations.
About this article
Cite this article
Zhi, W.I., Baser, R.E., Kwon, A. et al. Characterization of chemotherapy-induced peripheral neuropathy using patient-reported outcomes and quantitative sensory testing. Breast Cancer Res Treat 186, 761–768 (2021). https://doi.org/10.1007/s10549-020-06079-2
Received:

Accepted:

Published:

Issue Date:
Keywords
Cancer survivors

Chemotherapy

Neuropathy

Patient-reported outcome measures

Quantitative sensory testing