Abstract
Purpose
The incidence and predictors of diabetes (DM) in patients with breast cancer (BC) were evaluated. We compared DM incidence and physician access in BC patients to matched controls.
Methods
We identified women with stage I–III BC diagnosed from 2005 to 2013 in the SEER-Medicare database, with ≥ 2 years of follow-up after diagnosis, without previous DM claims. Incident DM was determined by ≥ 1 DM claims after BC diagnosis. Multivariable analysis was used to identify factors associated with incident DM. Age- and race-matched non-cancer controls were obtained from a 5% random sample and assigned an index date. Physician and PCP visits per-patient-per-year were compared between cases and controls in the two-year period prior to and after the index date.
Results
Among 14,506 eligible BC patients, 3234 (22.3%) developed DM versus 16.5% of controls. Among BC patients, factors associated with incident DM included race (Black OR 1.63 95% CI 1.39–1.93, Hispanic OR 3.03 95% CI 1.92–4.81; vs. Caucasians), SES (Quintile 0 vs. Quintile 4 OR 1.55 95% CI 1.33–1.78), and receipt of chemotherapy (vs. none OR 1.19 95% CI 1.08–1.31). Among cases and controls, respectively, median physician visits per-patient-per-year were 19 and 17 prior to the index date, and 46 and 19 after the index date; median PCP visits were 2 for both groups in both periods.
Conclusion
About 22% of BC patients developed DM, more than controls in the same period. While there were differences in healthcare access, there weren't differences in PCP access between groups. This represents an opportunity for better comorbidity management in BC patients.
This is a preview of subscription content, log in to check access.
Access options
Buy single article
Instant access to the full article PDF.
US$ 39.95
Price includes VAT for USA
Subscribe to journal
Immediate online access to all issues from 2019. Subscription will auto renew annually.
US$ 199
This is the net price. Taxes to be calculated in checkout.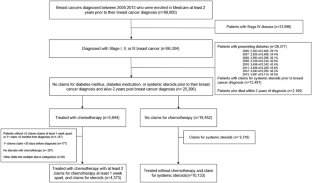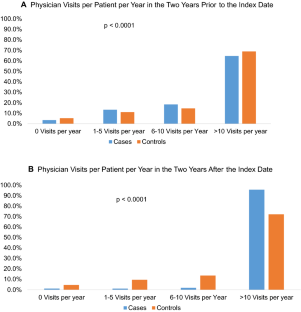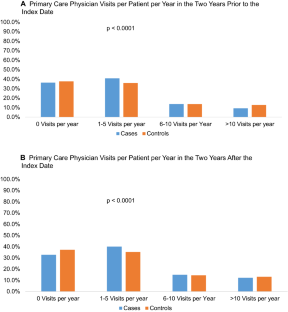 References
1.

Hershman DL, Till C, Shen S, Wright JD, Ramsey SD, Barlow WE, Unger JM (2018) Association of cardiovascular risk factors with cardiac events and survival outcomes among patients with breast cancer enrolled in SWOG clinical trials. J Clin Oncol 36(26):2710–2717

2.

Hwangbo Y, Kang D, Kang M, Kim S, Lee EK, Kim YA, Chang YJ, Choi KS, Jung SY, Woo SM et al (2018) Incidence of diabetes after cancer development: a Korean National Cohort Study. JAMA Oncol 4(8):1099–1105

3.

Lipscombe LL, Chan WW, Yun L, Austin PC, Anderson GM, Rochon PA (2013) Incidence of diabetes among postmenopausal breast cancer survivors. Diabetologia 56(3):476–483

4.

Tamez-Perez HE, Quintanilla-Flores DL, Rodriguez-Gutierrez R, Gonzalez-Gonzalez JG, Tamez-Pena AL (2015) Steroid hyperglycemia: Prevalence, early detection and therapeutic recommendations: a narrative review. World J Diabetes 6(8):1073–1081

5.

Griffiths RI, Danese MD, Gleeson ML, Valderas JM (2012) Epidemiology and outcomes of previously undiagnosed diabetes in older women with breast cancer: an observational cohort study based on SEER-Medicare. BMC Cancer 12:613

6.

Potosky AL, Riley GF, Lubitz JD, Mentnech RM, Kessler LG (1993) Potential for cancer related health services research using a linked Medicare-tumor registry database. Med Care 31(8):732–748

7.

NCI. Overivew of the SEER Program. https://seer.cancer.gov/about/overview.html. Accessed 19 Mar 2020

8.

SEER-Medicare Linked Database. https://healthcaredelivery.cancer.gov/seermedicare/. Accessed 19 Mar 2020

9.

NIH National Caner Institute Division of Cancer Control & Population Sciences. Number of Cancer Cases Enrolled in Part D. https://healthcaredelivery.cancer.gov/seermedicare/aboutdata/enrollees.html. Accessed 19 Mar 2020

10.

Warren JL, Klabunde CN, Schrag D, Bach PB, Riley GF (2002) Overview of the SEER-Medicare data: content, research applications, and generalizability to the United States elderly population. Med Care 40(8 Suppl):IV3–IV18

11.

Davila JA, Morgan RO, Shaib Y, McGlynn KA, El-Serag HB (2005) Diabetes increases the risk of hepatocellular carcinoma in the United States: a population based case control study. Gut 54(4):533–539

12.

Miller DR, Safford MM, Pogach LM (2004) Who has diabetes? Best estimates of diabetes prevalence in the Department of Veterans Affairs based on computerized patient data. Diabetes Care 27(Suppl 2):B10–21

13.

Srokowski TP, Fang S, Hortobagyi GN, Giordano SH (2009) Impact of diabetes mellitus on complications and outcomes of adjuvant chemotherapy in older patients with breast cancer. J Clin Oncol 27(13):2170–2176

14.

Brummett CM, Waljee JF, Goesling J, Moser S, Lin P, Englesbe MJ, Bohnert ASB, Kheterpal S, Nallamothu BK (2017) New persistent opioid use after minor and major surgical procedures in US adults. JAMA Surg 152(6):e170504

15.

Snyder CF, Earle CC, Herbert RJ, Neville BA, Blackford AL, Frick KD (2008) Trends in follow-up and preventive care for colorectal cancer survivors. J Gen Intern Med 23(3):254–259

16.

Yu X, McBean AM, Virnig BA (2007) Physician visits, patient comorbidities, and mammography use among elderly colorectal cancer survivors. J Cancer Surviv 1(4):275–282

17.

Snyder CF, Frick KD, Peairs KS, Kantsiper ME, Herbert RJ, Blackford AL, Wolff AC, Earle CC (2009) Comparing care for breast cancer survivors to non-cancer controls: a five-year longitudinal study. J Gen Intern Med 24(4):469–474

18.

Snyder CF, Frick KD, Herbert RJ, Blackford AL, Neville BA, Carducci MA, Earle CC (2011) Preventive care in prostate cancer patients: following diagnosis and for five-year survivors. J Cancer Surviv 5(3):283–291

19.

Brawarsky P, Neville BA, Fitzmaurice GM, Hassett MJ, Haas JS (2012) Use of annual mammography among older women with ductal carcinoma in situ. J Gen Intern Med 27(5):500–505

20.

Dobie S, Saver BG, Wang CY, Green PK, Baldwin LM (2011) Do primary care physicians lose contact with their colorectal cancer patients? J Am Board Fam Med 24(6):704–709

21.

Sheffield KM, Crowell KT, Lin YL, Djukom C, Goodwin JS, Riall TS (2012) Surveillance of pancreatic cancer patients after surgical resection. Ann Surg Oncol 19(5):1670–1677

22.

Roetzheim RG, Ferrante JM, Lee JH, Chen R, Love-Jackson KM, Gonzalez EC, Fisher KJ, McCarthy EP (2012) Influence of primary care on breast cancer outcomes among Medicare beneficiaries. Ann Fam Med 10(5):401–411

23.

Fisher KJ, Lee JH, Ferrante JM, McCarthy EP, Gonzalez EC, Chen R, Love-Jackson K, Roetzheim RG (2013) The effects of primary care on breast cancer mortality and incidence among medicare beneficiaries. Cancer 119(16):2964–2972

24.

Long-term Trends in Diabetes (April 2017) CDC'd Division of Diabetes Translation. United States Diabetes Survillence System available at https://www.cdc.gov/diabetes/data, https://www.cdc.gov/diabetes/statistics/slides/long_term_trends.pdf. Accessed 19 Mar 2020

25.

Haels CM, Carroll MD, Fryar CD, Ogden CL (Oct 2017) Prevalence of obesity among adults and youth: United States, 2015–2016. NCHS Data Brief. No. 288. https://www.cdc.gov/nchs/data/databriefs/db288.pdf. Accessed 19 Mar 2020

26.

Pippitt K, Li M Diabetes Mellitus: screening and diagnosis. American Family Physician. https://www.aafp.org/afp/2016/0115/p103.html. Accessed 19 Mar 2020

27.

DeSantis CE, Fedewa SA, Goding Sauer A, Kramer JL, Smith RA, Jemal A (2016) Breast cancer statistics, 2015: convergence of incidence rates between black and white women. CA Cancer J Clin 66(1):31–42

28.

Carey LA, Perou CM, Livasy CA, Dressler LG, Cowan D, Conway K, Karaca G, Troester MA, Tse CK, Edmiston S et al (2006) Race, breast cancer subtypes, and survival in the Carolina Breast Cancer Study. JAMA 295(21):2492–2502

29.

Howlader N, Altekruse SF, Li CI, Chen VW, Clarke CA, Ries LA, Cronin KA (2014) US incidence of breast cancer subtypes defined by joint hormone receptor and HER2 status. J Natl Cancer Inst 106(5):dju093

30.

Freedman RA, He Y, Winer EP, Keating NL (2009) Trends in racial and age disparities in definitive local therapy of early-stage breast cancer. J Clin Oncol 27(5):713–719

31.

Wheeler SB, Carpenter WR, Peppercorn J, Schenck AP, Weinberger M, Biddle AK (2012) Structural/organizational characteristics of health services partly explain racial variation in timeliness of radiation therapy among elderly breast cancer patients. Breast Cancer Res Treat 133(1):333–345

32.

Hershman DL, Wang X, McBride R, Jacobson JS, Grann VR, Neugut AI (2006) Delay in initiating adjuvant radiotherapy following breast conservation surgery and its impact on survival. Int J Radiat Oncol Biol Phys 65(5):1353–1360

33.

Fedewa SA, Ward EM, Stewart AK, Edge SB (2010) Delays in adjuvant chemotherapy treatment among patients with breast cancer are more likely in African American and Hispanic populations: a national cohort study 2004–2006. J Clin Oncol 28(27):4135–4141

34.

Jadav S, Rajan SS, Abughosh S, Sansgiry SS (2015) The role of socioeconomic status and health care access in breast cancer screening compliance among hispanics. J Public Health Manag Pract 21(5):467–476

35.

The American Cancer Society. Cancer Facts & Figures for Hispanics/Latinos 2018–2020. https://www.cancer.org/content/dam/cancer-org/research/cancer-facts-and-statistics/cancer-facts-and-figures-for-hispanics-and-latinos/cancer-facts-and-figures-for-hispanics-and-latinos-2018-2020.pdf. Accessed 19 Mar 2020

36.

Warner ET, Tamimi RM, Hughes ME, Ottesen RA, Wong YN, Edge SB, Theriault RL, Blayney DW, Niland JC, Winer EP et al (2012) Time to diagnosis and breast cancer stage by race/ethnicity. Breast Cancer Res Treat 136(3):813–821

37.

Lantz PM, Mujahid M, Schwartz K, Janz NK, Fagerlin A, Salem B, Liu L, Deapen D, Katz SJ (2006) The influence of race, ethnicity, and individual socioeconomic factors on breast cancer stage at diagnosis. Am J Public Health 96(12):2173–2178

38.

Silber JH, Rosenbaum PR, Ross RN, Reiter JG, Niknam BA, Hill AS, Bongiorno DM, Shah SA, Hochman LL, Even-Shoshan O et al (2018) Disparities in breast cancer survival by socioeconomic status despite medicare and medicaid insurance. Milbank Q 96(4):706–754

39.

Bradley CJ, Given CW, Roberts C (2002) Race, socioeconomic status, and breast cancer treatment and survival. J Natl Cancer Inst 94(7):490–496

40.

Byers TE, Wolf HJ, Bauer KR, Bolick-Aldrich S, Chen VW, Finch JL, Fulton JP, Schymura MJ, Shen T, Van Heest S et al (2008) The impact of socioeconomic status on survival after cancer in the United States : findings from the National Program of Cancer Registries Patterns of Care Study. Cancer 113(3):582–591

41.

Kish JK, Yu M, Percy-Laurry A, Altekruse SF (2014) Racial and ethnic disparities in cancer survival by neighborhood socioeconomic status in Surveillance, Epidemiology, and End Results (SEER) Registries. J Natl Cancer Inst Monogr 2014(49):236–243

42.

Sprague BL, Trentham-Dietz A, Gangnon RE, Ramchandani R, Hampton JM, Robert SA, Remington PL, Newcomb PA (2011) Socioeconomic status and survival after an invasive breast cancer diagnosis. Cancer 117(7):1542–1551

43.

Hershman DL, Till C, Wright JD, Accordino M, Vaidya R, Barlow WE, Ramsey S, Unger JM (2020) Healthcare utilization and cost of care in elderly breast cancer patients enrolled in SWOG clinical trials. Breast Cancer Res Treat 181(2):455–463. https://doi.org/10.1007/s10549-020-05634-1

44.

Hershman DL, Accordino MK, Shen S, Buono D, Crew KD, Unger JM, Wright JD () Association between non-adherence to cardiovascular medications following a diagnosis of breast cancer and cardiovascular events. Abstract #PD6–04; San Antonio Breast Cancer Symposium; December 6, 2018, San Antonio, TX. Accepted for Poster Discussion. In.
Acknowledgement
This study used the linked SEER-Medicare database. The interpretation and reporting of these data are the sole responsibility of the authors. The authors acknowledge the efforts of the National Cancer Institute; the Office of Research, Development and Information, CMS; Information Management Services (IMS), Inc.; and the Surveillance, Epidemiology, and End Results (SEER) Program tumor registries in the creation of the SEER-Medicare database.
Funding
Dr. Accordino is a recipient of a Conquer Cancer Foundation/Breast Cancer Research Foundation Career Development Award and KL2 Mentored Career Development Award (KL2 TR001874). Dr. Hershman is a recipient of a grant from The American Society of Clinical Oncology/Breast Cancer Research Foundation.
Ethics declarations
Conflict of interest
The authors declare that they have no conflicts of interest.
Additional information
Publisher's Note
Springer Nature remains neutral with regard to jurisdictional claims in published maps and institutional affiliations.
About this article
Cite this article
Accordino, M.K., Wright, J.D., Buono, D. et al. Incidence and Predictors of Diabetes Mellitus after a Diagnosis of Early-Stage Breast Cancer in the Elderly Using Real-World Data. Breast Cancer Res Treat (2020). https://doi.org/10.1007/s10549-020-05756-6
Received:

Accepted:

Published:
Keywords
Diabetes mellitus

Health services research

SEER-medicare

Breast cancer