Abstract
Purpose
Multiple wire-free technologies for localization of non-palpable breast cancers have emerged as satisfactory alternatives to wire. However, no study has compared two non-radioactive wire-free approaches to one another. The purpose of this study was to compare outcomes among LOCalizer™ radiofrequency identification (RFID), SAVI Scout® (SAVI), and wire localization (WL).
Methods
This was a retrospective, cross-sectional cohort study of patients undergoing lumpectomy for non-palpable breast cancer at a single institution between August 2017 and February 2019. Patients were divided into three cohorts based on localization technique: RFID, SAVI or WL. Operative times and average tumor volumes were compared using one-way analysis of variance. Positive margin and re-excision rates were compared with Fisher's exact test.
Results
Among 104 patients who underwent lumpectomy for non-palpable breast cancer, 33 patients (31.7%) had RFID, 21 (20.2%) had SAVI, and 50 (48.0%) had WL. Operative times were 79 min for RFID, 81 min for SAVI, and 78 min for WL (p = 0.91). Volume of tissue resected was 36.3 cm3, 31.7 cm3, and 35.3 cm3 for RFID, SAVI, and WL, respectively (p = 0.84). Positive margin rates (RFID 3.0% vs SAVI 9.5% vs WL 8.0%, p = 0.67) and re-excision rates (RFID 6.1% vs SAVI 9.5% vs WL 10.0%, p = 0.82) were similar across groups.
Conclusions
Wire-free localization technologies have been compared to WL demonstrating similar efficacy. Our study suggests that RFID and SAVI Scout also perform similarly to one another. Physicians and institutions may consider more nuanced features of each localization system rather than performance alone when choosing a wire-free alternative.
This is a preview of subscription content, log in to check access.
Access options
Buy single article
Instant access to the full article PDF.
US$ 39.95
Price includes VAT for USA
Subscribe to journal
Immediate online access to all issues from 2019. Subscription will auto renew annually.
US$ 199
This is the net price. Taxes to be calculated in checkout.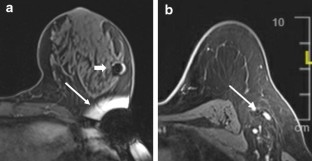 References
1.

Srour MK, Kim S, Amersi F, Giuliano AE, Chung A (2020) Comparison of wire localization, radioactive seed, and Savi scout® radar for management of surgical breast disease. Breast J 26(3):406–413

2.

DiNome ML, Kusske AM, Attai DJ, Fischer CP, Hoyt AC (2019) Microchipping the breast: an effective new technology for localizing non-palpable breast lesions for surgery. Breast Cancer Res Treat 175(1):165–170

3.

Mango V, Ha R, Gomberawalla A, Wynn R, Feldman S (2016) Evaluation of the SAVI SCOUT surgical guidance system for localization and excision of nonpalpable breast lesions: a feasibility study. AJR 207(4):W69–W72

4.

Gray RJ, Salud C, Nguyen K, Dauway E, Friedland J, Berman C, Peltz E, Whitehead G, Cox CE (2001) Randomized prospective evaluation of a novel technique for biopsy or lumpectomy of nonpalpable breast lesions: radioactive seed versus wire localization. Ann Surg Oncol 8(9):711–715

5.

McGhan LJ, McKeever SC, Pockaj BA, Wasif N, Giurescu ME, Walton HA, Gray RJ (2011) Radioactive seed localization for nonpalpable breast lesions: review of 1,000 consecutive procedures at a single institution. Ann Surg Oncol 18:3096–3101

6.

Gray RJ, Pockaj BA, Karstaedt PJ, Roarke MC (2004) Radioactive seed localization of nonpalpable breast lesions is better than wire localization. Am J Surg 188(4):377–380

7.

Hughes JH, Mason MC, Gray RJ, McLaughlin SA, Degnim AC, Fulmer JT, Pockaj BA, Karstaedt PJ, Roarke MC (2008) A multi-site validation trial of radioactive seed localization as an alternative to wire localization. Breast J 14(2):153–157

8.

Dryden MJ, Dogan BE, Fox P, Wang C, Black DM, Hunt K, Yang WT (2016) Imaging factors that influence surgical margins after preoperative 125I radioactive seed localization of breast lesions: comparison with wire localization. AJR 206(5):1112–1118

9.

Mango VL, Wynn RT, Feldman S, Friedlander L, Desperito E, Patel SN, Gomberawalla A, Ha R (2017) Beyond wires and seeds: reflector-guided breast lesion localization and excision. Radiology 284(2):365–371

10.

Jadeja PH, Mango V, Patel S, Friedlander L, Desperito E, Ayala-Bustamante E, Wynn R, Chen-Seetoo M, Taback B, Feldman S, Ha R (2018) Utilization of multiple SAVI SCOUT surgical guidance system reflectors in the same breast: a single-institution feasibility study. Breast J 24(4):531–534

11.

Patel SN, Mango VL, Jadeja P, Friedlander L, Desperito E, Wynn R, Feldman S, Ha R (2018) Reflector-guided breast tumor localization versus wire localization for lumpectomies: A comparison of surgical outcomes. Clin Imaging 47:14–17

12.

Cox CE, Russell S, Prowler V, Carter E, Beard A, Mehindru A, Blumencranz P, Allen K, Portillo M, Whitworth P, Funk K, Barone J, Norton D, Schroeder J, Police A, Lin E, Combs F, Schnabel F, Toth H, Lee J, Anglin B, Nguyen M, Canavan L, Laidley A, Warden MJ, Prati R, King J, Shivers SC (2016) A prospective, single arm, multi-site, clinical evaluation of a nonradioactive surgical guidance technology for the location of nonpalpable breast lesions during excision. Ann Surg Oncol 23(10):3168–3174

13.

Cox CE, Garcia-Henriquez N, Glancy MJ, Whitworth P, Cox JM, Themar-Geck M, Prati R, Jung M, Russell S, Appleton K, King J, Shivers SC (2016) Pilot study of a new nonradioactive surgical guidance technology for locating nonpalpable breast lesions. Ann Surg Oncol 23(6):1824–1830

14.

Malteri W, Holtschmidt J, Thangarajah F, Mallmann P, Krug B, Warm M, Eichler C (2019) First reported use of the Faxitron LOCalizer™ radiofrequency identification (RFID) system in Europe: a feasibility trial, surgical guide and review for non-palpable breast lesions. In Vivo 33(5):1559–1564

15.

McGugin C, Spivey T, Coopey S, Smith B, Kelly B, Gadd M, Hughes K, Dontchos B, Specht M (2019) Radiofrequency identification tag localization is comparable to wire localization for non-palpable breast lesions. Breast Cancer Res Treat 177(3):735–739
Ethics declarations
Conflict of interest
All the authors declare that they have no conflicts of interest.
Ethical approval
This article does not contain any studies with human participants or animals performed by any of the authors.
Additional information
Publisher's Note
Springer Nature remains neutral with regard to jurisdictional claims in published maps and institutional affiliations.
About this article
Cite this article
Lee, M.K., Sanaiha, Y., Kusske, A.M. et al. A comparison of two non-radioactive alternatives to wire for the localization of non-palpable breast cancers. Breast Cancer Res Treat 182, 299–303 (2020). https://doi.org/10.1007/s10549-020-05707-1
Received:

Accepted:

Published:

Issue Date:
Keywords
Radiofrequency tag

SAVI scout

Breast surgery

Wire-free localization

Localizer