Abstract
Purpose
Defects in the homologous recombination (HR) DNA repair pathway sensitize tumors to therapeutics that target this pathway. A significant proportion of triple-negative breast cancers (TNBC) carry HR defects. The HRD assay is highly associated with sensitivity to neoadjuvant platinum-based chemotherapy in TNBC. Standard chemotherapy consists of some combination of an anthracycline, cyclophosphamide, and taxane. This study assesses the association of HR deficiency status with response to standard neoadjuvant chemotherapy in TNBC or BRCA1/2 mutation-associated breast cancer.
Methods
Tumor samples were retrospectively obtained from 45 TNBC patients and 2 BRCA1/2 mutant, hormone receptor-positive/HER2-negative breast cancer patients who received anthracycline- and/or taxane-based neoadjuvant chemotherapy at Stanford University or Cedars-Sinai Medical Centers. The HRD score and tumor BRCA1/2 mutation status were determined from baseline tumor biopsies. HR deficient tumors were those with a HRD score of ≥ 42 or a tumor BRCA1/2 mutation. Response was categorized by the residual cancer burden (RCB) index.
Results
HR deficient patients were more likely to achieve a pathologic complete response (pCR) compared with non-deficient patients (OR 13.06, CI 1.52–11.241, p = 0.0028). Among BRCA1/2 mutation wild-type patients, HR deficient patients were more likely to achieve a pCR (OR 16, 95% CI 1.65–160.41, p = 0.0041) compared with HR non-deficient patients. Further, HRD scores were highly concordant pre- and post-therapy (Spearman correlation > 99%).
Conclusions
HR deficiency status is significantly associated with response to standard neoadjuvant chemotherapy in TNBC. This observation is consistent with the mechanisms of action of doxorubicin and cyclophosphamide as DNA damaging agents.
Access options
Buy single article
Instant access to the full article PDF.
US$ 39.95
Tax calculation will be finalised during checkout.
Subscribe to journal
Immediate online access to all issues from 2019. Subscription will auto renew annually.
US$ 119
Tax calculation will be finalised during checkout.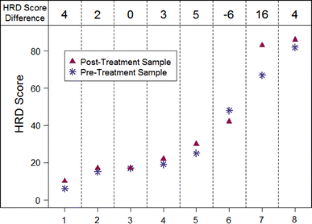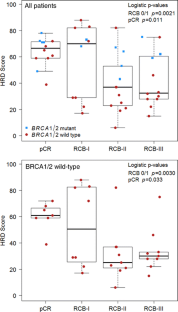 References
1.

Dent R, Trudeau M, Pritchard KI, Hanna WM, Kahn HK, Sawka CA, Lickley LA, Rawlinson E, Sun P, Narod SA (2007) Triple-negative breast cancer: clinical features and patterns of recurrence. Clin Cancer Res 13:4429–4434

2.

Gradishar WJ, Anderson BO, Balassanian R et al (2016) Invasive Breast Cancer Version 1.2016, NCCN Clinical Practice Guidelines in Oncology. J Natl Compr Canc Netw 14:324–354

3.

Cortazar P, Geyer CE (2015) Pathological complete response in neoadjuvant treatment of breast cancer. Ann Surg Oncol 22:1441–1446

4.

Symmans WF, Wei C, Gould R et al (2017) Long-term prognostic risk after neoadjuvant chemotherapy associated with residual cancer burden and breast cancer subtype. J Clin Oncol 35:1049–1060

5.

Lord CJ, Ashworth A (2016) BRCAness revisited. Nat Rev Cancer 16:110–120

6.

Telli ML, Timms KM, Reid J et al (2016) Homologous recombination deficiency (HRD) score predicts response to platinum-containing neoadjuvant chemotherapy in patients with triple-negative breast cancer. Clin Cancer Res 22:3764–3773

7.

Couch FJ, Hart SN, Sharma P et al (2015) Inherited mutations in 17 breast cancer susceptibility genes among a large triple-negative breast cancer cohort unselected for family history of breast cancer. J Clin Oncol 33:304–311

8.

Sharma P, Klemp JR, Kimler BF et al (2014) Germline BRCA mutation evaluation in a prospective triple-negative breast cancer registry: implications for hereditary breast and/or ovarian cancer syndrome testing. Breast Cancer Res Treat 145:707–714

9.

Gonzalez-Angulo AM, Timms KM, Hanna WM et al (2011) Incidence and outcome of BRCA mutations in unselected patients with triple receptor-negative breast cancer. Clin Cancer Res 17:1082–1089

10.

Telli ML, Jensen KC, Vinayak S et al (2015) Phase II study of gemcitabine, carboplatin, and iniparib as neoadjuvant therapy for triple-negative and BRCA1/2 mutation-associated breast cancer with assessment of a tumor-based measure of genomic instability: PrECOG 0105. J Clin Oncol 33:1895–1901

11.

Abkevich V, Timms KM, Hennessy BT et al (2012) Patterns of genomic loss of heterozygosity predict homologous recombination repair defects in epithelial ovarian cancer. Br J Cancer 107:1776–1782

12.

Birkbak NJ, Wang ZC, Kim JY et al (2012) Telomeric allelic imbalance indicates defective DNA repair and sensitivity to DNA-damaging agents. Cancer Discov 2:366–375

13.

Popova T, Manie E, Rieunier G et al (2012) Ploidy and large-scale genomic instability consistently identify basal-like breast carcinomas with BRCA1/2 inactivation. Cancer Res 72:5454–5462

14.

Timms KM, Abkevich V, Hughes E et al (2014) Association of BRCA1/2 defects with genomic scores predictive of DNA damage repair deficiency among breast cancer subtypes. Breast Cancer Res 16:475

15.

Kaklamani VG, Jeruss JS, Hughes E et al (2015) Phase II neoadjuvant clinical trial of carboplatin and eribulin in women with triple negative early-stage breast cancer (NCT01372579). Breast Cancer Res Treat 151:629–638

16.

Symmans WF, Peintinger F, Hatzis C (2007) Measurement of residual breast cancer burden to predict survival after neoadjuvant chemotherapy. J Clin Oncol 25:4414–4422

17.

Paluch-Shimon S, Friedman E, Berger R et al (2016) Neo-adjuvant doxorubicin and cyclophosphamide followed by paclitaxel in triple-negative breast cancer among BRCA1 mutation carriers and non-carriers. Breast Cancer Res Treat 157:157–165

18.

Davies H, Glodzik D, Morganella S et al (2017) HRDetect is a predictor of BRCA1 and BRCA2 deficiency based on mutational signatures. Nat Med 23:517–525

19.

Kriege M, Jager A, Hooning MJ et al (2012) The efficacy of taxane chemotherapy for metastatic breast cancer in BRCA1 and BRCA2 mutation carriers. Cancer 118:899–907
Funding
This study was funded by Susan G. Komen for the Cure, Breast Cancer Research Foundation, Stanford Cancer Institute, Myriad Genetics.
Ethics declarations
Conflict of interest
Zaina Sangale, Rebecca Peterson, Kirsten Timms, Alexander Gutin, Joshua Jones, Chris Neff, Elisha Hughes, Richard Wenstrup, and Victor Abkevich are employed by and own stock in Myriad Genetics. Anne-Renee Hartman is employed and receives stock from GRAIL. Shaveta Vinayak has received travel funds and sits on the advisory board at Tesaro.
About this article
Cite this article
Telli, M.L., Hellyer, J., Audeh, W. et al. Homologous recombination deficiency (HRD) status predicts response to standard neoadjuvant chemotherapy in patients with triple-negative or BRCA1/2 mutation-associated breast cancer. Breast Cancer Res Treat 168, 625–630 (2018). https://doi.org/10.1007/s10549-017-4624-7
Received:

Accepted:

Published:

Issue Date:
Keywords
Triple-negative breast cancer

Homologous recombination DNA repair

HRD assay

Neoadjuvant chemotherapy

BRCA1

BRCA2