Abstract
The surface albedo of two large cities in Japan was measured using a pyranometer mounted on a helicopter to avoid the bidirectional reflectance distribution. The daytime albedo was 0.12 in the cities, which was less than that of a nearby forest (0.16). The albedo was dependent on building structure in the cities; the albedo was lower in areas with more buildings, and decreased as the aspect ratio of street canyons increased. There are two reasons for this dependency: the multiple reflection of radiation in the building canopy, as has been shown in many previous studies, and the sparse vegetation in urban areas. These two factors concurrently determine the albedo in a real city, where the vegetation amount decreases as the plan roof ratio increases.
Access options
Buy single article
Instant access to the full article PDF.
US$ 39.95
Tax calculation will be finalised during checkout.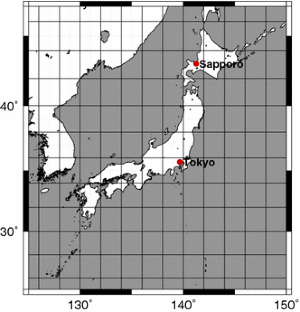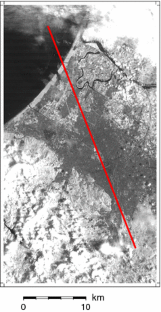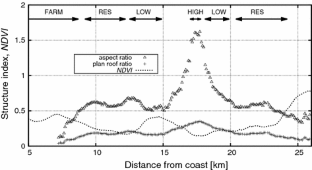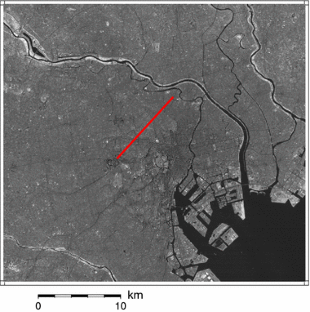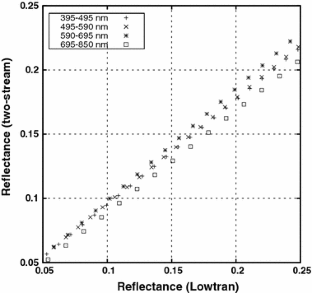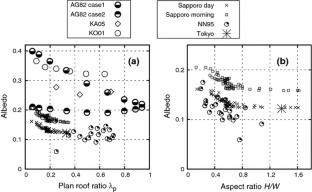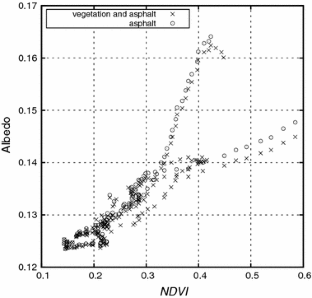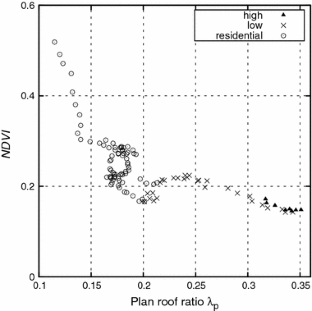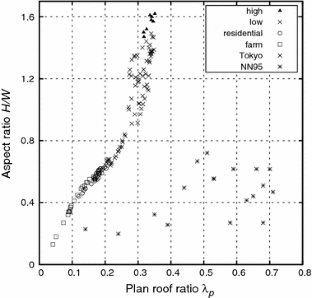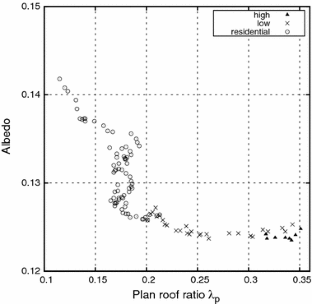 References
Adachi SA, Kimura F, Kusaka H, Inoue T, Ueda H (2012) Comparison of the impact of global climate changes and urbanization on summertime future climate in the Tokyo metropolitan area. J Appl Meteorol Climatol 51:1441–1454

Aida M (1982) Urban albedo as a function of the urban structure—a model experiment. Boundary-Layer Meteorol 23:405–413

Aida M, Gotoh K (1982) Urban albedo as a function of the urban structure—a two-dimensional numerical simulation. Boundary-Layer Meteorol 23:415–424

Brest CL (1987) Seasonal albedo of an urban/rural landscape from satellite observations. J Appl Meteorol 26:1169–1187

Burt WV (1954) Albedo over wind-roughened water. J Meteorol 11:283–290

Christen A, Vogt R (2004) Energy and radiation balance of a central European city. Int J Clim 24:1395–1421

Cui Y (2009) Albedo on a heterogeneous-BRDF land surface—estimation methodology in satellite measurements and its application. Doctoral Thesis of Chiba University, 114 pp

Cui Y, Mitomi Y, Takamura T (2009) An empirical anisotropy correction model for estimating land surface albedo for radiation budget studies. Remote Sens Environ 113:24–39

Epiphanio JCN, Huete AR (1995) Dependence of NDVIand SAVI on sun/sensor geometry and its effect on fAPAR relationships in Alfalfa. Remote Sens Environ 51:351–360

Grimmond CSB, Blackett M, Best MJ, Barlow J, Baik J-J, Belcher SE, Bohnenstengel SI, Calmet I, Chen F, Dandou A, Fortuniak K, Gouvea ML, Hamdi R, Hendry M, Kawai T, Kawamoto Y, Kondo H, Krayenhoff ES, Lee S-H, Loridan T, Martilli A, Masson V, Miao S, Oleson K, Pigeon G, Porson A, Ryu Y-H, Salamanca F, Shashua-Bar L, Steeneveld G-J, Tombrou M, Voogt J, Young D, Zhang N (2010) The international urban energy balance models comparison project: first results from phase 1. J Appl Meteorol Climatol 49:1268–1292

Groleau D, Mestayer P (2013) Urban morphology influence on urban albedo: a revisit with the solene model. Boundary-Layer Meteorol 147:301–327

Hamdi R, Schayes G (2008) Sensitivity study of the urban heat island intensity to urban characteristics. Int J Climatol 28:973–982

Hirota T, Fukumoto M, Shirooka R, Muramatu K (1995) Simple method of estimating daily mean soil temperature by using the force-restore model. J Agric Meteorol 51:269–277 (in Japanese with English abstract)

Ishida S, Ishida T, Kondo J (1997) The seasonal variation of heat balance on a paddy field. J Jpn Soc Hydrol Water Resour 10:123–132 (in Japanese with English abstract)

Kanda M, Kawai T, Nakagawa K (2005) A simple theoretical radiation scheme for regular building arrays. Boundary-Layer Meteorol 114:71–90

Katsaros KB, McMurdie LA, Lind RJ, DeVault JE (1985) Albedo of a water surface, spectral variation, effects of atmospheric transmittance, sun angle and wind speed. J Geophys Res 90:7313–7321

Kondo A, Ueno M, Kaga A, Yamaguchi K (2001) The influence of urban canopy configuration on urban albedo. Boundary-Layer Meteorol 100:225–242

Kondratyev KY (1969) Radiation processes in the atmosphere. Academic Press, New York 390 pp

Kneizys FX, Shettle SP, Abreu LW, Chetwynd JH Jr, Anderson GP, Gallery WO, Selby JEA, Clough SA (1988) User's guide to LOWTRAN 7. Air Force Geophysics Laboratory Report, No. AFGL-TR-88-0177, 146 pp

Kusaka H, Kondo H, Kikegawa Y, Kimura F (2001) A simple single-layer urban canopy model for atmospheric models: comparison with multi-layer and slab models. Boundary-Layer Meteorol 101:329–358

Liou K (1980) An introduction to atmospheric radiation. Academic Press, New York 392 pp

Lucht W, Schaaf CB, Strahler AH (2000) An algorithm for the retrieval of albedo from space using semiempirical BRDF models. IEEE Trans Geosci Remote Sens 38:977–998

Martilli A, Clappier A, Rotach MW (2002) An urban surface exchange parameterisation for mesoscale models. Boundary-Layer Meteorol 104:261–304

Masson V (2000) A physically-based scheme for the urban energy budget in atmospheric models. Boundary-Layer Meteorol 94:357–397

Meister GA, Rothkrich H, Spitzer JKB (2001) Large-scale bidirectional reflectance model for urban areas. IEEE Trans Geosci Remote Sens 39:1927–1942

Ministry of the Environemt of Japan (2013) Japan Integrated Biodiversity Information System. http://www.vegetation.biodic.go.jp/

Moran MS, Jackson RD, Hart GF, Slater PN, Bartell RJ, Biggar SF, Gellman DI, Santer RP (1990) Obtaining surface reflectance factors from atmospheric and view angle corrected SPOT-1 HRV data. Remote Sens Environ 32:203–214

Nakagawa K, Nakayama C (1995) The relationship between surface albedo and surface structure in the central parts of urban areas in the Kanto Plain, Japan. Geogr Rev Jpn 68A:741–760 (in Japanese with English abstract)

Nakayama K, Hanyu J, Kon H (1983) Characteristics of albedo over a potato field. J Agric Meteorol 39:289–295

Offerle B, Grimmond CSB, Oke TR (2003) Parameterization of net all-wave radiation for urban areas. J Appl Meteorol 42:1157–1173

Offerle B, Eliasson I, Grimmond CSB, Holmer B (2007) Surface heating in relation to air temperature, wind and turbulence in an urban street canyon. Boundary-Layer Meteorol 122:273–292

Oke TR (1978) Boundary layer climates. Methuen & Co Ltd, London 372 pp

Roth M, Oke T, Emery W (1989) Satellite-derived urban heat islands from three coastal cities and the utilization of such data in urban climatology. Int J Remote 10:1699–1720

Sailor DJ (1995) Simulated urban climate response to modifications in surface albedo and vegetative cover. J Appl Meteorol 34:1694–1704

Short N (1982) The Landsat tutorial workbook: Basics of satellite remote sensing. NASA Ref. Publ. 1078, U.S. Government Printing Office, Washington, DC, 553 pp

Strugnell NC, Lucht W (2001) An algorithm to infer continental-scale albedo from AVHRR data, land cover class, and field observations of typical BRDFs. J Clim 14:1360–1376

Sugawara H (2001) Heat exchange between urban structures and the atmospheric boundary layer. Doctoral Thesis of Tohoku University, 140 pp

Sugawara H, Takamura T (2006) Longwave radiation flux from an urban canopy: evaluation via measurements of directional radiometric temperature. Remote Sens Environ 104:226–237

Takamura T (1992) Spectral reflectance in an urban area a case study for Tokyo. Boundary-Layer Meteorol 59:67–82

Takamura T, Toritani H (1994) Surface reflectance in an urbanized area with snow cover. Snow and ice cores: interactions with the atmosphere and ecosystems. In: Proceedings of Yokohama Symposia J2 and J5, IAHS Publ. No. 223

United Nations (2012) Department of Economic and Social Affairs, Population Division: World Urbanization Prospects, the 2011 Revision: Highlights, New York. http://esa.un.org/unup/pdf/WUP2011_highlights

Voogt JA, Oke TR (1997) Complete urban surface temperature. J Appl Meteorol 36:1117–1132

Warner S, Platt N, Urban JT, Heagy JF (2008) Comparisons of transport and dispersion model predictions of the Joint Urban 2003 Field Experiment. J Appl Meteorol Climatol 47:1910–1928

Yoshida A, Idei S, Tominaga K, Kunitomo T (1988) Spectral reflectances of Environmental surfaces for solar radiation. Trans Jpn Soc Mech Eng Ser B 54:172–177 (in Japanese with English abstract)
Acknowledgments
The Japanese Ground Self Defense Force supported the airborne observations. The GIS data of buildings were provided by the Sapporo city planning bureau and the Tokyo metropolitan government. The authors thank Dr. K. Nakagawa for providing the raw data used in NN95. The optical depth in Tokyo was measured and provided by Dr. K. Miura at the Tokyo University of Science. This study was financially supported by the joint research program of CEReS, Chiba University.
About this article
Cite this article
Sugawara, H., Takamura, T. Surface Albedo in Cities: Case Study in Sapporo and Tokyo, Japan. Boundary-Layer Meteorol 153, 539–553 (2014). https://doi.org/10.1007/s10546-014-9952-0
Received:

Accepted:

Published:

Issue Date:
Keywords
Airborne observation

Albedo

Real urban surfaces

Urban canopy