Abstract
Background/aims
Previous studies have indicated a high risk of hepatocellular carcinoma in acute hepatic porphyrias. In this retrospective study we present the incidence of primary liver cancer and clinical characteristics in a cohort of 179 acute porphyria patients above the age of 50 years.
Methods
Twenty-three cases with primary liver cancer were found either by a surveillance program or due to clinical suspicion. Standardized rate ratio was used to estimate the relative risk of primary liver cancer after indirect standardization. Survival data were calculated using the Kaplan-Meier method.
Results
The mean age at diagnosis was 69 years. Hepatocellular carcinoma was found in 19 patients while four patients had cholangiocarcinoma or a combination of the two. Four patients had underlying cirrhosis. Mean tumour size was 4.3 cm in the surveillance group and 10.3 cm in the non-surveillance group (p = 0.01). The overall relative risk of primary liver cancer was 86 above the age of 50: 150 for women and 37 for men. Mean survival time was 5.7 years.
Conclusion
Acute hepatic porphyria carries a high risk of primary liver cancer above the age of 50 which warrants ultrasound surveillance. Sex distribution and frequency of cirrhosis differs from more common aetiologies of primary liver cancer.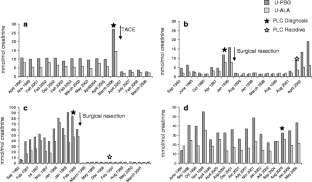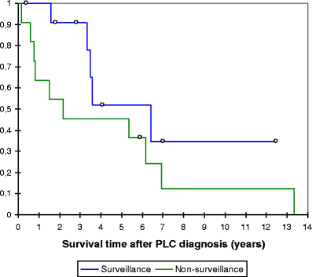 References
Andant C, Puy H, Bogard C et al (2000) Hepatocellular carcinoma in patients with acute hepatic porphyria: frequency of occurrence and related factors. J Hepatol 32(6):933–939

Anderson KE, Sassa S, Bishop DF, Desnick RJ (2001) Disorders of heme biosynthesis: X-linked sideroblastic anemia and the porphyrias. The metabolic and molecular bases of inherited disease. In: Scriver CR, Beaudet AL, Sly WS and Valle D (eds) McGraw-Hill, New York 2: 2991–3062

Andersson C, Bjersing L, Lithner F (1996) The epidemiology of hepatocellular carcinoma in patients with acute intermittent porphyria. J Intern Med 240:195–201

Batlle AM (1993) Porphyrins, porphyrias, cancer and photodynamic therapy - a model for carcinogenesis. J Photochem Photobiol B Biol 20:5–22

Bengtsson NO, Hardell L (1986) Porphyrias, porphyrins and hepatocellular cancer. Br J Cancer 54:115–117

Bjersing L, Andersson C, Lithner F (1996) Hepatocellular carcinoma in patients from Northern Sweden with acute intermittent porphyria: morphology and mutations. Cancer Epidemiol Biomarkers Prev 5:393–397

Bosch FX, Ribes J, Díaz M, Cléries R (2004) Primary liver cancer: worldwide incidence and trends. J Gastroenterol 127(5):S5–S16

Bruix J, Sherman M (2005) Management of hepatocellular carcinoma. Hepatology 42(5):1208–1236

Deybach JC, Puy H (2011) Hepatocellular carcinoma without cirrhosis: think acute hepatic porphyrias and vice versa. J Intern Med 269(5):521–524

Floderus Y, Shoolingin-Jordan P, Harper P (2002) Acute intermittent porphyria in Sweden. Molecular, functional and clinical consequences of some new mutations found in the porphobilinogen deaminase gene. Clin Genet 62(4):288–297

Hardell L, Bengtsson NO, Jonsson U, Eriksson S, Larsson LG (1984) Aetiological aspects on primary liver cancer with special regard to alcohol, organic solvents and acute intermittent porphyria - an epidemiological investigation. Br J Cancer 50:389–397

Harper P, Wahlin S (2007) Treatment options in acute porphyria, porphyria cutanea tarda, and erythropoietic protoporphyria. Curr Treat Options Gastroenterol 10(6):444–455

Innala E, Andersson C (2011) Screening for hepatocellular carcinoma in acute intermittent porphyria: a 15-year follow-up in northern Sweden. J Intern Med 269(5):538–545

Kauppinen R, Mustajoki P (1988) Acute hepatic porphyria and hepatocellular carcinoma. Br J Cancer 57:117–120

Kauppinen R, Mustajoki P (1992) Prognosis of acute porphyria: occurrence of acute attacks, precipitating factors, and associated diseases. Medicine 71:1–13

Kauppinen R, von und zu Fraunberg M (2002) Molecular and biochemical studies of acute intermittent porphyria in 196 patients and their families. Clin Chem 48(11):1891–1900

Leong TY, Leong AS (2005) Epidemiology and carcinogenesis of hepatocellular carcinoma. HPB (Oxford) 7(1):5–15

Lindstedt G, Nillroth LW, von Schéele C, Schelin U, Swolin B, Zettergren L (1973) [Late first appearance of porphyria in a patient with primary liver cancer] Sen debut av porfyri hos en patient med primär levercancer. Lakartidningen 70(47):4265–4266

Lithner F, Wetterberg L (1984) Hepatocelluar carcinoma in patients with acute intermittent porphyria. Acta Med Scand 215:271–274

Onuki J, Teixeira PC, Medeiros MH et al (2002) Is 5-aminolevulinic acid involved in the hepatocellular carcinogenesis of acute intermittent porphyria? Cell Mol Biol (Noisy-le-grand) 48(1):17–26

Ostrowski J, Kostrzewska E, Michalak T, Zawirska B, Medrzejewski W, Gregor A (1983) Abnormalities in liver function and morphology and impaired aminopyrine metabolism in hereditary hepatic porphyrias. Gastroenterology 85:1131–1137

Schneider-Yin X, Van Tuyll van Serooskerken AM, Went P et al (2010) Hepatocellular carcinoma in variegate porphyria: a serious complication. Acta Derm Venereol 90(5):512–515

Seth AK, Badminton MN, Mirza D, Russell S, Elias E (2007) Liver transplantation for porphyria: who, when, and how? Liver Transpl 13(9):1219–1227

Soonawalla ZF, Orug T, Badminton MN et al (2004) Liver transplantation as a cure for acute intermittent porphyria. Lancet 363(9410):705–706

Stojeba N, Meyer C, Jeanpierre C et al (2004) Recovery from a variegate porphyria by a liver transplantation. Liver Transpl 10(7):935–938

Thunell S, Andersson C, Carlmark B et al (1995) Markers for vulnerability in acute porphyria. A hypothesis paper. Eur J Clin Chem Clin Biochem 33:179–194

Thunell S, Floderus Y, Henrichson A, Harper P (2006) Porphyria in Sweden. Physiol Res 55(Suppl 2):S109–S118

Wahlin S, Harper P, Sardh E, Andersson C, Andersson DE, Ericzon BG (2010) Combined liver and kidney transplantation in acute intermittent porphyria. Transpl Int 23(6):e18–e21

Wiman Å (2003) Genetic Characterization of Swedish Families with Hereditary Coproporphyria, Variegate Porphyria, and Erythropoietic Protoporphyria. Dep Med Lab Sci and Tech, Div Clin Chem, Karolinska Institutet, Huddinge Univ Hospital. Stockholm, Karolinska Institutet
Conflict of interest
None.
Additional information
DEH Andersson, P Harper: Shared senior authorship
Communicated by: Robert J. Desnick
About this article
Cite this article
Sardh, E., Wahlin, S., Björnstedt, M. et al. High risk of primary liver cancer in a cohort of 179 patients with Acute Hepatic Porphyria. J Inherit Metab Dis 36, 1063–1071 (2013). https://doi.org/10.1007/s10545-012-9576-9
Received:

Revised:

Accepted:

Published:

Issue Date:
Keywords
Porphyria

Primary Liver Cancer

Acute Intermittent Porphyria

Acute Intermittent Porphyria

Surveillance Group