Retinitis pigmentosa and mucopolysaccharidosis type II: an extremely attenuated phenotype
IMAGES IN METABOLIC MEDICINE
Keywords
Retinitis Pigmentosa 
Dermatan Sulfate 
Arylsulfatase 
Mucopolysaccharidosis 
Hunter Syndrome 
These keywords were added by machine and not by the authors. This process is experimental and the keywords may be updated as the learning algorithm improves.
A 29-year-old Japanese man had had decreased visual acuity (6/15) and visual field in the dark for 10 years. He had been healthy and intelligent. His height (168 cm), head circumference (57 cm), and general appearance of the face and posture were normal (Fig. 
1
a). Very mild contracture of the fingers and elbows was noted (Fig. 
1
b), which suggested the possibility of mucopolysaccharidosis. Other joints, skin, hair, teeth, and tongue were normal. Liver and spleen were not palpable. Funduscopic examination revealed diffuse retinal atrophy and bone spicule-like pigmentation (Fig. 
1
c). Visual disturbance was slowly progressive, and the present visual field is reduced by 80 degrees. Mild aortic valve regurgitation and moderate hearing difficulty were detected. Bone radiography showed no finding of dysostosis multiplex. Urinary glycosaminoglycan (GAG) was increased (48.9 mg/g creatinine, control <10), and heparan sulfate and dermatan sulfate were the major components. Iduronate-2-sulfatase (I2S) activity in white blood cells was decreased (0.2 nmol/h per mg protein, control 15–28); however, arylsulfatase A activity was within the normal range. A missense mutation C171R (511T>C) was identified in the I2S gene. Thus the patient was diagnosed as having mucopolysaccharidosis type II (MPS II, Hunter syndrome).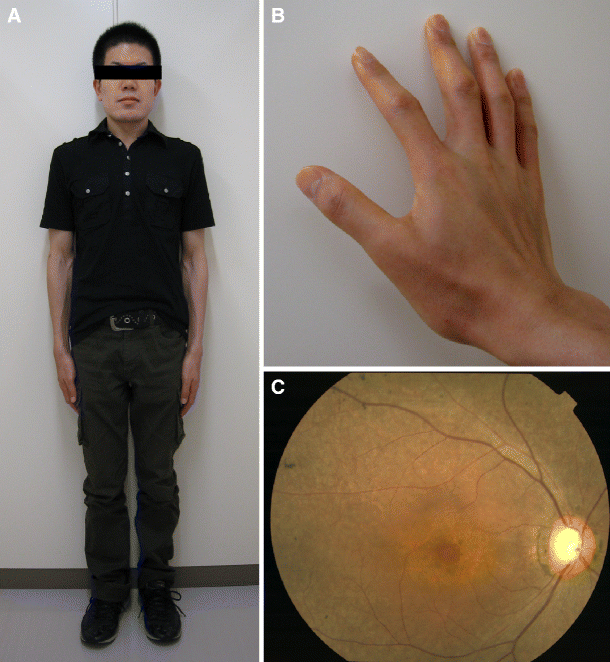 Patients with the attenuated phenotype of MPS II usually manifest systemic findings from childhood (Young and Harper 1982), and retinitis pigmentosa is one of these systemic findings (Ashworth et al 2006). Our report implies the presence of undiagnosed adult patients with MPS II who have retinitis pigmentosa as the sole manifestation. Heart valve disorder or hearing impairment may also be a cardinal sign in adult MPS II patients.
Copyright information
© Springer Science+Business Media B.V. 2009