Abstract
The electrical parameters of single cells are label-free and intrinsic properties that can reflect the physiological characteristics. In recent years, many measurement methods based on impedance spectroscopy and rotation spectrum analysis have been developed. However, most of these works need to measure the response at whole frequency range to obtain DEP spectra and estimate the electrical parameters by fitting method, which are time-consuming and limit the measurement throughput. Therefore, improving the measurement throughput for single cells is an essential problem to be solved addressed. In this paper we present a microfluidic chip that combines dielectrophoretic motion and electro-rotation technology for single-cell electrical properties characterization. Since the movement and rotation speed of single cell in mediums are related to the electrical parameters of itself, electric signals and medium, the electrical properties can be obtained by measuring and analyzing the movement trajectory and rotation speed of the cell. Numerical simulations were performed to analyze the electric field distribution of the chip under different signal configurations, which predict the movement trajectory and rotation state, and determine the values of electric field on the cells. Based on the simulation results, cell focusing, dielectrophoretic motion and electro-rotation were successfully realized. By analyzing the movement trajectory and rotation speed, the conductivity of wall and the permittivity of membrane of yeast cells were characterized. The measurement method avoids the time-consuming of the traditional rotational spectra method, and can realize rapid and efficiency and single-cell electrical characterization.
Access options
Buy single article
Instant access to the full article PDF.
US$ 39.95
Tax calculation will be finalised during checkout.
Subscribe to journal
Immediate online access to all issues from 2019. Subscription will auto renew annually.
US$ 79
Tax calculation will be finalised during checkout.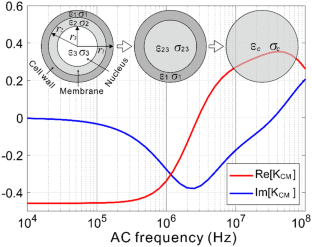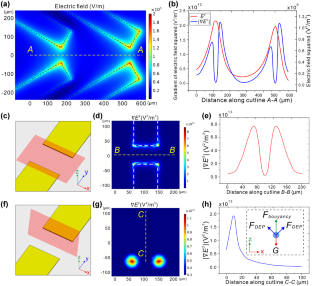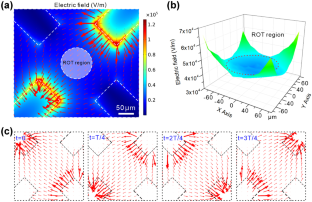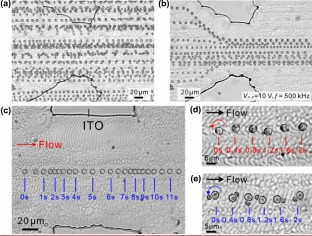 References
F. Alnaimat, S. Ramesh, A. Alazzam, A. Hilal-Alnaqbi, W. Waheed, B. Mathew, Dielectrophoresis-based 3D-focusing of microscale entities in microfluidic devices. Cytome. Part A 93(8), 811–821 (2018)

A. Alrifaiy, J. Borg, O.A. Lindahl, K. Ramser, A lab-on-a-chip for hypoxic patch clamp measurements combined with optical tweezers and spectroscopy- first investigations of single biological cells. Biomed. Eng. Online 14, 36 (2015)

R.K. Anand, E.S. Johnson, D.T. Chiu, Negative dielectrophoretic capture and repulsion of single cells at a bipolar electrode: the impact of faradaic ion enrichment and depletion. J. Am. Chem. Soc. 137(2), 776–783 (2015)

K. Asami, T. Yonezawa, Dielectric behavior of wild-type yeast and vacuole-deficient mutant over a frequency range of 10 kHz to 10 GHz. Biophy. J. 71(4), 2192–2200 (1996)

L. Chen, X. Liu, X. Zheng, X. Zhang, J. Yang, T. Tian, Y. Liao, Dielectrophoretic separation of particles using microfluidic chip with composite three-dimensional electrode. Micromachines 11(7), 700 (2020)

Y. Feng, L. Huang, P. Zhao, F. Liang, W. Wang, A microfluidic device integrating impedance flow cytometry and electric impedance spectroscopy for high-efficiency single-cell electrical property measurement. Anal. Chem. 91(23), 15204–15212 (2019)

F.J. Garcia-Diego, M. Rubio-Chavarria, P. Beltran, F.J. Espinos, Characterization of simple and double yeast cells using dielectrophoretic force measurement. Sensors 19(17), 3813 (2019)

N. Haandbæk, S.C. Bürgel, F. Rudolf, F. Heer, A. Hierlemann, Characterization of single yeast cell phenotypes using microfluidic impedance cytometry and optical imaging. ACS Sensors 1(8), 1020–1027 (2016)

M. Habaza, M. Kirschbaum, C. Guernth-Marschner, G. Dardikman, I. Barnea, R. Korenstein, C. Duschl, N.T. Shaked, Rapid 3D refractive-index imaging of live cells in suspension without labeling using dielectrophoretic cell rotation. Adv. Sci. 4(2), 1600205 (2017)

S.I. Han, Y.D. Joo, K.H. Han, An electrorotation technique for measuring the dielectric properties of cells with simultaneous use of negative quadrupolar dielectrophoresis and electrorotation. Analyst 138(5), 1529–1537 (2013)

L. Huang, W. He, W. Wang, A cell electro-rotation micro-device using polarized cells as electrodes. Electrophoresis 40(5), 784–791 (2019)

L. Huang, F. Liang, Y. Feng, A microfluidic chip for single-cell 3D rotation enabling self-adaptive spatial localization. J. Appl. Phys. 126(23), 234702 (2019)

L. Huang, P. Zhao, W. Wang, 3D cell electrorotation and imaging for measuring multiple cellular biophysical properties. Lab Chip 18(16), 2359–2368 (2018)

M.P. Hughes, Computer-aided analysis of conditions for optimizing practical electrorotation. Phys. Med. Biol. 43(12), 3639–3648 (1998)

M.P. Hughes, X.B. Wang, F.F. Becker, P.R.C. Gascoyne, R. Pethig, Computer-aided analyses of electric fields used in electrorotation studies. J. Phys. D Appl. Phys. 27(7), 1564–1570 (1994)

J.M. Irish, N. Kotecha, G.P. Nolan, Mapping normal and cancer cell signalling networks: towards single-cell proteomics. Nat. Rev. Cancer 6(2), 146–155 (2006)

A. Jaffe, J. Voldman, Multi-frequency dielectrophoretic characterization of single cells. Microsyst. Nanoeng. 4, 23 (2018)

C.P. Jen, T.W. Chen, Selective trapping of live and dead mammalian cells using insulator-based dielectrophoresis within open-top microstructures. Biomed. Microdevices 11, 597–607 (2009)

T.B. Jones, Basic theory of dielectrophoresis and electrorotation. IEEE Eng. Med. Biol. 22(6), 33–42 (2003)

T. Lannin, W.W. Su, C. Gruber, I. Cardle, C. Huang, F. Thege, B. Kirby, Automated electrorotation shows electrokinetic separation of pancreatic cancer cells is robust to acquired chemotherapy resistance, serum starvation, and EMT. Biomicrofluidics 10(6), 064109 (2016)

Y.L. Liang, Y.P. Huang, Y.S. Lu, M.T. Hou, J.A. Yeh, Cell rotation using optoelectronic tweezers. Biomicrofluidics 4(4), 043003 (2010)

A. Mansoorifar, A. Koklu, A.C. Sabuncu, A. Beskok, Dielectrophoresis assisted loading and unloading of microwells for impedance spectroscopy. Electrophoresis 38(11), 1466–1474 (2017)

S. Patel, D. Showers, P. Vedantam, T.R. Tzeng, S. Qian, X. Xuan, Microfluidic separation of live and dead yeast cells using reservoir-based dielectrophoresis. Biomicrofluidics 6(3), 034102 (2012)

P. Pathak, H. Zhao, Z. Gong, F. Nie, T. Zhang, K. Cui, Z. Wang, S.T. Wong, L. Que, Real-time monitoring of cell viability using direct electrical measurement with a patch-clamp microchip. Biomed. Microdevices 13(5), 949–953 (2011)

C.C.H. Petersen, Whole-cell recording of neuronal membrane potential during behavior. Neuron 95(6), 1266–1281 (2017)

M. Schwarz, M. Jendrusch, I. Constantinou, Spatially resolved electrical impedance methods for cell and particle characterization. Electrophoresis 41(1–2), 65–80 (2020)

H. Shafiee, J.L. Caldwell, M.B. Sano, R.V. Davalos, Contactless dielectrophoresis: a new technique for cell manipulation. Biomed. Microdevices 11(5), 997–1006 (2009)

M.J.T. Stubbington, O. Rozenblatt-Rosen, A. Regev, S.A. Teichmann, Single-cell transcriptomics to explore the immune system in health and disease. Science 358(6359), 58–63 (2017)

J. Sun, Y. Gao, R.J. Isaacs, K.C. Boelte, P.C. Lin, E.M. Boczko, D. Li, Simultaneous on-chip DC dielectrophoretic cell separation and quantitative separation performance characterization. Anal. Chem. 84(4), 2017–2024 (2012)

S.Y. Tang, P. Yi, R. Soffe, S. Nahavandi, R. Shukla, K. Khoshmanesh, Using dielectrophoresis to study the dynamic response of single budding yeast cells to Lyticase. Anal. Bioanal. Chem. 407(12), 3437–3448 (2015)

C.I. Trainito, E. Bayart, F. Subra, O. Francais, B. Le Pioufle, The electrorotation as a tool to monitor the dielectric properties of spheroid during the permeabilization. J. Membr. Biol. 249(5), 593–600 (2016)

A. Valero, T. Braschler, P. Renaud, A unified approach to dielectric single cell analysis: Impedance and dielectrophoretic force spectroscopy. Lab Chip 10(17), 2216–2225 (2010)

Y. Xu, X. Xie, Y. Duan, L. Wang, Z. Cheng, J. Cheng, A review of impedance measurements of whole cells. Biosens. Bioelectron. 77, 824–836 (2016)

L. Zhang, S. Wan, Y. Jiang, Y. Wang, T. Fu, Q. Liu, Z. Cao, L. Qiu, W. Tan, Molecular elucidation of disease biomarkers at the interface of chemistry and biology. J. Am. Chem. Soc. 139(7), 2532–2540 (2017)

Z. Zhang, T. Zheng, R. Zhu, Characterization of single-cell biophysical properties and cell type classification using dielectrophoresis model reduction method. Sensor. Actuat. B-Chemical 304, 127326 (2020)

Y. Zhao, D. Chen, Y. Luo, F. Chen, X. Zhao, M. Jiang, W. Yue, R. Long, J. Wang, J. Chen, Simultaneous characterization of instantaneous Young's modulus and specific membrane capacitance of single cells using a microfluidic system. Sensors 15(2), 2763–2773 (2015)
Acknowledgements
This work was supported by the Fundamental Research Funds for the Central Universities (JZ2019HGBZ0165)
Ethics declarations
Conflict of interest
The authors have declared no conflict of interest.
Supplementary Information
Below is the link to the electronic supplementary material.
About this article
Cite this article
Huang, L., Fang, Q. Electrical properties characterization of single yeast cells by dielectrophoretic motion and electro-rotation. Biomed Microdevices 23, 11 (2021). https://doi.org/10.1007/s10544-021-00550-7
Keywords
Dielectrophoresis

Electro-rotation

Electrical properties

Microfluidic