Abstract
Topography is tightly coupled with soil organic carbon (SOC) cycling in sloping landscapes. However, we know little about the spatial variation of SOC accumulation and persistence along a topographic gradient and the controlling processes. Here, we assessed the spatial variation of SOC and its composition along a topographic gradient in a humid mountain forest. The variables associated with environmental factors, topographical traits, carbon input from plants, and soil physico-chemical properties were analyzed to assess their contributions. Results showed that both SOC and mineral-bound organic carbon (MOC) contents were comparable among the topographic positions (ridge, middle slope, lower slope and valley). However, particulate organic carbon (POC) content decreased significantly from ridge to valley. Our measured environmental variables explained 67%, 74% and 77% of the variations in SOC contents for 0–10 cm, 10–20 cm and 20–40 cm soils, respectively. Soil physico-chemical properties (including pH and soil reactive Fe/Al oxides) were the main driver on SOC and MOC variations. In contrast, the variation in POC was more explained by topographical traits and carbon input. We also observed significantly lower SOC stability for ridge soil than valley soil. The significant topographic patterns for SOC fraction and SOC stability suggested that the soil carbon cycling processes were dependent on landscape positions. Future carbon budget and carbon dynamic researches in the humid sloping landscapes should take into account the topographic effects, especially for the free and light carbon fractions.
This is a preview of subscription content, log in to check access.
Access options
Buy single article
Instant access to the full article PDF.
US$ 39.95
Price includes VAT for USA
Subscribe to journal
Immediate online access to all issues from 2019. Subscription will auto renew annually.
US$ 199
This is the net price. Taxes to be calculated in checkout.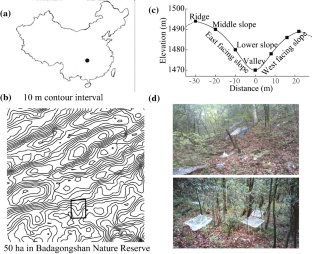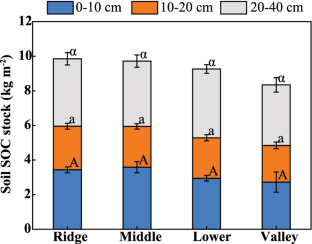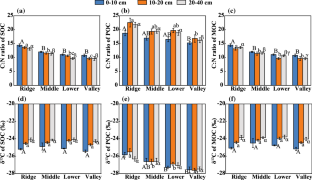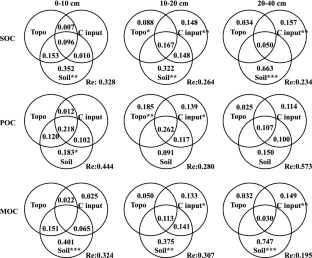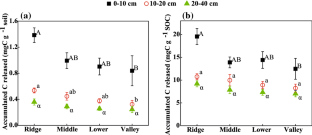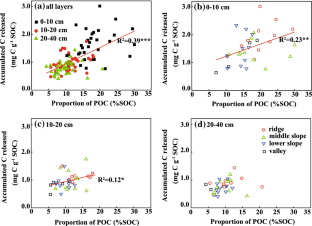 References
Addo-Danso SD, Prescott CE, Smith AR (2016) Methods for estimating root biomass and production in forest and woodland ecosystem carbon studies: a review. For Ecol Manag 359:332–351. https://doi.org/10.1016/j.foreco.2015.08.015

Bailey SW, Brousseau PA, McGuire KJ, Ross DS (2014) Influence of landscape position and transient water table on soil development and carbon distribution in a steep, headwater catchment. Geoderma 226:279–289. https://doi.org/10.1016/j.geoderma.2014.02.017

Baldock JA, Skjemstad JO (2000) Role of the soil matrix and minerals in protecting natural organic materials against biological attack. Org Geochem 31:697–710. https://doi.org/10.1016/s0146-6380(00)00049-8

Berhe AA, Harte J, Harden JW, Torn MS (2007) The significance of the erosion-induced terrestrial carbon sink. Bioscience 57:337–346. https://doi.org/10.1641/b570408

Berhe AA, Harden JW, Torn MS, Kleber M, Burton SD, Harte J (2012) Persistence of soil organic matter in eroding versus depositional landform positions. J Geophys Res Biogeo 117:G02019. https://doi.org/10.1029/2011jg001790

Berhe AA, Kleber M (2013) Erosion, deposition, and the persistence of soil organic matter: mechanistic considerations and problems with terminology. Earth Surf Proc Land 38:908–912. https://doi.org/10.1002/esp.3408

Bernoux M, Cerri CC, Neill C, Moraes JFLD (1998) The use of stable carbon isotopes for estimating soil organic matter turnover rates. Geoderma 82:43–58. https://doi.org/10.1016/s0016-7061(97)00096-7

Chen X, Li Y, Mo J, Otieno D, Tenhunen J, Yan J, Liu J, Zhang D (2012) Effects of nitrogen deposition on soil organic carbon fractions in the subtropical forest ecosystems of S China. J Plant Nutr Soil Sci 175:947–953. https://doi.org/10.1002/jpln.201100059

Conforti M, Luca F, Scarciglia F, Matteucci G, Buttafuoco G (2016) Soil carbon stock in relation to soil properties and landscape position in a forest ecosystem of southern Italy (Calabria region). Catena 144:23–33. https://doi.org/10.1016/j.catena.2016.04.023

Doetterl S, Six J, Van Wesemael B, Van Oost K (2012) Carbon cycling in eroding landscapes: geomorphic controls on soil organic C pool composition and C stabilization. Glob Chang Biol 18:2218–2232. https://doi.org/10.1111/j.1365-2486.2012.02680.x

Doetterl S, Berhe AA, Nadeu E, Wang ZG, Sommer M, Fiener P (2016) Erosion, deposition and soil carbon: a review of process-level controls, experimental tools and models to address C cycling in dynamic landscapes. Earth-Sci Rev 154:102–122. https://doi.org/10.1016/j.earscirev.2015.12.005

Dungait JAJ, Ghee C, Rowan JS, McKenzie BM, Hawes C, Dixon ER, Paterson E, Hopkins DW (2013) Microbial responses to the erosional redistribution of soil organic carbon in arable fields. Soil Biol Biochem 60:195–201. https://doi.org/10.1016/j.soilbio.2013.01.027

Ellerbrock RH, Gerke HH, Deumlich D (2016) Soil organic matter composition along a slope in an erosion-affected arable landscape in North East Germany. Soil Till Res 156:209–218. https://doi.org/10.1016/j.still.2015.08.014

Hall SJ, McNicol G, Natake T, Silver WL (2015) Large fluxes and rapid turnover of mineral-associated carbon across topographic gradients in a humid tropical forest: insights from paired C-14 analysis. Biogeosciences 12:2471–2487. https://doi.org/10.5194/bg-12-2471-2015

Hancock GR, Murphy D, Evans KG (2010) Hillslope and catchment scale soil organic carbon concentration: an assessment of the role of geomorphology and soil erosion in an undisturbed environment. Geoderma 155:36–45. https://doi.org/10.1016/j.geoderma.2009.11.021

Hilton RG, Galy A, Hovius N, Kao S-J, Horng M-J, Chen H (2012) Climatic and geomorphic controls on the erosion of terrestrial biomass from subtropical mountain forest. Glob Biogeochem Cycles 26:GB3014. https://doi.org/10.1029/2012gb004314

Jarvis NJ (2007) A review of non-equilibrium water flow and solute transport in soil macropores: principles, controlling factors and consequences for water quality. Eur J Soil Sci 58:523–546. https://doi.org/10.1111/j.1365-2389.2007.00915.x

Jiang F, Wu X, Xiang W, Fang X, Zeng Y, Ouyang S, Lei P, Deng X, Peng C (2017) Spatial variations in soil organic carbon, nitrogen and phosphorus concentrations related to stand characteristics in subtropical areas. Plant Soil 413:289–301. https://doi.org/10.1007/s11104-016-3101-0

Johnson KD, Scatena FN, Silver WL (2011) Atypical soil carbon distribution across a tropical steepland forest catena. Catena 87:391–397. https://doi.org/10.1016/j.catena.2011.07.008

Kaiser K, Guggenberger G (2005) Storm flow flushing in a structured soil changes the composition of dissolved organic matter leached into the subsoil. Geoderma 127:177–187. https://doi.org/10.1016/j.geoderma.2004.12.009

Kemmitt SJ, Wright D, Goulding KWT, Jones DL (2006) pH regulation of carbon and nitrogen dynamics in two agricultural soils. Soil Biol Biochem 38(5):898–911. https://doi.org/10.1016/j.soilbio.2005.08.006

Lavallee JM, Soong JL, Cotrufo MF (2019) Conceptualizing soil organic matter into particulate and mineral-associated forms to address global change in the 21st century. Global change biology (accepted). https://doi.org/10.1111/gcb.14859

Li Q, Wang X, Jiang M, Wu Y, Yang X, Liao C, Liu F (2017) How environmental and vegetation factors affect spatial patterns of soil carbon and nitrogen in a subtropical mixed forest in Central China. J Soil Sediment 17:2296–2304. https://doi.org/10.1007/s11368-016-1491-5

Lybrand RA, Rasmussen C (2015) Quantifying climate and landscape position controls on soil development in semiarid ecosystems. Soil Sci Soc Am J 79:104–116. https://doi.org/10.2136/sssaj2014.06.0242

Marin-Spiotta E, Chadwick OA, Kramer M, Carbone MS (2011) Carbon delivery to deep mineral horizons in Hawaiian rain forest soils. J Geophys Res Biogeo 116:G03011. https://doi.org/10.1029/2010jg001587

Masiello CA, Chadwick OA, Southon J, Torn MS, Harden JW (2004) Weathering controls on mechanisms of carbon storage in grassland soils. Glob Biogeochem Cycles 18:GB4023. https://doi.org/10.1029/2004gb002219

Mikutta R, Kleber M, Torn MS, Jahn R (2006) Stabilization of soil organic matter: association with minerals or chemical recalcitrance? Biogeochemistry 77:25–56. https://doi.org/10.1007/s10533-005-0712-6

Miyata S, Kosugi K, Gomi T, Mizuyama T (2009) Effects of forest floor coverage on overland flow and soil erosion on hillslopes in Japanese cypress plantation forests. Water Resour Res 45:192–200. https://doi.org/10.1029/2008wr007270

Mohammadi MF, Jalali SG, Kooch Y, Theodose TA (2015) The influence of landform on the understory plant community in a temperate Beech forest in northern Iran. Ecol Res 30:385–394. https://doi.org/10.1007/s11284-014-1233-3

Pan Y, Birdsey RA, Phillips OL, Jackson RB (2013) The structure, distribution, and biomass of the world's forests. Annu Rev Ecol Evol Syst 44:593–622. https://doi.org/10.1146/annurev-ecolsys-110512-135914

Pansu M, Gautheyrou J (2006) Handbook of soil analysis: mineralogical, organic and inorganic methods. Springer-Verlag, Berlin Heidelberg

Phillips JD, Luckow K, Marion DA, Adam KR (2005) Rock fragment distributions and regolith evolution in the Ouachita Mountains, Arkansas, USA. Earth Surf Process Landf 30:429–442. https://doi.org/10.1002/esp.1152

Pontara V, Bueno ML, Garcia LE, Oliveira-Filho AT, Pennington TR, Burslem D, Lemos-Filho JP (2016) Fine-scale variation in topography and seasonality determine radial growth of an endangered tree in Brazilian Atlantic forest. Plant Soil 403:115–128. https://doi.org/10.1007/s11104-016-2795-3

Rasmussen C, Heckman K, Wieder WR, Keiluweit M, Lawrence CR, Berhe AA, Blankinship JC, Crow SE, Druhan JL, Pries CEH, Marin-Spiotta E, Plante AF, Schädel C, Schimel JP, Sierra CA, Thompson A, Wagai R (2018) Beyond clay: towards an improved set of variables for predicting soil organic matter content. Biogeochemistry 137:297–306. https://doi.org/10.1007/s10533-018-0424-3

Raymond PA, Bauer JE (2001) Use of 14C and 13C natural abundances for evaluating riverine, estuarine, and coastal DOC and POC sources and cycling: a review and synthesis. Org Geochem 32:469–485. https://doi.org/10.1016/S0146-6380(00)00190-X

Román-Sánchez A, Vanwalleghem T, Peña A, Laguna A, Giráldez JV (2018) Controls on soil carbon storage from topography and vegetation in a rocky, semi-arid landscapes. Geoderma 311:159–166. https://doi.org/10.1016/j.geoderma.2016.10.013

Rumpel C, Kögel-Knabner I (2011) Deep soil organic matter-a key but poorly understood component of terrestrial C cycle. Plant Soil 338:143–158. https://doi.org/10.1007/s11104-010-0391-5

Schmidt MWI, Torn MS, Abiven S, Dittmar T, Guggenberger G, Janssens IA, Kleber M, Kögel-Knabner I, Lehmann J, Manning DAC, Nannipieri P, Rasse DP, Weiner S, Trumbore SE (2011) Persistence of soil organic matter as an ecosystem property. Nature 478:49–56. https://doi.org/10.1038/nature10386

Tian QX, Yang XL, Wang XG, Liao C, Li QX, Wang M, Wu Y, Liu F (2016) Microbial community mediated response of organic carbon mineralization to labile carbon and nitrogen addition in topsoil and subsoil. Biogeochemistry 128:125–139. https://doi.org/10.1007/s10533-016-0198-4

Tian QX, Wang DY, Tang YN, Li Y, Wang M, Liao C, Liu F (2019) Topographic controls on the variability of soil respiration in a humid subtropical forest. Biogeochemistry 145:177–192. https://doi.org/10.1007/s10533-019-00598-x

Tsui C-C, Chen Z-S (2010) Net nitrogen mineralization and nitrification of different landscape positions in a lowland subtropical rainforest in Taiwan. Soil Sci Plant Nutr 56:319–331. https://doi.org/10.1111/j.1747-0765.2010.00460.x

Tsui C-C, Chen Z-S, Hsieh C-F (2004) Relationships between soil properties and slope position in a lowland rain forest of southern Taiwan. Geoderma 123:131–142. https://doi.org/10.1016/j.geoderma.2004.01.031

VandenBygaart AJ, Gregorich EG, Helgason BL (2015) Cropland C erosion and burial: Is buried soil organic matter biodegradable? Geoderma 239:240–249. https://doi.org/10.1016/j.geoderma.2014.10.011

Vaughan E, Matos M, Ríos S, Santiago C, Marín-Spiotta E (2019) Clay and climate are poor predictors of regional-scale soil carbon storage in the US Caribbean. Geoderma. https://doi.org/10.1016/j.geoderma.2019.06.044

von Lützow M, Kögel-Knabner I, Ekschmitt K, Matzner E, Guggenberger G, Marschner B, Flessa H (2006) Stabilization of organic matter in temperate soils: mechanisms and their relevance under different soil conditions-a review. Eur J Soil Sci 57:426–445. https://doi.org/10.1111/j.1365-2389.2006.00809.x

von Lützow M, Kögel-Knabner I, Ekschmittb K, Flessa H, Guggenberger G, Matzner E, Marschner B (2007) SOM fractionation methods: Relevance to functional pools and to stabilization mechanisms. Soil Biol Biochem 39:2183–2207. https://doi.org/10.1016/j.soilbio.2007.03.007

Wang Z, Govers G, Steegen A, Clymans W, Van den Putte A, Langhans C, Merckx R, Van Oost K (2010) Catchment-scale carbon redistribution and delivery by water erosion in an intensively cultivated area. Geomorphology 124:65–74. https://doi.org/10.1016/j.geomorph.2010.08.010

Wang Z, Govers G, Van Oost K, Clymans W, Van den Putte A, Merckx R (2013) Soil organic carbon mobilization by interrill erosion: insights from size fractions. J Geophys Res Earth 118:348–360. https://doi.org/10.1029/2012jf002430

Wang QG, Xu YZ, Lu ZJ, Bao DC, Guo YL, Lu JM, Zhang KH, Liu HB, Meng HJ, Qiao XJ, Huang HD, Jiang MX (2014) Disentangling the effects of topography and space on the distributions of dominant species in a subtropical forest. Chin Sci Bull 59:5113–5122. https://doi.org/10.1007/s11434-014-0453-9

Wang Z, Van Oost K, Govers G (2015) Predicting the long-term fate of buried organic carbon in colluvial soils. Glob Biogeochem Cycles 29:65–79. https://doi.org/10.1002/2014gb004912

Wang X, Yoo K, Wackett AA, Gutknecht J, Amundson R, Heimsath A (2018) Soil organic carbon and mineral interactions on climatically different hillslopes. Geoderma 322:71–80. https://doi.org/10.1016/j.geoderma.2018.02.021

Weintraub SR, Taylor PG, Porder S, Cleveland CC, Asner GP, Townsend AR (2015) Topographic controls on soil nitrogen availability in a lowland tropical forest. Ecology 96:1561–1574. https://doi.org/10.1890/14-0834.1

Werner FA, Homeier J (2015) Is tropical montane forest heterogeneity promoted by a resource-driven feedback cycle? Evidence from nutrient relations, herbivory and litter decomposition along a topographical gradient. Funct Ecol 29:430–440. https://doi.org/10.1111/1365-2435.12351

Wiaux F, Cornelis JT, Cao W, Vanclooster M, Van Oost K (2014) Combined effect of geomorphic and pedogenic processes on the distribution of soil organic carbon quality along an eroding hillslope on loess soil. Geoderma 216:36–47. https://doi.org/10.1016/j.geoderma.2013.10.013

Yoo K, Amundson R, Heimsath AM, Dietrich WE (2006) Spatial patterns of soil organic carbon on hillslopes: integrating geomorphic processes and the biological C cycle. Geoderma 130:47–65. https://doi.org/10.1016/j.geoderma.2005.01.008

Yu G, Chen Z, Piao S, Peng C, Ciais P, Wang Q, Li X, Zhu X (2014) High carbon dioxide uptake by subtropical forest ecosystems in the East Asian monsoon region. Proc Natl Acad Sci USA 111:4910–4915. https://doi.org/10.1073/pnas.1317065111

Zhou ZC, Shangguan ZP, Zhao D (2006) Modeling vegetation coverage and soil erosion in the Loess Plateau Area of China. Ecol Model 198:263–268. https://doi.org/10.1016/j.ecolmodel.2006.04.019
Acknowledgements
This work was supported by the National Natural Science Foundation of China (Grant Nos. 31400463, 31470526 and 31870465). We also want to thank the Badagongshan National Nature Reserve and field workers for the plant communities investigation and sample collection.
Ethics declarations
Conflict of interest
The authors declare that they have no conflict of interest.
Additional information
Publisher's Note
Springer Nature remains neutral with regard to jurisdictional claims in published maps and institutional affiliations.
Responsible Editor: Edith Bai.
Electronic Supplementary Material
Below is the link to the electronic supplementary material.
About this article
Cite this article
Tian, Q., Wang, D., Li, D. et al. Variation of soil carbon accumulation across a topographic gradient in a humid subtropical mountain forest. Biogeochemistry (2020). https://doi.org/10.1007/s10533-020-00679-2
Received:

Accepted:

Published:
Keywords
Topographic position

Carbon storage

Particulate organic carbon

Carbon stability

Carbon fractions

Chemical association