Abstract
Rare species are key targets of biodiversity conservation worldwide, but assessments of genetic diversity and conservation priority can be impeded by limited sample size. Reduced-representation genome sequencing improves resolution of analysis in this context, enabling applications in conservation genomics. The tree genus Eucalyptus contains many rare taxa, but clarity on conservation actions can be confounded in this group due to taxonomic complexity, unrecognised clonality and hybridisation. Using SNPs, we address key questions surrounding taxonomy, clonality and genetic diversity in two rare species, Eucalyptus virginea and a putative hybrid E. × phylacis, to inform conservation. We confirm that a highly disjunct population belongs to E. virginea despite sharing a multi-stemmed short-statured ('mallee') growth form and geographic proximity with a closely-related species, indicating that growth form was unrelated to phylogenetic distance. Clonality was confirmed in the disjunct population but the number of discrete clumps vs unique genets was not equal, reflecting the importance of genetic assessments of population size. The small, clonal, disjunct population had the lowest allelic richness and highest differentiation, as expected. However, heterozygosity excess suggested that clonality may prevent the loss of heterozygosity in mallee eucalypts by facilitating long-term persistence, contrary to expectations that small, isolated populations face increased conservation genetic threat. Analyses also confirmed that the Critically Endangered E. × phylacis is an F1 hybrid of E. decipiens and E. virginea, therefore its conservation listing should be revised. Our data highlight the usefulness of genomic analysis in applied conservation of non-model taxa.
Access options
Buy single article
Instant access to the full article PDF.
US$ 39.95
Tax calculation will be finalised during checkout.
Subscribe to journal
Immediate online access to all issues from 2019. Subscription will auto renew annually.
US$ 119
Tax calculation will be finalised during checkout.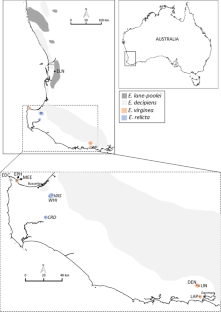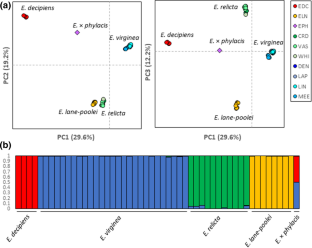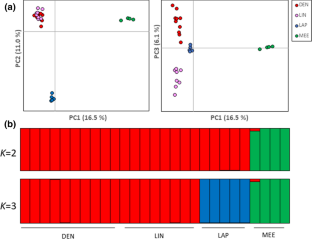 Data availability
Data accompanying this study are available from Mendeley Data; 10.17632/zd3g8skn69.1.
References
Ahrens CW, Byrne M, Rymer PD (2019a) Standing genomic variation within coding and regulatory regions contributes to the adaptive capacity to climate in a foundation tree species. Mol Ecol 28:2502–2516. https://doi.org/10.1111/mec.15092

Ahrens CW, Mazanec RA, Paap T et al (2019b) Adaptive variation for growth and resistance to a novel pathogen along climatic gradients in a foundation tree. Evol Appl 12:1178–1190. https://doi.org/10.1111/eva.12796

Allendorf FW, Hohenlohe PA, Luikart G (2010) Genomics and the future of conservation genetics. Nat Rev Genet 11:697–710. https://doi.org/10.1038/nrg2844

Anderson EC, Thompson EA (2002) A model-based method for identifying species hybrids using multilocus genetic data. Genetics 160:1217–1229

Andrews KR, Good JM, Miller MR et al (2016) Harnessing the power of RADseq for ecological and evolutionary genomics. Natl Rev Genet 17:81–92. https://doi.org/10.1038/nrg.2015.28

Bezemer N, Krauss SL, Roberts DG, Hopper SD (2019) Conservation of old individual trees and small populations is integral to maintain species' genetic diversity of a historically fragmented woody perennial. Mol Ecol 28:3339–3357. https://doi.org/10.1111/mec.15164

Binks RM, Millar MA, Byrne M (2015) Not all rare species are the same: contrasting patterns of genetic diversity and population structure in two narrow-range endemic sedges. Biol J Linn Soc 114:873–886

Binks RM, Steane DA, Byrne M (2020) Genomic divergence in sympatry indicates strong reproductive barriers and cryptic species within Eucalyptus salubris. Submitted

Bradbury D, Binks RM, Coates DJ, Byrne M (2019) Conservation genomics of range disjunction in a global biodiversity hotspot: a case study of Banksia biterax (Proteaceae) in southwestern Australia. Biol J Linn Soc 127:390–406. https://doi.org/10.1093/biolinnean/blz050

Bradbury D, Grayling PM, MacDonald B et al (2016) Clonality, interspecific hybridisation and inbreeding in a rare mallee eucalypt, Eucalyptus absita (Myrtaceae), and implications for conservation. Conserv Genet 17:193–205. https://doi.org/10.1007/s10592-015-0771-8

Broadhurst L, Breed M, Lowe A et al (2017) Genetic diversity and structure of the Australian flora. Divers Distrib 23:41–52. https://doi.org/10.1111/ddi.12505

Brooker MIH (2000) A new classification of the genus Eucalyptus L'Her. (Myrtaceae). Aust Syst Bot 13:79–148

Buerkle CA (2005) Maximum-likelihood estimation of a hybrid index based on molecular markers. Mol Ecol Notes 5:684–687

Bunn E, Turner SR, Dixon KW (2011) Biotechnology for saving rare and threatened flora in a biodiversity hotspot. Vitr Cell Dev Biol Plant 47:188–200. https://doi.org/10.1007/s11627-011-9340-0

Byrne M (2008a) Evidence for multiple refugia at different time scales during Pleistocene climatic oscillations in southern Australia inferred from phylogeography. Quat Sci Rev 27:2576–2585. https://doi.org/10.1016/j.quascirev.2008.08.032

Byrne M (2008b) Phylogeny, diversity and evolution of eucalypts. In: Sharma A, Sharna A (eds) Plant genome: biodiversity and evolution volume 1 part E, phanerogams-angiosperm. Science Publishers, Enfield, pp 303–346

Byrne M, Hopper SD (2008) Granite outcrops as ancient islands in old landscapes: evidence from the phylogeography and population genetics of Eucalyptus caesia (Myrtaceae) in Western Australia. Biol J Linn Soc 93:177–188. https://doi.org/10.1111/j.1095-8312.2007.00946.x

Byrne M, Koenders A, Rogerson K et al (2016) Genetic and morphological analysis of multi-stemmed plants of tuart (Eucalyptus gomphocephala). Aust J Bot 64:704–714. https://doi.org/10.1071/BT16091

Byrne M, MacDonald B, Coates D (1999) Divergence in the chloroplast genome and nuclear rDNA of the rare Western Australian plant Lambertia orbifolia Gardner (Proteaceae). Mol Ecol 8:1789–1796

Byrne M, Macdonald B, Francki M (2001) Incorporation of sodium sulfite into extraction protocol minimizes degradation of Acacia DNA. Biotechniques 30:742–748. https://doi.org/10.2144/01304bm06

Coates DJ (2000) Defining conservation units in a rich and fragmented flora: implications for the management of genetic resources and evolutionary processes in south-west Australian plants. Aust J Bot 48:329–339

Coates DJ, Byrne M, Moritz C (2018) Genetic diversity and conservation units: dealing with the species-population continuum in the age of genomics. Front Ecol Evol 6:1–13. https://doi.org/10.3389/fevo.2018.00165

Costa-e-Silva J, Hardner C, Tilyard P, Potts BM (2011) The effects of age and environment on the expression of inbreeding depression in Eucalyptus globulus. Heredity (Edinb) 107:50–60. https://doi.org/10.1038/hdy.2010.154

Costa-e-Silva J, Potts B, Harrison PA, Bailey T (2019) Temperature and rainfall are separate agents of selection shaping population differentiation in a forest tree. Forests 10:1145. https://doi.org/10.3390/F10121145

Cruz VMV, Kilian A, Dierig DA (2013) Development of DArT marker platforms and genetic diversity assessment of the U.S. collection of the new oilseed crop Lesquerella and related species. PLoS ONE 8:1–13. https://doi.org/10.1371/journal.pone.0064062

Doyle JJ, Doyle JL (1990) Isolation of plant DNA from fresh tissue. Focus (Madison) 12:13–15

Earl DA, vonHoldt BM (2012) STRUCTURE HARVESTER: a website and program for visualizing STRUCTURE output and implementing the Evanno method. Conserv Genet Resour 4:359–361

Ellstrand NC, Elam DR (1993) Population genetic consequences of small population size: implications for plant conservation. Annu Rev Ecol Syst 24:217–242

Evanno G, Regnaut S, Goudet J (2005) Detecting the number of clusters of individuals using the software STRUCTURE: a simulation study. Mol Ecol 14:2611–2620. https://doi.org/10.1111/j.1365-294X.2005.02553.x

Field DL, Ayre DJ, Whelan RJ, Young AG (2009) Molecular and morphological evidence of natural interspecific hybridization between the uncommon Eucalyptus aggregata and the widespread E. rubida and E. viminalis. Conserv Genet 10:881–896. https://doi.org/10.1007/s10592-008-9649-3

Foster SA, McKinnon GE, Steane DA et al (2007) Parallel evolution of dwarf ecotypes in the forest tree Eucalyptus globulus. New Phytol 175:370–380. https://doi.org/10.1111/j.1469-8137.2007.02077.x

Frankham R (2005) Genetics and extinction. Biol Conserv 126:131–140. https://doi.org/10.1016/j.biocon.2005.05.002

Frankham R, Ballou JD, Dudash MR et al (2012) Implications of different species concepts for conserving biodiversity. Biol Conserv 153:25–31. https://doi.org/10.1016/j.biocon.2012.04.034

Frankham R, Bradshaw CJA, Brook BW (2014) Genetics in conservation management: revised recommendations for the 50/500 rules, Red List criteria and population viability analyses. Biol Conserv 170:56–63. https://doi.org/10.1016/j.biocon.2013.12.036

Funk WC, McKay JK, Hohenlohe PA, Allendorf FW (2012) Harnessing genomics for delineating conservation units. Trends Ecol Evol 27:489–496. https://doi.org/10.1016/j.tree.2012.05.012

Garnett ST, Christidis L (2017) Taxonomy anarchy hampers conservation. Nature 546:25–27. https://doi.org/10.1038/546025a

Gauli A, Vaillancourt RE, Bailey TG et al (2015) Evidence for local climate adaptation in early-life traits of Tasmanian populations of Eucalyptus pauciflora. Tree Genet Genomes 11:104. https://doi.org/10.1007/s11295-015-0930-6

Gautier M (2015) Genome-wide scan for adaptive divergence and association with population-specific covariates. Genetics 201:1555–1579. https://doi.org/10.1534/genetics.115.181453

Gioia P, Hopper SD (2017) A new phytogeographic map for the Southwest Australian Floristic Region after an exceptional decade of collection and discovery. Bot J Linn Soc 184:1–15. https://doi.org/10.1093/botlinnean/box010

Gompert Z, Buerkle CA (2010) Introgress: a software package for mapping components of isolation in hybrids. Mol Ecol Resour 10:378–384. https://doi.org/10.1111/j.1755-0998.2009.02733.x

González-Orozco CE, Thornhill AH, Knerr N et al (2014) Biogeographical regions and phytogeography of the eucalypts. Divers Distrib 20:46–58. https://doi.org/10.1111/ddi.12129

Gosper CR, Hopley T, Byrne M et al (2019) Phylogenomics shows lignotuber state is taxonomically informative in closely related eucalypts. Mol Phylogenet Evol 135:236–248. https://doi.org/10.1016/j.ympev.2019.03.016

Goudet J (2005) HIERFSTAT, a package for R to compute and test hierarchical F-statistics. Mol Ecol Notes 5:184–186. https://doi.org/10.1111/j.1471-8278

Grattapaglia D, Vaillancourt RE, Shepherd M et al (2012) Progress in Myrtaceae genetics and genomics: Eucalyptus as the pivotal genus. Tree Genet Genomes 8:463–508. https://doi.org/10.1007/s11295-012-0491-x

Gruber B, Unmack PJ, Berry OF, Georges A (2018) DARTR: an R package to facilitate analysis of SNP data generated from reduced representation genome sequencing. Mol Ecol Resour 18:691–699. https://doi.org/10.1111/1755-0998.12745

Hedrick PW, Garcia-Dorado A (2016) Understanding inbreeding depression, purging, and genetic rescue. Trends Ecol Evol 31:940–952. https://doi.org/10.1016/j.tree.2016.09.005

Hill KD, Johnson LAS (1992) Systematic studies in the eucalypts. 5—new taxa and combinations in Eucalyptus (Myrtaceae) in Western Australia. Telopea 4:561–634

Hines B, Byrne M (2001) Genetic differentiation between mallee and tree forms in the Eucalyptus loxophleba complex. Heredity (Edinb) 87:566–572. https://doi.org/10.1046/j.1365-2540.2001.00950.x

Hoffmann A, Griffin P, Dillon S et al (2015) A framework for incorporating evolutionary genomics into biodiversity conservation and management. Clim Chang Responses 2:1. https://doi.org/10.1186/s40665-014-0009-x

Holderegger R, Balkenhol N, Bolliger J et al (2019) Conservation genetics: linking science with practice. Mol Ecol 28:3848–3856. https://doi.org/10.1111/mec.15202

Hopper SD, Wardell-Johnson G (2004) Eucalyptus virginea and E. relicta (Myrtaceae), two new rare forest trees from south-western Australia allied to E. lane-poolei and a new phantom hybrid. Nuytsia 15:227–240

IUCN (2012) IUCN Red List Categories and Criteria: Version 3.1 Second edition. IUCN (International Union for Conservation of Nature), Gland, Switzerland and Cambridge, UK

Jakobsson M, Rosenberg NA (2007) CLUMPP: a cluster matching and permutation program for dealing with label switching and multimodality in analysis of population structure. Bioinformatics 23:1801–1806. https://doi.org/10.1093/bioinformatics/btm233

James EA, McDougall KL (2007) Extent of clonality, genetic diversity and decline in the endangered mallee Eucalyptus imlayensis. Aust J Bot 55:548–553. https://doi.org/10.1071/BT06168

James SH, Kennington WJ (1993) Selection against homozygotes and resource allocation in the mating system of Eucalyptus camaldulensis Dehnh. Aust J Bot 381–391

Jombart T (2008) adegenet: a R package for the multivariate analysis of genetic markers. Bioinformatics 24:1403–1405

Jombart T, Pontier D, Dufour A-B (2009) Genetic markers in the playground of multivariate analysis. Heredity (Edinb) 102:330–341. https://doi.org/10.1038/hdy.2008.130

Jones RC, McKinnon GE, Potts BM, Vaillancourt RE (2005) Genetic diversity and mating system of an endangered tree Eucalyptus morrisbyi. Aust J Bot 53:367–377. https://doi.org/10.1071/BT04182

Jones RC, Nicolle D, Steane DA et al (2016) High density, genome-wide markers and intra-specific replication yield an unprecedented phylogenetic reconstruction of a globally significant, speciose lineage of Eucalyptus. Mol Phylogenet Evol 105:63–85. https://doi.org/10.1016/j.ympev.2016.08.009

Jordan GJ, Potts BM, Chalmers P, Wiltshire RJE (2000) Quantitative genetic evidence that the timing of vegetative phase change in Eucalyptus globulus ssp. globulus is an adaptive trait. Aust J Bot 48:561–567

Kennington WJ, James SH (1997a) The effect of small population size on the mating system of a rare clonal mallee, Eucalyptus argutifolia (Myrtaceae). Heredity (Edinb) 78:252–260

Kennington WJ, James SH (1997b) Contrasting patterns of clonality in two closely related mallee species from Western Australia, Eucalyptus argutifolia and E. obtusiflora (Myrtaceae). Aust J Bot 45:679–689

Kilian A, Wenzl P, Huttner E et al (2012) Diversity arrays technology: a generic genome profiling technology on open platforms. Methods Mol Biol 888:67–89. https://doi.org/10.1007/978-1-61779-870-2_5

Lacey CJ (1983) Development of large plate-like lignotubers in Eucalyptus botryoides Sm. in relation to environmental factors. Aust J Bot 31:105–118. https://doi.org/10.1071/BT9830105

Larcombe MJ, Holland B, Steane DA et al (2015) Patterns of reproductive isolation in Eucalyptus—a phylogenetic perspective. Mol Biol Evol 32:1833–1846. https://doi.org/10.1093/molbev/msv063

Lischer HEL, Excoffier L (2012) PGDSpider: an automated data conversion tool for connecting population genetics and genomics programs. Bioinformatics 28:298–299

Llorens TM, Macdonald B, Mcarthur S et al (2015) Disjunct, highly divergent genetic lineages within two rare Eremophila (Scrophulariaceae: Myoporeae) species in a biodiversity hotspot: Implications for taxonomy and conservation. Bot J Linn Soc 177:96–111. https://doi.org/10.1111/boj.12228

Meek MH, Larson WA (2019) The future is now: amplicon sequencing and sequence capture usher in the conservation genomics era. Mol Ecol Resour 19:795–803. https://doi.org/10.1111/1755-0998.12998

Monks L, Barrett S, Beecham B et al (2019) Recovery of threatened plant species and their habitats in the biodiversity hotspot of the Southwest Australian Floristic Region. Plant Divers 41:59–74. https://doi.org/10.1016/j.pld.2018.09.006

Murray KD, Janes JK, Jones A et al (2019) Landscape drivers of genomic diversity and divergence in woodland Eucalyptus. Mol Ecol 28:5232–5247. https://doi.org/10.1111/mec.15287

Myburg AA, Grattapaglia D, Tuskan GA et al (2014) The genome of Eucalyptus grandis. Nature 510:356–374. https://doi.org/10.1038/nature13308

Myers N, Mittermeier RA, Mittermeier CG et al (2000) Biodiversity hotspots for conservation priorities. Nature 403:853–858. https://doi.org/10.1038/35002501

Nazareno AG, Bemmels JB, Dick CW, Lohmann LG (2017) Minimum sample sizes for population genomics: an empirical study from an Amazonian plant species. Mol Ecol Resour 17:1136–1147. https://doi.org/10.1111/1755-0998.12654

Nickolas H, Harrison PA, Tilyard P et al (2019) Inbreeding depression and differential maladaptation shape the fitness trajectory of two co-occurring Eucalyptus species. Ann For Sci 76:10. https://doi.org/10.1007/s13595-018-0796-5

Nicolle D (2006) A classification and census of regenerative strategies in the eucalypts (Angophora, Corymbia and Eucalyptus —Myrtaceae), with special reference to the obligate seeders. Aust J Bot 54:391–407

Nicolle D, French ME (2012) A revision of Eucalyptus ser. Falcatae (Myrtaceae) from south-western Australia, including the description of new taxa and comments on the probable hybrid origin of E. balanites, E. balanopelex and E. phylacis. Nuytsia 22:409–454

Ottewell KM, Bickerton DC, Byrne M, Lowe AJ (2016) Bridging the gap: a genetic assessment framework for population-level threatened plant conservation prioritization and decision-making. Divers Distrib 22:174–188. https://doi.org/10.1111/ddi.12387

Ouborg NJ, Pertoldi C, Loeschcke V et al (2010) Conservation genetics in transition to conservation genomics. Trends Genet 26:177–187. https://doi.org/10.1016/j.tig.2010.01.001

Patten J (2004) Meelup Mallee (Eucalyptus phylacis) Interim Recovery Plan No.155 2004–2009. Wanneroo, Western Australia

Peakall R, Smouse PE (2006) GENALEX 6: genetic analysis in Excel. Population genetic software for teaching and research. Mol Ecol Notes 6:288–295. https://doi.org/10.1111/j.1471-8286.2005.01155.x

Peakall R, Smouse PE (2012) GenAlEx 6.5: genetic analysis in Excel. Population genetic software for teaching and research—an update. Bioinformatics 28:2537–2539

Peterson BK, Weber JN, Kay EH et al (2012) Double digest RADseq: an inexpensive method for de novo SNP discovery and genotyping in model and non-model species. PLoS ONE 7:e37135. https://doi.org/10.1371/journal.pone.0037135

Phillips RD, Brown AP, Dixon KW, Hopper SD (2010) Orchid biogeography and factors associated with rarity in a biodiversity hotspot, the Southwest Australian Floristic Region. J Biogeogr. https://doi.org/10.1111/j.1365-2699.2010.02413.x

Pound LM, Wallwork MAB, Potts BM, Sedgley M (2002) Self-incompatibility in Eucalyptus globulus spp. globulus (Myrtaceae). Aust J Bot 50:365–372

Pritchard JK, Stephens M, Donnelly P (2000) Inference of population structure using multilocus genotype data. Genetics 155:945–959

Pritchard JK, Wen X, Falush D (2010) Documentation for structure software: Version 2.3

R Core Team (2018) R: a language and environment for statistical computing. R Foundation for Statistical Computing, Vienna. https://www.R-project.org/

Raymond M, Rousset F (1995) GENEPOP (version 1.2): population genetics software for exact tests and ecumenicism. J Hered 86:248–249

Robins TP, Binks RM, Byrne M, Hopper SD (2020) Landscape and taxon age are associated with differing patterns of hybridisation in two Eucalyptus (Myrtaceae) subgenera. Ann Bot inreview

Robinson RM, Spencer M (2004) Coppice treatment gives hope to a rare and endangered mallee eucalypt in the south-west of Western Australia. J R Soc West Aust 87:109–114

Rossetto M, Jezierski G, Hopper SD, Dixon KW (1999) Conservation genetics and clonality in two critically endangered eucalypts from the highly endemic south-western Australian flora. Biol Conserv 88:321–331

Rossetto M, Lucarotti F, Hopper S, Dixon K (1997) DNA fingerprinting of Eucalyptus graniticola: a critically endangered relict species or a rare hybrid? Heredity (Edinb) 79:310–318

Rousset F (2008) genepop'007: a complete re-implementation of the genepop software for Windows and Linux. Mol Ecol Resour 8:103–106. https://doi.org/10.1111/j.1471-8286.2007.01931.x

Rutherford S, Rossetto M, Bragg JG et al (2018) Speciation in the presence of gene flow: population genomics of closely related and diverging Eucalyptus species. Heredity (Edinb) 121:126–141. https://doi.org/10.1038/s41437-018-0073-2

Sampson JF, Byrne M (2016) Assessing genetic structure in a rare clonal eucalypt as a basis for augmentation and introduction translocations. Conserv Genet 17:293–304. https://doi.org/10.1007/s10592-015-0781-6

Sansaloni C, Petroli C, Jaccoud D et al (2011) Diversity Arrays Technology (DArT) and next-generation sequencing combined: genome-wide, high throughput, highly informative genotyping for molecular breeding of Eucalyptus. BMC Proc 5:P54. https://doi.org/10.1186/1753-6561-5-S7-P54

Sansaloni CP, Petroli CD, Carling J et al (2010) A high-density diversity arrays technology (DArT) microarray for genome-wide genotyping in Eucalyptus. Plant Methods 6:1–11. https://doi.org/10.1186/1746-4811-6-16

Shafer ABA, Wolf JBW, Alves PC et al (2015) Genomics and the challenging translation into conservation practice. Trends Ecol Evol 30:78–87. https://doi.org/10.1016/j.tree.2014.11.009

Silvertown J (2008) The evolutionary maintenance of sexual reproduction: evidence from the ecological distribution of asexual reproduction in clonal plants. Int J Plant Sci 169:157–168.

Smith MG, Jones A (2018) Threatened and priority flora list, 5 December 2018.

Smith S, Hughes J, Wardell-Johnson G (2003) High population differentiation and extensive clonality in a rare mallee eucalypt: Eucalyptus curtisii. Conserv Genet 4:289–300

Steane DA, Nicolle D, Sansaloni CP et al (2011) Population genetic analysis and phylogeny reconstruction in Eucalyptus (Myrtaceae) using high-throughput, genome-wide genotyping. Mol Phylogenet Evol 59:206–224. https://doi.org/10.1016/j.ympev.2011.02.003

Thornhill AH, Crisp MD, Külheim C et al (2019) A dated molecular perspective of eucalypt taxonomy, evolution and diversification. Aust Syst Bot 32:29–48. https://doi.org/10.1071/SB18015

Tyson M, Vaillancourt RE, Reid JB (1998) Determination of clone size and age in a mallee eucalypt using RAPDs. Aust J Bot 46:161–172

von Takach DB, Jack C, Borevitz J et al (2019) Pervasive admixture between eucalypt species has consequences for conservation and assisted migration. Evol Appl 12:845–860. https://doi.org/10.1111/eva.12761

Walker E, Byrne M, Macdonald B et al (2009) Clonality and hybrid origin of the rare Eucalyptus bennettiae (Myrtaceae) in Western Australia. Aust J Bot 57:180–188

Walker J, Thompson CH, Lacey CJ (1987) Morphological differences in lignotubers of Eucalyptus intermedia R.T. Bak. and E. signata F. Muell. associated with different stages of podzol development on coastal dunes, Cooloola, Queensland. Aust J Bot 35:301–311. https://doi.org/10.1071/BT9870301

Webb A (2013) The flora and vegetation of the Meelup reserve system; a report for the Meelup Park Management Commitee

Western Australian Government (2018) Wildlife Conservation Act 1950, Wildlife Conservation (Rare Flora) Notice 2018. September, pp 3226–3232

Western Australian Government (2019) Conservation codes for Western Australian flora and fauna. https://www.dpaw.wa.gov.au/images/documents/plants-animals/threatened-species/Listings/Conservation.code definitions.pdf. Accessed 23 Apr 2020

Williams JE, Brooker MIH (1997) Eucalypts: an introduction. In: Williams JE, Woinarski JCZ (eds) Eucalypt ecology: individuals to ecosystems. Cambridge University Press, Melbourne, Australia, pp 1–15

Yates C, Gosper C, Hopper S et al (2017) Mallee woodlands and shrublands: the mallee, muruk/muert and maalok vegetation of southern Australia. In: Keith D (ed) Australian Vegetation, 3rd edn. Cambridge University Press, Cambridge, pp 570–598

Yates CJ, Hobbs RJ (1997) Temperate eucalypt woodlands: a review of their status, processes threatening their persistence and techniques for restoration. Aust J Bot 45:949–973
Acknowledgements
We thank Andrew Webb and Janine Liddelow for information on the species and populations, and Stephen Hopper for discussion on the species relationships. Andrew Webb, Janine Liddelow and David Coates assisted with field collections, Bronwyn Macdonald undertook DNA extraction and preparation of samples for DArTseq analysis.
Funding
The study was funded by the Department of Biodiversity, Conservation and Attractions.
Ethics declarations
Conflict of interest
The authors declare they have no conflicts of interest.
Additional information
Publisher's Note
Springer Nature remains neutral with regard to jurisdictional claims in published maps and institutional affiliations.
Communicated by Daniel Sanchez Mata.
Supplementary Information
Below is the link to the electronic supplementary material.
About this article
Cite this article
Bradbury, D., Binks, R.M. & Byrne, M. Genomic data inform conservation of rare tree species: clonality, diversity and hybridity in Eucalyptus series in a global biodiversity hotspot. Biodivers Conserv (2021). https://doi.org/10.1007/s10531-020-02106-2
Received:

Revised:

Accepted:

Published:
Keywords
Eucalyptus virginea
Eucalyptus × phylacis

SNP

Mallee

Conservation genomics

DArTseq