Abstract
Domestic gardens, typically consisting of a mixture of native and non-native plants, support biodiversity. The relative value of these native and non-native plants for invertebrates is largely unknown. To address this a replicated field experiment with plots planted with one of three assemblages of non-invasive perennial and shrubby garden plants (treatments), based on plant origin [UK native, near-native (Northern Hemisphere) and Exotic (Southern Hemisphere)] was established. Over 4 years the invertebrates were recorded by Vortis suction sampler and amount of plant material measured. The abundance of above ground plant-inhabiting invertebrates increased with canopy cover and was higher on the native treatment. For several functional groups including herbivores and some predatory groups the near-native plants supported only marginally fewer individuals compared to native plots, with exotic plants being less favoured. The experiment demonstrated that gardens and other cultivated ornamental plantings support a wide range of plant-inhabiting invertebrates from primary functional groups regardless of the plants' origin and the more plant matter (canopy cover) available the greater the abundance. Greater abundance of invertebrates will be supported by gardens and cultivated planting schemes with plantings biased towards native and near-native plants and that provide dense vegetation cover. However, exotic plants should not be dismissed as these are inhabited by some invertebrates.
Access options
Buy single article
Instant access to the full article PDF.
USD 39.95
Price includes VAT (USA)
Tax calculation will be finalised during checkout.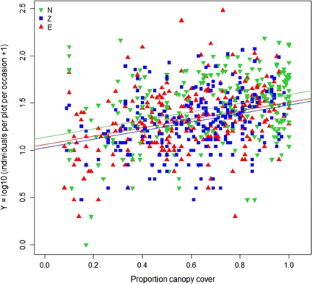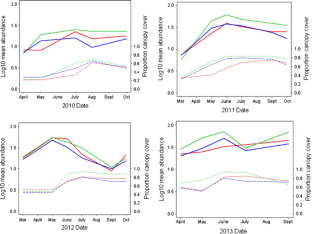 References
Arnold AJ (1994) Insect suction sampling without nets, bags or filters. Crop Prot 13:73–76

Baines C (2016) RHS companion to wildlife gardening, revised edition. Frances Lincoln, London

Ballard M, Hough-Goldstein J, Tallamy D (2013) Arthropod communities on native and nonnative early successional plants. Environ Entomol 42:851–859

Bell JR, Wheater PC, Cullen WR (2001) The implications of grassland and heathland management for the conservation of spider communities: a review. J Zool 255:377–387

Brook AJ, Woodcock BA, Sinka M, Vanbergen AJ (2008) Experimental verification of suction sampler capture efficiency in grasslands of differing vegetation height and structure. J Appl Ecol 45:1357–1363

Burghardt KT, Tallamy DW (2013) Plant origin asymmetrically impacts feeding guilds and life stages driving community structure of herbivorous arthropods. Divers Distrib 19:1553–1565

Cameron RWF, Blanuasa T, Taylor JE, Salisbury A, Halstead AJ, Henricot BB, Thompson K (2012) The domestic garden—Its contribution to urban green infrastructure. Urban For Urban Green 11:129–137

Christiansen K (1964) Bionomics of Collembola. Annu Rev Entomol 9:147–178

Cubey J (2017) RHS plant finder 2016. The Royal Horticultural Society, London

Davies ZG, Fuller RA, Loram A, Irvine KN, Sims V, Gaston KJ (2009) A national scale inventory of resource provision for biodiversity within domestic gardens. Biol Conserv 142:761–771

Davis MA, Chew MK, Hobbs RJ, Lugo AE, Ewel JJ, Vermeij GJ, Brown JH, Rosenzweig ML, Gardener MR, Carroll SP, Thompson K, Pickett STA, Stromberg JC, Del Tredici P, Suding KN, Ehrenfeld JG, Grime JP, Mascaro J, Briggs JC (2011) Don't judge species on their origins. Nature 474:153–154

Dennis P, Young MR, Gordon IJ (1998) Distribution and abundance of small insects and arachnids in relation to structural heterogeneity of grazed, indigenous grasslands. Ecol Entomol 23:253–264

Gaston KJ, Warren PH, Thompson K, Smith RM (2005) Urban domestic gardens (IV): the extent of the resource and its associated features. Biodivers Conserv 14:3327–3349

Hartley MK, Rogers WE, Siemann E (2010) Comparisons of arthropod assemblages on an invasive and native trees: abundance, diversity and damage. Arthropod-Plant Inte 4:237–245

Haughton AJ, Champion GT, Hawes C, Heard MS, Brooks DR, Bohan DA, Clark SJ, Dewar AM, Firbank LG, Osborne JL, Perry JN, Rothery P, Roy DB, Scott RJ, Woiwod IP, Birchall C, Skellern MP, Walker JH, Baker P, Browne EL, Garner BH, Haylock LA, Horne SL, Mason NS, Sands RJN, Walker MJ, Bell D, Fairfax CM, Hulmes SE, Norton LR, Nuttall P, Randle Z, Rossall MJ, Singer EJ (2003) Invertebrate responses to the management of genetically modified herbicide-tolerant and conventional spring crops. II. Within-field epigeal and aerial arthropods. Philos Trans R Soc B 358:1847–1862

Hawes C, Haughton AJ, Osborne JL, Roy DB, Clark SJ, Perry JN, Rothery P, Boha DA, Brooks DR, Champion GT, Dewar AM, Heard MS, Woiwod IP, Daniels RE, Young MW, Parish AM, Scott RJ, Firbank LG, Squire GR (2003) Responses of plants and invertebrate trophic groups to contrasting herbicide regimes in the farm scale evaluations of genetically modified herbicide-tolerant crops. Philos Trans R Soc B 358:1899–1913

Helden AJ, Stamp GC, Leather SR (2012) Urban biodiversity: comparison of insect assemblages on native and non-native trees. Urban Ecosyst 15:611–624

Hopkin SP (2007) A key to the Collembola (Springtails) of Britain snd Ireland. AIDGAP, Shrewsbury

Keane RM, Crawley MJ (2002) Exotic plant invasions and the enemy release hypothesis. Trends Ecol Evol 17:164–170

Kendle A, Rose J (2000) The aliens have landed! What are the justifications for "native only" policies in landscape plantings? Landsc Urban Plan 47:19–31

Kennedy CEJ, Southwood TRE (1984) The number of insects associated with British trees a re-analysis. J Anim Ecol 53:455–478

Litt RL, Cord EE, Fulbright TE, Schuster GL (2014) Effects of invasive plants on Arthropods. Conserv Biol 28:1532–1549

Loram A, Tratalos J, Warren PH, Gaston KJ (2007) Urban domestic gardens (X): the extent structure of the resource in five major cities. Landsc Ecol 22:601–615

Loram A, Thompson K, Warren PH, Gaston KJ (2008) Urban domestic gardens (XII): the richness and composition of the flora in five UK cities. J Veg Sci 19:321–330

Mommertz S, Schauer C, Kösters N, Lan A, Filser J (1996) A comparsion od D-Vac suction, fenced and unfenced pitfall trap sampling of epigeal arthropods in agro-ecosystems. Ann Zool Fenn 33:117–124

Morris MG (1990) Orthocerus Weevils. Coleoptera Curculionoidea (Nemonychidae, Anthribidae, Urodontidae, Attelabidae and Apionidae. Handbooks for the identification of british insects, vol 5. Royal Entomological Society of London, London

Noss RF (1990) Indicators for monitoring biodiversity: a hierarchical approach. Conserv Biol 4:355–364

Owen J (2010) Wildlife of a garden. A thirty year study. Royal Horticultural Society, London

Perry JN (1982) Fitting split-lines to ecological data. Ecol Entomol 7:421–435

Proche E, Wilson JRU, Richardson DM, Chown SL (2008) Herbivores, but not other insects, are scarce on alien plants. Austral Ecol 33:691–700

Pyšek P, Richardson DM, Rejmánek M, Webster GL, Williamson M, Kirschner J (2004) Alien plants in checklists and floras: towards better communication between taxonomists and ecologists. Taxon 53:131–143

Salisbury A, Armitage J, Bostock H, Perry J, Tatchell M, Thompson K (2015) Enhancing gardens as habitats for flower-visiting aerial insects (pollinators): should we plant native or exotic species? J Appl Ecol 52:1156–1164

Sanders D, Entling MH (2011) Large variation of suction sampling efficiency depending on arthropod groups, species traits, and habitat properties. Entomol Exp Appl 138:234–243

Schlaepfer MA, Sax DF, Olden JD (2011) The potential conservation value of non-native species. Conserv Biol 25:428–437

Shea K, Chesson P (2002) Community ecology theory as a framework for biological invasions. Trends Ecol Evol 17:170–176

Smith RM, Gaston KJ, Warren PH, Thompson K (2006a) Urban domestic gardens (VI): environmental correlates of invertebrate species richness. Biodivers Conserv 15:2415–2438

Smith RM, Gaston KJ, Warren PH, Thompson K (2006b) Urban domestic gardens (VIII): environmental correlates of invertebrate abundance. Biodivers Conserv 15:2515–2545

Smith RM, Thompson K, Hodgson JG, Warren PH, Gaston KJ (2006c) Urban domestic gardens (IX): composition and richness of the vascular plant flora, and implications for native biodiversity. Biol Conserv 129:312–322

Stace C (2010) New flora of the british isles, 3rd edn. Cambridge University Press, Cambridge

Stace CA, Crawley MJ (2015) Alien plants (Collins New Naturalist Library, Book 129). Harper Collins, London

Veen (Ciska) GF, Freschet GT, Ordonez A, Wardle DA (2014) Litter quality and environmental controls of home-field advantage effects on litter decomposition. Oikos 124:187–195

Veen (Ciska) GF, Sundqvist MK, Wardle DA (2015) Environmental factors and traits that drive plant litter decomposition do not determine home-field advantage effects. Funct Ecol 29:981–991

VSN International (2013) GenStat for Windows 16th Edn. Hemel Hempstead

Zentane E, Quenu H, Graham RI, Cherill A (2016) Suction samplers for grassland invertebrates: comparison of numbers caught using Vortis™ and G-vac devices. Insect Conserv Diver 9:470–474

Zuefle ME, Brown WP, Tallamy DW (2008) Effects of non-native plants on the native insect community of Delaware. Biol Invasions 10:1159–1169
Acknowledgements
We would like to thank the project volunteers James Backshall, Crystal Duncan, Carolyn Hewitt, Helen Latham, Linda Moyes, Judi O'Prey, John Ricketts, Kathy Stones and Jenna Watt who maintained the plots and the members of RHS Wisley curatorial staff who assisted. Thanks are also due to those who provided help and advice including Jonty Denton, David Brooks, Suzanne Clark, Colin Crosbie, Victoria Coupland, Jim Gardiner, Gerard Clover, Alistair Griffiths, Andrew Halstead, Alison Haughton and Steve Head (the Wildlife Gardening Forum), David Notton, Juliet Osborne, Claire Ozanne, Laura Robins, Peter Shaw, Richard Sanford, Ian Waghorn and Roger Williams.
Additional information
This article belongs to the Topical Collection: Urban biodiversity.
Communicated by Nigel E. Stork.
Electronic supplementary material
Below is the link to the electronic supplementary material.
About this article
Cite this article
Salisbury, A., Al-Beidh, S., Armitage, J. et al. Enhancing gardens as habitats for plant-associated invertebrates: should we plant native or exotic species?. Biodivers Conserv 26, 2657–2673 (2017). https://doi.org/10.1007/s10531-017-1377-x
Received:

Revised:

Accepted:

Published:

Issue Date:
Keywords
Canopy cover

Functional group

Invertebrate abundance

Invertebrate herbivore

Invertebrate predator

Ornamental plants