Abstract
Military personnel and affiliates have significant buying power that can influence demand for wildlife products. Purchase and transport of certain wildlife products violates United States laws, military regulations, and national country laws where the items were purchased. We surveyed military bazaars (n = 4) in Kabul, Afghanistan from June 2007 to March 2009 to observe which species were available to soldiers. In June 2008, we conducted a pilot survey of U.S. Army personnel (n = 371) stationed at Fort Drum, New York, USA, who had been deployed or stationed overseas including in Afghanistan and Iraq. Soldiers reported skins of wild felids and gray wolf Canis lupus as most commonly observed wildlife products available for sale in Afghanistan. Forty percent of respondents said they had either purchased or seen other members of the military purchase or use wildlife products. The U.S. military was willing to assist in curtailing supply and demand for wildlife products in order to protect soldiers from unknowingly breaking the law and to conserve wildlife in the countries where they serve. Regular, focused training of military personnel should be considered an important step to reducing trade in wildlife products by addressing both demand and market supply.
Access options
Buy single article
Instant access to the full article PDF.
USD 39.95
Price includes VAT (USA)
Tax calculation will be finalised during checkout.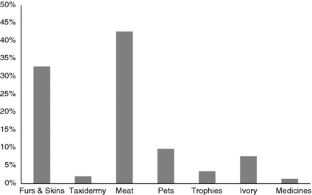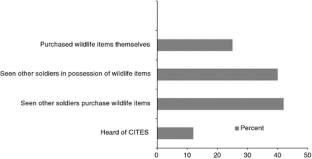 References
Bennett EL (2011) Another inconvenient truth: the failure of enforcement systems to save charismatic species. Oryx 0(0):1–4

Convention on International Trade in Endangered Species of Wild Fauna and Flora (1973) Treaties and other International Agreements 27 UST 1087; TIAS 8249; 993 UNTS 243

Dudley JP, Ginsberg JR, Plumptre AJ, Hart JA, Campos LC (2002) Effects of war and civil strife on wildlife and wildlife habitats. Conserv Biol 16(2):319–329

Earthtrends (2003) Biodiversity and protected areas of Iraq. Earthtrends country profiles. http://earthtrends.wri.org/pdf_library/country_profiles/bio_cou_368.pdf. Accessed on 10 Dec 2009

Executive Order No. 2 (1388, June 2009). Environment Act, National Environmental Protection Agency, Islamic Republic of Afghanistan

Formoli TA (1995) The impacts of the Afghan Soviet war on Afghanistan's environment. Environ Conserv 22:66–69

Grimmitt RF (2009) Instances of use of United States Armed Forces Abroad, 1798–2008. Congressional research service 7-5700/RL3217. http://Ftp.fas.org/sgp/crs/natsec/RL32170.pdf. Accessed on 14 Oct 2009

Hanson T, Brooks TM, Da Fonseca GAB, Hoffman M, Lamoreux JF, Machlis G, Mittermeier C, Mittermeier RA, Pilgrim JD (2009) Warfare in biodiversity hotspots. Conserv Biol 23(3):578–587

Homer-Dixon TF, Boutwell JH, Rathjens GW (1993) Environmental change and violent conflict: growing scarcities of renewable resources can contribute to social instability and civil strife. Sci Am 268:38–45

Hunter L, Jowkar H, Ziaie H, Schaller G, Balme G, Walzer C, Ostrowski S, Zahler P, Robert-Schaurre N, Kashiri K (2007) Conserving the Asiatic cheetah in Iran: launching the first radio-telemetry study. Cat News 46:8–11

Islamic Republic of Afghanistan Environment Law of 2007 (2007) Official Gazette No. 912, Afghanistan

Johnson MF, Wingard JR (2010) Wildlife trade in Afghanistan. Wildlife Conservation Society, Kabul

Kanderian N, Lawson D, Zahler P (2011) Current status of wildlife and conservation in Afghanistan. Int J Environ Stud 68(3):281–298

Lacey Act Amendments of 1981, 16 U.S.C. 3371–3378

Lacey Act of 1900, 18 U.S.C. 41–47

Manati AR (2009) The trade in leopard and snow leopard skins in Afghanistan. Traffic B 22(2):57–58

Martin PS, Szuter CR (1999) War zones and game sinks in Lewis and Clark's west. Conserv Biol 13(1):36–45

McNeeley JA (2003) Conserving forest biodiversity in times of violent conflict. Oryx 37(2):142–152

Mishra C, Fitzherbert A (2004) War and wildlife: a post conflict assessment of Afghanistan's Wakhan corridor. Oryx 38(1):102–105

Pickering J, Kisangani EF (2006) Political, economic, and social consequences of foreign military intervention. Political Res Q 59(3):363–376

Plumptre AJ, Bizumuremyi JB, Uwimana F, Ndaruhebeye JD (1997) The effects of Rwandan civil war on poaching of ungulates in the Parc National des Volcans. Oryx 31(4):265–273

Renner M (2002) The anatomy of resource wars. WorldWatch Institute #162, Washington DC. http://www.worldwatch.org/system/files/EWP162.pdf. Accessed 26 Oct 2009

Richardson CJ, Hussain NA (2006) Restoring the Garden of Eden: an ecological assessment of the marshes of Iraq. Bioscience 56(6):477–489

Schaller G (2007) A wildlife survey in Northwest Afghanistan. Field report no. 7, Wildlife Conservation Society, Kabul, Afghanistan

Schwartz M (2009) The Department of defense's use of private security contractors in Iraq and Afghanistan: background, analysis, and options for Congress. Congressional Research Service 7-5700/R40835. http://ftp.fas.org/sgp/crs/natsec/R40835.pdf. Accessed 14 Oct 2009

Shank CC (2006) A Biodiversity profile of Afghanistan in 2006: a component of the national capacity self-assessment (NCSA) and national adaptation program of action (NAPA) for Afghanistan. United Nations Environment Programme, Nairobi

The Endangered Species Act (2008) 16 U.S.C. 1531–1544

Udvardy MDF (1975) A classification of the biogeographic provinces of the world. IUCN Occas Pap 18:1–49

United States Central Command (13 March 2006) General order number 1B (GO-1B). Prohibited activities for U.S. Department of Defense Personnel present within the United States Central Command (USCENTCOM) Area of Responsibility (AOR)

Untied States Defense Transportation Regulation (9 November 2009) 4500.9-R, Part V. (I) Restricted and prohibited articles (1) Restricted articles (7–8),(2) Prohibited articles (10), and (3) Agricultural restrictions and prohibitions (1–3)

Zahler P (2005) Conservation and conflict: the importance of continuing conservation work during political upheaval and armed conflict. State of the wild: a global portrait of wildlife, wildlands, and oceans. Island Press, Washington, pp 243–249

Zahler P (2010) Conservation and governance: lessons from the reconstruction effort in Afghanistan. State of the wild III: a global portrait of wildlife, wildlands, and oceans. Island Press, Washington, pp 2010–2011
Acknowledgments
The authors would like to thank A. Dehgan, C. Miller, R. Raybolt, C. Dobony, B. Lauber, N. Connelly, D. Lawson, Fort Drum Command Safety, United States military police stationed at Bagram Air Field, Camp Eggers, and Camp Phoenix, and the International Security Assistance Forces in Kabul for cooperation on the written survey design and administration at Fort Drum and on-base market surveys and trainings in Afghanistan. Surveys in Afghanistan were supported by the United States Agency for International Development (USAID).
Appendix 1: Survey
Appendix 1: Survey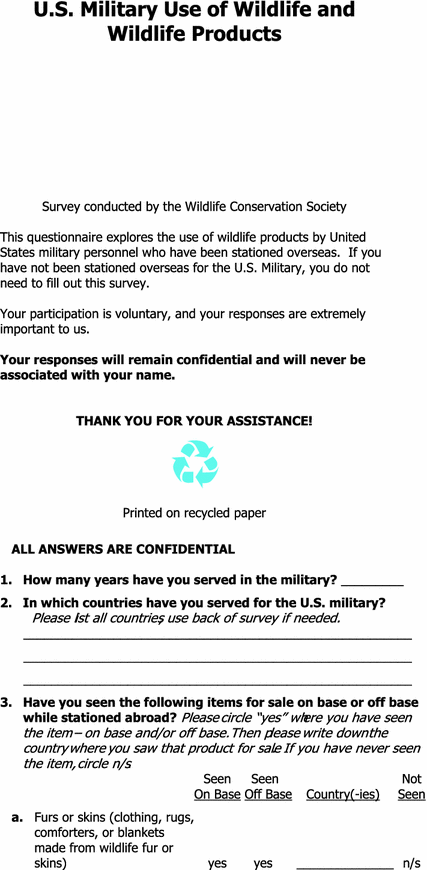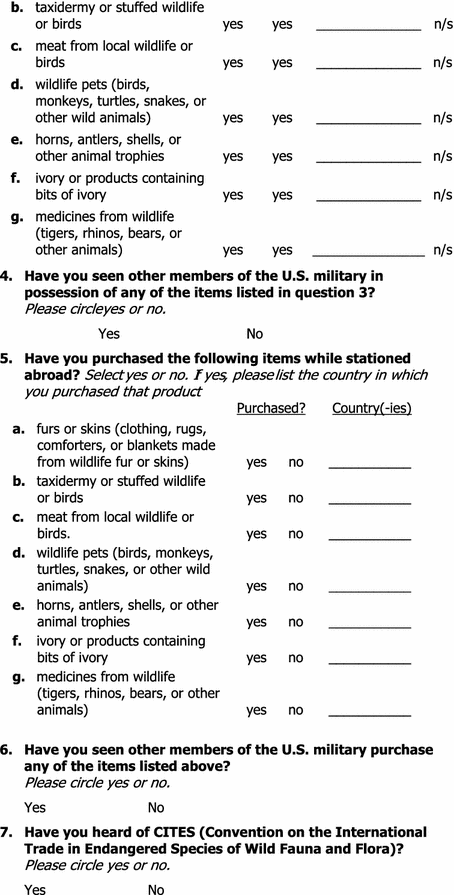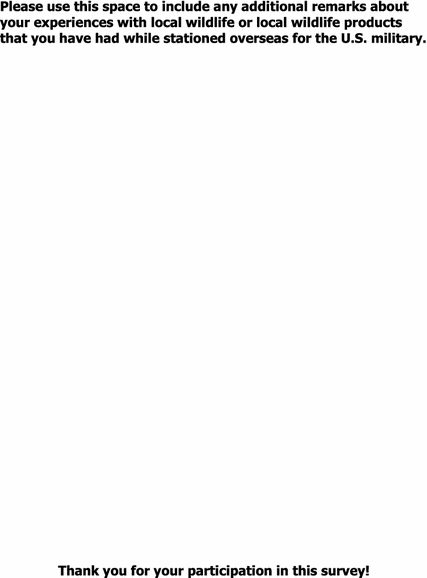 About this article
Cite this article
Kretser, H.E., Johnson, M.F., Hickey, L.M. et al. Wildlife trade products available to U.S. military personnel serving abroad. Biodivers Conserv 21, 967–980 (2012). https://doi.org/10.1007/s10531-012-0232-3
Received:

Accepted:

Published:

Issue Date:
Keywords
Wildlife trade

U.S. military

Endangered species

CITES

Afghanistan

Iraq

War