Abstract
To facilitate future assessments of diversity following disturbance events, we conducted a first level inventory of nocturnal Lepidoptera in Stanley Park, Vancouver, Canada. To aid the considerable task, we employed high-throughput DNA barcoding for the rough sorting of all material and for tentative species identifications, where possible. We report the preliminary species list of 190, the detection of four new exotic species (Argyresthia pruniella, Dichelia histrionana, Paraswammerdamia lutarea, and Prays fraxinella), and the potential discovery of two cryptic species. We describe the magnitude of assistance that barcoding presents for faunal inventories, from reducing specialist time to facilitating the detection of native and exotic species at low density.
Access options
Buy single article
Instant access to the full article PDF.
USD 39.95
Price excludes VAT (USA)
Tax calculation will be finalised during checkout.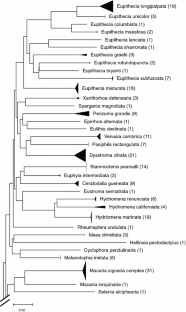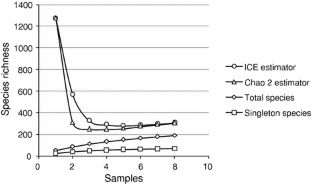 References
Agassiz DJL (1996) Yponomeutidae. In: Emmet AM (ed) The moths and butterflies of Great Britain and Ireland, vol 3. Harley Books, Colchester, pp 39–110

Armstrong KF, Ball SL (2005) DNA barcodes for biosecurity: invasive species identification. Philos Trans R Soc Lond B 360:1813–1823

Chao A (1987) Estimating the population size for capture-recapture data with unequal catchability. Biometrics 43:783–791

Chazdon RL, Colwell RK, Denslow JS, Guariguata MK (1998) Statistical methods for estimating species richness of woody regeneration in primary and secondary rain forests of northeastern Costa Rica. In: Dallmeier F, Comisky JA (eds) Forest biodiversity research, monitoring, and modeling: conceptual background and old world case studies. Parthenon Publishing, Paris, pp 285–309

Chown SL, Sinclair BJ, Jansen van Vuuren BJ (2008) DNA barcoding and the documentation of alien species establishment on sub-Antarctic Marion Island. Polar Biol 31:651–655

Coddington JA, Young LH, Coyle FA (1996) Estimating spider species richness in a southern Appalachian cove hardwood forest. J Arachnol 24:111–128

Colwell RK (2006) EstimateS: statistical estimation of species richness and shared species from samples. Available at http://viceroy.eeb.uconn.edu/estimates

Colwell RK, Mao CX, Chang J (2004) Interpolating, extrapolating, and comparing incidence-based species accumulation curves. Ecology 85:2717–2727

deWaard JR, Ivanova NV, Hajibabaei M, Hebert PDN (2008a) Assembling DNA barcodes: analytical protocols. In: Martin C (ed) Methods in molecular biology: environmental genetics. Humana Press Inc, Totowa, pp 275–293

deWaard JR, Schmidt BC, Anweiler GG, Humble LM (2008b) First Canadian records of Lampropteryx suffumata ([Denis & Schiffermüller], 1775) (Geometridae: Larentiinae). J Entomol Soc BC 105:19–25

Doganlar N, Beirne BP (1978) Fruit tree leafrollers (Lepidoptera) and parasites (Hymenoptera) introduced in the Vancouver district, British Columbia, Canada. J Entomol Soc B C 75:23–24

Ferguson DC (2008) Geometroidea, Geometridae (part). In: Dominick RB et al (eds) The moths of North America, fascicle 17.2. The Wedge Entomological Research Foundation, Bakersfield, 430 pp

Gotelli NJ (2004) A taxonomic wish-list for community ecology. Trans R Soc Lond B 359:585–597

Grimble DG, Beckwith RC, Hammond PC (1992) A survey of the Lepidoptera fauna from the Blue Mountains of eastern Oregon. J Res Lepid 31:83–102

Hajibabaei M, deWaard JR, Ivanova NV, Ratnasingham S, Dooh R, Kirk SL, Mackie PM, Hebert PDN (2005) Critical factors for the high volume assembly of DNA barcodes. Philos Trans R Soc Lond B 360:1959–1967

Hajibabaei M, Smith MA, Janzen DH, Rodriguez JJ, Whitfield JB, Hebert PDN (2006a) A minimalist barcode can identify a specimen whose DNA is degraded. Mol Ecol Notes 6:959–964

Hajibabaei M, Janzen DH, Burns JM, Hallwachs W, Hebert PDN (2006b) DNA barcodes distinguish species of tropical Lepidoptera. Proc Natl Acad Sci USA 103:968–971

Hajibabaei M, Singer GA, Clare EL, Hebert PDN (2007) Design and applicability of DNA arrays and DNA barcodes in biodiversity monitoring. BMC Biol 5:24

Hanner RH, Gregory TR (2007) Genomic diversity research and the role of biorepositories. Cell Preserv Technol 5:93–103

Hebert PDN, Cywinska A, Ball SL, deWaard JR (2003) Biological identifications through DNA barcodes. Proc R Soc Lond B 270:313–321

Hebert PDN, Penton EH, Burns JM, Janzen DH, Hallwachs W (2004) Ten species in one: DNA barcoding reveals cryptic species in the neotropical skipper butterfly Astraptes fulgerator. Proc Natl Acad Sci USA 101:14812–14817

Heinrich C (1956) American moths of the subfamily Phycitinae. Bull United States Natl Mus 207:1–581

Ivanova NV, deWaard JR, Hebert PDN (2006) An inexpensive, automation-friendly protocol for recovering high-quality DNA. Mol Ecol Notes 6:998–1002

Janzen DH, Hajibabaei M, Burns JM, Hallwachs W, Remigio E, Hebert PDN (2005) Wedding biodiversity inventory of a large and complex Lepidoptera fauna with DNA barcoding. Philos Trans R Soc Lond B 360:1835–1845

Karsholt O, Razowski J (1996) The Lepidoptera of Europe. A distributional checklist. Apollo Books, Stenstrup 380 pp

Landry J-F, Landry B (1994) A technique for setting and mounting Microlepidoptera. J Lepid Soc 48:205–227

Lee S-M, Chao A (1994) Estimating population size via sample coverage for closed capture-recapture models. Biometrics 50:88–97

Longino J, Coddington JA, Colwell RK (2002) The ant fauna of a tropical rainforest: estimating species richness three different ways. Ecology 83:689–702

Mao CX, Colwell RK, Chang J (2005) Estimating the species accumulation curve using mixtures. Biometrics 61:433–441

McLean JA, Klimasweski J, Li A, Savard K (2009a) First survey of rove beetles (Coleoptera, Staphylinidae) from Stanley Park, Vancouver, British Columbia, with new records and description of new species. ZooKeys (in press)

McLean JA, Klimasweski J, Chandler DS, Savard K, Li A (2009b) Survey of rove beetles (Coleoptera, Staphylinidae) from Stanley Park, Vancouver, British Columbia, with a new record and description of new species. Part 2. ZooKeys (in press)

Ratnasingham S, Hebert PDN (2007) BOLD: the barcode of life data system (http://www.barcodinglife.org). Mol Ecol Notes 7: 355–364

Smith MA, Fisher BL, Hebert PDN (2005) DNA barcoding for effective biodiversity assessment of a hyperdiverse arthropod group: the ants of Madagascar. Philos Trans R Soc Lond B 360:1828–1834

Sterling PH, Ashby M (2006) Dichelia histrionana (Frölich, 1828) (Lepidoptera: Tortricidae) new to the British Isles. Entomol Rec J Var 118:19–22

Summerville KS, Crist TO (2005) Temporal scaling of species accumulation in forest Lepidoptera. Biodivers Conserv 14:3393–3406

Tilman D (2004) Niche tradeoffs, neutrality, and community structure: a stochastic theory of resource competition, invasion, and community assembly. Proc Natl Acad Sci USA 101:10854–10861

Vancouver Park Board (2007) Stanley Park restoration plan. 53 p. Available at <www.vancouverparks.ca>
Acknowledgments
Funding was provided by a Forest Investment Account—Forest Science Program Student Grant, an NSERC Graduate Scholarship, and an NSERC-RBCM Systematics Research Graduate Supplement (to JRD). Additional support was provided by the Canadian Barcode of Life Network from Genome Canada through the Ontario Genomics Institute, NSERC (to LMH), and other sponsors listed at http://www.bolnet.ca. Field collecting was supported by grants from the Canadian Food and Inspection Agency and Vancouver Parks and Recreation. We wish to thank Allison Shaver (Agriculture and Agri-Food Canada) for slide preparation and photography, as well as the staff at the Canadian Centre for DNA Barcoding for their assistance with genetic analysis. We are also grateful to Claudia Copley (RBCM), Karen Needham (UBCZ) and Jane Seed (PFCA) for assistance with specimen deposition, Jason Dombroskie and Lisa Lumley (University of Alberta) for assistance with the tortricid identifications, and two anonymous reviewers for useful comments.
Electronic supplementary material
Below is the link to the electronic supplementary material.
About this article
Cite this article
deWaard, J.R., Landry, JF., Schmidt, B.C. et al. In the dark in a large urban park: DNA barcodes illuminate cryptic and introduced moth species. Biodivers Conserv 18, 3825–3839 (2009). https://doi.org/10.1007/s10531-009-9682-7
Received:

Accepted:

Published:

Issue Date:

DOI: https://doi.org/10.1007/s10531-009-9682-7
Keywords
Biodiversity inventory

COI

Cryptic species

Cytochrome oxidase 1

DNA barcodes

Introduced species

Invasive species

Lepidoptera

Stanley Park

Taxonomic impediment