Abstract
Integrated conservation and development projects (ICDPs) have had limited success in addressing the often conflicting objectives of conservation and development. We developed a model with local participants to explore the trade-offs between conservation and development in southeastern Cameroon, where illegal hunting is regarded as the greatest challenge to conservation. We simulated the effects of different ICDP strategies by varying the degree of focus on antipoaching activities, anticorruption measures and direct development investments, and by varying the overall budget for such activities. Our outcome variables were numbers of selected wildlife species and household incomes. The model outcomes from the different scenarios were used to stimulate debate among stakeholders. Contributing to poverty alleviation while maintaining current animal population sizes will be extremely difficult and will require long-term external financial support. Devoting greater attention to improving local environmental governance emerged as the highest priority for this investment. We used the model outputs to inform some of the major policy makers in the region. Participatory modeling is a valuable means of capturing the complexities of achieving conservation at landscape scales and of stimulating innovative solutions to entrenched problems.
Access options
Buy single article
Instant access to the full article PDF.
US$ 39.95
Tax calculation will be finalised during checkout.
Subscribe to journal
Immediate online access to all issues from 2019. Subscription will auto renew annually.
US$ 119
Tax calculation will be finalised during checkout.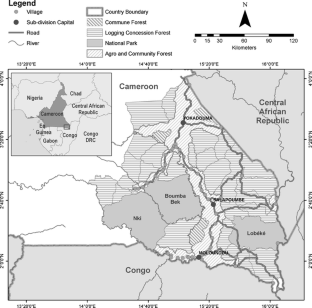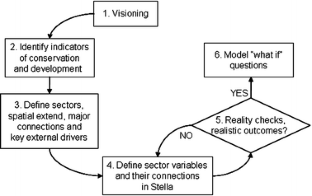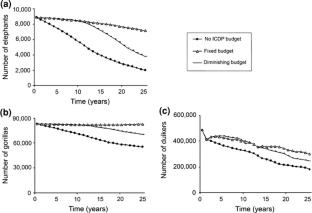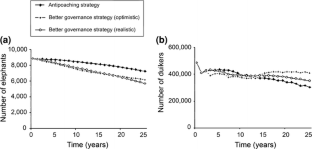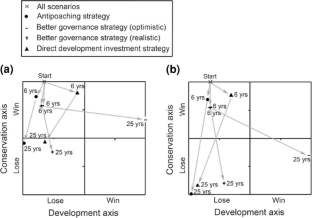 Abbreviations
ICDP:

Integrated conservation and development project

NGO:

Nongovernmental organization

SE TOU:

South east technical operational unit
References
Agrawal A, Gibson CC (1999) Enchantment and disenchantment: the role of community in natural resource management. World Dev 27:629–649. doi:10.1016/S0305-750X(98)00161-2

Alpert P (1996) Integrated conservation and development projects. Bioscience 46:845–855. doi:10.2307/1312970

Assembe-Mvondo S (2006) Decentralized forest resources and access of minorities to environmental justice: an analysis of the case of the Baka in southern Cameroon. Int J Environ Stud 63:681–689. doi:10.1080/00207230600963825

Barrett CB, Brandon K, Gibson C, Gjertson H (2001) Conserving topical biodiversity amid weak institutions. Bioscience 51:497–502. doi:10.1641/0006-3568(2001)051[0497:CTBAWI]2.0.CO;2

Barrett CB, Gibson C, Hoffman B, McCubbins MD (2006) The complex links between governance and biodiversity. Conserv Biol 20:1358–1366. doi:10.1111/j.1523-1739.2006.00521.x

Bennett E, Blencowe E, Brandon K, Brown D, Burn RW, Cowlishaw G, Davies G, Dublin H, Fa JE, Milner-Gulland EJ, Robinson JG, Rowcliffe JM, Underwood FM, Wilkie DS (2007) Hunting for consensus: reconciling bushmeat harvest, conservation and development policy in West and Central Africa. Conserv Biol 21:884–887. doi:10.1111/j.1523-1739.2006.00595.x

Bousquet F, Castella J-C, Trébuil G, Barnaud C, Boissau S, Kam SP (2007) Using multi-agent systems in a companion modeling approach for agroecosystem management in South-east Asia. Outlook Agric 36:57–62

Brown K (2002) Innovations for conservation and development. Geogr J 168:6–17. doi:10.1111/1475-4959.00034

Castella J-C, Kam SP, Quang DD, Verburg PH, Hoanh CT (2007) Combing top-down and bottom-up modelling approaches of land use/cover change to support public policies: application to sustainable management of natural resources in Northern Vietnam. Land use policy 24:531–545. doi:10.1016/j.landusepol.2005.09.009

CBFP (Congo Basin Forest Partnership) (2005) The forests of the Congo basin: a preliminary assessment. Central African Regional Programme for the Environment, Kinshasa, Democratic Republic of Congo, Washington, DC

CEFAID (Centre pour l'Education, la Formation et l'Appui aux Initiatives de Développement au Cameroun) (2004) Evaluation des COVAREF UTO/SE. CEFAID, Yokadouma

CEFAID (Centre pour l'Education, la Formation et l'Appui aux Initiatives de Développement au Cameroun) (2005) Etude socio-économique effectuée dans les villages voisins de l'Unité Forestière d'Aménagement 10064. CEFAID, Yokadouma

Cernea MM, Schmidt-Soltau K (2006) Poverty risks and National Parks: policy issues in conservation and development. World Dev 34:1808–1830. doi:10.1016/j.worlddev.2006.02.008

Chan KMA, Pringle RM, Ranganathan J, Boggs CL, Chan YL, Ehrlich PR, Haff PK, Heller NE, Al-Khafaji K, Macmynowski DP (2007) When agendas collide: human welfare and biological conservation. Conserv Biol 21:59–68

Chape S (2001) An overview of integrated approaches to conservation and community development in the Lao People's Democratic Republic. Parks 11:24–32

Chapin M (2004) A challenge to conservationists. Worldwatch magazine Nov/Dec. Worldwatch Institute, Washington, DC

Christensen J (2004) Win-win illusions. Conserv Pract 5:12–19. doi:10.1111/j.1526-4629.2004.tb00079.x

Cowling RM, Knight AT, Faith DP, Lombard AT, Desmet PG, Driver A, Ferrier S, Maze K, Rouget M (2004) Nature conservation requires more than a passion for species. Conserv Biol 18:1674–1677. doi:10.1111/j.1523-1739.2004.00296.x

Cowlishaw G, Mendelson S, Rowcliffe JM (2004) The bushmeat commodity chain: patterns of trade and sustainability in a mature urban market in West Africa. ODI wildlife policy brief 7. Overseas Development Institute, London

Duncan CR (2007) Mixed outcomes: the impact of regional autonomy and decentralization on indigenous ethnic minorities in Indonesia. Dev Change 38:711–733. doi:10.1111/j.1467-7660.2007.00430.x

Ekobo A (1998) Large mammals and vegetation surveys in the Boumba-Bek and Nki project area. World Wildlife Fund, Yokadouma

Emerton L, Bishop J, Thomas L (2006) Sustainable financing of protected areas: a global review of challenges and options. Best practice protected area guidelines series 13. International Union for Conservation of Nature, Gland

Ferraro P (2001) Global habitat protection: limitations of development interventions and a role for conservation performance payments. Conserv Biol 15:990–1000. doi:10.1046/j.1523-1739.2001.015004990.x

Ferraro P (2005) Corruption and conservation: the need for empirical analysis. A response to Smith and Walpole. Oryx 39:257–259. doi:10.1017/S003060530500075X

Ferraro PJ, Kiss A (2002) Direct payments to conserve biodiversity. Science 298:1718–1719. doi:10.1126/science.1078104

Fritzen SA (2007) Can the design of community-driven development reduce the risk of elita capture? Evidence from Indonesia. World Dev 35:1359–1375. doi:10.1016/j.worlddev.2007.05.001

GFW (Global Forest Watch) (2005) Interactive forestry atlas of Cameroon. World Resources Institute, Washington, DC

GTZ (German development cooperation) (2001) Etude Socio–économique de l'UTO Sud-est. Rapport Définitif, Yokadouma

Guha R (1997) The authoritarian biologist and the arrogance of anti-humanism: wildlife conservation in the third world. Ecologist 27:14–20

HPS (High Performance Systems) (1996) Stella and Stella research software. HPS, Hanover

Hutton JM, Leader-Williams N (2003) Sustainable use and incentive-driven conservation: realigning human and conservation interests. Oryx 37:215–226. doi:10.1017/S0030605303000395

Janzen D (1986) The future of tropical ecology. Annu Rev Ecol Syst 17:305–324. doi:10.1146/annurev.es.17.110186.001513

Kaufmann D (2003) Rethinking governance: empirical lessons challenge orthodoxy. World Economic Forum, Geneva

Kaufmann D, Kraay A, Mastruzzi M (2007) Governance matters VI: governance indicators for 1996–2006. In: World Bank policy research working paper No. 4280 World Bank, Washington, DC, USA

Kremen C, Merenlender AM, Murphy DD (1994) Ecological monitoring: a vital need for integrated conservation and development programs in the tropics. Conserv Biol 8:388–397. doi:10.1046/j.1523-1739.1994.08020388.x

Lynam T, Bousquet F, Le Page C, d'Aquino P, Barreteau O, Chinembiri F, Mombeshora B (2002) Adapting science to adaptive managers: spidergrams, belief models, and multi-agent systems modeling. Conservation Ecology 5: http://www.consecol.org/vol5/iss2/art24/

Malleson R (2002) Changing perspectives on forests, people and 'development': reflections on the case of the Korup forest. IDS Bull 33:94–101. doi:10.1111/j.1759-5436.2002.tb00011.x (Institute of Development Studies, Brighton, UK)

McShane T, Wells M (eds) (2004) Getting biodiversity projects to work: towards more effective conservation and development. Columbia University Press, New York

MINEFI (Ministry of Economy and Finance) (2005) Programme de sécurisation des recettes forestiers. Rapport annuel provisoire d'activités. Exercise 2005. MINEFI, Yaoundé

Mittermeier RA, Kormos CF, Goettsch-Mittermeier C, Robles-Gil P, Sandwith T, Besancon C (2005) Transboundary conservation: a new vision for protected areas. Conservation International, Arlington

Neumann RP (1998) Imposing wilderness: struggles over livelihood and nature preservation in Africa. University of California Press, Berkeley

Nzooh ZL (2003) Suivi écologique dans le Parc National de Lobéké et sa zone périphérique : données de base sur la dynamique des populations de grands et moyens mammifères et des activités anthropiques. World Wildlife Fund, Yokadouma

Nzooh ZL, Bassama C, Ndinga H (2005) Populations des grands et moyens mammifères dans les UFA 10–008, 10–009, 10–010, 10–012: données de base pour l'aménagement durable des conssessions. World Wildlife Fund, Yokadouma

Oates JF (1999) Myth and reality in the rainforest: how conservation strategies are failing in Africa. University of California Press, Berkeley

Oyono PR, Ribot JC, Larson AM (2006) Green and black gold in rural Cameroon: natural resources for local governance, justice and sustainability. Environmental governance in Africa working papers 22. World Resources Institute, Washington, DC

Palmer C (2005) The nature of corruption in forest management. World Econ 6:1–10

Ribot JC (2007) Waiting for democracy: the politics of choice in natural resource decentralization. World Resources Institute, Washington, DC

Robbins P, McSweeney K, Waite T, Rice J (2006) Even conservation rules are made to be broken: implications for biodiversity. Environ Manage 37:162–169. doi:10.1007/s00267-005-0009-5

Romero C, Andrade G (2004) International conservation organisations and the fate of local tropical forest conservation initiatives. Conserv Biol 18:578–580. doi:10.1111/j.1523-1739.2004.00397.x

Salafsky N, Wollenberg E (2000) Linking livelihoods and conservation: a conceptual framework and scale for assessing the integration of human needs and biodiversity. World Dev 28:1421–1438. doi:10.1016/S0305-750X(00)00031-0

Sanderson SE, Redford K (2003) Contested relationships between biodiversity conservation and poverty alleviation. Oryx 37:389–390. doi:10.1017/S003060530300070X

Sandker M, Suwarno A, Campbell BM (2007) Will forests remain in the face of oil palm expansion? Simulating change in Malinau, Indonesia. Ecol Soc 12:37. http://www.ecologyandsociety.org/vol12/iss2/art37/

Sayer J, Campbell B (2004) The science of sustainable development. Cambridge University Press, Cambridge

Schmidt-Soltau K (2004) The costs of rainforest conservation: local responses towards integrated conservation and development projects in Cameroon. J Contemp Afr Stud 22:93–117. doi:10.1080/0258900042000179625

Smith RJ, Walpole MJ (2005) Should conservationists pay more attention to corruption? Oryx 39:251–256. doi:10.1017/S0030605305000608

Smith RJ, Muir RDJ, Walpole MJ, Balmford A, Leader-Williams N (2003a) Governance and the loss of biodiversity. Nature 426:67–70. doi:10.1038/nature02025

Smith J, Obidzinski K, Subarudi, Suramenggala I (2003b) Illegal logging, collusive corruption and fragmented governments in Kalimantan, Indonesia. Int For Rev 5:293–302

Terborgh J, van Schaik C, Davenport L, Rao M (2002) Making parks work: strategies for preserving tropical nature. Island Press, Washington, DC

UN (United Nations) (2006) World urbanization prospects: the 2005 revision. Database. Department of Economic and Social Affairs, New York

UNFPA (United Nations Population Fund) (2007) Country profiles for population and reproductive health, policy developments and indicators 2005. UNFPA, New York

van Noordwijk M, Tomich TP, Verbist B (2001) Negotiation support models for integrated natural resource management in tropical forest margins. Conservation Ecology 5: http://www.consecol.org/vol5/iss2/art21/

Wells M, Guggenheim S, Khan A, Wardojo W, Jepson P (1998) Investing in biodiversity. A review of Indonesia's integrated conservation and development projects. World Bank, Washington, DC

Wilshusen PR, Brechin SR, Fortwangler CL, West PC (2002) Reinventing a square wheel: critique of a resurgent "protection paradigm" in international biodiversity conservation. Soc Nat Resour 15:17–40. doi:10.1080/089419202317174002

World Bank (2006) GNI per capita 2005, atlas method and PPP, world development indicators database. World Bank, Washington, DC
About this article
Cite this article
Sandker, M., Campbell, B.M., Nzooh, Z. et al. Exploring the effectiveness of integrated conservation and development interventions in a Central African forest landscape. Biodivers Conserv 18, 2875–2892 (2009). https://doi.org/10.1007/s10531-009-9613-7
Received:

Accepted:

Published:

Issue Date:
Keywords
Cameroon

Corruption

Environmental governance

ICDP

Integrated conservation and development project

Participatory modeling

Trade-offs

Simulation models