Abstract
Pine tree invasions threaten many natural ecosystems of the Southern Hemisphere, modifying their structure and functioning through shifts in fire regimes, water balance, and biodiversity. The magnitude of such impacts depends on how much of the landscape has been invaded, thus a better understanding of the dispersal ability of pines and predictions of their future invasions are needed. Here we depict the spatio-temporal patterns of Pinus elliottii and Pinus taeda invading a new environment away from planted plots (i.e., invasion front), and discuss the underlying mechanisms that lead to a very concerning, yet poorly documented, pine invasion in central Argentina. Combining high-resolution imagery, allometric field data, and dendrochronology, we reconstructed the pine invasion into mountain grasslands from its onset in 1990. We found that even though the maximum density of invading pines (80 trees ha−1) was very low compared to adjacent plantation (1000 trees ha−1), density decreases exponentially with distance from the plantation edge. Remarkably, invading pines were found throughout the sampling plots showing high dispersal capacity, with no differences in age with increasing distance. The observed low density and spatially widespread exotic pine establishment, create a stealth type of invasion that is difficult to perceive in its early stages and challenging to manage once large areas are compromised. As invasion continues, long-distance dispersal will possibly become a major agent of landscape transformation and may lead to large pine-dominated neo-ecosystems, such as the savanna-like formation described here that replaced native grasslands in only three decades.
This is a preview of subscription content, log in to check access.
Access options
Buy single article
Instant access to the full article PDF.
US$ 39.95
Price includes VAT for USA
Subscribe to journal
Immediate online access to all issues from 2019. Subscription will auto renew annually.
US$ 99
This is the net price. Taxes to be calculated in checkout.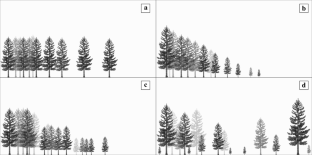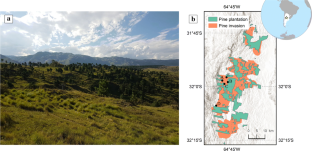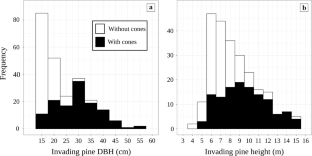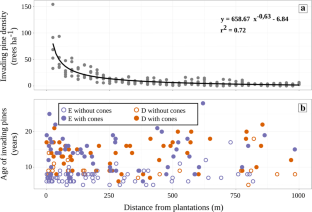 References
Abreu RCR, Durigan G (2011) Changes in the plant community of a Brazilian grassland savannah after 22 years of invasion by Pinus elliottii Engelm. Plant Ecol Divers 4:269–278. https://doi.org/10.1080/17550874.2011.594101

Argañaraz JP, Gavier Pizarro G, Zak M et al (2015a) Human and biophysical drivers of fires in Semiarid Chaco mountains of Central Argentina. Sci Total Environ 520:1–12. https://doi.org/10.1016/j.scitotenv.2015.02.081

Argañaraz JP, Pizarro GG, Zak M, Bellis LM (2015b) Fire regime, climate, and vegetation in the Sierras de Córdoba, Argentina. Fire Ecol 11:55–73. https://doi.org/10.4996/fireecology.1101055

Bechara FC, Reis A, Bourscheid K et al (2013) Reproductive biology and early establishment of Pinus elliottii var. elliottii in Brazilian sandy coastal plain vegetation: implications for biological invasion. Sci Agric 70:88–92. https://doi.org/10.1590/S0103-90162013000200005

Boulant N, Kunstler G, Rambal S, Lepart J (2008) Seed supply, drought, and grazing determine spatio-temporal patterns of recruitment for native and introduced invasive pines in grasslands. Divers Distrib 14:862–874. https://doi.org/10.1111/j.1472-4642.2008.00494.x

Brewer JS, Souza FM, Callaway RM, Durigan G (2018) Impact of invasive slash pine (Pinus elliottii) on groundcover vegetation at home and abroad. Biol Invasions 20:2807–2820. https://doi.org/10.1007/s10530-018-1734-z

Buckley HL, Freckleton RP (2010) Understanding the role of species dynamics in abundance–occupancy relationships. J Ecol 98:645–658. https://doi.org/10.1111/j.1365-2745.2010.01650.x

Buckley YM, Brockerhoff E, Langer L et al (2005) Slowing down a pine invasion despite uncertainty in demography and dispersal. J Appl Ecol 42:1020–1030. https://doi.org/10.1111/j.1365-2664.2005.01100.x

Bunn AG (2008) A dendrochronology program library in R (dplR). Dendrochronologia 26:115–124. https://doi.org/10.1016/j.dendro.2008.01.002

Burns RM, Honkala BH (1990) Silvics of North America. Volume 1. Conifers. Agriculture Handbook (Washington), (654)

Cabido M, Ateca N, Astegiano ME, Anton AM (1997) Distribution of C3 and C4 grasses along an altitudinal gradient in Central Argentina. J Biogeogr 24:197–204. https://doi.org/10.1046/j.1365-2699.1997.00085.x

Camarero J, Gutiérrez E, Fortin M, Ribbens E (2005) Spatial patterns of tree recruitment in a relict population of Pinus uncinata: forest expansion through stratified diffusion. J Biogeogr 32:1979–1992. https://doi.org/10.1111/j.1365-2699.2005.01333.x

Caplat P, Coutts S, Buckley YM (2010) Gone with the wind: high-resolution analysis of pine dispersal in New Zealand mountains. In: SM Zydenbos (ed) Proceedings of the 17th Australian weeds conference. pp 190–193

Caplat P, Nathan R, Buckley YM (2012) Seed terminal velocity, wind turbulence, and demography drive the spread of an invasive tree in an analytical model. Ecology 93(2):368–377. https://doi.org/10.1890/11-0820.1

Carrillo-Gavilán MA, Lalagüe H, Vilà M (2010) Comparing seed removal of 16 pine species differing in invasiveness. Biol Invasions 12:2233–2242. https://doi.org/10.1007/s10530-009-9633-y

Chapela IH, Osher LJ, Horton TR, Henn MR (2001) Ectomycorrhizal fungi introduced with exotic pine plantations induce soil carbon depletion. Soil Biol Biochem 33:1733–1740. https://doi.org/10.1016/S0038-0717(01)00098-0

Cingolani AM, Vaieretti MV, Giorgis MA et al (2013) Can livestock and fires convert the sub-tropical mountain rangelands of central Argentina into a rocky desert? Rangel J 35:285–297. https://doi.org/10.1071/RJ12095

Clark JS, Silman M, Kern R et al (1999) Seed dispersal near and far: patterns across temperate and tropical forests. Ecology 80:1475–1494. https://doi.org/10.1890/0012-9658(1999)080[1475:SDNAFP]2.0.CO;2

Clark JS, Lewis M, Horvath L (2001) Invasion by extremes: population spread with variation in dispersal and reproduction. Am Nat 157:537–554. https://doi.org/10.1086/319934

Cóbar-Carranza AJ, García RA, Pauchard A, Peña E (2014) Effect of Pinus contorta invasion on forest fuel properties and its potential implications on the fire regime of Araucaria araucana and Nothofagus antarctica forests. Biol Invasions 16:2273–2291. https://doi.org/10.1007/s10530-014-0663-8

CONAE (2013) Incendios en Córdoba vistos desde el Espacio. CONAE. http://www.conae.gov.ar/index.php/espanol/2013/518-incendios-en-cba. Accessed 10 June 2019

Coutts SR, Caplat P, Cousins K et al (2012) Reproductive ecology of Pinus nigra in an invasive population: individual- and population-level variation in seed production and timing of seed release. Ann For Sci 69:467–476. https://doi.org/10.1007/s13595-012-0184-5

Damgaard C (2019) A critique of the space-for-time substitution practice in community ecology. Trends Ecol Evol 34:416–421. https://doi.org/10.1016/j.tree.2019.01.013

Díaz S, Acosta A, Cabido M (1994) Community structure in montane grasslands of central Argentina in relation to land use. J Veg Sci 5:483–488. https://doi.org/10.2307/3235974

Dickie IA, Bufford JL, Cobb RC et al (2017) The emerging science of plant-fungal invasions. New Phytol 215:1314–1332. https://doi.org/10.1111/nph.14657

Dorado M, Astini E, Verzino G et al (1997) Growth curves for Pinus elliottii, Pinus taeda and Pinus radiata in two areas of the Calamuchita Valley (Córdoba, Argentina). For Ecol Manage 95:173–181. https://doi.org/10.1016/S0378-1127(97)00009-1

Farley KA, Jobbágy EG, Jackson RB (2005) Effects of afforestation on water yield: a global synthesis with implications for policy. Glob Chang Biol 11:1565–1576. https://doi.org/10.1111/j.1365-2486.2005.01011.x

Giorgis MA, Tecco PA, Cingolani AM et al (2011) Factors associated with woody alien species distribution in a newly invaded mountain system of central Argentina. Biol Invasions 13:1423–1434. https://doi.org/10.1007/s10530-010-9900-y

Hayward J, Horton TR, Nuñez MA (2015) Ectomycorrhizal fungal communities coinvading with Pinaceae host plants in Argentina: Gringos bajo el bosque. New Phytol 208:497–506. https://doi.org/10.1111/nph.13453

Higgins SI, Richardson DM (1999) Predicting plant migration rates in a changing world: the role of long-distance dispersal. Source Am Nat 153:464–475. https://doi.org/10.1086/303193

Higgins SI, Richardson DM, Cowling RM (2000) Using a dynamic landscape model for planning the management of alien plant invasions. Ecol Appl 10:1833–1848. https://doi.org/10.1890/1051-0761(2000)010[1833:UADLMF]2.0.CO;2

Holmes RL (1983) Computer-assisted quality control in tree-ring dating and measurement. Tree-ring Bull 43:69–78

Izurieta G, Abud D, Izaurralde J (1993) Plantaciones de Pinos de la Provincia de Córdoba. In: Congreso Forestal Argentino y Latinoamericano. p 103

Jobbágy EG, Acosta AM, Nosetto MD (2013) Water yield in primary watersheds under grasslands and pine plantations in the hills of Córdoba (Argentina) [Rendimiento hídrico en cuencas primarias bajo pastizales y plantaciones de pino de las sierras de Córdoba (Argentina)]. Ecol Austral 23:87–96

Kumschick S, Gaertner M, Vila M et al (2015) Ecological impacts of alien species: quantification, scope, caveats, and recommendations. Bioscience 65:55–63. https://doi.org/10.1093/biosci/biul93

Langdon B, Pauchard A, Aguayo M (2010) Pinus contorta invasion in the Chilean Patagonia: local patterns in a global context. Biol Invasions 12:3961–3971. https://doi.org/10.1007/s10530-010-9817-5

Ledgard N (2001) The spread of lodgepole pine (Pinus contorta, Dougl.) in New Zealand. For Ecol Manage 141:43–57. https://doi.org/10.1016/S0378-1127(00)00488-6

Menghi M, Cabido M, Peco B, Pineda FD (1989) Grassland heterogeneity in relation to lithology and geomorphology in the Córdoba Mountains, Argentina. Vegetatio 84:133–142. https://doi.org/10.1007/BF00036514

Moles AT, Westoby M (2004) Seedling survival and seed size: a synthesis of the literature. J Ecol 92:372–383. https://doi.org/10.1111/j.0022-0477.2004.00884.x

Münzbergová Z, Hadincová V, Wild J et al (2010) Spatial and temporal variation in dispersal pattern of an invasive pine. Biol Invasions 12:2471–2486. https://doi.org/10.1007/s10530-009-9656-4

Murray BR, Phillips ML (2010) Investment in seed dispersal structures is linked to invasiveness in exotic plant species of south-eastern Australia. Biol Invasions 12:2265–2275. https://doi.org/10.1007/s10530-009-9637-7

Nuñez MA, Dickie IA (2014) Invasive belowground mutualists of woody plants. Biol Invasions. https://doi.org/10.1007/s10530-013-0612-y

Nuñez MA, Paritsis J (2018) How are monospecific stands of invasive trees formed? Spatio-temporal evidence from Douglas fir invasions. AoB Plants. https://doi.org/10.1093/aobpla/ply041

Nuñez MA, Simberloff D, Relva MA (2008) Seed predation as a barrier to alien conifer invasions. Biol Invasions 10:1389–1398. https://doi.org/10.1007/s10530-007-9214-x

Nuñez MA, Horton TR, Simberloff D (2009) Lack of belowground mutualisms hinders Pinaceae invasions. Ecology 90:2352–2359. https://doi.org/10.1890/08-2139.1

Nuñez MA, Chiuffo MC, Torres A et al (2017) Ecology and management of invasive Pinaceae around the world: progress and challenges. Biol Invasions 19:3099–3120. https://doi.org/10.1007/s10530-017-1483-4

Pauchard A, García R, Zalba S et al (2015) Pine invasions in South America: reducing their ecological impacts through active management. Biological invasions in changing ecosystems: vectors, ecological impacts Management and Predictions. Universidad de Concepción Institute of Ecology and Biodiversity (IEB), Facultad de Ciencias Forestales, Chile, pp 318–342

Pauchard A, Escudero A, García RA et al (2016) Pine invasions in treeless environments: dispersal overruns microsite heterogeneity. Ecol Evol 6:447–459. https://doi.org/10.1002/ece3.1877

Pena E, Hidalgo M, Langdon B, Pauchard A (2008) Patterns of spread of Pinus contorta Dougl. ex Loud. invasion in a natural reserve in southern South America. For Ecol Manage 256:1049–1054. https://doi.org/10.1016/j.foreco.2008.06.020

Policelli N, Bruns TD, Vilgalys R, Nuñez MA (2019) Suilloid fungi as global drivers of pine invasions. New Phytol 222:714–725. https://doi.org/10.1111/nph.15660

Pyšek P, Richardson DM (2008) Traits associated with invasiveness in alien plants: where do we stand? In: Biological invasions. Springer: Heidelberg pp 97–125

R development team (2020) R: a language and environment for statistical computing. R Foundation for Statistical Computing, Vienna, Austria. https://www.R-project.org/

Reinhart KO, Callaway RM (2006) Soil biota and invasive plants. New Phytol. https://doi.org/10.1111/j.1469-8137.2006.01715.x

Reninson D, Cingolani AM, Suárez R (2002) Effects of fire on a Polylepis australis (Rosaceae) woodland in the mountains of Córdoba, Argentina. Rev Chil Hist Nat 75:719–727

Richardson DM, Pyšek P (2006) Plant invasions: merging the concepts of species invasiveness and community invasibility. Prog Phys Geogr 30:409–431. https://doi.org/10.1191/0309133306pp490pr

Richardson DM, Williams PA, Hobbs RJ (1994) Pine invasions in the Southern Hemisphere: determinants of spread and invadability. J Biogeogr 21:511–527

Richardson DM, Van Wilgen BW, Nuñez MA (2008) Alien conifer invasions in South America: short fuse burning? Biol Invasions 10:573–577. https://doi.org/10.1007/s10530-007-9140-y

Rouget M, Richardson D, Milton S, Polakow D (2001) Invasion dynamics of four alien Pinus species in a highly fragmented semi-arid Shrubland in South Africa. Plant Ecol 152:79–92. https://doi.org/10.1023/A:1011412427075

Rundel PW, Dickie IA, Richardson DM (2014) Tree invasions into treeless areas: mechanisms and ecosystem processes. Biol Invasions 16:663–675. https://doi.org/10.1007/s10530-013-0614-9

Schulman E (1956) Dendroclimatic changes in semiarid America. University of Arizona Press, Tucson

Simberloff D, Nuñez MA, Ledgard NJ et al (2010) Spread and impact of introduced conifers in South America: lessons from other southern hemisphere regions. Austral Ecol 35:489–504. https://doi.org/10.1111/j.1442-9993.2009.02058.x

Sprague R, Godsoe W, Hulme PE (2019) Assessing the utility of aerial imagery to quantify the density, age structure and spatial pattern of alien conifer invasions. Biol Invasions. https://doi.org/10.1007/s10530-019-01960-8

Stokes MA, Smiley TL (1996) An introduction to tree-ring dating. University of Arizona Press, Tucson

Taylor KT, Maxwell BD, Pauchard A et al (2016) Drivers of plant invasion vary globally: evidence from pine invasions within six ecoregions. Glob Ecol Biogeogr 25:96–106. https://doi.org/10.1111/geb.12391

Teste FP, Simard SW, Durall DM et al (2009) Access to mycorrhizal networks and roots of trees: importance for seedling survival and resource transfer. Ecology 90:2808–2822. https://doi.org/10.1890/08-1884.1

Urcelay C, Longo S, Geml J et al (2017) Co-invasive exotic pines and their ectomycorrhizal symbionts show capabilities for wide distance and altitudinal range expansion. Fungal Ecol 25:50–58. https://doi.org/10.1016/j.funeco.2016.11.002

van Wilgen BW, Richardson DM (2012) Three centuries of managing introduced conifers in South Africa: benefits, impacts, changing perceptions and conflict resolution. J Environ Manage 106:56–68. https://doi.org/10.1016/j.jenvman.2012.03.052

van Wilgen BW, Siegfried WR (1986) Seed dispersal properties of three pine species as a determinant of invasive potential. South African J Bot 52:546–548

Veldman JW, Overbeck GE, Negreiros D et al (2015) Where tree planting and forest expansion are bad for biodiversity and ecosystem services. Bioscience 65:1011–1018. https://doi.org/10.1093/biosci/biv118

Venables WN, Ripley BD (2013) Modern applied statistics with S-PLUS. Springer Science & Business Media, Heidelberg

Villalba R, Veblen TT (1997) Improving estimates of total tree ages based on increment core samples. Ecoscience 4:534–542. https://doi.org/10.1080/11956860.1997.11682433

Wickham H (2016) ggplot2: elegant graphics for data analysis. Springer, Heidelberg

Wickham H, Henry L (2019) Tidyr: Tidy Messy Data. R Package version 100

Wickham H, Francois R, Henry L, Müller K (2015) dplyr: A grammar of data manipulation. R Package version 83:3

Yokomizo H, Possingham HP, Thomas MB, Buckley YM (2009) Managing the impact of invasive species: the value of knowing the density–impact curve. Ecol Appl 19:376–386. https://doi.org/10.1890/08-0442.1

Zenni RD, Simberloff D (2013) Number of source populations as a potential driver of pine invasions in Brazil. Biol Invasions 15:1623–1639. https://doi.org/10.1007/s10530-012-0397-4

Zuur A, Ieno EN, Walker N et al (2009) Mixed effects models and extensions in ecology with R. Springer Science & Business Media, Heidelberg
Acknowledgements
We thank to R. Páez, F. López Rosa, J. Alfageme and M. Poca for their help with the field work; and J.I. Wihtworth-Hulse and S. Alsina for their contributions to data manipulation. We also thank the two anonymous referees for improving the manuscript during peer-review.
Funding
Funding was provided by CONICET (Grant No. P-UE 22920160100037CO).
Ethics declarations
Conflict of interest
The authors declare they have no conflicts of interest.
Additional information
Publisher's Note
Springer Nature remains neutral with regard to jurisdictional claims in published maps and institutional affiliations.
Electronic supplementary material
Below is the link to the electronic supplementary material.
About this article
Cite this article
Milani, T., Jobbágy, E.G., Nuñez, M.A. et al. Stealth invasions on the rise: rapid long-distance establishment of exotic pines in mountain grasslands of Argentina. Biol Invasions (2020). https://doi.org/10.1007/s10530-020-02303-8
Received:

Accepted:

Published:
Keywords
Pinus elliottii
Pinus taeda

Invasion front

Age structure

Long-distance dispersal

Sierras de Córdoba