Abstract
Soil seedbanks play a key role in forest plant communities, contributing to regeneration and acting as a refuge from seed predators. This study provides evidence that seeds entering the soil seedbank are vulnerable to granivory by invasive earthworms in temperate forests. Overall, 73 % of seeds of 6 ecologically important forest species were removed from the soil surface over 2 weeks in a Lumbricus terrestris microcosm experiment; 30 % vanished entirely, and presumably were destroyed. The invasive garlic mustard, Alliaria petiolata, was subject to the highest rates of removal. In contrast, results from a field exclosure experiment using 23 species of seed indicate that while seed predation by worms is still detectable, predation by rodents often may mask impacts of earthworms under natural conditions. Worms and rodents preferred different sizes of seeds: while seed predation by rodents was high in mid- to large-seeded species, earthworms tended to prefer smaller seeds. These findings suggest that although rodents are the main driver of seed predation, invasive earthworms may act as an additional ecological filter, and potentially may further influence the species composition of forest plant communities.
Access options
Buy single article
Instant access to the full article PDF.
USD 39.95
Price excludes VAT (USA)
Tax calculation will be finalised during checkout.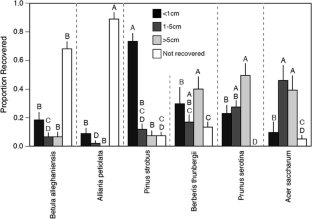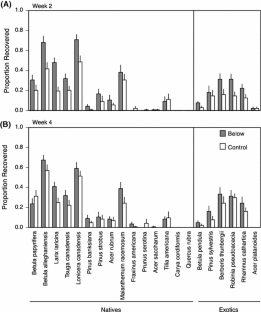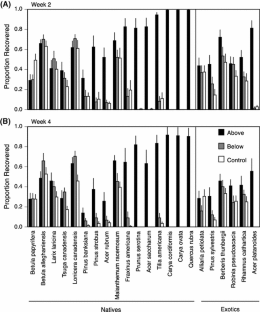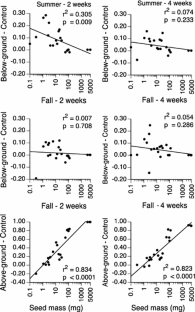 References
Addison JA (2009) Distribution and impacts of invasive earthworms in Canadian forest ecosystems. Biol Invasions 11:59–79

Baskin CC, Baskin JM (1998) Seeds: ecology, biogeography, and evolution of dormancy and germination. Academic Press, San Diego

Blaney CS, Kotanen PM (2001) Post-dispersal losses to seed predators: an experimental comparison of native and exotic old field plants. Can J Bot 79:284–292

Bohlen P, Groffman PM, Fahey TJ, Fisk MC, Suarez E, Pelletier DM, Fahey RT (2004a) Ecosystem consequences of exotic earthworm invasion of north temperate forests. Ecosystems 7:1–12

Bohlen PJ, Scheu S, Hale CM, McLean MA , Migge S, Groffman PM, Parkinson D (2004b) Non-native invasive earthworms as agents of change in northern temperate forests. Front Ecol Environ 2:427–435

Burns RM, Honkala BH (1990) Silvics of North America, Vol 2: Hardwoods. Agriculture Handbook 654. United States Department of Agriculture, Forest Service, Washington, DC

Chambers JC, MacMahon JA (1994) A day in the life of a seed: movements and fates of seeds and their implication for natural and managed systems. Annu Rev Ecol Syst 25:263–292

Choi A (2012) Invasive earthworm (Oligochaeta: Lumbricidae) populations in varying vegetation types on a landscape- and local- scale. M.Sc. in forestry thesis, Faculty of Forestry, University of Toronto

Clark CJ, Poulsen JR, Levey DJ, Osenberg CW (2007) Are plant populations seed limited? A critique and meta-analysis of seed addition experiments. Am. Nat 170:128–142

Clause J, Forey E, Lortie CJ, Lambert AM, Barot S (2015) Non-native earthworms promote plant invasion by ingesting seeds and modifying soil properties. Acta Oecol 64:10–20

Crawley MJ (1992) Seed predators and plant population dynamics. In: Fenner M (ed) Seeds: the ecology of regeneration in plant communities. CAB International, Wallingford, pp 157–192

Darwin C (1881) The formation of vegetable mould through the action of worms. Cambridge University Press, Cambridge

Dávalos A, Nuzzo VA, Blossey B (2014) Demographic responses of rare forest plants to multiple stressors: the role of deer, invasive species, and nutrients. J Ecol 102:1222–1233

Dobson A, Blossey B (2015) Earthworm invasion, white-tailed deer and seedling establishment in deciduous forests of north-eastern North America. J Ecol 103:153–164

Drouin M, Bradley R, Lapointe R, Whalen J (2014) Non-native anecic earthworms (Lumbricus terrestris L.) reduce seed germination and seedling survival of temperate and boreal trees species. Appl Soil Ecol 75:145–149

Edwards CA, Bohlen PJ (1996) Biology and ecology of earthworms, 3rd edn. Chapman and Hall, London

Eisenhauer N, Scheu S (2008) Invasibility of experimental grassland communities: the role of earthworms, plant functional group identity and seed size. Oikos 117:1026–1036

Eisenhauer N, Straube D, Johnson EA, Parkinson D, Scheu S (2009a) Exotic ecosystem engineers change the emergence of plants from the seed bank of a deciduous forest. Ecosystems 12:1008–1016

Eisenhauer N, Schuy M, Butenschoen O, Scheu S (2009b) Direct and indirect effects of endogeic earthworms on plant seeds. Pedobiologia 52:151–162

Eisenhauer N, Butenschoen O, Radsick S, Scheu S (2010) Earthworms as seedling predators: importance of seeds and seedlings for earthworm nutrition. Soil Biol Biochem 42:1245–1252

Evers A, Gordon A, Gray P, Dunlop W (2012) Implications of a potential range expansion of invasive earthworms in ontario's forested ecosystems: a preliminary vulnerability analysis. Ontario Ministry of Natural Resources Climate Change research report CCRR-23

Falls JB, Falls EA, Fryxell JM (2007) Fluctuations of deer mice in Ontario in relation to seed crops. Ecol Monogr 77:19–32

Fenner M (1985) Seed ecology. Chapman and Hall, London

Fenner M (ed) (2000) Seeds: the ecology of regeneration in plant communities, 2nd edn. CAB International, Oxford, pp 215–235

Fenner M, Thompson K (2005) The ecology of seeds. Cambridge University Press, Cambridge

Fisichelli NA, Frelich LE, Reich PB, Eisenhauer N (2013) Linking direct and indirect pathways mediating earthworms, deer, and understory composition in Great Lakes forests. Biol Invasions 15:1057–1066

Forey E, Barot S, Decaëns T, Langlois E, Laossi KL, Margerie P, Scheu S, Eisenhauer N (2010) Importance of earthworm-seed interactions for the structure and composition of plant communities: a review. Acta Oecol 37:594–603

Frelich LE, Hale CM, Scheu S, Holdsworth AR, Heneghan L, Bohlen PJ, Reich PB (2006) Earthworm invasion into previously earthworm-free temperate and boreal forests. Biol Invasions 8:1235–1245

Griffith B, Turke M, Weisser WW, Eisenhauer N (2013) Herbivore behaviour in the anecic earthworm species Lumbricus terrestris L.? Eur J Soil Biol 55:62–65

Hale CM, Frelich LE, Reich PB (2006) Changes in hardwood forest understory plant communities in response to European earthworm invasions. Ecology 87:1637–1649

Hendrix PF, Callaham MA, Drake JM, Huang CY, James CW, Snyder BA, Zhang W (2008) Pandora's box contained bait: the global problem of introduced earthworms. Annu Rev Ecol Evol Syst 39:593–613

Honek A, Martinkova Z, Jarosik V (2003) Ground beetles (Carabidae) as seed predators. Eur J Entomol 100:531–544

Hopfensperger KN, Leighton GM, Fahey TJ (2011) Influence of invasive earthworms on above and belowground vegetation in a northern hardwood forest. Am Midl Nat 166:53–62

Hsia JF, Francl KE (2009) Postdispersal sugar maple (Acer saccharum) seed predation by small mammals in a Northern hardwood forest. Am Midl Nat 162:213–233

Hulme PE (1998) Post-dispersal seed predation: consequences for plant demography and evolution. Perspect Plant Ecol Evol Syst 1:32–46

Kirk RE (1995) Experimental design: procedures for the behavioral sciences, 3rd edn. Brooks/Cole, Pacific Grove  

Larson ER, Kipfmueller KF, Hale CM, Frelich LE, Reich PB (2010) Tree rings detect earthworm invasions and their effects in northern hardwood forests. Biol Invasions 12:1053–1066

Lawrence B, Fisk MC, Fahey TJ, Suarez ER (2003) Influence of nonnative earthworms on mycorrhizal colonization of sugar maple (Acer saccharum). New Phytol 157:145–153

Leck MA, Parker VT, Simpson RL (1989) Ecology of soil seed banks. Academic Press, San Diego

Lengyel S, Gove AD, Latimer AM, Majer JD, Dunn RR (2010) Convergent evolution of seed dispersal by ants, and phylogeny and biogeography in flowering plants: a review. Perspect Plant Ecol Evol Syst 12:43–55

Maron JK, Pearson DE, Potter T, Ortega YK (2012) Seed size and provenance mediate the joint effects of disturbance and seed predation on community assembly. J Ecol 100:1492–1500

McRill M, Sagar GR (1973) Earthworms and seeds. Nature 243:482

Meiners SJ (2005) Seed and seedling ecology of Acer saccharum and Acer platanoides: a contrast between native and exotic congeners. Northeast Nat 12:23–32

Milcu A, Schumacher J, Scheu S (2006) Earthworms (Lumbricus terrestris) affect plant seedling recruitment and microhabitat heterogeneity. Funct Ecol 20:261–268

Mull JF (2003) Dispersal of sagebrush-steppe seeds by the western harvester ant (Pogonomyrmex occidentalis). West N Am Nat 63:358–362

Myster RW, Pickett STA (1993) Effects of litter, distance, density and vegetation patch type on postdispersal tree seed predation in old fields. Oikos 66:381–388

Nuzzo V, Dávalos A, Blossey B (2015) Invasive earthworms shape forest seed bank composition. Divers Distrib 21:560–570

Peters S, Boutin S, Macdonald E (2003) Pre-dispersal seed predation of white spruce cones in logged boreal mixedwood forest. Can J For Res 33:33–40

Quackenbush P, Butler RA, Emery NC, Jenkins MA, Kladivko EJ, Gibson KD (2012) Lumbricus terrestris prefers to consume garlic mustard (Alliaria petiolata) seeds. Invasive Plant Sci Manag 5:148–154

Reader RJ (1993) Control of seedling emergence by ground cover and seed predation in relation to seed size for some old-field species. J Ecol 81:169–175

Reynolds JW (1977) The earthworms (Lumbricidae and Sparganophilidae) of Ontario. Royal Ontario Museum Toronto, Ontario

Schnurr JL, Ostfeld RS, Canham CD (2002) Direct and indirect effects of masting on rodent populations and tree seed survival. Oikos 96:402–410

Shumway DL, Koide RT (1994) Seed preferences of Lumbricus terrestris. Appl Soil Ecol 1:11–15

Thompson K (1987) Seeds and seed banks. New Phytol 106:23–34

Vander Wall SB (2001) The evolutionary ecology of nut dispersal. Bot Rev 67:74–117

Wrobel A, Zwolak R (2013) The choice of seed tracking method influenced fate of beech seeds dispersed by rodents. Plant Ecol 214:471–475
Acknowledgments
This work was supported by an NSERC Discovery Grant, with assistance from Koffler Scientific Reserve. Leighanne Goodine, Gurpreet Mangat, Diane Krajewski, Saba Haroon, and Romeo Samson all did important pilot research for this paper. Thanks also to the Ontario Tree Seed Facility and the National Tree Seed Centre for providing some of the seeds used in this research.
About this article
Cite this article
Cassin, C.M., Kotanen, P.M. Invasive earthworms as seed predators of temperate forest plants. Biol Invasions 18, 1567–1580 (2016). https://doi.org/10.1007/s10530-016-1101-x
Received:

Accepted:

Published:

Issue Date:

DOI: https://doi.org/10.1007/s10530-016-1101-x
Keywords
Invasive earthworms

Seed predation

Granivory

Seed bank

Lumbricus terrestris

Exotic species