Abstract
The application of the Geographic Profiling technique (with the "Rossmo formula") proved to be effective in assessing the spreading origin of invading species of Caulerpa in the Mediterranean. Geoprofiling is a technique more frequently used in criminology. We applied this method to an algal invasion for the first time. The method was calibrated with the distribution data of Caulerpa taxifolia, whose spreading in the Mediterranean Sea started from the aquarium of Monaco. This is the first time that Geographic Profiling is calibrated on a data set of sites of presence of a biological invader, of which the spreading origin is known. The application on Caulerpa racemosa var. cylindracea showed that the probable spreading center of the alga should be located in Western Sicily for the Mediterranean and in the southern part of Tenerife for the Canary Islands (Las Galletas, a fishing village). The spreading centers correspond to areas with ports, indicating that the spreading of this alga should be related to (fishing) boats. This result confirmed the opinion of other authors. The parameters used in the Rossmo Formula, obtained through calibration with the known origin of C. taxifolia invasion for identifying the origin of the spread of C. racemosa var. cylindracea may be extended to other algae with similar propagation mode and similar habitat requirements.
Access options
Buy single article
Instant access to the full article PDF.
US$ 39.95
Tax calculation will be finalised during checkout.
Subscribe to journal
Immediate online access to all issues from 2019. Subscription will auto renew annually.
US$ 79
Tax calculation will be finalised during checkout.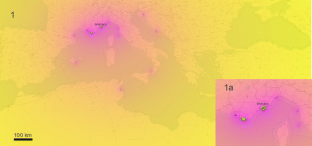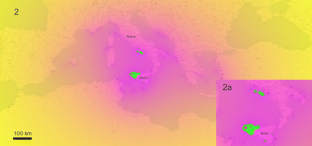 References
Ben Rais Lasram F, Guilhaumon F, Albouy C, Somot S, Thuiller W, Mouillot D (2010) The Mediterranean Sea as a 'cul-de-sac' for endemic fishes facing climate change. Glob Change Biol 16:3233–3245

Carvalho N, Liddle L, Caye G, Meinesz A (1998) Current knowledge on the biological cycle of the genus Caulerpa and karyological studies on Caulerpa taxifolia. In: Boudouresque C-F, Gravez V, Meinesz A, Palluy F (eds) 3rd International workshop on Caulerpa taxifolia, Marseille, 19–20 September 1997. GIS Posidonie, Marseille, pp 127–132

Ceccherelli G, Piazzi L (2001) Dispersal of Caulerpa racemosa fragments in the Mediterranean: lack of detachment time effect on establishment. Bot Mar 44:209–213

Dramstad W (1996) Do bumblebees (Hymenoptera: Apidae) really forage close to their nests? J. Insect Behav 9:163–182

Famà P, Olsen JL, Stam WT, Procaccini G (2000) High levels of intra-and inter-individual polymorphism in the rDNS ITS1 of Caulerpa racemosa (Chlorophyta). Eur J Phycol 35:349–356

Hiddink JG, Ben Rais Lasram F, Cantrill J, Davies AJ (2012) Keeping pace with climate change: what can we learn from the spread of Lessepsian migrants? Glob Change Biol (accepted). doi:10.1111/j.1365-2486.2012.02698.x

Hill D, Coquillard P, Vaugelas J, Meinesz A (1998) An algorithmic model for invasive species: application to Caulerpa taxifolia (Vahl) C. Agardh development in the North-Western Mediterranean Sea. Ecol Model 109:251–265

Jousson O, Pawlowski J, Zaninetti L, Meinesz A, Boudouresque CF (1998) Molecular evidence for the aquarium origin of the green alga Caulerpa taxifolia introduced to the Mediterranean Sea. Mar Ecol Prog Ser 172:275–280

Le Comber SC, Nicholls B, Rossmo DK, Racey PA (2006) Geographic profiling and animal foraging. J Theor Biol 240:233–240

Le Comber SC, Rossmo DK, Hassan AN, Fuller DO, Beier JC (2011) Geographic profiling as a novel spatial tool for targeting infectious disease control. Int J Health Geograph 10:35

Lejeusne C, Chevaldonné P, Pergent-Martini C, Boudouresque CF, Pérez T (2010) Climate change effects on a miniature ocean: the highly diverse, highly impacted Mediterranean Sea. Trends Ecol Evol 25:250–260

Lipkin Y (1972) Contribution to the knowledge of Suez canal migration. Marine algal and seagrass flora of the Suez canal. Israel J Zool 21:405–446

Martin RA, Rossmo DK, Hammerschlag N (2009) Hunting patterns and geographic profiling of white shark predation. J Zool 279:111–118

Meinesz A (1992) Modes de dissémination de l'algue Caulerpa taxifolia introduite en Méditerranée. Rapport de la Commission Internationale sur la Mer Méditerranée 33:44

Meinesz A, Hesse B (1991) Introduction et invasion de l'algue tropicale Caulerpa taxifolia en Méditerranée nord-occidentale. Oceanol Acta 14:415–426

Meinesz A, Belsher T, Thibaut T et al (2001) The introduced green alga Caulerpa taxifolia continues to spread in the Mediterranean. Biol Invasions 3:201–210

Miller RT (1974) The jackknife—a review. Biometrika 61(1):1–15

Nizamuddin M (1991) The green marine algae of Libya. Elga Publ., Bern, 227 pp

Panayotidis P, Zuljevic A (2001) Sexual reproduction of the invasive green alga Caulerpa racemosa var. occidentalis in the Mediterranean sea. Oceanol Acta 24:199–203

Papini A, Sordo L, Mosti S (2011) Surface interactions of the epiphytic macroalga Hincksia mitchelliae (Phaeophyceae) with the shoalgrass, Halodule wrightii (Cymodoceaceae). J Phycol 47(1):118–122

Piazzi L, Cinelli F (1999) Developpement et dynamique saisonniere d'un peuplement mediterraneen de l'algue tropicale Caulerpa racemosa (Forskål) J. Agardh. Cryptogamie Algologie 20:295–300

Piazzi L, Meinesz A, Verlaque M et al (2005) Invasion of Caulerpa racemosa var. cylindracea (Caulerpales, Chlorophyta) in the Mediterranean Sea: an assessment of the spread. Cryptogamie Algologie 26:189–202

Raine NE, Rossmo DK, Le Comber SC (2009) Geographic profiling applied to testing models of bumble-bee foraging. J R Soc Interface 6:307–319

Relini G, Relini M, Torchia G (2000) The role of fishing gear in the spreading of allochthonous species: the case of Caulerpa taxifolia in the ligurian Sea. ICES J Mar Sci 57:1421–1427

Renoncourt L, Meinesz A (2002) Formation of propagules on an invasive strain of Caulerpa racemosa (Chlorophyta) in the Mediterranean Sea (Research Note). Phycologia 41:533–535

Ricciardi A, Cohen J (2007) The invasiveness of an introduced species does not predict its impact. Biol Invasions 9:309–315

Rossmo DK (1993) A methodological model. Am J Crim Justice 172:1–21

Rossmo DK (2000) Geographic profiling. CRC Press, Boca Raton

Sant N, Delgado O, Rodriguez-Prieto C, Ballesteros E (1996) The spreading of the introduced seaweed Caulerpa taxifolia (Vahl) C. Agardh in the Mediterranean Sea: testing the boat transportation hypothesis. Bot Mar 39:427–430

Saville NM, Dramstad WE, Fry GLA, Corbet SA (1997) Bumblebee movement in a fragmented agricultural landscape. Agric Ecosyst Environ 61:145–154

Singh HP, Batish DR, Kohli RK (2001) Allelopathy in agroecosystems. An overview. J Crop Prod 4:1–41

Stevenson MD, Rossmo DK, Knell RJ, Le Comber SC (2012) Geographic profiling as a novel spatial tool for targeting the control of invasive species. Ecography 35:1–12

Strayer DL, Eviner VT, Jeschke JM, Pace ML (2006) Understanding the long-term effects of species invasions. Trends Ecol Evol 21:645–651

Suzuki-Ohno Y, Inoue MN, Ohno K (2010) Applying geographic profiling used in the field of criminology for predicting the nest locations of bumble bees. J Theor Biol 265:211–217

Turan G, Tekogul H, Cirik S, Meinesz A (2011) First record of the invasive green seaweed Caulerpa taxifolia (Bryopsidales) on the coast of turkey. Cryptogamie Algologie 32(4):379–382

Verlaque M, Durand C, Huisman JM, Boudouresque CF, Le Parco Y (2003) On the identity and origin of the Mediterranean invasive Caulerpa racemosa (Caulerpales, Chlorophyta). Eur J Phycol 38:325–339

Verlaque M, Carrillo JA, Gil-Rodriguez MC, Durand C, Boudouresque CF, Le Parco Y (2004) Blitzkrieg in a marine invasion: Caulerpa racemosa var. cylindracea (Bryopsidales, Chlorophyta) reaches the Canary Islands (north-east Atlantic). Biol Invasions 6:269–281

Vitousek P, D'Antonio CM, Loope L, Westbrooks R (1996) Biological invasions as global environmental change. Am Sci 84:468–478

Wilcover DS, Rothstein D, Dubow J, Phillips A, Losos E (1998) Quantifying threats to imperilled species in the United States. Bioscience 48:607–615
Acknowledgments
This work was supported by the Antonino Caponnetto Foundation. We thank the anonymous reviewers for their help and Dr. Rossmo and Dr. Suzuki-Ohno for their suggestions.
Electronic supplementary material
Below is the link to the electronic supplementary material.
About this article
Cite this article
Papini, A., Mosti, S. & Santosuosso, U. Tracking the origin of the invading Caulerpa (Caulerpales, Chlorophyta) with Geographic Profiling, a criminological technique for a killer alga. Biol Invasions 15, 1613–1621 (2013). https://doi.org/10.1007/s10530-012-0396-5
Received:

Accepted:

Published:

Issue Date:
Keywords
Algae

Caulerpa

Biological invasion

Geographic Profiling

Mediterranean Sea