Abstract
Objective
To achieve continuous production of fructooligosaccharides (FOS) by recycling of the mycelial cells containing the thermal-stable β-fructofuranosidase in Aspergillus niger without immobilization.
Results
The thermal-stable β-fructofuranosidase FopA-V1 was successfully expressed in A. niger ATCC 20611 under the control of the constitutive promoter PgpdA. The engineered A. niger strain FV1-11 produced the β-fructofuranosidase with improved thermostability, which remained 91.2% of initial activity at 50 °C for 30 h. Then its mycelial β-fructofuranosidase was recycled for the synthesis of FOS. It was found that the enzyme still had 79.3% of initial activity after being reused for six consecutive cycles, whereas only 62.3% β-fructofuranosidase activity was detected in the parental strain ATCC 20611. Meanwhile, the FOS yield of FV1-11 after six consecutive cycles reached 57.1% (w/w), but only 51.0% FOS yield was detected in ATCC 20611.
Conclusions
The thermal-stable β-fructofuranosidase produced by A. niger can be recycled to achieve continuous synthesis of FOS with high efficiency, providing a powerful and economical strategy for the industrial production of FOS.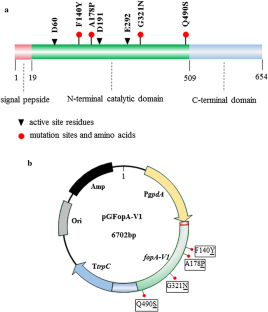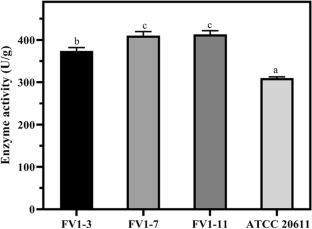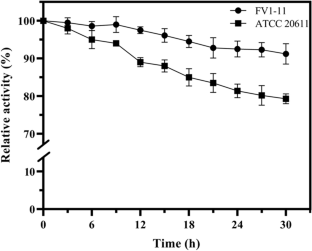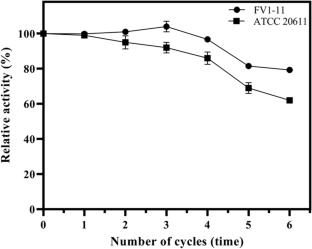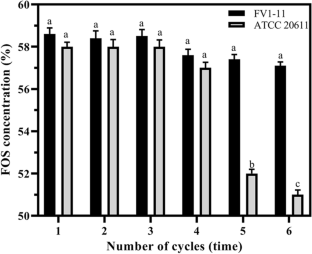 Acknowledgements
This work was supported by the grants from the National Key R&D Program of China (No. 2018YFA0900503), the Shandong Key Research and Development Program (No. ZR2019ZD19), and the Youth Interdisciplinary Science and Innovative Research Groups of Shandong University (2020QNQT006).
Supporting information
Supplementary Table 1—Primers used in this study.
Supplementary Figure 1—Chromatography profiles of FOS production.
Ethics declarations
Conflict of interest
The authors declare that they have no competing interests.
Ethical approval
This article does not contain any studies with human participants or animals performed by any of the authors.
Additional information
Publisher's Note
Springer Nature remains neutral with regard to jurisdictional claims in published maps and institutional affiliations.
Supplementary Information
Below is the link to the electronic supplementary material.
About this article
Cite this article
Wang, J., Zhang, J., Wang, L. et al. Continuous production of fructooligosaccharides by recycling of the thermal-stable β-fructofuranosidase produced by Aspergillus niger. Biotechnol Lett (2021). https://doi.org/10.1007/s10529-021-03099-w
Received:

Accepted:

Published:
Keywords
Aspergillus niger

Continuous production

Fructooligosaccharides (FOS)

Thermostability

β-fructofuranosidase