Abstract
Objective
To compare four enzymatic protocols for mesenchymal stem cells (MSCs) isolation from amniotic (A-MSC) and chorionic (C-MSC) membranes, umbilical cord (UC-MSC) and placental decidua (D-MSC) in order to define a robust, practical and low-cost protocol for each tissue.
Results
A-MSCs and UC-MSCs could be isolated from all samples using trypsin/collagenase-based protocols; C-MSCs could be isolated from all samples with collagenase- and trypsin/collagenase-based protocols; D-MSCs were isolated from all samples exclusively with a collagenase-based protocol.
Conclusions
The trypsin-only protocol was least efficient; the collagenase-only protocol was best for C-MSCs and D-MSCs; the combination of trypsin and collagenase was best for UC-MSCs and none of tested protocols was adequate for A-MSCs isolation.
Access options
Buy single article
Instant access to the full article PDF.
USD 39.95
Price includes VAT (USA)
Tax calculation will be finalised during checkout.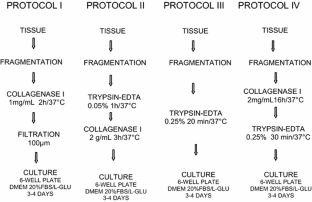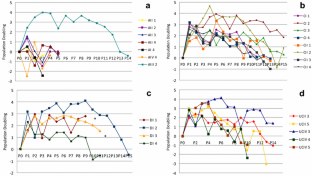 References
Barlow S, Brooke G, Chatterjee K, Price G et al (2008) Comparison of human placenta- and bone marrow-derived multipotent mesenchymal stem cells. Stem Cells Dev 17:1095–1108

Bortolotti F, Ukovich L, Razban V, Martinelli V, Ruozi G, Pelos B, Dore F, Giacca M, Zacchigna S (2015) In vivo therapeutic potential of mesenchymal stromal cells depends on the source and the isolation procedure. Stem Cell Rep 4:332–339

Bosch J, Houben AP, Radke TF, Stapelkamp D, Bünemann E, Balan P, Buchheiser A, Liedtke S, Kögler G (2012) Distinct differentiation potential of "MSC" derived from cord blood and umbilical cord: are cord-derived cells true mesenchymal stromal cells? Stem Cells Dev 21:1977–1988

Brooke G, Rossetti T, Pelekanos R, Ilic N et al (2008) Manufacturing of human placenta-derived mesenchymal stem cells for clinical trials. Br J Haematol 144:571–579

Castrechini NM, Murthi P, Gude NM, Erwich JJ, Gronthos S, Zannettino A, Brennecke SP, Kalionis B (2010) Mesenchymal stem cells in human placental chorionic villi reside in a vascular Niche. Placenta 31:203–212

Choudhery MS, Badowski M, Muise A, Harris D (2013) Comparison of human mesenchymal stem cells derived from adipose and cord tissue. Cytotherapy 15:330–343

Dominici M, Le Blanc K, Mueller I, Slaper-Cortenbach I, Marini FC, Krause DS, Deans R, Keating A, Prockop Dj, Horwitz E (2006) Minimal criteria for defining multipotent mesenchymal stromal cells. The International Society for Cellular Therapy position statement. Cytotherapy 8:315–317

Fonseca ESVB, Cabar FR, Nomura RMY (2008) Anatomia e Fisiologia. In: Zugaib M (ed) Obstetrícia I. Manole, São Paulo, pp 43–186

González PL, Carvajal C, Cuenca J, Alcayaga-Miranda F, Figueroa FE, Bartolucci J, Salazar-Aravena L, Khoury M (2015) Chorion mesenchymall stem cells show superior differentiation and immunosuppressive and angiogenic potential comparison with haploidentical maternal placental cells. Stem Cells Transl Med 4:1–13

Han YF, Tao R, Sun TJ, Chai JK, Xu G, Liu J (2013) Optimization of human umbilical cord mesenchymal stem cell isolation and culture methods. Cytotechnology 65:819–827

Horwitz EM, Le Blanc K, Dominici M, Mueller I, Slaper-Cortenbach I, Marini FC, Deans RJ, Krause DS, Keating A (2005) Clarification of the nomenclature for MSC: the International Society for Cellular Therapy position statement. Cytotherapy 7:393–395

Hu J, Cai Z, Zhou Z (2009) Progress in studies on the characteristics of human amnion mesenchymal cells. Prog Nat Sci 19:1047–1052

Indumathi S, Harikrishnan R, Mishra R, Rajkumar JS, Padmapriya V, Lissa RP, Dhanasekaran M (2013) Comparison of feto-maternal organ derived stem cells in facets of immunophenotype, proliferation and differentiation. Tissue Cell 45:434–442

Kanematsu D, Shofuda T, Yamamoto A, Ban C, Ueda T, Yamasaki M, Kanemura Y (2011) Isolation and cellular properties of mesenchymal cells derived from the decidua of human term placenta. Differentiation 82:77–88

Kim MJ, Shin KS, Jeon JH, Lee DR, Shim SH, Kim JK, Cha DH, Yoon TK, Kim GJ (2011) Human chorionic-plate-derived mesenchymal stem cells and Wharton's jelly-derived mesenchymal stem cells: as placenta-derived stem cells. Cell Tissue Res 346:53–64

Kmiecik G, Niklinska W, Pancewicz-Wojtkiewicz J, Fil D, Karwowska A, Karczewski J, Mackiewicz Z (2013) Fetal membranes as a source of stem cells. Adv Med Sci 58:185–195

Koike C, Zhou K, Takeda Y, Fathy M, Okabe M, Yoshida T, Nakamura Y, Kato Y, Nikaido T (2014) Characterization of amniotic stem cells. Cell Reprogram 16:298–305

Koo BK, Park IY, Kim J, Kim JH, Kwon A, Kim M, Kim Y, Shin JC, Kim JH (2012) Isolation and characterization of chorionic mesenchymal stromal cells from human full term placenta. J Korean Med Sci 27:857–863

Lee JM, Jung J, Lee HJ, Jeong SJ, Cho KJ, Hwang SG, Kim GJ (2012) Comparison of immunomodulatory effects of placenta mesenchymal stem cells with bone marrow and adipose mesenchymal stem cells. Int Immunopharmacol 13:219–224

Li D, Chai J, Shen C, Han Y, Sun T (2014) Human umbilical cord-derived mesenchymal stem cells differentiate into epidermal-like cells using a novel co-culture technique. Cytotechnology 66:699–708

Li X, Yang Q, Bai J, Xuan Y, Wang Y (2015) Identification of appropriate reference genes for human mesenchymal stem cell analysis by quantitative real-time PCR. Biotechnol Lett 37:67–73

Lu G, Zhu S, Ke Y, Jiang X, Zhang S (2013) Transplantation-potential-related biological properties of decidua basalis mesenchymal stem cells from maternal human term placenta. Cell Tissue Res 352:301–312

Mahmood R, Choudhery MS, Mehmood A, Khan SN, Riazuddin S (2015) In vitro differentiation potential of human placenta derived cells into skin cells. Stem Cells Int 2015:841062

Manochantr S, U-pratya Y, Kheolamai P, Rojphisan S, Chayosumrit M, Tantrawatpan C, Supokawej A, Issaragrisil S (2013) Immunosuppressive properties of mesenchymal stromal cells derived from amnion, placenta, Wharton's jelly and umbilical cord. Intern Med J 43:430–439

Martinelli D, Pereira RC, Mogni M, Benelli R, Mastrigiacomo M, Coviello D, Cancedda R, Gentili C (2016) A humanized system to expand in vitro amniotic fluid-derived stem cells intend for clinical application. Cytotherapy 18:438–451

Martini MM, Jeremias TS, Kohler MC, Marostica LL, Trentin AG, Alvarez-Silva M (2013) Human placenta-derived mesenchymal stem cells acquire neural phenotype under the appropriate niche conditions. DNA Cell Biol 32:58–65

Meirelles LS, Chagastelles PC, Nardi NB (2006) Mesenchymal stem cells reside in virtually all post-natal organs and tissues. J Cell Sci 119:2204–2213

Paladino FV, Peixoto-Cruz JS, Santacruz-Perez C, Goldberg AC (2016) Comparison between isolation protocols highlights intrinsic variability of human umbilical cord mesenchymal cells. Cell Tissue Bank 17:123–136

Pappa KI, Anagnou NP (2009) Novel sources of fetal stem cells: where do they fit on the developmental continuum? Regen Med 4:423–433

Parolini O, Alviano F, Bagnara GP, Bilic G et al (2008) Concise review: isolation and characterization of cells from human term placenta: outcome of the first international workshop on placenta derived stem cells. Stem Cells 26:300–311

Portmann-Lanz CB, Schoeberlein A, Huber A, Sager R, Malek A, Holzgreve W, Surbek DV (2006) Placental mesenchymal stem cells as potential autologous graft for pre-and perinatal neuroregeneration. Am J Obstet Gynecol 194:664–673

Seo MS, Park SB, Kim HS, Kang JG, Chae JS, Kang KS (2013) Isolation and characterization of equine amniotic membrane-derived mesenchymal stem cells. J Vet Sci 14:151–159

Shaw SWS, David AL, De Coppi P (2011) Clinical applications of prenatal and postnatal therapy using stem cells retrieved from amniotic fluid. Curr Opin Obstet Gynecol 23:109–116

Smith JR, Pfeifer K, Petry F, Powell N, Delzeit J, Weiss ML (2016) Standardizing umbilical cord mesenchymal stromal cells for translation to clinical use: selection of GMP-compliant medium and a simplified isolation method. Stem Cells Int. https://doi.org/10.1155/2016/6810980

Soncini M, Vertua E, Gibelli L, Zorzi F, Denegri M, Albertini A, Wengler GS, Parolini O (2007) Isolation and characterization of mesenchymal cells from human fetal membranes. J Tissue Eng Regen Med 1:296–305

Tamagawa T, Oi S, Ishiwata I, Ishikawa H, Nakamura Y (2007) Differentiation of mesenchymal cells derived from human amniotic membranes into hepatocyte-like cells in vitro. Hum Cell 20:77–84

Veryasov VN, Savilova AM, Buyanovskaya OA, Chulkina MM, Pavlovich SV, Sukhikh GT (2014) Isolation of mesenchymal stromal cells from extraembryionic tissues and their characteristics. Bull Exp Biol Med 1:119–124

Wang HS, Hung SC, Peng ST, Huang CC, Wei HM, Guo YJ, Fu YS, Lai MC, Chen CC (2004) Mesenchymal stem cells in the Wharton's jelly of the human umbilical cord. Stem Cells 22:1330–1337

Yen BL, Huang HI, Chien CC, Jui HY, Ko BS, Yao M, Shun CT, Yen ML, Lee MC, Chen YC (2005) Isolation of multipotent cells from human term placenta. Stem Cells 23:3–9

Zhang H, Tao Y, Liu H, Ren S, Zhang B, Chen H (2017) Immunomodulatory function of whole human umbilical cord derived mesenchymal stem cells. Mol Immunol 87:293–299

Zhu SF, Zhong ZN, Fu XF, Peng DX, Lu GH, Li WH (2013) Comparison of cell proliferation, apoptosis, cellular morphology and ultrastructure between human umbilical cord and placenta-derived mesenchymal stem cells. Neurosci Lett 541:77–82
Supplementary information
Supplementary Fig. 1—Representative images of collected tissues. After cord blood collection, segments of umbilical cord and placenta were collected (a). The umbilical cord (b), amniotic membrane (c), chorionic membrane and placental decidua (d) were separated. Tissues were thoroughly washed with saline before fragmentation, and the umbilical cord vessels were removed. Amniotic membrane (e), chorionic membrane (f), placental decidua (g) and umbilical cord (h).
Supplementary Fig. 2—Cells morphology of cultures of MCSs obtained from neonatal tissues (P3–P5). (A) A-MSCs: heterogeneous cultures containing fibroblast-like cells and circular/polygonal cells. (B) C-MSCs, (C) D-MSCs and (D) UC-MSCs presented a homogeneous population of fibroblast-like cells. Original magnification 100x.
Supplementary Table 1—Immunophenotype comparison of MSCs (P3-P5) derived from amniotic membrane (A-MSC), chorionic membrane (C-MSC), placental decidua (D-MSC) and umbilical cord (UC-MSC) using different protocols, analyzed by flow cytometry. Undifferentiated cells were marked with monoclonal antibodies. The results are presented by mean percentage ± standard deviation.
Supplementary Fig. 3—A representative example of differentiation capacity (P3-P5) of cells isolated from amniotic membrane (A), chorionic membrane (C), placental decidua (D) and umbilical cord (UC). Considering that the different protocols didn't affect cell differentiation capacity, only one protocol for each cell source is presented. Cultured cell was exposed to medium for induce osteogenic (stained with Alizarin Red), adipogenic (stained with Oil Red) and chodrogenic (stained with Alcian Blue) differentiation. The magnification is indicated on lower right of each image.
Ethics declarations
Conflict of interest
The authors declare that they have no conflicts of interest.
Electronic supplementary material
Below is the link to the electronic supplementary material.
About this article
Cite this article
Araújo, A.B., Furlan, J.M., Salton, G.D. et al. Isolation of human mesenchymal stem cells from amnion, chorion, placental decidua and umbilical cord: comparison of four enzymatic protocols. Biotechnol Lett 40, 989–998 (2018). https://doi.org/10.1007/s10529-018-2546-z
Received:

Accepted:

Published:

Issue Date:
Keywords
Amniotic membrane

Chorionic membrane

Mesenchymal stem cells

Neonatal tissues

Placental decidua

Umbilical cord