Abstract
Chronic lymphocytic leukemia (CLL) is a clonal proliferative disease of mature B lymphocytes. To further improve the prognosis of patients, it is necessary to further elucidate the pathogenesis of CLL and find more effective therapeutic targets. Nuclear Factor of Activated T cells 5 (NFAT5) is the major activated transcription factor (TF) upon osmotic pressure increase in mammalian cells, and it also regulates many target genes to affect various cellular functions. The effects of NFAT5 on tumor growth and metastasis have also been widely revealed. However, the effects of NFAT5 on the progression of CLL are still unclear. In this study, we found abnormally high expression of NFAT5 in human CLL patients. Additionally, NFAT5 depletion suppressed proliferation and stimulated apoptosis of CLL cells. Our data further confirmed NFAT5 regulated AQP5 expression and the phosphorylation of p38 MAPK. We also found that AQP5 overexpression reversed the inhibitory effect of NFAT5 depletion on cell proliferation in CLL cells. Furthermore, we revealed STUB1 directly bound to NFAT5 and promoted its degradation. Taken together, our results indicate the involvement of NFAT5 in CLL progression and suggest that NFAT5 could serve as a promising therapeutic target for CLL treatment.
Access options
Buy single article
Instant access to the full article PDF.
US$ 39.95
Tax calculation will be finalised during checkout.
Subscribe to journal
Immediate online access to all issues from 2019. Subscription will auto renew annually.
US$ 79
Tax calculation will be finalised during checkout.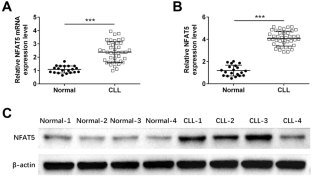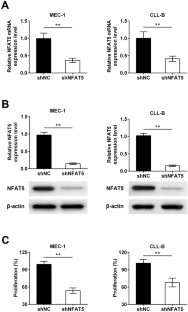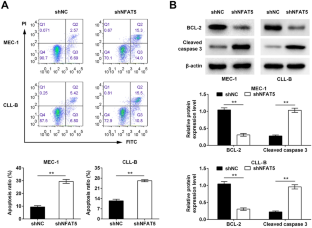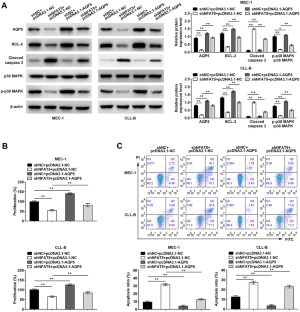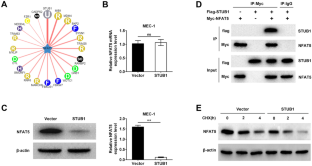 Data Availability
All data generated or analyzed during this study are included in this published article.
Ethics declarations
Conflict of Interest
The authors state that there are no conflicts of interest to disclose.
Ethical Approval
Ethical approval was obtained from the Ethics Committee of Affiliated Hospital of Guilin Medical University.
Informed Consent
Written informed consent was obtained from legally authorized representative(s) for anonymized patient information to be published in this article.
Additional information
Publisher's Note
Springer Nature remains neutral with regard to jurisdictional claims in published maps and institutional affiliations.
About this article
Cite this article
Chen, B.L., Li, Y., Xu, S. et al. NFAT5 Regulated by STUB1, Facilitates Malignant Cell Survival and p38 MAPK Activation by Upregulating AQP5 in Chronic Lymphocytic Leukemia. Biochem Genet (2021). https://doi.org/10.1007/s10528-021-10040-3
Received:

Accepted:

Published:
Keywords
Chronic lymphocytic leukemia (CLL)

Nuclear factor of activated T cells 5 (NFAT5)

Transcription factor (TF)

Proliferation

Migration