Abstract
The present meta-analysis was carried to provide the more reliable estimates of gene frequency and association of Rsa 1 generated candidate genotype of prolactin gene within exon-3 with performance traits in 1198 Indian dairy cows using data from 15 published studies. Six genetic models viz., codominant (AA vs. AB, AA vs. BB and AB vs. BB), dominant (AA+AB vs. BB), completely over dominant (AA+BB vs. AB) and recessive (AA vs. AB+BB) were used to obtain standardized mean difference (SMD) between genotypes. Meta-analysis showed that the gene frequency of A allele (156 bp) was 0.60 (95% confidence interval (CI) 0.54, 0.65). In association analysis, cows with AB genotype [SMD = 0.65, 95% CI 0.00, 1.30] had significantly (P < 0.05) higher lactation milk yield (LMY) as compared to BB genotype, whereas AA and AB genotypes had similar trend. Likewise, AA + AB also had larger effect [SMD = 2.31, 95% CI 0.21, 4.10] on LMY as compared to BB. Cows with AB genotype had significantly lower age at first calving (AFC) with small effect [SMD (AA vs. AB) = 1.38, 95% CI 0.06, 2.70] and medium effect [SMD (AB vs. BB) =  − 3.83, 95% CI − 6.41, − 1.24] as compared to cows with AA and BB genotypes, respectively. This finding was confirmed under dominant and completely over dominant models. In case of fat%, AA genotype showed negative effect (SMD =  − 0.51, 95% CI − 0.84, − 0.17) under recessive model. It was concluded that the propagation of allele A is promising to help dairy farmers to improve the genetic quality of their dairy cows.
Access options
Buy single article
Instant access to the full article PDF.
US$ 39.95
Tax calculation will be finalised during checkout.
Subscribe to journal
Immediate online access to all issues from 2019. Subscription will auto renew annually.
US$ 79
Tax calculation will be finalised during checkout.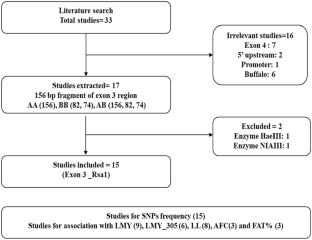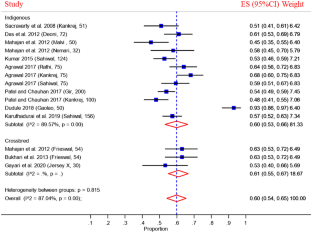 Data Availability
The data that support the findings of this study are available from the corresponding author upon reasonable request.
References
Alfonso E, Rojas R, Herrera JG, Ortega ME, Lemus C, Ruiz J, Pinto R, Gómez H (2012) Polymorphism of the prolactin gene (Prl) and its relationship with milk production in American Swiss cattle. Afr J Biotechnol 11:7338–7343

Alipanah M, Kalashnikova LA, Rodionov GV (2008) Kappacasein and PRL-Rsa I genotypic frequencies in two Russian cattle breeds. Arch de Zootec 57(218):131–138

Aravindakshan TV, Venkatachalapathy RT, James SP, Kurien E, Iype S (2004) Polymorphism of the prolactin gene locus in Vechur and other dwarf (Kassargode) cattle of Kerala detected by PCR-RFLP. Indian J Dairy Sci 57(4):246–249

Borenstein M, Hedges LV, Higgins JPT, Rothstein HR (2009) Introduction to meta-analysis. Wiley, Chichester

Bukhari S, Khan NN, Gupta P, Das A, Raher GA, Chakraborty D, Pandey A (2013) Biology prolactin gene polymorphism and its associations with milk production traits in Frieswal cow. Int J Mol Zool 3(3):10–13

Cao X, Wang Q, Yan JB, Yang FK, Huang SZ, Zeng YT (2002) Molecular cloning and analysis of bovine prolactin full-long genomic as well as cDNA sequences. Acta Genet Sin 29:768–773

Das ND, Hatkar DN, Sri Hari VG, Srinivas BV, Kaliaperumal R, Reddy OA, Krishnamurthy L (2012) Genetic polymorphisms of exons 3 and 4 of prolactin (PRL) gene in deoni cattle breed and their association with milk production traits. Int J Livest Res 2(3):120–126

DerSimonian R, Laird N (1986) Meta-analysis in clinical trials. Control Clin Trials 7:177–188

Dudule P D (2018) Study of prolactin gene polymorphism in gaolao cattle. MVSc Thesis, MAFSU, Nagpur, India

Dybus A (2002) Associations of growth hormone (GH) and prolactin (PRL) genes polymorphisms with milk production traits in polish Black-and-White cattle. Anim Sci Pap Rep 20:203–212

Dybus A, Grzesiak W, Kamieniecki H, Szatkowska I, Sobek Z, Blaszczyk P, Pitkowska EC, Zych S, Muszynska M (2005) Association of genetic variants of bovine prolactin with milk production traits of Black-and-White and Jersey cattle. Arch Tierz 48(2):149–156

Gayari I, Ferdoci AM, Aziz A, Zaman GU, Akhtar F, Deka R (2020) Prolactin gene polymorphism in crossbred cattle of Assam and its association with productive and reproductive traits. Int J Chem Stud 8(2):717–722

Ghasemi N, Zadehrahmani M, Rahimi G, Hafezian SH (2009) Associations between prolactin gene polymorphism and milk production in Montebeliard cows. Int J Genet Mol Biol 1(3):48–96

Higgins JP, Thompson SG, Deeks JJ, Altman DG (2003) Measuring inconsistency in meta-analyses. BMJ 327(7414):557–560

Karuthadurai T, Chakravarthy AK, Kumaresan A, Kour A, Nag BSP, Rana E, Ravikumar D, Yousuf S (2019) Identification of genetic marker for prolactin gene related to milk yield in pedigreed Sahiwal population. Indian J Anim Res 53:566–571

Kruger S, Plaschke J, Jeske B, Gorgens H, Pistorius SR, Bier A, Kreuz FR, Theissig F, Aust DE, Saeger HD, Schackert HK (2003) Identification of six novel MSH2 and MLH1 germ line mutations in HNPCC. Hum Mutat 21(4):445–446

Kumar S (2015) Genetic polymorphism of prolactin and leptin gene and their association with production and reproduction traits in Sahiwal cattle in India MVSc Thesis, DUVASU, Mathura

Kumari RA, Singh KM, Soni KJ, Patel RK, Chauhan JB, Rao KRSS (2008) Genotyping of the polymorphism within exon 3 of prolactin gene in various dairy breeds by PCR RFLP. Arch Tierz 51(3):298–299

Mahajan V, Parmar SNS, Thakur MS, Sharma G, Vaishali PM (2012) Prolactin gene polymorphism and its association with milk production in Malvi, Nimari and Frieswal cattle. Indian J Anim Sci 82(4):388–391

Mahmoudi P, Rostamzadeh J, Rashidi A, Zergani E, Razmkabir M (2020) A meta-analysis on association between CSN3 gene variants and milk yield and composition in cattle. Anim Genet 51(3):369–381

Mitra A, Schelee P, Balakrishnan CR, Pirchner F (1995) Polymorphisms at growth-hormone and prolactin loci in Indian cattle and Buffalo. J Anim Breed Genet 112:71–74

Nyaga VN, Arbyn M, Aerts M (2014) Metaprop: a Stata command to perform meta-analysis of binomial data. Arch Public Health 72:39

Oğuzkan SB, Bozkurt AS (2019) A study on the effect of prolactin gene variants on milk production traits of holstein cattle. Russ J Genet 55:480–486

Ozdemir M, Kopuzlu S, Topal M, Bilgin OC (2018) Relationships between milk protein polymorphisms and production traits in cattle: a systematic review and meta-analysis. Arch Tierz 61:197–206

Patel JB, Chauhan JB (2017) Polymorphism of the prolactin gene and its relationship with milk production in Gir and Kankrej cattle. J Nat Sci Biol Med 8(2):167–170

Sacravarty G, Vadodaria V, Joshi C, Brahmkhtri B, Shah R, Solanki J (2008) Prolactin gene polymorphism and its association with economic traits in kankerj cattle. Indian J Dairy Sci 61:273–276

Singh U, Deb R, Kumar S, Singh R, Sengar G, Sharma A (2015) Association of prolactin and beta-lactoglobulin genes with milk production traits and somatic cell count among Indian Frieswal (HF × Sahiwal) cows. BGM 7:38–42

Sodhi M, Mukesh M, Mishra BP, Parvesh K, Joshi BK (2011) Analysis of genetic variation at the prolactin-RsaI (PRL-RsaI) locus in Indian native cattle breeds (Bos indicus). Biochem Genet 49(1–2):39–45

Stata Corp (2017) Stata statistical software: release 15. College Station, Stata Corp LLC

Thuy N, Thu NT, Cuong NH, Ty LV, Nguyen T, Khoa DV (2018) Polymorphism of PIT-1 and prolactin genes and their effects on milk yield in Holstein Frisian dairy cows bred in Vietnam. Russ J Genet 54:346–352

Verma P, Singh CV (2004) Study of prolactin gene polymorphism in crossbred cattle of different genotypes to various traits. IJCS 8(2):717–722

Walker E, Hernandez AV, Kattan MW (2008) Meta-analysis: its strengths and limitations. ClevClin J Med 75(6):431–439
Acknowledgements
The authors are thankful to Chairman and members of Institutional project Committee, Lala Lajpat Rai University of Veterinary and Animal Science, Hisar, Haryana (India) for granting permission and providing necessary facilities to conduct this research work.
Ethics declarations
Conflict of interest
The authors declare that there is no conflict of interest regarding publication of this paper.
Additional information
Publisher's Note
Springer Nature remains neutral with regard to jurisdictional claims in published maps and institutional affiliations.
About this article
Cite this article
Bangar, Y.C., Magotra, A., Patil, C.S. et al. Meta-analysis of Genetic Structure and Association of Prolactin Gene with Performance Traits in Dairy Cattle in India. Biochem Genet (2021). https://doi.org/10.1007/s10528-021-10031-4
Received:

Accepted:

Published:
Keywords
Meta-analysis

Prolactin

Association

Performance traits

Dairy cows