Abstract
Nesidiocoris tenuis (Reuter) (Hemiptera: Miridae) is a zoophytophagous predator that feeds on plants as well as prey. Several non-crop host plant species have been used to maintain this mirid as a biological control agent in different crop systems. To evaluate the benefit of these non-crop host plants on biological control services, data on the life-history traits of N. tenuis on these plants are important as fundamental information. Herein, we studied the demographic growth parameters of N. tenuis reared on three alternative non-crop host plants (Cleome hassleriana Chod., Brassicales: Cleomaceae; Verbena × hybrida Voss, Lamiales: Verbenaceae; and Sesamum indicum L., Lamiales: Pedaliaceae) and one crop plant (tomato) in the absence of prey under laboratory conditions (25  ±  1 °C, 16:8 h L:D). The estimated intrinsic rate of increase in each plant was significantly greater in the following order: S. indicum (0.094) > C. hassleriana (0.074) > tomato (−0.002) > Verbena × hybrida (−0.060). The results indicated that C. hassleriana and S. indicum were able to fully support the development and reproduction of N. tenuis with nutrients derived from only its plant tissues, whereas Verbena × hybrida and tomato were not. Our findings revealed that C. hassleriana is a promising resource for the conservation or mass rearing of N. tenuis besides S. indicum.
Access options
Buy single article
Instant access to the full article PDF.
US$ 39.95
Tax calculation will be finalised during checkout.
Subscribe to journal
Immediate online access to all issues from 2019. Subscription will auto renew annually.
US$ 79
Tax calculation will be finalised during checkout.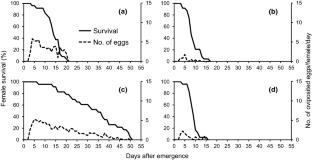 Data availability
The datasets generated during and/or analyzed during the current study are available from the corresponding author on reasonable request.
References
Abugre C, Appiah F, Kumah P (2011) The effect of time of harvest and drying method on the nutritional composition of spider flower (Cleome gynandra L). Int J Postharvest Technol Innov 2:221–232

Agustí N, Castañé C, Fraile I, Alomar O (2020) Development of a PCR-based method to monitor arthropod dispersal in agroecosystems: Macrolophus pygmaeus (Hemiptera: Miridae) from banker plants to tomato crops. Insect Sci 27:1125–1134

Aparadh VT, Mahamuni RJ, Karadge BA (2012) Taxonomy and physiological studies in spider flower (Cleome species): a critical review. Plant Sci Feed 2:25–46

Arnó J, Castañé C, Riudavets J, Gabarra R (2010) Risk of damage to tomato crops by the generalist zoophytophagous predator Nesidiocoris tenuis (Reuter) (Hemiptera: Miridae). Bull Entomol Res 100:105–115

Biondi A, Zappalà L, Di Mauro A, Tropea Garzia G, Russo A, Desneux N, Siscaro G (2016) Can alternative host plant and prey affect phytophagy and biological control by the zoophytophagous mirid Nesidiocoris tenuis? BioControl 61:79–90

Birch LC (1948) The intrinsic rate of natural increase of an insect population. J Anim Ecol 17:15–26

CABI (2020) Invasive species compendium. Nesidiocoris tenuis (tomato bug). https://www.cabi.org/isc/datasheet/16251. Accessed 22 Oct 2020

Calvo J, Bolckmans K, Stansly PA, Urbaneja A (2009) Predation by Nesidiocoris tenuis on Bemisia tabaci and injury to tomato. BioControl 54:237–246

Calvo FJ, Bolckmans K, Belda JE (2012) Release rate for a pre-plant application of Nesidiocoris tenuis for Bemisia tabaci control in tomato. BioControl 57:809–817

Cane JH (2008) Breeding biologies, seed production and species-rich bee guilds of Cleome lutea and Cleome serrulata (Cleomaceae). Plant Species Biol 23:152–158

Cano M, Vila E, Janssen D, Bretones G, Salvador E, Lara L, Tellez MM (2009) Selection of refuges for Nesidiocoris tenuis (Het: Miridae) and Orius laevigatus (Het: Anthocoridae): virus reservoir risk assessment. IOBC/WPRS Bull 49:281–286

Castañé C, Alomar O, Goula M, Gabarra R (2004) Colonization of tomato greenhouses by the predatory mirid bugs Macrolophus caliginosus and Dicyphus tamaninii. Biol Control 30:591–597

Castañé C, Arnó J, Gabarra R, Alomar O (2011) Plant damage to vegetable crops by zoophytophagous mirid predators. Biol Control 59:22–29

Cruden RW, Baker KK, Cullinan TE, Disbrow KA, Douglas KL, Erb JD, Kirsten KJ, Malik ML, Turner EA, Weier JA, Wilmot SR (1990) The mating system and pollination biology of three species of Verbena (Verbenaceae). J Iowa Acad Sci 97:178–183

De Puysseleyr V, De Man S, Höfte M, De Clercq P (2013) Plantless rearing of the zoophytophagous bug Nesidiocoris tenuis. BioControl 58:205–213

Ebrahimi M, Mahdian K, De Clercq P (2019) Life-history parameters and predation capacity of Macrolophus pygmaeus and Nesidiocoris tenuis (Hemiptera: Miridae) on eggs of Plutella xylostella (Lepidoptera: Plutellidae). Agric Forest Entomol 21:50–57

Ezeabara CA, Nwafulugo SN (2015) Comparison of phytochemical and proximate compositions of parts of Cleome ciliata Schum. and Thonn. and Cleome viscosa L. World J Biomed Pharm Sci 1:1–5

Frank SD (2010) Biological control of arthropod pests using banker plant systems: past progress and future directions. Biol Control 52:8–16

Gabarra R, Alomar Ò, Castañé C, Goula M, Albajes R (2004) Movement of greenhouse whitefly and its predators between in- and outside of Mediterranean greenhouses. Agric Ecosyst Environ 102:341–348

Hinomoto N, Abe J, Nagasaka K (2017) Control of thrips in cucumber by Nesidiocoris tenuis-banker plant system. IOBC/WPRS Bull 124:207–213

Huang N, Enkegaard A, Osborne LS, Ramakers PMJ, Messelink GJ, Pijnakker J, Murphy G (2011) The banker plant method in biological control. CRC Crit Rev Plant Sci 30:259–278

Jones IM, Koptur S, von Wettberg EJ (2017) The use of extrafloral nectar in pest management: overcoming context dependence. J Appl Ecol 54:489–499

Kim J, Lee H, Lee WH, Yu YM, Yasunaga-Aoki C, Jung S (2016) Molecular diagnosis of the biological control agent Nesidiocoris tenuis (Tobacco Plant bug) and its allied species (Insecta: Hemiptera) using COI barcoding. J Fac Agric Kyushu Univ 61:293–297

Maia ADHN, Pazianotto RADA, Luiz AJB, Marinho-Prado JS, Pervez A (2014) Inference on arthropod demographic parameters: computational advances using R. J Econ Entomol 107:432–439

Manly BFJ (1997) Randomization, bootstrap and Monte Carlo methods in biology, 2nd edn. Chapman and Hall, London

Marquard RD, Steinback R (2009) A model plant for a biology curriculum: spider flower (Cleome hasslerana L.). Am Biol Teach 71:235–244

Mbaebie B, Omosun G, Uti A, Oyedemi S (2010) Chemical composition of Sesamum indicum L. (Sesame) grown in Southeastern Nigeria and the physicochemical properties of the seed oil. Seed Sci Biotechnol 4:69–72

McGregor RR, Gillespie DR, Quiring DMJ, Foisy MRJ (1999) Potential use of Dicyphus hesperus Knight (Heteroptera: Miridae) for biological control of pests of greenhouse tomatoes. Biol Control 16:104–110

Messelink GJ, Bennison J, Alomar O, Ingegno BL, Tavella L, Shipp L, Palevsky E, Wäckers FL (2014) Approaches to conserving natural enemy populations in greenhouse crops: current methods and future prospects. BioControl 59:377–393

Meyer JS, Ingersoll CG, McDonald LL (1987) Sensitivity analysis of population growth rates estimated from cladoceran chronic toxicity tests. Environ Toxicol Chem 6:115–126

Nakaishi K, Fukui Y, Arakawa R (2011) Reproduction of Nesidiocoris tenuis (Reuter) on sesame. Jpn J Appl Entomol Zool 55:199–205 (in Japanese with English summary, figures, and tables)

Nakano R, Tsuchida Y, Doi M, Ishikawa R, Tatara A, Amano Y, Muramatsu Y (2016) Control of Bemisia tabaci (Gennadius) on tomato in greenhouses by a combination of Nesidiocoris tenuis (Reuter) and banker plants. Annu Rep Kansai Plant Prot Soc 58:65–72 (in Japanese with English summary, figures, and tables)

NARO (2019) Manual for new IPM strategies in tomato crops. https://www.naro.affrc.go.jp/publicity_report/publication/pamphlet/tech-pamph/129995.html. Accessed 28 June 2020 (in Japanese)

Owashi Y, Hayashi M, Abe J, Miura K (2020) Effects of an alternative diet of Artemia cysts on the development and reproduction of Nesidiocoris tenuis (Hemiptera: Miridae). Appl Entomol Zool 55:121–127

Parolin P, Bresch C, Desneux N, Brun R, Bout A, Boll R, Poncet C (2012a) Secondary plants used in biological control: a review. Int J Pest Manag 58:91–100

Parolin P, Bresch C, Poncet C, Desneux N (2012b) Functional characteristics of secondary plants for increased pest management. Int J Pest Manag 58:369–377

Perdikis D, Lykouressis D (2000) Effects of various items, host plants, and temperatures on the development and survival of Macrolophus pygmaeus Rambur (Hemiptera: Miridae). Biol Control 17:55–60

Perdikis D, Fantinou A, Lykouressis D (2011) Enhancing pest control in annual crops by conservation of predatory Heteroptera. Biol Control 59:13–21

Pérez-Hedo M, Urbaneja A (2016) The zoophytophagous predator Nesidiocoris tenuis: a successful but controversial biocontrol agent in tomato crops. In: Horowitz AR, Ishaaya I (eds) Advances in insect control and resistance management. Springer International Publishing, Cham, pp 121–138

Portillo N, Alomar O, Wäckers F (2012) Nectarivory by the plant-tissue feeding predator Macrolophus pygmaeus Rambur (Heteroptera: Miridae): nutritional redundancy or nutritional benefit? J Insect Physiol 58:397–401

R Core Team (2020) R: a language and environment for statistical computing. R Foundation for Statistical Computing, Vienna, Austria. https://www.r-project.org/.

Raju AS, Rani DS (2016) Reproductive ecology of Cleome gynandra and Cleome viscosa (Capparaceae). Phytol Balc 22:15–28

Randall RP (2017) A global compendium of weeds, 3rd Edn. R.P. Randall, Perth, Western Australia

Rodríguez E, González M, Paredes D, Campos M, Benítez E (2018) Selecting native perennial plants for ecological intensification in Mediterranean greenhouse horticulture. Bull Entomol Res 108:694–704

Rozenberg T, Shaltiel-Harpaz L, Coll M (2015) Visualizing eggs of Nesidiocoris tenuis (Heteroptera: Miridae) embedded in tomato plant tissues. Entomol Sci 18:400–402

Sánchez JA (2009) Density thresholds for Nesidiocoris tenuis (Heteroptera: Miridae) in tomato crops. Biol Control 51:493–498

Sánchez JA, Lacasa A (2008) Impact of the zoophytophagous plant bug Nesidiocoris tenuis (Heteroptera: Miridae) on tomato yield. J Econ Entomol 101:1864–1870

Sánchez JA, Gillespie DR, McGregor RR (2003a) The effects of mullein plants (Verbascum thapsus) on the population dynamics of Dicyphus hesperus (Heteroptera: Miridae) in tomato greenhouses. Biol Control 28:313–319

Sánchez JA, Martinez-Cascales JI, Lacasa A (2003b) Abundance and wild host plants of predator mirids (Heteroptera: Miridae) in horticultural crops in the Southeast of Spain. IOBC/WPRS Bull 26:147–151

Sánchez JA, Gillespie DR, McGregor RR (2004) Plant preference in relation to life history traits in the zoophytophagous predator Dicyphus hesperus. Entomol Exp Appl 112:7–19

Sha'a KK, Pwakangdi SA (2020) Antioxidant activities, nutritional composition and antinutritional properties of two leafy vegetables (Cleome rutidosperma and Cassia tora) consumed in Adamawa State, Nigeria. Asian Food Sci J 14:18–27

Shimomoto M, Nakaishi K (2017a) Supply system of the indigenous predator bug, Nesidiocoris tenuis (Reuter) by relaying among greenhouses in Kochi Prefecture. Plant Prot 71:406–410 (in Japanese)

Shimomoto M, Nakaishi K (2017b) Development of techniques for pest control mainly on biological control using predator bug, Nesidiocoris tenuis (Reuter) on greenhouse cucumber. Plant Prot 71:713–717 (in Japanese)

Siscaro G, Lo Pumo C, Tropea Garzia G, Tortorici S, Gugliuzzo A, Ricupero M, Biondi A, Zappalà L (2019) Temperature and tomato variety influence the development and the plant damage induced by the zoophytophagous mirid bug Nesidiocoris tenuis. J Pest Sci 92:1049–1056

Tamura M, Togami J, Ishiguro K, Nakamura N, Katsumoto Y, Suzuki K, Kusumi T, Tanaka Y (2003) Regeneration of transformed verbena (Verbena × hybrida) by Agrobacterium tumefaciens. Plant Cell Rep 21:459–466

Thompson SN (1999) Nutrition and culture of entomophagous insects. Annu Rev Entomol 44:561–592

Urbaneja-Bernat P, Alonso M, Tena A, Bolckmans K, Urbaneja A (2013) Sugar as nutritional supplement for the zoophytophagous predator Nesidiocoris tenuis. BioControl 58:57–64

Urbaneja A, Tapia G, Stansly P (2005) Influence of host plant and prey availability on developmental time and survivorship of Nesidiocoris tenuis (Het: Miridae). Biocontrol Sci Technol 15:513–518

Urbaneja A, González-Cabrera J, Arnó J, Gabarra R (2012) Prospects for the biological control of Tuta absoluta in tomatoes of the Mediterranean basin. Pest Manag Sci 68:1215–1222

Vandekerkhove B, De Clercq P (2010) Pollen as an alternative or supplementary food for the mirid predator Macrolophus pygmaeus. Biol Control 53:238–242

Yasunaga T (2017) Three new species of Nesidiocoris Kirkaldy from Japan, with a taxonomic review of the tribe Dicyphini for eastern Asia (Heteroptera: Miridae: Bryocorinae). Tijdschr voor Entomol 160:25–40

Zhu P, Gurr GM, Lu Z, Heong K, Chen G, Zheng X, Xu H, Yang Y (2013) Laboratory screening supports the selection of sesame (Sesamum indicum) to enhance Anagrus spp. parasitoids (Hymenoptera: Mymaridae) of rice planthoppers. Biol Control 64:83–89
Acknowledgements
We thank Dr. T. Tezuka and S. Kohara from Agri-Soken Inc. for providing N. tenuis colonies. This study was partially supported by Japan Society for the Promotion of Science (JSPS) KAKENHI Grant Number JP19K06076 to T. A-H.
Ethics declarations
Conflict of interest
The authors declare that they have no conflict of interest.
Ethical approval
This article does not contain any studies with human participants or animals (vertebrates) performed by any of the authors.
Additional information
Handling Editor: Marta Montserrat.
About this article
Cite this article
Nakano, R., Morita, T., Okamoto, Y. et al. Cleome hassleriana plants fully support the development and reproduction of Nesidiocoris tenuis. BioControl (2021). https://doi.org/10.1007/s10526-021-10079-6
Received:

Accepted:

Published:
Keywords
Hemiptera

Miridae

Omnivory

Zoophytophagy

Banker plant

Insectary plant