Abstract
Environmental stress conditions compromise the effectiveness of microorganisms for use in biological control. We investigated the thermotolerance of seven Metarhizium isolates from Central Brazil to 32 °C, and the thermotolerance of conidia of Metarhizium anisopliae s.str. IP 119 (Metchnikoff) (Hypocreales: Clavicipitaceae) and M. robertsii formulated in oil-in-water emulsion to 45 °C. We also evaluated the efficacy of oil-formulated conidia of M. anisopliaes.str. IP 119 against the tick Rhipicephalus microplus (Canestrini) (Acari: Ixodidae) under stress conditions (32 °C; 75% RH). The conidial germination on tick's cuticle was assessed by Scanning Electron Microscopy. Conidia of M. anisopliaes.str. IP 119 formulated in oil-in-water emulsion caused significant control (59.4%) of R. microplus, even when treated ticks were incubated under stress (32 °C; 75% RH). Metarhizium spp. incubated at 32 °C had both decreased radial growth and conidial production. Conidia of IP 119 formulated in oil-in-water emulsion were more tolerant to 45 °C than conidia suspended in water. An oil-in-water emulsion protected M. anisopliaes.str. conidia against heat and dry conditions and may enhance its efficacy to control ticks by improving the tolerance of fungi against adverse environmental factors.
This is a preview of subscription content, log in to check access.
Access options
Buy single article
Instant access to the full article PDF.
US$ 39.95
Price includes VAT for USA
Subscribe to journal
Immediate online access to all issues from 2019. Subscription will auto renew annually.
US$ 99
This is the net price. Taxes to be calculated in checkout.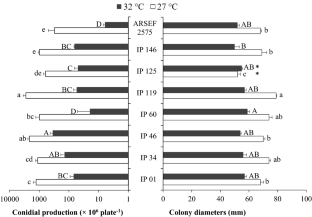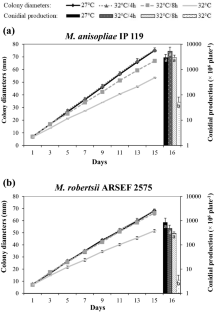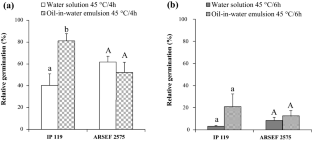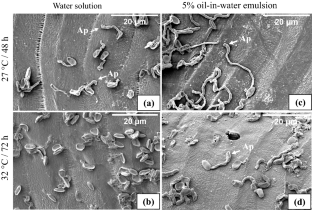 References
Alves FM, Bernardo CC, Paixão FR, Barreto LP, Luz C, Humber RA, Fernandes ÉKK (2017) Heat-stressed Metarhizium anisopliae: viability (in vitro) and virulence (in vivo) assessments against the tick Rhipicephalus sanguineus. Parasitol Res 116:111–121

Arthurs S, Thomas MB (2001) Effects of temperature and relative humidity on sporulation of Metarhizium anisopliae var. acridum in mycosed cadavers of Schistocerca gregaria. J Invertebr Pathol 78:59–65

Barreto LP, Luz C, Mascarin GM, Roberts DW, Arruda W, Fernandes ÉKK (2016) Effect of heat stress and oil formulation on conidial germination of Metarhizium anisopliae s.s. on tick cuticle and artificial medium. J Invertebr Pathol 138:94–103

Bateman RP, Carey M, Moore D, Prior C (1993) The enhanced infectivity of Metarhizium flavoviride in oil formulations to desert locusts at low humidities. Ann Appl Biol 122:145–152

Bellato V, Daemon E (1997) Efeitos de três temperaturas sobre a fase não parasitária de Rhipicephalus sanguineus (Latreille, 1806) (Acari: Ixodidae). Rev Bras Parasitol Vet 6:21–27

Bennett GF (1974a) Oviposition of Boophilus microplus (Canestrini) (Acarida: Ixodidae). I Influence of tick size on egg production. Acarol XVI, pp 52–61

Bennett GF (1974b) Oviposition of Boophilus microplus (Canestrini) (Acarida: Ixodidae). II Influence of temperature, humidity and light. Acarol XVI, pp 250–257

Braga GUL, Flint SD, Messias CL, Anderson AJ, Roberts DW (2001) Effect of UV-B on conidia and germlings of the entomopathogenic hyphomycete Metarhizium anisopliae. Mycol Res 105:874–882

Camargo MG, Golo PS, Angelo IC, Perinotto WM, Sa FA, Quinelato S, Bittencourt VREP (2012) Effect of oil-based formulations of acaripathogenic fungi to control Rhipicephalus microplus ticks under laboratory conditions. Vet Parasitol 188:140–147

Chacón SC, Correia PG, Barbieri FS, Daemon E, Faccini JLH (2003) Efeito de três temperaturas constantes sobre a fase não parasitária de Amblyomma cajennense (Fabricius, 1878) (Acari: Ixodidae). Rev Bras Parasitol Vet 12:13–20

David-Henriet AI, Pye BJ, Butt TM (1998) Formulation and application of the entomopathogenic fungus Metarhizium anisopliae for the control of crucifer pests in Europe. Insect pathogens and insect parasitic nematodes. IOBC/WPRS Bull 21:89–90

Drummond RO, Gladney WJ, Whetstone TM, Ernst SE (1971) Laboratory testing of insecticides for control of the winter tick. J Econ Entomol 64:686–688

Faria M, Hajek AE, Wraight SP (2009) Imbibitional damage of conidia of the entomopathogenic fungi Beauveria bassiana, Metarhizium acridum, and Metarhizium anisopliae. Biol Control 51:346–354

Fernandes ÉKK, Keyser CA, Chong JP, Rangel DEN, Miller MP, Roberts DW (2010) Characterization of Metarhizium species and varieties based on molecular analysis, heat tolerance and cold activity. J Appl Microbiol 108:115–128

Fernandes ÉKK, Bittencourt VREP, Roberts DW (2012) Perspectives on the potential of entomopathogenic fungi in biological control of ticks. Exp Parasitol 130:300–305

Fernandes ÉKK, Rangel DEN, Braga GU, Roberts DW (2015) Tolerance of entomopathogenic fungi to ultraviolet radiation: a review on screening of strains and their formulation. Curr Genet 61:427–440

Freitas LHT, Cardoso ACDB, Prata MCA, Faccini JLH (2004) Influência da temperatura de manutenção da fase não parasitária sobre a fase parasitária de Haemaphysalis leporispalustris (Packard, 1869) (Acari: Ixodidae). Rev Bras Parasitol Vet 13:115–123

Furlong J, Martins J, Prata MCA (2007) O carrapato dos bovinos e a resistência: temos o que comemorar? A Hora Veterinária 27:1–7

Hitchcock LF (1955) Studies of the non-parasitic stages on the cattle tick, Boophilus microplus (Canestrini) (Acarina: Ixodidae). Aus J Zool 3:295–311

Kaaya GP, Samish M, Hedimbi M, Gindin G, Glazer I (2011) Control of tick populations by spraying Metarhizium anisopliae conidia on cattle under field conditions. Exp Appl Acarol 55:273–281

Keyser CA, Fernandes ÉKK, Rangel DEN, Roberts DW (2014) Heat-induced post-stress growth delay: a biological trait of many Metarhizium isolates reducing biocontrol efficacy? J Invertebr Pathol 120:67–73

Lazzarini GMJ, Rocha LFN, Luz C (2006) Impact of moisture on in vitro germination of Metarhizium anisopliae and Beauveria bassiana and their activity on Triatoma infestans. Mycol Res 110:485–492

Leemon DM, Jonsson NN (2008) Laboratory studies on Australian isolates of Metarhizium anisopliae as a biopesticide for the cattle tick Boophilus microplus. J Invertebr Pathol 97:40–49

Luz C, Tigano MS, Silva IG, Cordeiro CM, Aljanabi SM (1998) Selection of Beauveria bassiana and Metarhizium anisopliae isolates to control Triatoma infestans. Mem Inst Oswaldo Cruz 93:839–846

Mascarin GM, Biaggioni Lopes R, Delalibera Í, Fernandes ÉKK, Luz C, Faria M (2019) Current status and perspectives of fungal entomopathogens used for microbial control of arthropod pests in Brazil. J Invertebr Pathol 165:46–53

Ment D, Gindin G, Glazer I, Perl S, Elad D, Samish M (2010) The effect of temperature and relative humidity on the formation of Metarhizium anisopliae chlamydospores in tick eggs. Fungal Biol 114:49–56

Moore D, Brigde PD, Higgins PM, Bateman RP (1993) Ultra-violet radiation damage to Metarhizium flavoviride conidia and the protection given by vegetable and mineral oils and chemical sunscreens. Ann Apl Biol 122:605–616

Paixão FRS, Muniz ER, Barreto LP, Bernardo CC, Mascarin GM, Luz C, Fernandes ÉKK (2017) Increased heat tolerance afforded by oil-based conidial formulations of Metarhizium anisopliae and Metarhizium robertsii. Biocontrol Sci Technol 27:324–337

Perinotto W, Angelo IC, Golo PS, Camargo MG, Quinelato S, Sá FA, Rodrigues CJBC, Marciano AF, Monteiro CMO, Bittencourt VREP (2017) In vitro pathogenicity of different Metarhizium anisopliae s.l. isolates in oil formulations against Rhipicephalus microplus. Biocontrol Sci Technol 27:338–347

Polar P, Muro MA, Kairo MT, Moore D, Pegram R, John SA, Roach-Benn C (2005) Thermal characteristics of Metarhizium anisopliae isolates important for the development of biological pesticides for the control of cattle ticks. Vet Parasitol 134:159–167

Prior C, Jollands P, Patourel G (1988) Infectivity of oil and water formulations of Beauveria bassiana (Deuteromycotina: Hyphomycetes) to the cocoa weevil pest Pantorhytes plutus (Coleoptera: Curculionidae). J Invertebr Pathol 52:66–72

R Core Team (2018) R: A language and environment for statistical computing. R foundation for statistical computing, Vienna. https://www.r-project.org

Roberts DW, Campbell AS (1977) Stability of entomopathogenic fungi. Misc Publ Entomol Soc Am 10:19–76

Rocha LFN, Inglis PW, Humber RA, Kipnis A, Luz C (2013) Occurence of Metarhizium spp. in Central Brazilians soils. J Basic Microbiol 53:251–259

Winston PW, Bates DH (1960) Saturated solutions for the control of humidity in biological research. Ecology 41:232–237

Xavier-Santos S, Lopes RB, Faria M (2011) Emulsifiable oils protect Metarhizium robertsii and Metarhizium pingshaense conidia from imbibitional damage. Biol Control 59:261–267
Acknowledgements
We are grateful to Richard A. Humber (USDA-ARS, Ithaca, NY, USA) for providing the ARSEF fungal isolate used in this study, and for the critical review of this manuscript. We thank Professor Emmanuel Arnhold, from UFG, for reviewing the statistical analyses of the data presented in this manuscript. We also thank the Coordination for the Improvement of Higher Education Personnel (CAPES) of Brazil for providing MSc scholarship for E.R. Muniz, F.R.S. Paixão, and L.P. Barreto. This research was supported by grants from the National Council for Scientific and Technological Development (CNPq) of Brazil (484329/2012-0). We also thank CNPq for the grants: PQ 308850/2015-7 for É.K.K. Fernandes, and PQ 308189/2013-2 for C. Luz.
Ethics declarations
Conflicts of interest
The authors declare that they have no conflict of interest.
Additional information
Publisher's Note
Springer Nature remains neutral with regard to jurisdictional claims in published maps and institutional affiliations.
Handling Editor: Nicolai Meyling.
About this article
Cite this article
Muniz, E.R., Paixão, F.R.S., Barreto, L.P. et al. Efficacy of Metarhizium anisopliae conidia in oil-in-water emulsion against the tick Rhipicephalus microplus under heat and dry conditions. BioControl 65, 339–351 (2020). https://doi.org/10.1007/s10526-020-10002-5
Received:

Accepted:

Published:

Issue Date:
Keywords
Cattle tick

Entomopathogenic fungi

Thermotolerance

Hypocreales

Clavicipitaceae

Ixodidae