Abstract
Bioactive substances that are found in many natural plant extracts are very important for the cosmetics, pharmaceutical industry and biotechnology. Especially interesting for these industries are the substances that possess cell revitalizing and anti-ageing properties. The endemic plant Haberlea rhodopensis is known for its ability to withstand drought and to revitalize when returned to optimal conditions after a long time in desiccation. It is a mere fact that this plant not only can completely resurrect from a dried state but is also able to bring back the natural biochemical compositions of its cells. As a result H. rhodopensis offers a wide field for investigation of the exact mechanisms of the revitalization process as well as broadens the search for unique bioactive chemical substances in its cells. Here, by using the yeast Saccharomyces cerevisiae as a model we have demonstrated that methanol extracts from the plant H. rhodopensis hold specific properties to revitalize and ameliorate cellular growth as well as to balance intracellular metabolic states. Our results add valuable knowledge on the effects of natural compounds on ageing and reinforce the idea of using yeast as a model organism in the development of rapid tests for studying the efficacy of different bioactive substances.
Access options
Buy single article
Instant access to the full article PDF.
US$ 39.95
Tax calculation will be finalised during checkout.
Subscribe to journal
Immediate online access to all issues from 2019. Subscription will auto renew annually.
US$ 79
Tax calculation will be finalised during checkout.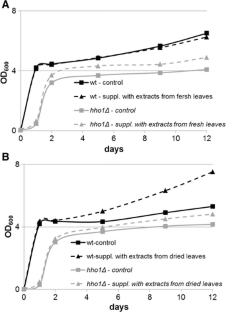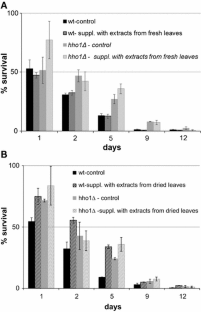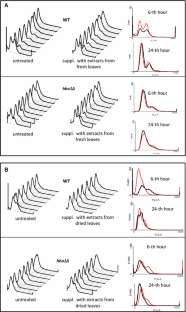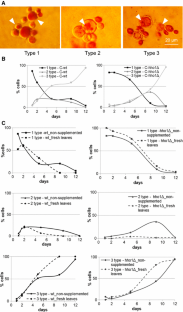 References
Abudugupur A, Mitsui K, Yokota S, Tsurugi K (2002) An ARL1 mutation affected autophagic cell death in yeast, causing a defect in central vacuole formation. Cell Death Differ 9:158–168. doi:10.1038/sj.cdd.4400942

Armstrong J (2010) Yeast vacuoles: more than a model lysosome. Trends cell Biol 20:580–585. doi:10.1016/j.tcb.2010.06.010

Bartels D, Hussain SS (2011) Resurrection plants: physiology and molecular biology ecological studies. In: Lüttge U, Beck E, Bartels D (eds) Desiccation tolerance in plants. Springer, Heidelberg, pp 339–364

Berkov SH, Nikolova MT, Hristozova NI, Momekov GZ, Ionkova II, Djilianov DL (2011) GC-MS profiling of bioactive extracts from Haberlea rhodopensis: an endemic resrrection plant. J Serb Chem Soc 76(2):211–220

Berthele H, Sella O, Lavarde M, Mielcarek C, Pense-Lheritier AM, Pirnay S (2014) Determination of the influence of factors (ethanol, pH and aw) on the preservation of cosmetics using experimental design. Int J Cosmet Sci 36:54–61. doi:10.1111/ics.12094

Breitenbach M, Michal Jazwinski S, Peter L (2012) Aging research in yeast. Springer, Heidelberg

Cassidy-Stone A et al (2008) Chemical inhibition of the mitochondrial division dynamin reveals its role in Bax/Bak-dependent mitochondrial outer membrane permeabilization. Dev Cell 14:193–204. doi:10.1016/j.devcel.2007.11.019

Corte-Real M, Madeo F (2013) Yeast programed cell death and aging. Front Oncol 3:283. doi:10.3389/fonc.2013.00283

Dell'Acqua G, Schweikert K (2012) Skin benefits of a myconoside-rich extract from resurrection plant Haberlea rhodopensis. Int J Cosmet Sci 34:132–139. doi:10.1111/j.1468-2494.2011.00692.x

Djilianov D, Genova G, Parvanova D, Zapryanova N, Konstantinova T, Atanassov A (2005) In vitro culture of the resurrection plant Haberlea rhodopensis. Plant Cell, Tissue Organ Cult 80:115–118

Djilianov D et al (2011) Sugar ratios, glutathione redox status and phenols in the resurrection species Haberlea rhodopensis and the closely related non-resurrection species Chirita eberhardtii. Plant Biol 13:767–776. doi:10.1111/j.1438-8677.2010.00436.x

Fabrizio P, Pletcher SD, Minois N, Vaupel JW, Longo VD (2004) Chronological aging-independent replicative life span regulation by Msn2/Msn4 and Sod2 in Saccharomyces cerevisiae. FEBS Lett 557:136–142

Gechev TS et al (2013) Molecular mechanisms of desiccation tolerance in the resurrection glacial relic Haberlea rhodopensis. Cell Mol life Sci 70:689–709. doi:10.1007/s00018-012-1155-6

Georgieva M, Roguev A, Balashev K, Zlatanova J, Miloshev G (2012a) Hho1p, the linker histone of Saccharomyces cerevisiae, is important for the proper chromatin organization in vivo. Biochim Biophys Acta 1819:366–374. doi:10.1016/j.bbagrm.2011.12.003

Georgieva S, Popov B, Tanchev S, Deyana H (2012b) Haberlea rhodopensis (Friv.) reduces chromosomal aberrations in whole body irradiated rabbits. Int J Phytomed 4:395–398

Georgieva S, Popov B, Bonev G (2013) Radioprotective effect of Haberlea rhodopensis (Friv.) leaf extract on gamma-radiation-induced DNA damage, lipid peroxidation and antioxidant levels in rabbit blood. Indian J Exp Biol 51:29–36

Gershon H, Gershon D (2000) The budding yeast, Saccharomyces cerevisiae, as a model for aging research: a critical review. Mech Ageing Dev 120:1–22. doi:10.1016/S0047-6374(00)00182-2

Henderson KA, Hughes AL (2014) Mother-daughter asymmetry of pH underlies aging and rejuvenation in yeast. eLife 3:e03504. doi:10.7554/eLife.03504

Hughes AL, Gottschling DE (2012) An early age increase in vacuolar pH limits mitochondrial function and lifespan in yeast. Nature 492:261–265. doi:10.1038/nature11654

Kondeva-Burdina M, Zheleva-Dimitrova D, Nedialkov P, Girreser U, Mitcheva M (2013) Cytoprotective and antioxidant effects of phenolic compounds from Haberlea rhodopensis Friv. (Gesneriaceae). Pharmacogn Mag 9:294–301. doi:10.4103/0973-1296.117822

Kuchitsu K, Oh-hama T, Tsuzuki M, Miyachi S (1987) Detection and characterization of acidic compartments (vacuoles) in Chlorella vulgaris 11 h cells by 31P-in vivo NMR spectroscopy and cytochemical techniques. Arch Microbiol 148:83–87. doi:10.1007/BF00425353

Leonov A, Titorenko VI (2013) A network of interorganellar communications underlies cellular aging. IUBMB life 65:665–674. doi:10.1002/iub.1183

Li SC, Kane PM (2009) The yeast lysosome-like vacuole: Endpoint and crossroads. Biochim et Biophys Acta 1793:650–663. doi:10.1016/j.bbamcr.2008.08.003

Longo VD, Fabrizio P (2012) Chronological Aging in Saccharomyces cerevisiae. Sub-cellular Biochem 57:101–121. doi:10.1007/978-94-007-2561-4_5

Markovska Y, Kimenov G, Stefanov K, Popov S (1992) Lipid and sterol changes in leaves of Haberlea rhodopensi and Ramonda serbica at transition from biosis into anabiosis and vice versa caused by water stress. Phytochemistry 31:2309–2314. doi:10.1016/0031-9422(92)83270-9

Marques M, Mojzita D, Amorim MA, Almeida T, Hohmann S, Moradas-Ferreira P, Costa V (2006) The Pep4p vacuolar proteinase contributes to the turnover of oxidized proteins but PEP4 overexpression is not sufficient to increase chronological lifespan in Saccharomyces cerevisiae. Microbiology 152:3595–3605. doi:10.1099/mic.0.29040-0

Mazzoni C, Mangiapelo E, Palermo V, Falcone C (2012) Hypothesis: is yeast a clock model to study the onset of humans aging phenotypes? Front Oncol 2:203. doi:10.3389/fonc.2012.00203

Mazzoni C, Giannattasio S, Winderickx J, Ludovico P (2013) Yeast stress, aging, and death. Oxid Med Cell Longev 2013:684395. doi:10.1155/2013/684395

Moyankova D, Mladenov P, Berkov S, Peshev D, Georgieva D, Djilianov D (2014) Metabolic profiling of the resurrection plant Haberlea rhodopensis during desiccation and recovery. Physiol Plant 152(4):675–687. doi:10.1111/ppl.12212

Müller J, Sprenger N, Bortlik K, Boller T, Wiemken A (1997) Desiccation increases sucrose levels in Ramonda and Haberlea, two genera of resurrection plants in the Gesneriaceae. Physiol Plant 100:153–158. doi:10.1111/j.1399-3054.1997.tb03466.x

Palermo V, Mattivi F, Silvestri R, La Regina G, Falcone C, Mazzoni C (2012) Apple can act as anti-aging on yeast cells. Oxid Med Cell Longev 2012:491759. doi:10.1155/2012/491759

Pereira C, Bessa C, Saraiva L (2012) Endocytosis inhibition during H2O2-induced apoptosis in yeast. FEMS Yeast Res 12:755–760. doi:10.1111/j.1567-1364.2012.00825.x

Russell AD (2003) Challenge testing: principles and practice. Int J Cosmet Sci 25:147–153. doi:10.1046/j.1467-2494.2003.00179.x

Testa G, Biasi F, Poli G, Chiarpotto E (2014) Calorie restriction and dietary restriction mimetics: a strategy for improving healthy aging and longevity. Curr Pharm Des 20:2950–2977

Uzunova K, Georgieva M, Miloshev G (2013) Saccharomyces cerevisiae linker histone-Hho1p maintains chromatin loop organization during ageing. Oxid Med Cell Longev 2013:437146. doi:10.1155/2013/437146

Veleva R et al (2015) Changes in the functional characteristics of tumor and normal cells after treatment with extracts of white dead-nettle. Biotechnol Biotechnol Equip 29:181–188

Wach A, Brachat A, Rebischung C, Steiner S, Pokorni K, Heesen ST, Philippsen P (1998) 5 PCR-based gene targeting in Saccharomyces cerevisiae. In: Alistair JPB, Mick T (eds) Methods in microbiology. Academic Press, San Diego, pp 67–81

Weisman LS, Bacallao R, Wickner W (1987) Multiple methods of visualizing the yeast vacuole permit evaluation of its morphology and inheritance during the cell cycle. J Cell Biol 105:1539–1547
Electronic supplementary material
Below is the link to the electronic supplementary material.
About this article
Cite this article
Georgieva, M., Moyankova, D., Djilianov, D. et al. Methanol extracts from the resurrection plant Haberlea rhodopensis ameliorate cellular vitality in chronologically ageing Saccharomyces cerevisiae cells. Biogerontology 16, 461–472 (2015). https://doi.org/10.1007/s10522-015-9566-z
Received:

Accepted:

Published:

Issue Date:
Keywords
Resurrection plant

Haberlea rhodopensis
Saccharomyces cerevisiae

Ageing

Cellular vitality

Metabolism

Model organism