Abstract
Although sexuality is an important aspect of peoples' health and well-being, many people—professionals and patients alike—find sexuality uncomfortable to discuss. In Arab culture, certain sexual thoughts and behaviors are taboo, particularly for women, and it is not known whether an interview in which Arab American women disclose their sexuality to a health professional would be well-received and beneficial or upsetting and harmful. This experimental study tested whether engaging in a disclosure-oriented sexual health interview affects Arab American women's sexual and psychological health. A sample of 134 Arab American women, ages 18–35 years (M = 20.6), completed self-report measures of sexual health and attitudes and psychological symptoms, and then were randomized to an interview or control (waitlist) condition. The 60-min disclosure interview inquired about sexual attitudes, experiences, and conflicts. Five weeks later, all participants completed follow-up measures. Post-interview reports suggest that participants responded favorably to the interview and generally benefited from participation. Analyses of covariance (controlling for baseline levels of the outcome measure) indicated that the interview led to significantly greater sexual satisfaction and less discomfort with sexual self-disclosure at 5-week follow-up, compared to controls; the two conditions did not differ on follow-up sexual self-schema, sexual self-esteem, or psychological symptoms. Moderation analyses revealed that participation in the interview differentially improved the sexual self-schema of women with no past sexual experience, compared to women with sexual experience. These experimental findings suggest the value, rather than the risk, of clinicians encouraging Arab American women to openly disclose and discuss their sexual experiences and attitudes in a confidential, empathic setting.
Access options
Buy single article
Instant access to the full article PDF.
US$ 39.95
Tax calculation will be finalised during checkout.
Subscribe to journal
Immediate online access to all issues from 2019. Subscription will auto renew annually.
US$ 119
Tax calculation will be finalised during checkout.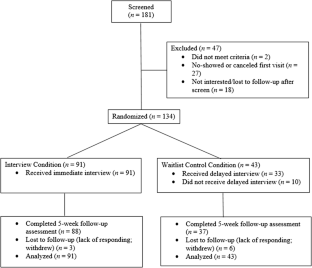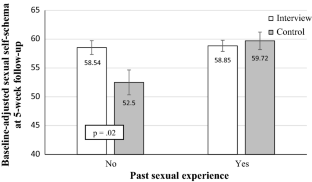 References
Abboud, S., Jemmott, L. S., & Sommers, M. S. (2015). "We are Arabs:" The embodiment of virginity through Arab and Arab American women's lived experiences. Sexuality and Culture, 19, 715–736.

Abboud, S., Lanier, Y., Jemmott, L., & Sommers, M. S. (2019). Navigating virginities: Enactment of sexual agency among Arab women in the USA. Culture, Health & Sexuality, 21, 1103–1116.

Aboulhassan, S., & Brumley, K. M. (2019). Carrying the burden of a culture: Bargaining with patriarchy and the gendered reputation of Arab American women. Journal of Family Issues, 40, 637–661.

Abudabbeh, N., & Nydell, M. (1993). Transcultural counseling and Arab Americans. In J. McFadden (Ed.), Transcultural counseling: Bilateral and international perspectives (pp. 261–284). Alexandria, VA: American Counseling Association.

Ahmed, S., Kia-Keating, M., & Tsai, K. (2011). A structural model of racial discrimination, acculturative stress, and cultural resources among Arab American adolescents. American Journal of Community Psychology, 48, 181–192.

Ajrouch, K. (2004). Gender, race, and symbolic boundaries: Contested spaces of identity among Arab American adolescents. Sociological Perspectives, 47, 371–391.

Al-Krenawi, A., & Jackson, S. O. (2014). Arab American marriage: Culture, tradition, religion, and the social worker. Journal of Human Behavior in the Social Environment, 24, 115–137.

Andersen, B., & Cyranowski, J. (1994). Women's sexual self-schema. Journal of Personality and Social Psychology, 67, 1079–1100.

Bacchus, N. (2017). Shifting sexual boundaries: Ethnicity and pre-marital sex in the lives of South Asian American Women. Sexuality and Culture, 21, 776–794.

Barry, D., Elliott, R., & Evans, E. M. (2000). Foreigners in a strange land: Self-construal and ethnic identity in male Arabic immigrants. Journal of Immigrant Health, 2, 133–144.

California Department of Public Health. (2011, May). A clinician's guide to sexual history taking. Retrieved November 1, 2017 from https://www.cdph.ca.gov/Programs/CID/DCDC/CDPH%20Document%20Library/CA-STD-Clinician-Guide-Sexual-History-Taking.pdf.

Carty, J. N., Ziadni, M. S., Holmes, H. J., Tomakowsky, J., Peters, K., Schubiner, H., & Lumley, M. A. (2019). The effects of a life-stress emotional awareness and expression interview for women with chronic urogenital pain: A randomized controlled trial. Pain Medicine, 20, 1321–1329.

Catania, J., McDermott, L., & Pollack, L. (1986). Questionnaire response bias and face-to-face interview sample bias in sexuality research. Journal of Sex Research, 22, 52–72.

Cohen, J. (1992). A power primer. Psychological Bulletin, 112, 155–159.

Cole, S. W., Kemeny, M. E., Taylor, S. E., & Visscher, B. R. (1996). Elevated physical health risk among gay men who conceal their homosexual identity. Health Psychology, 15, 243–251.

Derogatis, L., & Melisaratos, N. (1983). The Brief Symptom Inventory: An introductory report. Psychological Medicine, 13, 595–605.

Erickson, C. D., & Al-Timimi, N. R. (2001). Providing mental health services to Arab Americans: Recommendations and considerations. Cultural Diversity and Ethnic Minority Psychology, 7, 308–327.

Fennell, R., & Grant, B. (2019). Discussing sexuality in health care: A systematic review. Journal of Clinical Nursing, 28, 3065–3076.

Finkenauer, C., & Rimé, B. (1998). Keeping emotional memories secret: Health and subjective well-being when emotions are not shared. Journal of Health Psychology, 3, 47–58.

Frattaroli, J. (2006). Experimental disclosure and its moderators: A meta-analysis. Psychological Bulletin, 132, 823–865.

Frijns, T., Finkenauer, C., Vermulst, A. A., & Engels, R. C. (2005). Keeping secrets from parents: Longitudinal associations of secrecy in adolescence. Journal of Youth and Adolescence, 34, 137–148.

Frost, M., Cares, A., Gelman, K., & Beam, R. (2016). Accessing sexual and reproductive health care and information: Perspectives and recommendations from young Asian American women. Sexual & Reproductive Healthcare, 10, 9–13.

Hammoud, M., White, C., & Fetters, M. (2005). Opening cultural doors: Providing culturally sensitive healthcare to Arab American and American Muslim patients. American Journal of Obstetrics and Gynecology, 193, 1307–1311.

Hanzlik, M., & Gaubatz, M. (2012). Clinical PsyD trainees' comfort discussing sexual issues with clients. American Journal of Sexuality Education, 7, 219–236.

Hayes, A. (2013). Introduction to mediation, moderation, and conditional process analysis. New York, NY: Guilford.

Herold, E. S., & Way, L. (1988). Sexual self-disclosure among university women. Journal of Sex Research, 24, 1–14.

Hordern, A. J., & Street, A. F. (2007). Communicating about patient sexuality and intimacy after cancer: Mismatched expectations and unmet needs. Medical Journal of Australia, 186, 224–227.

Keck, L. T. (1989). Egyptian Americans in the Washington DC area. Arab Studies Quarterly, 11, 103–126.

Koss, M. P., Abbey, A., Campbell, R., Cook, S., Norris, J., Testa, M., … White, J. (2007). Revising the SES: A collaborative process to improve assessment of sexual aggression and victimization. Psychology of Women Quarterly, 31, 357–370.

Kulwicki, A., Miller, J., & Schim, S. (2000). Collaborative partnership for culture care: Enhancing health services for the Arab community. Journal of Transcultural Nursing, 11, 31–39.

Larson, D. G., & Chastain, R. L. (1990). Self-concealment: Conceptualization, measurement, and health implications. Journal of Social and Clinical Psychology, 9, 439–455.

Larson, D., Chastain, R., Hoyt, W., & Ayzenberg, R. (2015). Self-concealment: Integrative review and working model. Journal of Social and Clinical Psychology, 34, e705–e774.

Lumley, M. A., Sklar, E. R., & Carty, J. N. (2012). Emotional disclosure interventions for chronic pain: From the laboratory to the clinic. Translational Behavioral Medicine, 2, 73–81.

Meston, C., & Trapnell, P. (2005). Development and validation of a five-factor sexual satisfaction and distress scale for women: The Sexual Satisfaction Scale for Women (SSS-W). Journal of Sexual Medicine, 2, 66–81.

Moyer-Gusé, E., Chung, A. H., & Jain, P. (2011). Identification with characters and discussion of taboo topics after exposure to an entertainment narrative about sexual health. Journal of Communication, 61, 387–406.

Naber, N. (2006). Arab American femininities: Beyond Arab virgin/American (ized) whore. Feminist Studies, 32, 87–111.

Norman, S., Lumley, M., Dooley, J., & Diamond, M. (2004). For whom does it work? Moderators of the effects of written emotional disclosure in a randomized trial among women with chronic pelvic pain. Psychosomatic Medicine, 66, 174–183.

Rime, B., Bouchat, P., Paquot, L., & Giglio, L. (2019). Intrapersonal, interpersonal, and social outcomes of the social sharing of emotion. Current Opinion in Psychology, 31, 127–134.

Rosen, R., Brown, C., Heiman, J., Leiblum, S., Meston, C., Shabsigh, R., … D'Agostino, R. (2000). The Female Sexual Function Index (FSFI): A multidimensional self-report instrument for the assessment of female sexual function. Journal of Sex and Marital Therapy, 26, 191–208.

Saunamäki, N., Andersson, M., & Engström, M. (2010). Discussing sexuality with patients: Nurses' attitudes and beliefs. Journal of Advanced Nursing, 66, 1308–1316.

Saunamäki, N., & Engström, M. (2014). Registered nurses' reflections on discussing sexuality with patients: Responsibilities, doubts and fears. Journal of Clinical Nursing, 23, 531–540.

Sengstock, M. C. (1982). The Chaldean Americans: Changing conceptions of ethnic identity. Staten Island, NY: Center for Migration Studies.

Slavin-Spenny, O. M., Cohen, J. L., Oberleitner, L. M., & Lumley, M. A. (2011). The effects of different methods of emotional disclosure: Differentiating post-traumatic growth from stress symptoms. Journal of Clinical Psychology, 67, 993–1007.

Smyth, J. M., Pennebaker, J. W., & Arigo, D. (2001). What are the health effects of disclosure? In A. Baum, T. A. Revenson, & J. E. Singer (Eds.), Handbook of health psychology (pp. 339–348). London, England: Lawrence Erlbaum Associates.

Stephan, R., & Aprahamian, M. (2016). Gender and sexuality: Treading complex cultural challenges. In M. Amer & G. Awad (Eds.), Handbook of Arab American psychology (pp. 117–129). New York, NY: Routledge.

Ullman, S. E., & Peter-Hagene, L. (2014). Social reactions to sexual assault disclosure, coping, perceived control, and PTSD symptoms in sexual assault victims. Journal of Community Psychology, 42, 495–508.

Zeanah, P., & Schwarz, J. C. (1996). Reliability and validity of the sexual self-esteem inventory for women. Assessment, 3, 1–15.

Ziadni, M. S., Carty, J. N., Doherty, H. K., Porcerelli, J. H., Rapport, L. J., Schubiner, H., & Lumley, M. A. (2018). A life-stress, emotional awareness, and expression interview for primary care patients with medically unexplained symptoms: A randomized controlled trial. Health Psychology, 37, 282–290.
Acknowledgements
This research is based on the doctoral dissertation of the first author (HJH), under the direction of the last author (MAL). Dr. Holmes is now at the Department of Psychology, Appalachian State University, Boone, North Carolina.
Funding
The research was supported by a Student Award from the Blue Cross Blue Shield of Michigan Foundation (Grant No. 2483.SAP).
Ethics declarations
Conflict of interest
The authors declare that they have no conflict of interest.
Ethical Approval
All procedures performed in studies involving human participants were in accordance with the ethical standards of the institutional research committee and with the 1964 Helsinki declaration and its later amendments or comparable ethical standards. This article does not contain any studies with animals performed by any of the authors.
Informed Consent
Informed consent was obtained from all individual participants included in the study.
Additional information
Publisher's Note
Springer Nature remains neutral with regard to jurisdictional claims in published maps and institutional affiliations.
Electronic supplementary material
Below is the link to the electronic supplementary material.
About this article
Cite this article
Holmes, H.J., Yamin, J.B., Krohner, S. et al. Effects of a Sexual Health Interview among Arab American Women: An Experimental Disclosure Study. Arch Sex Behav 50, 373–384 (2021). https://doi.org/10.1007/s10508-020-01678-y
Received:

Revised:

Accepted:

Published:

Issue Date:
Keywords
Arab American

Sexual health

Interview

Disclosure

Moderation analyses