Abstract
Although numerous studies have examined sexual and substance use behaviors that put people at risk for sexually transmitted infections including HIV, most focus on an overall measure of aggregate risk or a few simple and particular subtypes of sexual acts assessed in separate analyses. In this article, we introduce a more sensitive approach to assess how the relative characteristics of sex acts may determine the level of risk in which an individual chooses to engage. Project AWARE, a randomized clinical trial conducted among 5012 patients in nine STD clinics across the U.S., is used to illustrate the approach. Our study was guided by two aims: (1) describe a new approach to examine the count of sexual acts using a disaggregated repeated measures design and (2) show how this new approach can be used to evaluate interactions among different categories of sexual risk behaviors and other predictors of interest (such as gender/sexual orientation). Profiles of different subtypes of sexual acts in the past 6 months were assessed. Potential interactions of the characteristics associated with each subtype which resulted in up to 48 distinct subtypes of sexual risk behaviors—sex with a primary/non-primary partner; partner's HIV status; vaginal/anal sex; condom use; and substance use before or during sex act—can be examined. Specifically, we chose condom use and primary and non-primary status of partner as an application in this paper to illustrate our method. There were significantly more condomless sex acts (M = 23, SE = 0.9) and sex acts with primary partners (M = 27.1, SE = 0.9) compared to sex acts with condoms (M = 10.9, SE = 0.4, IRR = 2.10, 95% CI 1.91–2.32, p < .001) and sex acts with non-primary partner (M = 10.9, SE = 0.5, IRR = 2.5, 95% CI 2.33–2.78, p < .001). In addition, there were significant differences for the count of sexual risk behaviors among women who have sex with men (WSM), men who have sex with women (MSW) and men who have sex with men (MSM) for sex acts with and without condom use, primary and non-primary partner, and their interaction (ps = .03, < .0001, and .001, respectively). This approach extends our understanding of how people make choices among sexual behaviors and may be useful in future research on disaggregated characteristics of sex acts.
Access options
Buy single article
Instant access to the full article PDF.
US$ 39.95
Tax calculation will be finalised during checkout.
Subscribe to journal
Immediate online access to all issues from 2019. Subscription will auto renew annually.
US$ 119
Tax calculation will be finalised during checkout.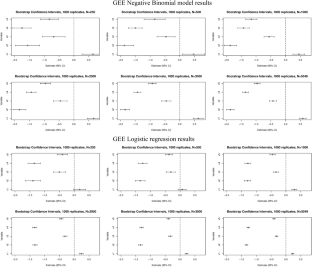 References
Attia, S., Egger, M., Müller, M., Zwahlen, M., & Low, N. (2009). Sexual transmission of HIV according to viral load and antiretroviral therapy: Systematic review and meta-analysis. AIDS, 23(11), 1397–1404.

Azariah, S., & Perkins, N. (2010). Prevalence of sexually transmitted infections in men who have sex with men presenting to Auckland Sexual Health Service. New Zealand Medical Journal, 123(1322), 46–54.

Bradley, H., Hall, H. I., Wolitski, R. J., Van Handel, M. M., Stone, A. E., LaFlam, M., & Frazier, E. L. (2014). Vital signs: HIV diagnosis, care, and treatment among persons living with HIV—United States, 2011. Morbidity and Mortality Weekly Report, 63(47), 1113–1117.

Browne, D. C., Clubb, P. A., Wang, Y., & Wagner, F. (2009). Drug use and high-risk sexual behaviors among African American men who have sex with men and men who have sex with women. American Journal of Public Health, 99(6), 1062–1066. https://doi.org/10.2105/AJPH.2007.133462.

Carey, M. P., Carey, K. B., Maisto, S. A., Gordon, C. M., Schroder, K. E., & Vanable, P. A. (2004). Reducing HIV-risk behavior among adults receiving outpatient psychiatric treatment: Results from a randomized controlled trial. Journal of Consulting and Clinical Psychology, 72(2), 252–268. https://doi.org/10.1037/0022-006X.72.2.252.

Coates, T. J. (2000). Efficacy of voluntary HIV-1 counselling and testing in individuals and couples in Kenya, Tanzania, and Trinidad: A randomised trial. Lancet, 356(9224), 103–112.

D'Anna, L. H., Margolis, A. D., Warner, L., Korosteleva, O. A., O'Donnell, L., Rietmeijer, C. A., … Safe City Study Group. (2012). Condom use problems during anal sex among men who have sex with men (MSM): Findings from the Safe in the City study. AIDS Care, 24(8), 1028–1038. https://doi.org/10.1080/09540121.2012.668285.

Downs, A. M., & De Vincenzi, I. (1996). Probability of heterosexual transmission of HIV: Relationship to the number of unprotected sexual contacts. Journal of Acquired Immune Deficiency Syndromes, 11(4), 388–395.

Fonner, V. A., Kennedy, C. E., O'Reilly, K. R., & Sweat, M. D. (2014). Systematic assessment of condom use measurement in evaluation of HIV prevention interventions: Need for standardization of measures. AIDS and Behavior, 18(12), 2374–2386. https://doi.org/10.1007/s10461-013-0655-1.

Franssens, D., Hospers, H. J., & Kok, G. (2009). Social-cognitive determinants of condom use in a cohort of young gay and bisexual men. AIDS Care, 21(11), 1471–1479. https://doi.org/10.1080/09540120902883127.

Ghanem, K. G., Hutton, H. E., Zenilman, J. M., Zimba, R., & Erbelding, E. J. (2005). Audio computer assisted self interview and face to face interview modes in assessing response bias among STD clinic patients. Sexually Transmitted Infections, 81(5), 421–425. https://doi.org/10.1136/sti.2004.013193.

Hess, K. L., Johnson, S. D., Hu, X., Li, J., Wu, B., Yu, C., … Morgan, M. S. (2018). Diagnoses of HIV infection in the United States and dependent areas, 2017. In HIV Surveillance Report, 2017 (Vol. 29). Centers for Disease Control and Prevention. http://www.cdc.gov/hiv/library/reports/hiv-surveillance.html.

Hilbe, J. M. (1994). Log negative binomial regression using the GENMOD procedure in SAS/STAT software. In Proceedings of nineteenth annual SAS users group international conference (pp. 1199–1222). Cary, NC: SAS Institute, Inc.

Kamb, M. L., Fishbein, M., Douglas, J. M., Jr., Rhodes, F., Rogers, J., Bolan, G., … Peterman, T. A. (1998). Efficacy of risk-reduction counseling to prevent human immunodeficiency virus and sexually transmitted diseases: A randomized controlled trial. Project RESPECT Study Group. Journal of the American Medical Association, 280(13), 1161–1167.

Koblin, B. A., Husnik, M. J., Colfax, G., Huang, Y., Madison, M., Mayer, K., & Buchbinder, S. (2006). Risk factors for HIV infection among men who have sex with men. AIDS, 20(5), 731–739. https://doi.org/10.1097/01.aids.0000216374.61442.55.

Lawless, J. F. (1987). Negative binomial and mixed Poisson regression. Canadian Journal of Statistics, 15(3), 209–225.

Macaluso, M., Demand, M. J., Artz, L. M., & Hook, E. W., III. (2000). Partner type and condom use. AIDS, 14(5), 537–546.

Marks, G., Crepaz, N., Senterfitt, J. W., & Janssen, R. S. (2005). Meta-analysis of high-risk sexual behavior in persons aware and unaware they are infected with HIV in the United States: Implications for HIV prevention programs. Journal of Acquired Immune Deficiency Syndromes, 39(4), 446–453.

Mattson, C. L., Freedman, M., Fagan, J. L., Frazier, E. L., Beer, L., Huang, P., & Medical Monitoring Project. (2014). Sexual risk behaviour and viral suppression among HIV-infected adults receiving medical care in the United States. AIDS, 28(8), 1203–1211. https://doi.org/10.1097/QAD.0000000000000273.

McCullagh, P., & Nelder, J. A. (1989). Generalized linear models. London: Routledge.

Metsch, L. R., Feaster, D. J., Gooden, L., Schackman, B. R., Matheson, T., Das, M., & Colfax, G. N. (2013). Effect of risk-reduction counseling with rapid HIV testing on risk of acquiring sexually transmitted infections: The AWARE randomized clinical trial. Journal of the American Medical Association, 310(16), 1701–1710. https://doi.org/10.1001/jama.2013.280034.

Neuhaus, J. M. (1992). Statistical methods for longitudinal and clustered designs with binary responses. Statistical Methods in Medical Research, 1(3), 249–273.

Neuhaus, J. M., Kalbfleisch, J. D., & Hauck, W. W. (1991). A comparison of cluster-specific and population-averaged approaches for analyzing correlated binary data. International Statistical Review/Revue Internationale de Statistique, 59, 25–35.

Noar, S. M., Cole, C., & Carlyle, K. (2006). Condom use measurement in 56 studies of sexual risk behavior: Review and recommendations. Archives of Sexual Behavior, 35(3), 327–345. https://doi.org/10.1007/s10508-006-9028-4.

Otto-Salaj, L. L., Kelly, J. A., Stevenson, L. Y., Hoffmann, R., & Kalichman, S. C. (2001). Outcomes of a randomized small-group HIV prevention intervention trial for people with serious mental illness. Community Mental Health Journal, 37(2), 123–144.

Owen, B. N., Brock, P. M., Butler, A. R., Pickles, M., Brisson, M., Baggaley, R. F., & Boily, M.-C. (2015). Prevalence and frequency of heterosexual anal intercourse among young people: A systematic review and meta-analysis. AIDS and Behavior, 19(7), 1338–1360.

Pan, W. (2001). Akaike's information criterion in generalized estimating equations. Biometrics, 57(1), 120–125.

SAS. (2009). SAS/STAT user's guide, version 9.2. Retrieved from https://support.sas.com/documentation/cdl/en/statuggenmod/61787/PDF/default/statuggenmod.pdf.

Schroder, K. E., Carey, M. P., & Vanable, P. A. (2003). Methodological challenges in research on sexual risk behavior: II. Accuracy of self-reports. Annals of Behavioral Medicine, 26(2), 104–123.

The NIMH Multisite HIV Prevention Trial: Reducing HIV sexual risk behavior. The National Institute of Mental Health (NIMH) Multisite HIV Prevention Trial Group. (1998). Science, 280(5371), 1889–1894.

Weller, S., & Davis, K. (2002). Condom effectiveness in reducing heterosexual HIV transmission. Cochrane Database System Review, 1, 003255. https://doi.org/10.1002/14651858.cd003255.

Zeger, S. L., & Liang, K. Y. (1986). Longitudinal data analysis for discrete and continuous outcomes. Biometrics, 42(1), 121–130.
Acknowledgements
This work was supported by the Office of the Director, National Institutes of Health (OD) (RC2DA028973), the National Institute on Drug Abuse (R21DA038641 and R01DA027379), and the Patient-Centered Outcomes Research (ME-1403-12907). The infrastructure of the National Drug Abuse Treatment Clinical Trials Network was used as a platform in conducting the Project AWARE trial (U10DA13720). Support from the University of Miami Center for AIDS Research (CFAR) is also acknowledged (P30 AI073961). The NIH had no further role in study design; in the collection, analysis and interpretation of data; in the writing of the report; or in the decision to submit the paper for publication.
Ethics declarations
Conflict of interest
The authors declare that they have no conflict of interest.
Ethical Approval
All procedures performed in studies involving human participants were in accordance with the ethical standards of the institutional and/or national research committee and with the 1964 Helsinki declaration and its later amendments or comparable ethical standards.
Informed Consent
Informed consent was obtained from all individual participants included in the study.
Additional information
Publisher's Note
Springer Nature remains neutral with regard to jurisdictional claims in published maps and institutional affiliations.
Electronic supplementary material
Below is the link to the electronic supplementary material.
About this article
Cite this article
Pan, Y., Metsch, L.R., Gooden, L.K. et al. The Disaggregated Repeated Measures Design: A Novel Approach to Assess Sexual Risk Behaviors. Arch Sex Behav 50, 311–322 (2021). https://doi.org/10.1007/s10508-019-01582-0
Received:

Revised:

Accepted:

Published:

Issue Date:
Keywords
Sexual risk behaviors

Repeated measures

Generalized estimating equations

Negative binomial regression