Abstract
The continued use of social media by governments requires that the resultant records, currently termed liquid communication, be governed for accountability purposes. However, some governments worldwide and many in Africa do not have information governance policies to ensure accountability for social media generated records. Therefore, this study examines the roles and responsibilities for the governance of liquid communication generated through social media use by the Botswana government. The study adopts a qualitative approach to collect data from purposively selected participants. This study reveals that public relations officers administered the Botswana government's social media pages. Furthermore, the Botswana National Archives and Records Services was not involved in the country's liquid communication governance. Therefore, the study recommends a cross-functional approach to the governance of liquid communication in Botswana. All stakeholders' roles and responsibilities in government information management should be clearly spelled out and documented, which is currently not the case.
Access options
Buy single article
Instant access to the full article PDF.
US$ 39.95
Tax calculation will be finalised during checkout.
Subscribe to journal
Immediate online access to all issues from 2019. Subscription will auto renew annually.
US$ 79
Tax calculation will be finalised during checkout.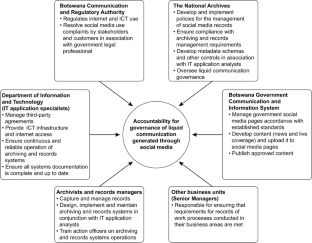 References
ARMA (2017) Generally Accepted Recordkeeping Principles. https://www.arma.org/page/principles. Accessed 2 June 2019

Botswana Communications Regulatory Authority (2018) Profile. http://www.bocra.org.bw/profile. Accessed 15 January 2020

Botswana Communications and regulatory authority (2018) BOCRA response - does BOCRA deliver on a connected and informed society. https://www.bocra.org.bw/bocra-response-does-bocra-deliver-connected-and-informed-society. Accessed 22 February 2020

Caleb TC (2020) CMC is dead, long live CMC!: situating computer-mediated communication scholarship beyond the digital age. J Comput Med Commun 25(1):9–22

Creswell JW (2014) Research design: qualitative, quantitative, and mixed methods approaches. Sage, Los Angeles

Franks P, Smallwood RF (2014) Information governance for social media. In: Smallwood RF (ed) Information governance. Wiley, New Jersey, pp 253–269

Gartner IT Glossary (2018) Social media. https://www.gartner.com/it-glossary/social-media/. Accessed 16 May 2019

Gartner Inc (2016) Information Governance. http://www.gartner.com/it-glossary/information-governance. Accessed 15 April 2020

Government of Botswana (1978) National archives and records services act cap 59:04". Government Printer, Gaborone

Government of Botswana (2011) Department of Information Technology. http://www.gov.bw/en/Ministries--Authorities/Ministries/Ministry-of-Transport-and-Communications/Departments/Information-Technology. Accessed 1 June 2020

Government of Estonia (2014) Information governance. https://www.mkm.ee/sites/default/files/information_governance_analys_strategy.pdf. Accessed 26 January 2020

Greener S (2008) Business research methods. Ventus Publishing, Telluride

ISO 15489–1 (2016) Information and documentation records management. https://www.iso.org/standard/62542.html. Accessed 20 January 2020

Kenosi L (2012) Accountability in archival science since Parkinson's thesis. Comma 1:135–146

Logan D (2010) What is information governance? And why is it so hard? https://blogs.gartner.com/debra_logan/2010/01/11/what-is-information-governance-and-why-is-it-so-hard/. Accessed 02 June 2020

Masilo B, Seabo B (2015) Facebook: revolutionising electoral campaign in Botswana? J Afr Elec 14(2):110–219

McLeod J, Lomas E (2013) Liquid record in a digital age. In: Liquidity – practice research symposium 2013, 14th June 2013, London, UK. http://nrl.northumbria.ac.uk/34104/

Mickoleit A (2014) Social media use by governments: a policy primer to discuss trends, identify policy opportunities and guide decision makers: OECD Working Papers on Public Governance. https://doi.org/https://doi.org/10.1787/5jxrcmghmk0s-en . Accessed 2 March 2020

Mosweu T, Kenosi L (2018) Implementation of the court records management system in the delivery of justice at the Gaborone magisterial district. Botswana Rec M J 28(3):234–251

Mosweu T, Ngoepe M (2018) Governance of liquid communications in the Botswana public sector: neither restricted by time nor space. In (Eds.) Chisita CT, Rusero AMM, exploring the relationship between media, libraries, and archives. IGI Global, Harrisburg, pp 53–69.

Mullon PA, Ngoepe M (2019) An integrated framework to elevate information governance to a national level in South Africa. Rec M J 29(1/2):103–116

Office of the President (n.d) Presidential directive cab. 30/06. Unpublished

Parkinson J (1993) Accountability in archival science MA Thesis, UBC

Ozuem W, Howell KE, Lancaster G (2008) Communicating in the new interactive market space. Eu J Mark 42(9/10):1059–1083

Rogers C (2015) Diplomatics of born digital documents – considering documentary form in a digital environment. Rec M J 25:6–20

Sebina PM (2006) Freedom of information and records management: a learning curve for Botswana School of Library, Archive and Information Studies, PhD Thesis, University College London

Smallwood RF (2014) Information governance. Wiley, New Jersey

United States of America Center for Disease Control and Prevention (2012). Social media guidelines and best practices. https://www.cdc.gov/SocialMedia/Tools/guidelines/pdf/FacebookGuidelines.pdf. Accessed 2 February 2020

Van Bussel GJ (2016) An accountability challenge: capturing records and their context in enterprise information systems. In: Silva P, Guerreiro A, Quaresma R (eds), Proceedings of the 10th European conference of information systems management, 8–9 September 2016, Evora, Portugal. ACPI, Reading, pp. 204–211.
Acknowledgments
The study was supported by a grant from the University of South Africa.
Additional information
Publisher's Note
Springer Nature remains neutral with regard to jurisdictional claims in published maps and institutional affiliations.
About this article
Cite this article
Mosweu, T. Accountability for governance of liquid communication generated through the use of social media in Botswana: whose duty is it?. Arch Sci (2021). https://doi.org/10.1007/s10502-021-09359-y
Keywords
Accountability

Botswana

Information governance

Liquid communication

Social media