Abstract
Small indigenous species (SIS) of fish such as the mola carplet (Amblypharyngodon mola) are rich in nutrients, often containing high levels of zinc, iron, and vitamin A. Despite scientific and government efforts, culture of SIS for improved nutrition is not yet widespread. This paper investigates the contribution of the mola carplet, commonly referred to in Bangladesh as "mola" to household fish consumption, and the factors influencing productivity and income from carp–mola polyculture in southwest Bangladesh. In addition, we assess the effect of inclusion of mola into carp polyculture ponds on the inputs required to culture fish in homestead ponds. Carp–mola polyculture farmers (n = 344) and carp-only polyculture farmers (n = 513, as controls) were surveyed in May 2013. Mola broodstock were stocked in 4881 homestead ponds, at an average rate of 25 kg ha−1. The results indicated that pond area, water color (a proxy of phytoplankton abundance) and inorganic fertilizer (primarily urea and TSP) significantly influence mola production. Smaller ponds proved to have higher productivity than larger ponds. Production and profitability of carp–mola polyculture system are significantly higher (P < 0.1) than carp-only polyculture systems. Mola also contributed to household fish consumption, with 47 % of mola produced in homestead ponds consumed by household members. The results suggest scope for wider dissemination and impact of mola production technology. Such dissemination might involve closer collaboration among research, governmental, and non-governmental organizations, involving lead farmer selection, farmer-to-farmer visits and result demonstrations and wider communication of the positive outcomes of culturing mola.
Access options
Buy single article
Instant access to the full article PDF.
US$ 39.95
Tax calculation will be finalised during checkout.
Subscribe to journal
Immediate online access to all issues from 2019. Subscription will auto renew annually.
US$ 79
Tax calculation will be finalised during checkout.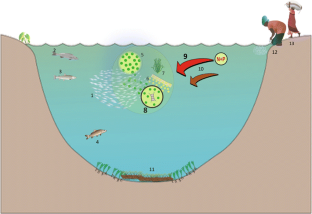 References
Ahmed M, Lorica MH (2002) Improving developing country food security through aquaculture development—lessons from Asia. Food Policy 27:125–141

Ahmed N, Alam MF, Hasan MR (2010) The economics of sutchi catfish (Pangasianodon hypophthalmus) aquaculture under three different farming systems in rural Bangladesh. Aquac Res 41:1668–1682

Ali, M, Hoq, M (2012) Improved fish feed management in aquaculture. Extension manual no 38. Bangladesh Fisheries Research Institute, Mymensingh

Avnimelech Y, Ritvo G (2003) Shrimp and fish pond soils: processes and management. Aquaculture 220:549–567

Azadi M, Mamun A (2004) Reproductive biology of the Cyprinid, Amblypharyngodon mola (Hamilton). Pak J Biol Sci 7:1727–1729

Belton B, Thilsted SH (2014) Fisheries in transition: food and nutrition security implications for the global South. Glob Food Sec 3:59–66

Belton B, Karim M, Thilsted SH, Collis W, Phillips M (2011) Review of aquaculture and fish consumption in Bangladesh. Food Nutr Bull 21:482–487

Belton B, van Asseldonk IJM, Thilsted SH (2014) Faltering fisheries and ascendant aquaculture: Implications for food and nutrition security in Bangladesh. Food Policy 44:77–87

Bogard JR, Thilsted SH, Marks GC, Wahab MA, Hossain MA, Jakobsen J, Stangoulis J (2015) Nutrient composition of important fish species in Bangladesh and potential contribution to recommended nutrient intakes. J Food Comp Anal 42:120–133

Bouis HE (2000) Commercial vegetable and polyculture fish production in Bangladesh: their impacts on household income and dietary quality. Food Nutr Bull 21:482–487

Das S, Jana B (1996) Pond fertilization through inorganic sources: an overview. Indian J Fish 43:137–155

Fiedler JL, Lividini K, Drummond K, Thilsted SH (2016) Strengthening the contribution of aquaculture to food and nutrition security: the potential of a vitamin A-rich, small fish in Bangladesh. Aquaculture 452:291–303

Gupta S, Banerjee S (2013) Food and feeding habits of Amblypharyngodon mola (Hamilton-Buchanan, 1822) in West Bengal India. Int Res J Biol Sci 2(5):67–71

Hinkle DE, Wiersma W, Jurs SG (2003) Applied statistics for the behavioral sciences, 5th edn. Houghton Mifflin, Boston, p 756

Hopkins JS, Sandifer PA, Browdy C (1994) Sludge management in intensive pond culture of shrimp: effect of management regime on water quality, sludge characteristics, nitrogen extinction, and shrimp production. Aquacult Eng 13:11–30

Hossain M, Alam MR, Haque MR, Mehbub MF (2013) Study on present status of carp-SIS polyculture in Dinajpur District of Bangladesh. Bangladesh Res Pub J 9:123–130

Islam M, Milstein A, Wahab M, Kamal A, Dewan S (2005) Production and economic return of shrimp aquaculture in coastal ponds of different sizes and with different management regimes. Aquacult Int 13:489–500

Jahan D, Hussain L, Islam M, Khan M (2013) Comparative study of mustard oil cake and soybean meal based artificial diet for Rohu, Labeo rohita (Hamilton) fingerlings. Agriculturists 11:61–66

Karim M, Wahab M, Little D (2005) Seasonal integration of water use between fishponds and associated horticulture—characteristics of households with different levels of adoption in Mymensingh, Bangladesh. Paper Presented at World Aquaculture Symposium, Nusa Dua, Bali, 9–13th May 2005

Kawarazuka N (2010) The contribution of fish intake, aquaculture, and small-scale fisheries to improving nutrition: a literature review. The WorldFish Center Working Papers, Penang, Malaysia, p 44

Kumar MS, Burgess SN, Luu LT (2005) Review of nutrient management in freshwater polyculture. J Appl Aquac 16:17–44

Latif K, Alam M, Sayeed M, Hussain MA, Sultana S, Hossain M (2008) Comparative study on the effects of low cost oil seed cakes and fish meal as dietary protein sources for Labeo rohita (Hamilton) fingerling. University J Zool Rajshahi 27:25–30

Mamun A, Tareq K, Azadi M (2004) Food and feeding habits of Amblypharyngodon mola (Hamilton) from Kap tai Reservoir, Bangladesh. Pak J Biol Sci 7:584–588

Mondal DK, Kaviraj A (2013) Feeding and reproductive biology of Amblypharyngodon mola (Cyrpiniformes: Cyprinidae) from two floodplain lakes of India. Int J Aqu Biol 1:125–131

National Institute of Population Research and Training, Mitra and Associates, ICF, International (2013) Bangladesh Demographic and Health Survey 2011. National Institute of Population Research and Training, Mitra and Associates, ICF, International, Dhaka

Nigam P, Pandey A (2009) Biotechnology for agro-industrial residues utilisation: utilisation of agro-residues. Springer, Berlin, p 484

Nuruzzaman, M, Anwari, B, Shahjahan, M, Moniruzzaman, M (2001) The dynamics and diversity of the shrimp farming in Bangladesh. Final report. Fourth Fisheries Project, Shrimp and Coastal Aquaculture Component, Department of Fisheries, Bangladesh, p 63

Roos N, Leth T, Jakobsen J, Thilsted SH (2002) High vitamin A content in some small indigenous fish species in Bangladesh: perspectives for food-based strategies to reduce vitamin A deficiency. Int J Food Sci Nutr 53:425–437

Roos N, Islam MM, Thilsted SH (2003) Small indigenous fish species in Bangladesh: contribution to vitamin A, calcium and iron intakes. J Nutr 133:4021S–4026S

Roos N, Wahab M, Hossain MAR, Thilsted SH (2007a) Linking human nutrition and fisheries: incorporating micronutrient-dense, small indigenous fish species in carp polyculture production in Bangladesh. Food Nutr Bull 28:280S–293S

Roos N, Wahab MA, Chamnan C, Thilsted SH (2007b) The role of fish in food-based strategies to combat vitamin A and mineral deficiencies in developing countries. J Nutr 137:1106–1109

Sarkar U, Lakra W (2010) Small indigenous freshwater fish species of India: significance, conservation and utilization. Aquac Asia Mag 15:34–35

Sayeed M, Alam M, Sultana S, Ali M, Azad M, Islam M (2007) Effect of inorganic fertilizer on the fish growth and production in polyculture system of Bangladesh. University J Zool Rajshahi 26:77–80

Stevens J (2009) Applied multivariate statistics for the social sciences. Lawrence Erlbaum Associates, Mahwah

Suresh V, Biswas B, Vinci G, Mitra K, Mukherjee A (2007) Biology of Amblypharyngodon mola (Hamilton) from a floodplain wetland, West Bengal. Indian J Fish 54:155–161

Thilsted SH (2012) The potential of nutrient-rich small fish species in aquaculture to improve human nutrition and health. In: Subasinghe RP, Arthur JR, Bartley DM, De Silva SS, Halwart M, Hishamunda N, Mohan CV, Sorgeloos P (eds) Farming the waters for people and food, proceedings of the global conference on aquaculture 2010. Phuket, Thailand, pp 57–73

Thilsted SH (2013) Fish diversity and fish consumption in Bangladesh. In: Fanzo J, Hunter D, Borelli T, Mattei F (eds) Diversifying food and diets: using agricultural biodiversity to improve nutrition and health. Earthscan, London, pp 270–282

Thilsted SH, Roos N (1999) Policy issues on fisheries in relation to food and nutrition security. In: Ahmed M, Delgardo C, Sverdrup-Jensen S, Santos RAV (eds) Fisheries policy in developing countries: issues, priorities and needs. International Center for Living Aquatic Resources Management (ICLARM) Conference Proceedings 60, Manila, Philippines, pp 61–69

Thilsted SH, Wahab MA (2014) Production and conservation of nutrient-rich small fish (SIS) in ponds and wetlands for nutrition security and livelihoods in South Asia. In: Proceedings of a World Bank/SAFANSI funded regional workshop on small fish and nutrition, Dhaka, Bangladesh, p 47

Thilsted SH, Roos N, Hassan N (1997) The role of small indigenous fish species in food and nutrition security in Bangladesh. Naga ICLARM Q 20:82–84

Thilsted SH, James D, Toppe J, Subasinghe R, Karunasagar I (2014) Maximizing the contribution of fish to human nutrition. ICN2 Second International Conference on Nutrition. FAO and World Health Organisation. http://www.fao.org/3/a-i3963e.pdf. Accessed on 01 Jan 2016

Thompson PM, Roos N, Sultana P, Thilsted S (2002) Changing significance of inland fisheries for livelihoods and nutrition in Bangladesh. J Crop Prod 6:249–317

Thompson PM, Firoz Khan A, Sultana P (2006) Comparison of aquaculture extension impacts in Bangladesh. Aquacult Econ Manag 10:15–31
Acknowledgements
The authors are grateful to the USAID (EEM-G-00-04-00013-00) for the financial support provided to the Aquaculture for Income and Nutrition (AIN) project. The authors wish to thank AIN field staff for conducting the research at field level. The preparation of the paper was co-funded by the CGIAR Research Program on Aquatic Agricultural Systems (AAS), and is a contribution to the CGIAR Research Programs on AAS, and Livestock and Fish.
About this article
Cite this article
Karim, M., Ullah, H., Castine, S. et al. Carp–mola productivity and fish consumption in small-scale homestead aquaculture in Bangladesh. Aquacult Int 25, 867–879 (2017). https://doi.org/10.1007/s10499-016-0078-x
Received:

Accepted:

Published:

Issue Date:
Keywords
Small indigenous fish species

Homestead ponds

Mola

Water color

Productivity

Consumption