Abstract
'Redberry disease' on blackberries is hypothesised to be caused by the redberry mite (RBM), Acalitus essigi (Hassan), and results in uneven ripening of blackberry drupelets, which become bright red, hard and inedible. This damage has been reported to cause significant crop losses in commercial blackberry production in most regions where commercial blackberries are grown. However, RBM are difficult to detect and manage due to their tiny body size. In this study, a new 'shake and wash' extraction method has been developed, enabling faster, more accurate mite detection and quantification. The 'shake and wash' method extracted significantly more RBM and predatory mites (Phytoseiidae) than the previously recommended 'sticky tape' method, where mite extraction using this technique was increased by 53 and 60%, respectively. RBM counts were then made from the fruit of wild and commercial blackberry cultivars. Significantly higher RBM populations were isolated in cultivars 'BL454' (mean = 12.1 per fruit) and 'Chester' (mean = 2.6 per fruit) from several sites indicating potential RBM susceptibility in these cultivars. The highest levels of disease incidence and RBM numbers were observed on wild blackberry fruit. The redberry disease incidence increased from 13.5 to 44.9% as the mean population of RBM increased on wild fruit. Further methods were developed to extract mites from winter buds on canes. RBM numbers were lower in the fruit compared to winter buds. RBM detection is best achieved in winter buds rather than fruit and may be an important tool for RBM detection and subsequent management in the cropping season.
This is a preview of subscription content, log in to check access.
Access options
Buy single article
Instant access to the full article PDF.
US$ 39.95
Price includes VAT for USA
Subscribe to journal
Immediate online access to all issues from 2019. Subscription will auto renew annually.
US$ 199
This is the net price. Taxes to be calculated in checkout.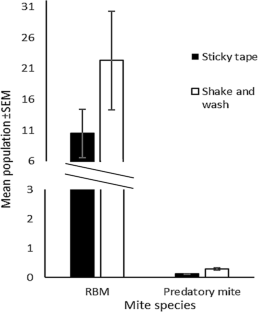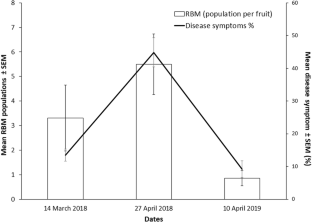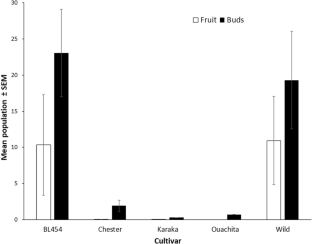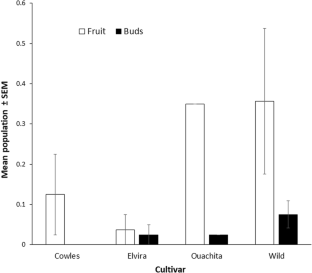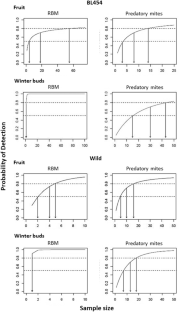 References
Amrine JW, Stasny TA (1994) Catalog of the Eriophyoidea (Acarina: Prostigmata) of the world. Indira Pub. House, West Bloomfield

Clark JR, Finn CE (2014) Blackberry cultivation in the world. Rev Bras Frutic 36:46–57. https://doi.org/10.1590/0100-2945-445/13

Cross J, Fountain M, Harris AG, Arnold B (2012) Preventing red berry disease by monitoring and control of blackberry mite. SF116. AHDB. Accessed 7 July 2018

Davies JT, Allen GR, Williams MA (2001a) Intraplant distribution of Acalitus essigi (Acari: Eriophyoidea) on blackberries (Rubus fruticosus agg.). Exp Appl Acarol 25:625–639. https://doi.org/10.1023/A:1016179817089

Davies JT, Allen GR, Williams MA (2001b) Dispersal of Acalitus essigi to blackberry (Rubus fruticosus agg.) fruit. Exp Appl Acarol 101:19–23. https://doi.org/10.1046/j.1570-7458.2001.00886.x

Davies JT, Williams MA, Allen GR (2002) A new method for sampling eriophyoid mites from architecturally complex plant structures. J Appl Entomol 126:303–305. https://doi.org/10.1046/j.1439-0418.2002.00656.x

de Lillo E, Duso C (1996) Currants and berries. In: Lindquist EE, Sabelis MW, Bruin J (eds) Eriophyoid mites—their biology, natural enemies and control. Elsevier Science BV, Amsterdam, pp 583–591

de Lillo E (2001) A modified method for Eriophyoid mite extraction (Acari: Eriophyoidea). Int J Acarol 27:67–70. https://doi.org/10.1080/01647950108684228

Essig EO (1925) The blackberry mite: the cause of redberry disease of Himalaya blackberry and its control. USDA

Ferreira MA, Pina S, Calha IM (2015) Acarological diversity on blackberry crop and neighbouring vegetation in Southwestern Portugal. Bulletin, IW. IOBC-WPRS Bulletin, vol 109

Gerding PM (1992) Acalitus essigi (Hassan) (Acarina: Eriophyidae), feeding on cultivated and wild blackberries in Chile. Agric Tecnica (Chile) 52(3):336–337

Harvey TL, Martin TJ (1988) Sticky-tape method to measure cultivar effect on wheat curl mite (Acari: Eriophyidae) populations in wheat spikes. J Econ Entomol 81:731–734. https://doi.org/10.1093/jee/81.2.731

Johnson DT, Garcia M, Rom C, Freeman L, Kim SH, Lewis B (2015) Management of arthropods on blackberries and raspberries in Arkansas, USA. In: XI international Rubus and Ribes symposium, vol 1133. Acta Horticulturae, pp 437–444. https://doi.org/10.17660/ActaHortic.2016.1133.67

Knihinicki DK, Boczek J (2009) New eriophyoid mites (Acari: Eriophyoidea) from Australia. Int J Acarol 28:241–249. https://doi.org/10.1080/01647950208684298

Krantz GW, Walter DE (2009) Collection, rearing, and preparing specimens. In: A manual of acarology, vol Ed. 2, 3rd ed. Texas Tech University Press, Texas, pp 85–93

MacFarlane S, McGavin W, Roberts H, Allen J (2015) Exploring whether redberry disease is caused by a mite-transmitted virus. Final Report SF 149. Agriculture and Horticulture Development Board. https://horticulture.ahdb.org.uk/sites/default/files/research_papers/SF%20149_Report_Final_2015.pdf. Accessed 10 Oct 2018

McMurtry J, Croft BA (1997) Life-styles of phytoseiid mites and their roles in biological control. Annu Rev Entomol 42:291–321. https://doi.org/10.1146/annurev.ento.42.1.291

Michalska K, Skoracka A, Navia D, Amrine JW (2010) Behavioural studies on eriophyoid mites: an overview. Exp Appl Acarol 51:31–59. https://doi.org/10.1007/s10493-009-9319-2

Monfreda R, Nuzzaci G, de Lillo E (2007) Detection, extraction, and collection of Eriophyoid mites. Zootaxa 1662:35–43. https://doi.org/10.11646/zootaxa.1662.1.4

Monfreda R, Lekveishvili M, Petanovic R, Amrine JW (2010) Collection and detection of eriophyoid mites. Exp Appl Acarol 51:273–282. https://doi.org/10.1007/s10493-009-9315-6

Mulderij R (2016) Overview global market berries. http://www.freshplaza.com/article/157238/OVERVIEW-GLOBAL-MARKET-BERRIES. Accessed 16 June 2018

Murrietta ME, Gaskell M (2016) Redberry mite population differences in two Rubus spp. on California's Central Coast. In: Fernandez, GE, Hummer, KE (eds) XI international Rubus and Ribes symposium , vol 1133. Acta Horticulturae, pp 431–436. https://doi.org/10.17660/ActaHortic.2016.1133.66

Pérez-Moreno I, Moraza-Zorilla ML (1998) Population dynamics and hibernation shelters of Calepitrimerus vitis in the vineyards of Rioja, Spain, with a description of a new eriophyid extraction technique (Acari, Eriophyidae). Exp Appl Acarol 22:215–226. https://doi.org/10.1023/A:1006014331156

Prasad Y, Prabhakar M (2012) Pest monitoring and forecasting. In: Integrated pest management: principles and practice. CABI, Oxfordshire, pp 41–57. https://doi.org/10.1079/9781845938086.0000

Robbins C, Morrell JJ (2002) Mold, housing & wood. Western Wood Products Association, Portland

Schicha E (1979) Three new species of 'Amblyseius' Berlese from New Caledonia and Australia (Acari: Phytoseiidae). Aust Entomol 6:41. https://doi.org/10.1111/j.1440-6055.1975.tb02010.x

Strik B, Clark J, Finn C, Banados M (2007) Worldwide blackberry production. In: IX international Rubus and Ribes Symposium, vol 17. Acta Horticulturae, pp 205–213. https://doi.org/10.17660/ActaHortic.2008.777.31

Szendrey G, Ilovai Z, Lucza Z (2003) Damage caused by blackberry mite (Acalitus essigi Hassan) and role of natural biological control agents in integrated blackberry protection system in Hungary. IOBC WPRS Bull 26:133–138

Valenzano D, Bari G, Malagnini V, de Lillo E (2019) Off-host survival of Eriophyoidea and remarks on their dispersal modes. Exp Appl Acarol 78:21–33. https://doi.org/10.1007/s10493-019-00417-w

Van Leeuwen T, Witters J, Nauen R, Duso C, Tirry L (2010) The control of eriophyoid mites: state of the art and future challenges. Exp Appl Acarol 51:205–224. https://doi.org/10.1007/s10493-009-9312-9

Vincent CI, García ME, Johnson DT, Rom CR (2010) Broad mite on primocane-fruiting blackberry in organic production in Arkansas. HortTech 20:718–723. https://doi.org/10.21273/HORTTECH.20.4.718

Zacharda M, Pultar O, Muška J (1988) Washing technique for monitoring mites in apple orchards. Exp Appl Acarol 5:181–183. https://doi.org/10.1007/BF02053827
Acknowledgements
We thank the numerous producer's and industry representative's assistance in fruit harvesting and their contribution to the phone survey and Cindy Edwards for her assistance in collecting fruit from several growers in the Yarra Valley. This project has been funded by Horticulture Innovation Australia (project code RT17000), using the raspberry and blackberry industry research and development levy and contributions from the Australian Government.
Additional information
Publisher's Note
Springer Nature remains neutral with regard to jurisdictional claims in published maps and institutional affiliations.
Electronic supplementary material
Below is the link to the electronic supplementary material.
About this article
Cite this article
Law, H.M., Allen, G.R., Davies, J.T. et al. Sampling, extraction and incidence of redberry mites (Acalitus essigi) on blackberries in Australia. Exp Appl Acarol (2020). https://doi.org/10.1007/s10493-020-00509-y
Received:

Accepted:

Published:
Keywords
Blackberry cultivars

Acalitus essigi

Sampling methods

Predatory mite

Mite detection