Abstract
Two bacterial strains SYSU G02173T and SYSU G03142 were isolated from hot springs in Tibet, China. Based on the results of nearly full-length 16S rRNA gene sequences and phylogenetic analyses, strains SYSU G02173T and SYSU G03142 were assigned to the family Sphingosinicellaceae, and were closest to Sandaracinobacter sibiricus RB16-17 T (96.04% and 96.12% similarity, respectively). Cells of the both new strains were observed to be motile rod-shape, Gram-staining negative. Growth occurred at pH 6–8 (optimal: pH 7.0) and 37–55 °C (optimal: 45 °C) with 0–1.0% (w/v) NaCl in T4 broth. The cells were found to be positive for oxidase and catalase activities. The major respiratory ubiquinone was Q-8. The major fatty acids were identified as summed feature 8 (C18:1 ω7c and/or C18:1 ω6c), C16:0, C14:0 2-OH. The major polar lipids were found to consist of sphingoglycolipid, phosphatidylethanolamine, phosphatidylglycerol, diphosphatidylglycerol, one unidentified phospholipid, one unidentified glycolipid, three unidentified aminolipids and two unidentified polar lipids. The DNA G + C contents of strains SYSU G02173T and SYSU G03142 were 71.8%. The average nucleotide identity (ANI) value between strain SYSU G02173T and SYSU G03142 was 99.98%. The amino acid identity (AAI) values between them and their closely related species were below 66.14%. The isolates are characterized by aerobic growth, a yellow endocellular pigment and a higher optimum growth temperature. The results showed that strains SYSU G02173T and SYSU G03142 represent a novel species of a novel genus in the family Sphingomonadaceae, and thus the name Thermaurantiacus tibetensis (type strain SYSU G02173T = KCTC 72052 T = CGMCC 1.16680 T) is proposed.
Access options
Buy single article
Instant access to the full article PDF.
US$ 39.95
Tax calculation will be finalised during checkout.
Subscribe to journal
Immediate online access to all issues from 2019. Subscription will auto renew annually.
US$ 119
Tax calculation will be finalised during checkout.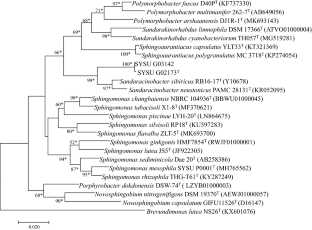 Data availability and material
The 16S rRNA gene sequences of strains SYSU G02173T and SYSU G03142 have been deposited in GenBank under the accession numbers MT840670 and MT840671, respectively. Whole Genome Shotgun projects of strains SYSU G02173T and SYSU G03142 have been deposited at DDBJ/ENA/GenBank under accession numbers JACHTM000000000 and JACHTN000000000, respectively. Four supplementary tables and five supplementary figures are included on the online supplementary files.
References
Busse HJ, Denner EBM, Buczolits S, Mirja SS, Bennasar A, Kämpfer P (2003) Sphingomonas aurantiaca sp. nov., Sphingomonas aerolata sp. nov., and Sphingomonas faeni sp nov., air—and dustborne and Antarctic, orange-pigmented, psychrotolerant bacteria, and emended description of the genus Sphingomonas. Int J Syst Evol Microbiol 53(5):1253–1260

Cai HY, Cui HL, Zeng YH, An ML, Zeng HL, Spröer C, Overmann J (2018) Sandarakinorhabdus cyanobacteriorum sp. nov., a novel bacterium isolated from cyanobacterial aggregates in a eutrophic lake. Int J Syst Evol Microbiol 68:730–735

Castelle CJ, Brown CT, Anantharaman K, Probst AJ, Huang RH, Banfield JF (2018) Biosynthetic capacity, metabolic variety and unusual biology in the CPR and DPANN radiations. Nat Rev Microbiol 499:1–17

Castresana J (2000) Selection of conserved blocks from multiple alignments for their use in phylogenetic analysis. Mol Biol Evol 17:540–552

Chen H, Jogler M, Rohde M, Klenk HP, Tindall BHJ, BJ, (2012) Reclassification and emended description of Caulobacter leidyi as Sphingomonas leidyi comb. nov., and emendation of the genus Sphingomonas Free. Int J Syst Evol Microbiol 62:2835–2843

Chun J, Oren A, Ventosa A, Christensen H, Arahal DR, Costa MS, Rooney AP, Yi H, Xu XW, Meyer SD, Trujillo ME (2018) Proposed minimal standards for the use of genome data for the taxonomy of prokaryotes. Int J Syst Evol Microbiol 68:461–466

Collins MD, Pirouz T, Goodfellow M, Minnikin DE (1977) Distribution of menaquinones in actinomycetes and corynebacteria. J Gen Microbiol 100:221–230

Edgar RC (2004) MUSCLE: multiple sequence alignment with high accuracy and high throughput. Nucl Acids Res 32:1792–1797

Felsenstein J (1981) Evolutionary trees from DNA sequences: a maximum likelihood approach. J Mol Evol 17:368–376

Fitch WM (1971) Toward defining the course of evolution: minimum change for a specific tree topology. Syst Zool 20:406–416

Fukuda W, Chino Y, Araki S, Kondo Y, Imanaka H, Kanai T, Atomi H, Imanka T (2014) Polymorphobacter multimanifer gen. nov., sp. nov., a polymorphic bacterium isolated from Antarctic white rock. Int J Syst Evol Microbiol 64:2034–2040

Gich F, Overmann J (2006) Sandarakinorhabdus limnophila gen. nov., sp. nov., a novel bacteriochlorophyll a-containing, obligately aerobic bacterium isolated from freshwater lakes. Int J Syst Evol Microbiol 56:847–854

Goris J, Konstantinidis KT, Klappenbach JA, Coenye T, Vandamme P, Tiedje JM (2007) DNA-DNA hybridization values and their relationship to whole-genome sequence similarities. Int J Syst Evol Microbiol 57:81–91

Hördt A, López MG, Meier-Kolthoff JP, Schleuning M, Weinhold LM, Tindall BJ, Gronow S, Kyrpides NC, Tanja W (2020) Analysis of 1,000+ type-strain genomes substantially improves taxonomic classification of Alphaproteobacteria. Front Microbiol 11:468

Jiao JY, Liu L, Hua ZS, Fang BZ, Zhou EM, Salam N, Hedlund BP, Li WJ (2020) Microbial dark matter coming to light: challenges and opportunities. Natl Sci Rev. https://doi.org/10.1093/nsr/nwaa280

Kim M, Kang O, Zhang Y, Ren L, Chang X, Jiang F, Fan C, Zheng C, Peng F (2016) Sphingoaurantiacus polygranulatus gen. nov., sp. nov., isolated from high-Arctic tundra soil, and emended descriptions of the genera Sandarakinorhabdus, Polymorphobacter and Rhizorhabdus and the species Sandarakinorhabdus limnophila, Rhizorhabdus argentea and Sphingomonas wittichii. Int J Syst Evol Microbiol 66:91–100

Kimura M (1980) A simple method for estimating evolutionary rates of base substitutions through comparative studies of nucleotide sequences. J Mol Evol 16:111–120

Kumar S, Stecher G, Tamura K (2016) MEGA7: molecular evolutionary genetics analysis version 7.0 for bigger datasets. Mol Biol Evol 33:1870–1874

Lee I, Jang GI, Cho Y, Yoon SJ, Pham HM, Nguyen AV, Lee YM, Park H, Rhee TS, Kim SH, Hwang CY (2020) Sandaracinobacter neustonicus sp. nov., isolated from the sea surface microlayer in the Southwestern Pacific Ocean, and emended description of the genus Sandaracinobacter. Int J Syst Evol Microbiol 70:4698–4703

Liu K, Li S, Jiao N, Tang K (2014) Pacificamonas flava gen. nov., sp. nov., a novel member of the family Sphingomonadaceae isolated from the Southeastern Pacific. Curr Microbiol 69:96–101

Luo C, Rodriguez RLM, Konstantinidis KT (2014) MyTaxa: an advanced taxonomic classifier for genomic and metagenomic sequences. Nucl Acids Res 42:e73–e74

Maruyama T, Park HD, Ozawa TY, Sumino T, Hamana K, Hiraishi A, Kato K (2006) Sphingosinicella microcystinivorans gen. nov., sp. nov., a microcystin-degrading bacterium. Int J Syst Evol Microbiol 56:85–89

Minnikin DE, O'Donnell AG, Goodfellow M, Alderson G, Athalye M, Schaal A, Parlett JH (1984) An integrated procedure for the extraction of bacterial isoprenoid quinones and polar lipids. J Microbiol Methods 2:233–241

Nakai R, Abe T, Takeyama H, Naganuma T (2011) Metagenomic analysis of 0.2-μm-passable microorganisms in deep-sea hydrothermal fluid. Mar biotech 13:900–908

Richter M, Rosselló-Móra R, Oliver Glöckner F, Peplies J (2016) JSpeciesWS: a web server for prokaryotic species circumscription based on pairwise genome comparison. Bioinformatics 32(6):929–931

Saitou N, Nei M (1987) The neighbor–joining method: a new method for reconstructing phylogenetic trees. Mol Biol Evol 4:406–425

Salam N, Jiao JY, Zhang XT, Li WJ (2020) Update on the classification of higher ranks in the phylum Actinobacteria. Int J Syst Evol Microbiol 70:1331–1355

Siddiqi MZ, Im WT (2020) Hankyongella ginsenosidimutans gen. nov., sp. nov., isolated from mineral water with ginsenoside coverting activity. Antonie Van Leeuwenhoek 113:719–727

Smibert RM, Krieg NR (1994) Phenotypic characterization. In: Gerhardt P, Murray RGE, Wood WA, Krieg NR (eds) Methods for general and molecular bacteriology. American Society for Microbiology, Washington, pp 607–654

Stamatakis A (2006) RAxML-VI-HPC: maximum likelihood–based phylogenetic analyses with thousands of taxa and mixed models. Bioinformatics 22:2688–2690

Takeuchi M, Hamana K, Hiraishi A (2001) Proposal of the genus Sphingomonas sensu stricto and three new genera, Sphingobium, Novosphingobium and Sphingopyxis, on the basis of phylogenetic and chemotaxonomic analyses. Int J Syst Evol Microbiol 51:1405–1417

Wu M, Scott AJ (2012) Phylogenomic analysis of bacterial and archaeal sequences with AMPHORA2. Bioinformatics 28:1033

Xu P, Li WJ, Tang SK, Zhang YQ, Chen GZ, Chen HH, Xu LH, Jiang CL (2005) Naxibacter alkalitolerans gen. nov., sp. nov., a novel member of the family 'Oxalobacteraceae' isolated from China. Int J Syst Evol Microbiol 55:1149–1153

Yoon SH, Ha SM, Kwon S, Lim J, Kim Y, Seo H, Chun J (2017) Introducing EzBioCloud:a taxonomically united database of 16S rRNA gene equences and whole-genome assemblies. Int J Syst Evol Microbiol 67:1613–1617

Yurkov V, Stackebrandt E, Buss O, Vermeglio A, Gorlenko V, Beatty JT (1997) Reorganization of the genus Eythromicrobium: description of "Eythromicrobium sibiricum" as Sandaracinobacter sibiricus gen nov., sp. Nov., and of "Erythromicrobium ursincola" as Erythromonas ursincola gen. nov., sp nov. Int J Syst Bacteriol 47(4):172–1178

Zeilstra-Ryalls J, Fayet O, Georgopoulos C (2003) The universally conserved GroE (Hsp 60) chaperonins. Annu Rev Micobiol 45:301–325

Zhang JY, Liu XY, Liu SJ (2010) Sphingomonas changbaiensis sp. nov., isolated from forest soil. Int J Syst Evol Microbiol 60:790–795

Zhou XK, Mi QL, Yao JH, Liu XM, Li YD, Duan YQ, Chen JH, Dang LZ, Mo MH, Li XM, Li WJ (2018) Sphingomonas tabacisoli sp. nov., a member of the genus Sphingomonas, isolated from rhizosphere soil of Nicotiana tabacum L. Int J Syst Evol Microbiol 68:2574–2579
Funding
We are grateful to Professor Aharon Oren (The Hebrew University of Jerusalem, Israel) for the Latin construction of the taxa names. This research was supported by National Natural Science Foundation of China (Nos. 91951205 and 31970122), Science and Technology Program of Guangzhou, China (No. 201803030030), China Postdoctoral Science Foundation (No. 2019M653156), The Fundamental Research Funds for the Universities (No. 19lgpy204), Guangdong Basic and Applied Basic Research Foundation (No. 2019A1515110227). The research was also supported by Innovation Group Project of Southern Marine Science and Engineering Guangdong Laboratory (Zhuhai) (No. 3110200005).
Ethics declarations
Conflict of interest
The authors declare that the research was conducted in the absence of any commercial or financial relationships that could be construed as a potential conflict of interest.
Ethical approval
This article does not contain any studies with human participants or animals performed by any of the authors.
Additional information
Publisher's Note
Springer Nature remains neutral with regard to jurisdictional claims in published maps and institutional affiliations.
Supplementary Information
Below is the link to the electronic supplementary material.
About this article
Cite this article
Ming, YZ., Liu, L., Lv, AP. et al. Thermaurantiacus tibetensis gen. nov., sp. nov., a novel moderately thermophilic bacterium isolated from hot spring microbial mat in Tibet. Antonie van Leeuwenhoek (2021). https://doi.org/10.1007/s10482-021-01530-w
Received:

Accepted:

Published:
Keywords
Thermaurantiacus tibetensis gen. nov.

sp. nov.

Hot spring

Tibet

Polyphasic taxonomy